June 2017 Walt Disney World Bits and Bites
Feature Article
This article appeared in the June 6, 2017 Issue #924 of ALL EARS® (ISSN: 1533-0753)
Editor's Note: This story/information was accurate when it was published. Please be sure to confirm all current rates, information and other details before planning your trip.
= = = = = = = = = = = = = = = = =



STEP BACK IN TIME
= = = = = = = = = = = = = = = = =
by Joan L. Feder
AllEars® Contributor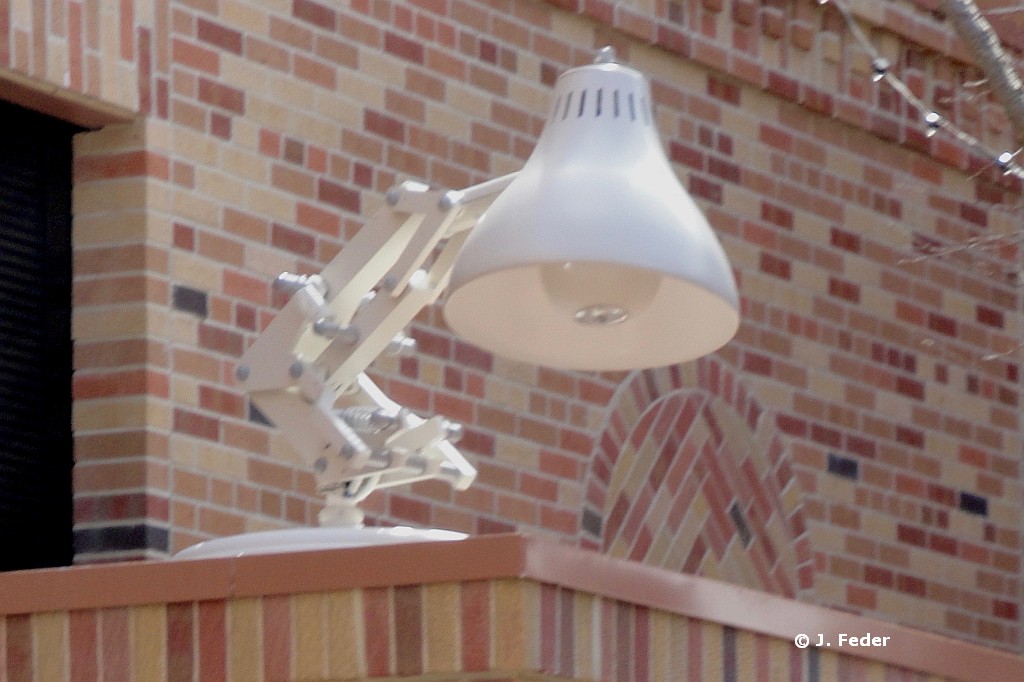 We hunt through our archives for this monthly featurette, which looks at the history of Walt Disney World and The Walt Disney Company. This month, we travel back to June 2009 when Luxo Jr. made his debut at Disney's Hollywood Studios.
Luxo Jr. got his start in Pixar's ground-breaking short film of the same name. It was Pixar's first independent film, and the first computer-animated short to be nominated for an Academy Award. John Lasseter used his Luxo brand desk lamp as a model for the characters. In this award-winning film, father and child lamp play with a small ball, rolling it back and forth. Luxo Jr., the irrepressible younger lamp, is having a great time until he deflates the ball by jumping on it. Crestfallen, he hops off-screen, only to return chasing a beach ball that is bigger than he is, and leaving Luxo Sr. to shake his head in disbelief. Luxo Jr. went on to become Pixar's corporate symbol, appearing at the beginning of all of its feature films.
On June 22, 2009, Luxo Jr. made his first audio-animatronic appearance at Hollywood Studios' Pixar Place. These three-minute shows were located up on a ledge next to the door marked "Lighting", across from Toy Story Midway Mania. Several times a day, Luxo Jr. would hop out of his hiding place and dance to a variety of music including "You've Got a Friend in Me", from the Toy Story movies. At night, the show was even more fun, with Luxo Jr. using his glow to interact with twinkling lights strung in the nearby trees.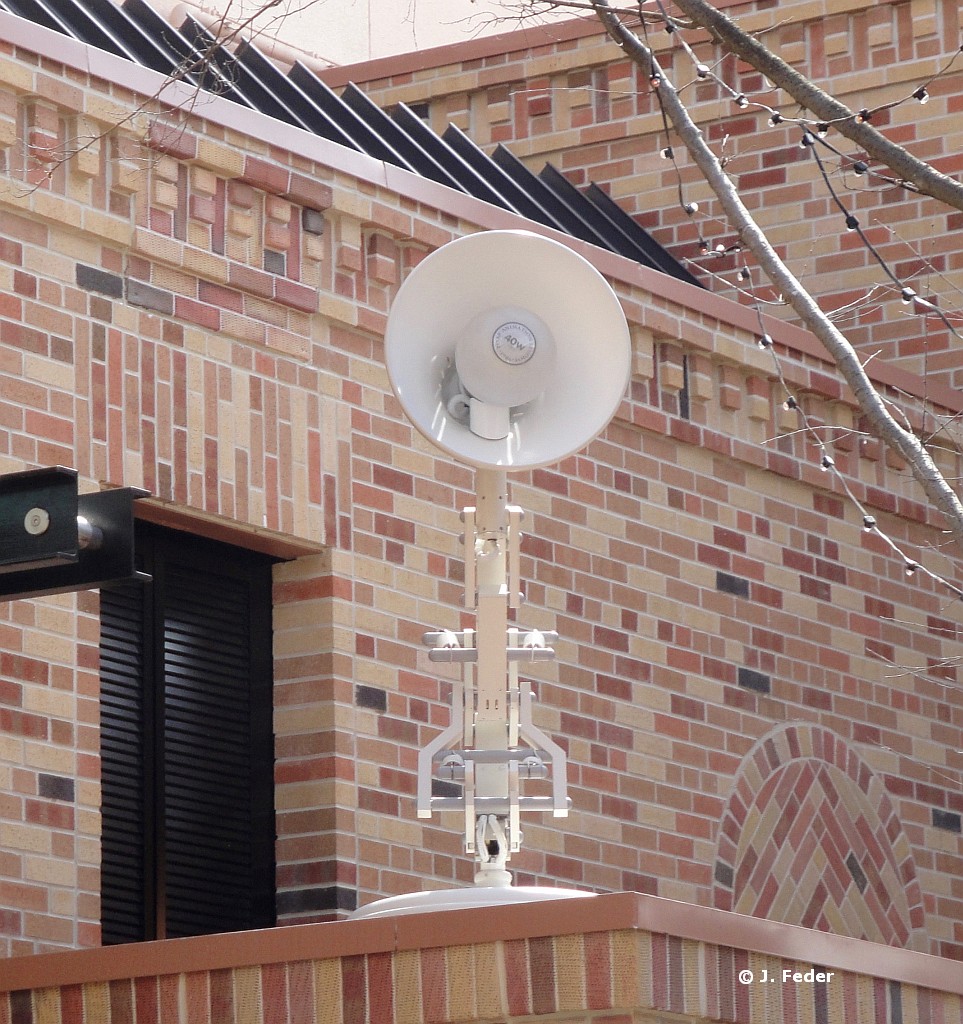 While Luxo Jr. was brimming with personality, his stay was a short one. He disappeared in April 2010 without an official explanation. Some maintain it was because Luxo Jr. was plagued by glitches and often failed to perform. Others blame it on a lawsuit. In 2009, the Luxo Company, which manufactures the original lamps, sued Disney and Pixar for trademark infringement. They were upset by Disney's plans to sell Luxo Jr. lamps as part of an "Up" Blu-ray promotion, as well as their use of Luxo Jr. at Hollywood Studios. A settlement was reached; Pixar could keep using Luxo Jr.'s likeness as its mascot, but Disney would have to get out of the lamp business. In either case, Luxo Jr. was removed from Hollywood Studios less than a year after his debut.
Luxo Jr. may be gone from the park, but he can still be found online and on video. The original short, as well as four spots produced especially for Sesame Street, can be found either on YouTube or as part of the "Pixar Short Films Collection-Volume 1." That same collection includes the short "Tin Toy", in which Luxo Jr. appears briefly in a painting on the wall. He also has a cameo in "Toy Story 2", as one of the TV commercials that Hamm flips by when looking for the ad for Al's Toy Barn. And, with a quick search online, you can still enjoy Luxo Jr.'s Hollywood Studios antics, where both his day and night performances are preserved for posterity.
RELATED VIDEO: Luxo Jr. at Disney's Hollywood Studios
= = = = = = = = = = = = = = = = =


HIDDEN MICKEYS ALERT
= = = = = = = = = = = = = = = = =
Steve Barrett, author of the Hidden Mickeys books and webmaster of HiddenMickeyGuy.com, brings you a few new Hidden Mickeys from the re-imagined Disney Wonder. Finding Hidden Images makes cruising even more fun!
1. Disney's Oceaneer Lab — A painting on a wall at the rear corner of the Lab shows a plate of food falling off a table. Three peas at the right middle edge of the plate form a tiny classic Hidden Mickey.
2. Disney's Oceaneer Lab – Three light brown circles (coconuts?) high in the middle of a tree come together to make a Hidden Mickey. Find them just under the palm fronds in the tallest tree in a wall painting hanging to your left, as you enter the Lab from the hallway that connects to Disney's Oceaneer Club.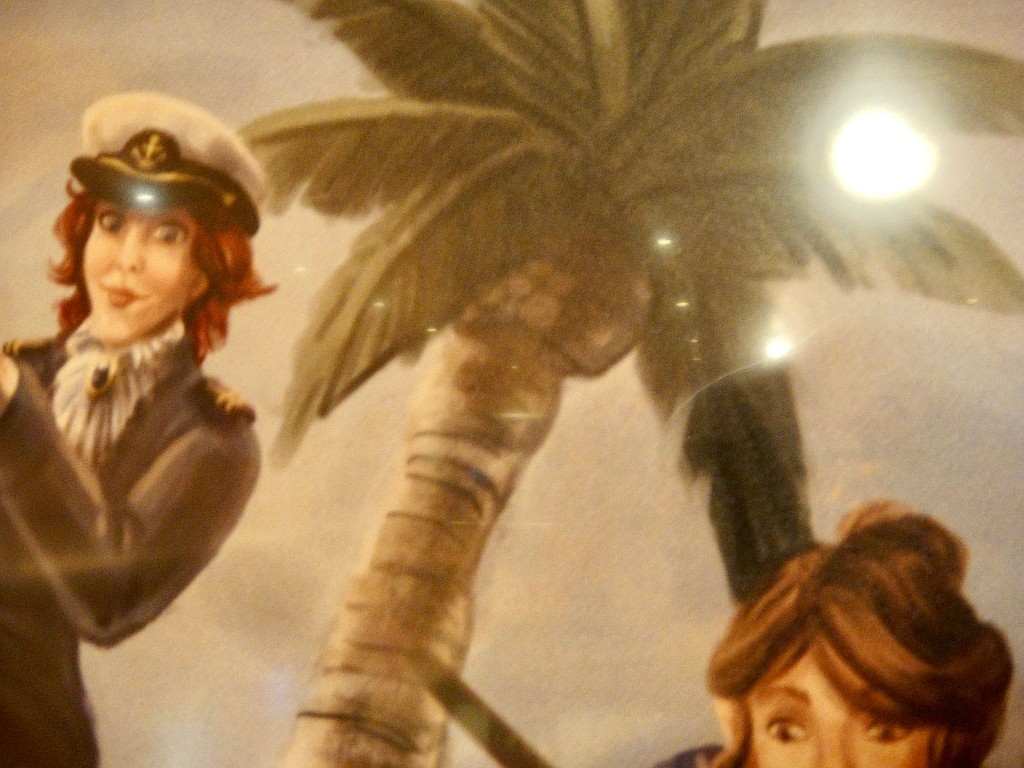 3. Disney's Oceaneer Lab – As you walk into the Lab through the main entrance, a painting of the front of a ship is on wall to your right. A classic Mickey is over the chest of a woman on the gold figurehead of the ship's prow.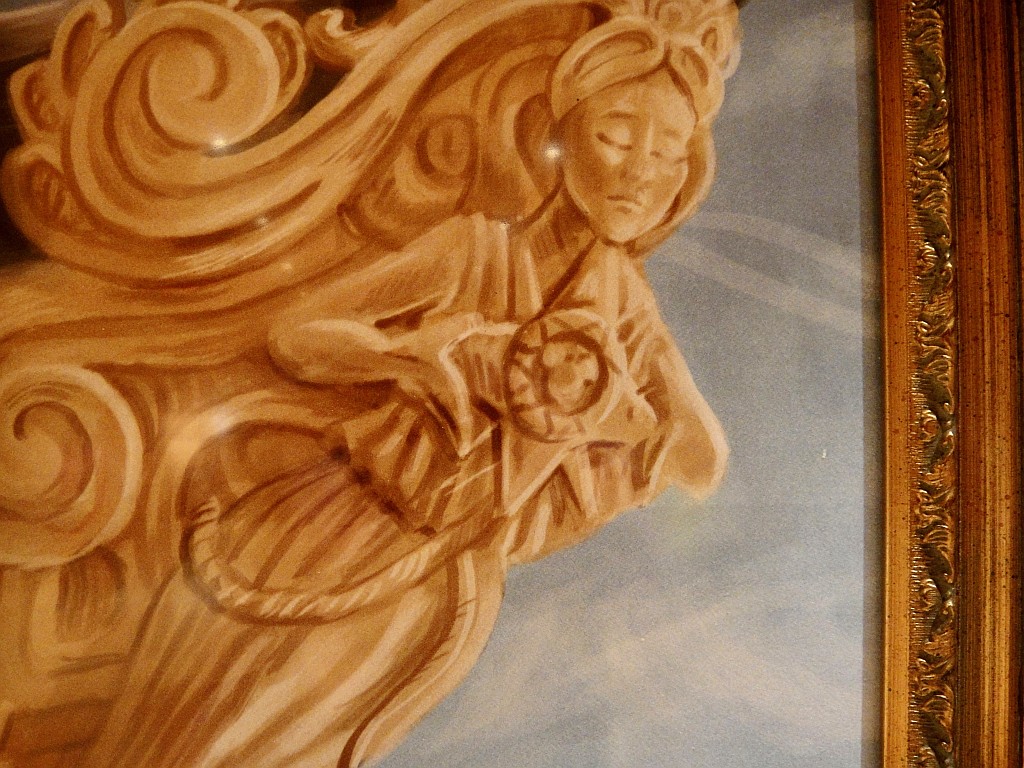 =-=-=-=-=-=-=-=-=-=-=-=-=-=-=-=
You can find an archive of past Hidden Mickey Alerts HERE.

And check out our latest Searching Disney with Steve blog.
= = = = = = = = = = = = = = = = =

MONTHLY REMIND-EARS
= = = = = = = = = = = = = = = = =
Check our Events page for a full schedule of upcoming events.
-=-=-=-=-=-=-=-=-=-=-=-=-=-=-=-=-=-=-
Mission:SPACE, including the Advanced Training Lab, is closed for refurbishment through July 28, 2017.

Circle of Life in the Land Pavilion is closed for refurbishment, with no additional details provided.
Hall of Presidents is closed for an extended refurbishment through June 29, 2017.

Walt Disney World Monorail System is undergoing refurbishment through June 30, 2017, and may be on modified service and/or routes. If you plan to use this form of transportation during your visit, be sure to check first, as alternative transportation options will be available.
Art of Animation Resort is currently undergoing some general refurbishment projects. During this time, the resort will be in full operation with all amenities available, including dining, merchandise and recreation locations. It is possible that construction may be seen or heard, but noise should not be heard from guest rooms between dusk and 9 a.m. No end date for these projects has been announced as yet.
Through June 30, 2018, Old Port Royale Food Court, Shutters at Old Port Royale, Cabana Pool Bar and Calypso Trading Post will be undergoing refurbishment. A variety of dining options will be available for all meals. Centertown will serve breakfast and dinner. Grab 'n' Go options will be available in three island markets: Aruba, Jamaica, and Martinique.
The resort rooms are undergoing a "hard goods refurbishment" that will continue for some time into 2017.
Grand Floridian Resort and Spa
The resort's Fitness Center will be closed beginning June 12 while the flooring is being replaced. Some equipment will be moved to Salon 9 to accommodate guests who want to work out.
Disney's Old Key West Resort is undergoing a wholesale refurbishment, which is expected to be completed in 2019.
The Walt Disney World Swan and Dolphin
The resort is currently undergoing the largest renovation in its 25-year history. The Dolphin room renovations are currently scheduled to be completed by the end of 2017. In addition, starting in the spring of 2017 the Dolphin lobby will undergo a $12 million re-design. When finished in the fall of 2017, the new lobby will be completely transformed into a sleek, contemporary space and will feature new dining and beverage options. The lobby re-design is the final stage of the $140 million renovation project.
Wilderness Lodge and Boulder Ridge Villas
General resort refurbishments and construction work in multiple areas will continue until 2017. Some pathways and the nature trail will be unavailable at certain times.

Cub's Den Children's Activity Center is closed now through 2017.

Roaring Fork and Trout Pass Pool Bar at Wilderness Lodge closed for refurbishment as of February 13, 2017. Roaring Fork is slated to reopen July 1, 2017. Trout Pass Pool Bar will remain closed through summer 2017. The new Geyser Point Bar & Grill now serves breakfast, lunch and dinner. Territory Lounge also offers a continental-style breakfast featuring gourmet coffees, pastries and a yogurt parfait.

In addition, Teton Boat and Bike Rentals and Bolder Ridge Cove Pool are both due to reopen July 1, 2017.
The Yacht and Beach Club Convention Center is undergoing expansion and renovation now through February 1, 2018.
Resort room refurbishment is taking place through mid- to late 2017.

Captain's Grille is closed for refurbishment through September 30, 2017. During the refurbishment, the Captain's Grille is serving in Ariel's in the Beach Club.
Run-off Rapids is closed for refurbishment.
Portobello Country Italian Trattoria at the Disney Springs Landing will be closed for refurbishment until sometime in Fall 2017.
-=-=-=-=-=-=-=-=-=-
A complete list of known rehabs can be found HERE.
= = = = = = = = = = = = = = = = =


MAGICAL MOMENTS
= = = = = = = = = = = = = = = = =
Each month, we like to share a few heart-warming Magical Moments brought to us by the amazing Disney cast members!
Donna Chisick: On the last day of our weeklong trip (our first visit in 16 years and our 4-year-old daughter's first visit ever!) we bought a Christmas ornament in the Magic Kingdom. Nothing fancy, but we liked it and were happy with our little purchase. Somewhere along the way back to our resort (Animal Kingdom Lodge), I dropped the bag containing the ornament. I realized it on the bus… it was lost. I was sad and knew there was no time to go back to the Magic Kingdom for a replacement. We were leaving the next morning. In the morning, I was up early and heading down to get some coffee when I decided I'd stop at the front desk of the hotel and tell them my story and ask if they could help me get a replacement shipped to my home. Of course, I had every intention of paying for the replacement and the shipping. I had lost the ornament after all — no one's fault but my own. The person at the front desk told me to go to the resort gift shop and tell them my story and they would get me a replacement. She said they shouldn't charge me, but if they did I should see her and she'd remove the charge! Imagine my surprise! Sure enough, the gentleman at the gift shop took my info, got a description of the lost ornament and never mentioned payment. Just three days later, a package arrived at my home containing exactly the ornament I had lost and making me so very happy! It was a lovely gesture by Disney and it ensured I didn't end my wonderful trip on a sour note. I appreciated it more than I could say!
Shelley Nemeth: We were enjoying our last night at Walt Disney World and had decided to spend our last evening at Animal Kingdom with dinner at Tusker House with the Rivers of Light Package. We also lucked out picking up an Expedition Everest FastPass at the last minute to use before the show. Between dinner and Expedition Everest we decided to check out the Finding Nemo show. My daughter (15) and I were waiting in the shade for the queue to open up for the 6 p.m. show and the guys (my husband, son and daughter's boyfriend) had hopped over to Dinoland to see if they could catch a last-minute ride. When the queue opened my daughter and I entered and I asked the cast member if she thought that the theater would fill quickly or if the boys had time to ride before coming over. She hesitated and said she thought it would be fine. We proceeded to enter the queue and were stopped by a second cast member who asked how many of us there were. We told him there would be five and he informed us we were VIPs. He told us to wait behind the wheelchair entrance and when we entered the building to tell the person inside that we were on a special list. We informed the cast member as we entered and she directed us to another cast member who brought us down and seated us in the reserved section. The section is roped off and the five of us were the only ones in the three-row section. Great seats with the stage right in front of us and no one to obscure our view. And the best thing was that the characters in the show came right down the catwalk and directed some of the show lines right at us. Jellyfish and sharks swirled above our heads. This along with the great dining package seating for Rivers of Light was the perfect way to end our vacation.
Vince W: Our stay at the Grand Floridian [to celebrate our 45th anniversary] was just plain fantastic! We were lucky to receive a room upgrade with a beautiful view of the lagoon and the Magic Kingdom and the service and the treats are beyond compare. On our first night I ordered a bottle of wine and some chocolate-covered strawberries to surprise my wife. To our surprise there were some complimentary chocolates from the Grand Floridian. These chocolates were to die for! On Monday afternoon we received another surprise. A bottle of sparkling wine and another plate of chocolates were delivered compliments of the Grand Floridian for our anniversary. These chocolates are the best that my wife and I have ever tasted! My compliments to the Grand Floridian. On our third night we received a true Magical Moment. When we returned from dinner we found in our room a bottle of sparkling wine and two crystal wine glasses, one with Minnie engraved around the top and my wife's name engraved on the face of the glass and one with Mickey around the top and my name engraved on the face of the glass. This was all sitting on a tray of rose petals along with a Walt Disney World photo album. All I can say is thank you, Walt Disney World. We were treated like royalty.
-=-=-=-=-=–=-=-=-=-=-=-=-=-=-=
We just bet you have a story to tell about an unforgettable moment during your Disney vacation! Please send your favorite memory for inclusion in a future AllEars® via our Contact Us page. Thank you all for sharing!
-o-o-o-o-o-o-o-o-o-o-o-
Editor's Note: This story/information was accurate when it was published. Please be sure to confirm all current rates, information and other details before planning your trip.