Splash Mountain Critter Country Disneyland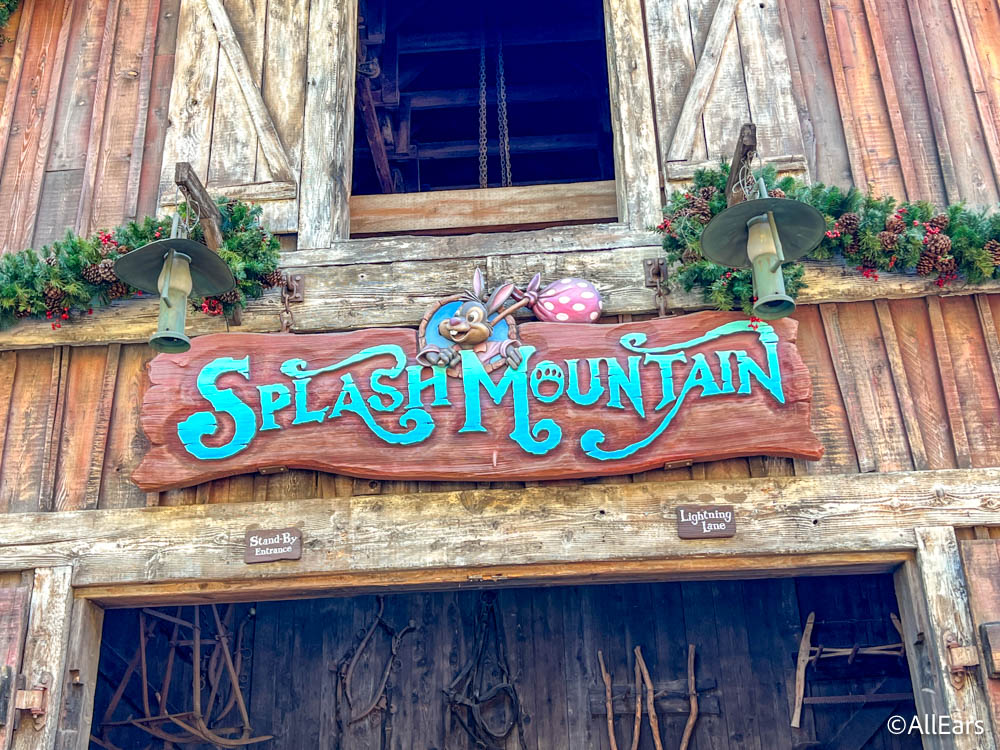 Introduction | Attraction | Touring Tips | Kids/Characters | Dining | Shopping | Interesting Facts
INTRODUCTION
As you make your way into Critter Country, you will begin to hear screams of delight. Look up and you'll see the famous water drop of Splash Mountain in the distance!
This is the quintessential Disney attraction — theme, audio-animatronics, laughs, thrills and a happy ending! The Splash Mountain attraction is based on Walt Disney's 1946 classic "Song of the South." Crafty Brer Rabbit is pursued by Brer Fox and his lumbering cohort Brer Bear through swamps and woods all the way to the Laughin' Place!
ATTRACTION
The long queue takes you around and inside Chickapin Hill until you reach the loading zone. A five-passenger log (everyone sits single file) hollowed out by sharp-toothed beavers, will carry you on your 10 minute journey along the flume.
The story goes that against the advice of Mr. Bluebird, Brer Rabbit leaves his briar patch home in search of adventure. Brer Fox and Brer Bear seize this opportunity and begin their legendary pursuit of the rabbit. At first, Brer Rabbit outwits his pursuers, but as you proceed you soon discover Brer Rabbit is heading for trouble. For the grand finale, you plunge with Brer Rabbit from the top of Chickapin Hill, down five stories into the briar patch.
Laugh, clap and sing aloud familiar songs such as "How Do You Do,""Everybody's Got a Laughin' Place" and "Zip-a-Dee-Doo-Dah."
Read about the Walt Disney World version of Splash Mountain HERE.
TOURING TIPS
Lightning Lane access for Splash Mountain is available with the purchase of Genie+. It's very popular and lines start to form quickly (especially in warmer weather), though you can usually ride standby with little or no wait at park opening.
This ride contains a five-story drop with descent speeds of 40 mph. Throughout the entire attraction you will encounter two lifts and several drops – one in the dark.
You WILL get wet on this ride! To minimize your exposure, you might want to wear a rain poncho, or ask to be seated in the back of the log. If you want to get really wet, though, ask to sit up front!
RESTRICTIONS: Expectant mothers, those with heart conditions and back or neck problems should not ride.
This attraction has a height requirement of 40″.
Those in a wheelchair/ECV should enter through the exit located near Pooh Corner and must transfer out to ride Splash Mountain.
There is a bridge where you can watch your family and friends plummet down Chickapin Hill. This is a great place for photos!
The closest restrooms are located at the Hungry Bear Restaurant. Go down the steps into the seating area and the restrooms are on the left.
KIDS AND CHARACTERS
Splash Mountain has some dark areas inside, including a drop in the dark, and some kids may be leery of the big drop at the end.
Pooh, Tigger, and Eeyore are usually found throughout the day outside the Splash Mountain exit by the Pooh Corner shop.
DINING
The Hungry Bear Restaurant is located near the Fastpass Distribution area. There's also a cart which sells caramel corn, and a stand that sells fruit and bottled beverages.
Disneyland Restaurants at a Glance
Menus from Around the Disneyland Resort
SHOPPING
Just as your log begins to tip down the 45 degree waterfall, a camera captures your expression of delight – or terror. Be sure to view your photo on one of the monitors as you exit. If you decide to purchase your photo at Professor Barnaby Owl's Photographic Art Studio, remember that you can use Disney Package Delivery to have the photo sent to the main entrance of the park so you don't have to carry it with you.
The Pooh Corner shop next to the exit sells a variety of Pooh and friends merchandise, including clothing, gift items, plush, and pins.
INTERESTING FACTS
Splash Mountain opened July 17, 1989.
Many of the Splash Mountain audio-animatronic characters were originally developed for the America Sings attraction, and were re-located to Splash Mountain after the America Sings attraction closed in 1988.
More than 100 audio-animatronics fill the attraction, which also has one of the largest animated props in the finale. The Showboat is 50 feet wide and 30 feet high, and rocks back and forth as a cast of audio-animatronics sing and dance to "Zip-a-Dee-Doo-Dah."
To bring the classic Disney story "Song of the South" to life, Walt Disney Imagineers created a magnificent mountain chock-full of backwoods swamps, bayous and waterfalls.
The concrete flume course is more than 2,800 feet long, or about 1/2 a mile.
Splash Mountain is 87 feet high.
If you have comments or tips to share with others about touring Disneyland, please email us. Thank you.