Mickey's House ToonTown Disneyland
Introduction | Attraction | Touring Tips | Kids/Characters | Dining | Shopping | Interesting Facts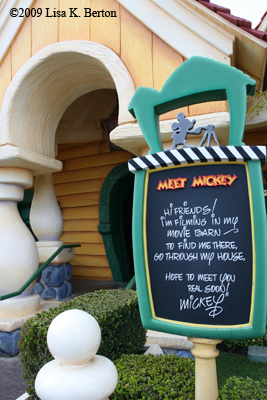 INTRODUCTION
You're invited to tour the big cheese's house and meet him during his break from filming.
ATTRACTION
Mickey's House sits beside Minnie's House on the far left side of Toontown. Although there's a staircase you see upon entering the house, you can't climb it. Check out Mickey's inviting living room including a special bed for his best friend, Pluto. Keeping things clean is a must as you'll discover Mickey's cleaning supplies. Winding your way through you'll come across his garden and a barn where Donald Duck and Goofy are not-so-professionally running the projector. The movie will keep you entertained as you wait to meet Mickey Mouse who might be filming one of 4 movies: Steamboat Willie, Fantasia, The Band Concert, and Thru the Mirror. Movies are subject to change.
TOURING TIPS
Mickey's House is wheelchair and ECV accessible – there are no stairs in this attraction.
There's no time limit to your visit. There are lots of photo ops available, especially in the living room. Generally speaking, you won't wait in a line until you reach the barn. There's an exit back to Mickey's Toontown prior to the meet and greet line.
Restrooms are located in the center of Mickey's Toontown, beside Goofy's Gas Station.
KIDS AND CHARACTERS
There's no height requirement for this attraction.
You can find Pluto, Donald Duck, Goofy, Minnie Mouse, and Chip and Dale making appearances around Toontown. They are most often found near The Gag Factory, or in the park next to Goofy's Playhouse. Minnie Mouse occasionally appears at the entrance to her house.
DINING
Toon Up Treats (fresh fruit and snacks), Daisy's Diner (pizza) and Pluto's Dog House (hot dogs), and Clarabelle's (sandwiches, salads, and ice cream novelties) are located nearby.
Disneyland Restaurants at a Glance
Menus from Around the Disneyland Resort

SHOPPING
The Gag Factory and Toontown Five & Dime offer Disney souvenirs such as kid's clothing, antenna toppers, pins, and household goods.
INTERESTING FACTS
Pluto has a special dog door you'll see upon entering the house.
Mickey's radio actually works.
If you have comments or tips to share with others about touring Disneyland, please email us. Thank you.