Many Adventures of Winnie the Pooh Critter Country Disneyland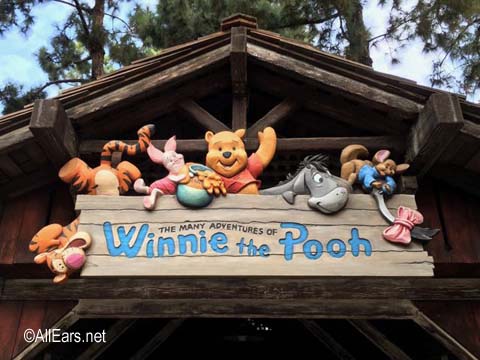 Introduction | Attraction | Touring Tips | Kids/Characters | Dining | Shopping | Interesting Facts
INTRODUCTION
That silly ole Pooh Bear and his friends take you on a gentle journey through the Hundred Acre Wood. The Many Adventures of Winnie the Pooh is located in Critter Country, on the site of the former Country Bear Jamboree.
ATTRACTION
Hop aboard a 6 person Hunny Bee-hive and join Pooh and his friends on a whimsical adventure in search of the pot of hunny! It's Windsday and a storm has broken out in the 100 Acre Wood. Your vehicle seems to float along as the waters rise and Kanga, Rabbit, and Eeyore must rescue Baby Roo, and Tigger saves Piglet from going over a "very big waterfall!"
Along the way you'll meet up with Tigger and share Pooh's psychedelic Heffalumps and Woozles nightmare. But Pooh awakens from his dream to find that his friends have thrown him a birthday party and they've all given him his favorite gift – a pot of Hunny.
Compare this version to the Walt Disney World version of this attraction HERE.
TOURING TIPS
The Many Adventures of Winnie the Pooh rarely has much of a line, and you quickly proceed through the queue to the loading area. It's a fun diversion if you are waiting for a Splash Mountain Fastpass to become active.
Sit in the first two rows if you can – if you're in the last row your view is a bit obstructed by the high back of the vehicle.
Wheelchairs and ECVs should enter through the regular queue. Wheelchairs can roll right onto the vehicle. ECV users must transfer to a standard wheelchair to ride.
The closest restrooms are located at the Hungry Bear Restaurant. Go down the steps into the seating area and the restrooms are on the left.
KIDS AND CHARACTERS
There is a mild thunderstorm scene so if your little one doesn't like thunder be prepared.
Pooh, Tigger, and Eeyore are usually found throughout the day outside the attraction's exit by the Pooh Corner shop.
DINING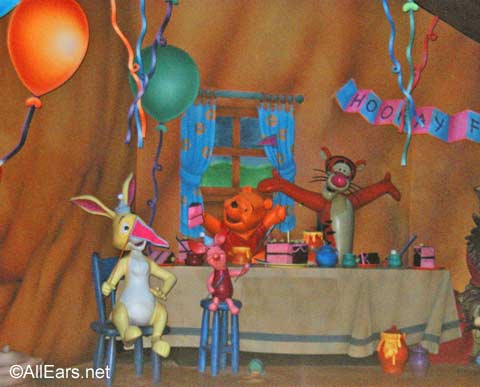 The Hungry Bear Restaurant, serving burgers and sandwiches, is located next to The Many Adventures of Winnie the Pooh. There's also a cart which sells caramel corn, and a stand that sells fruit and bottled beverages.
Disneyland Restaurants at a Glance
SHOPPING
The Pooh Corner shop next to the exit sells a variety of Pooh and friends merchandise, including clothing, gift items, plush, and pins.
INTERESTING FACTS
This attraction opened on April 11, 2003 and replaced Country Bear Jamboree, which closed in September 2001.
Each hunny bee-hive has its own name, like Heffabee and Heffalump.
Look behind you as you leave the "Heffalumps and Woozles" room and enter the "Hunny" room – the animatronic heads of Max, Melvin, and Buff, from Country Bear Jamboree, are hanging above the archway.
If you have comments or tips to share with others about touring Disneyland, please email us. Thank you.