Disney Attractions Around the Globe: Haunted Mansion History
by
Joan Feder
Feature Article
This article appeared in the August 6, 2019 Issue #1039 of ALL EARS®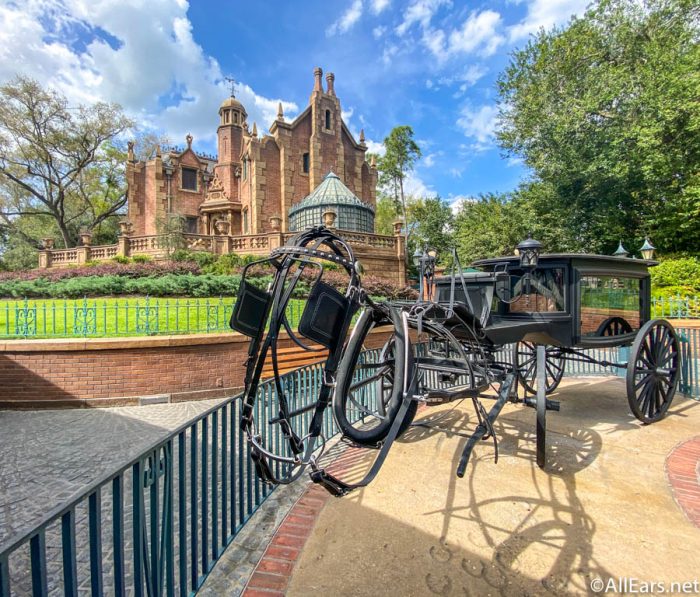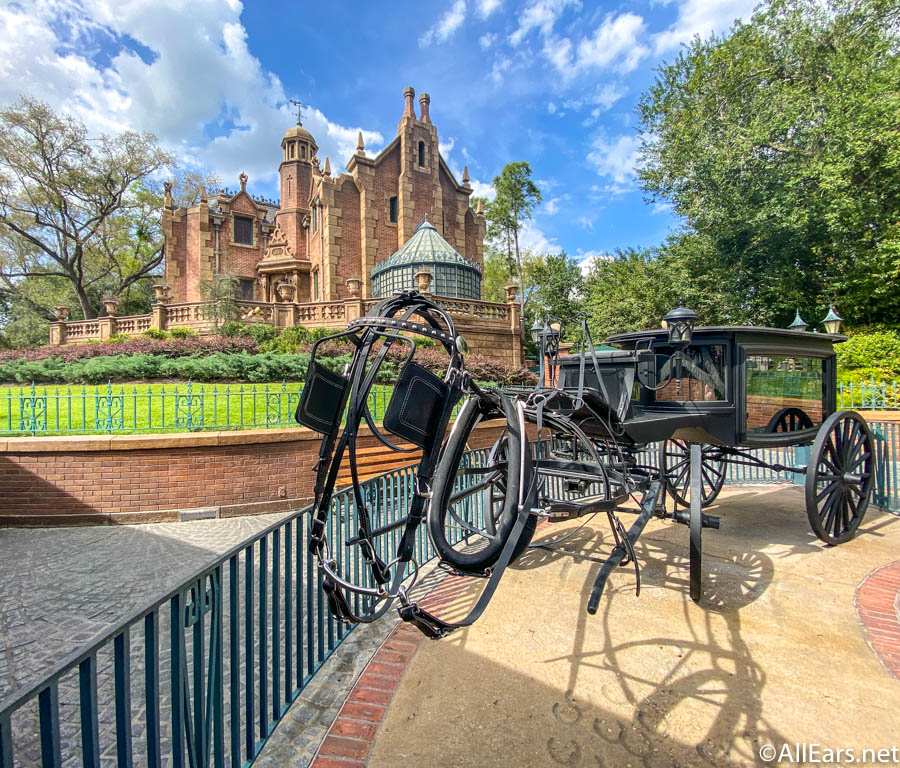 Editor's Note: This story/information was accurate when it was published. Please be sure to confirm all current rates, information and other details before planning your trip.
Disneyland's Haunted Mansion celebrated its fiftieth anniversary this month. But the history of the Haunted Mansion dates back even further than that! In 1951, Walt Disney decided to build a place where parents and kids could have fun together. Disney's initial idea was to build this "Mickey Mouse Park" on an empty site across from his movie studio. One of the first plans included a decaying Victorian mansion called the Haunted House.
Walt's vision soon became too big for the original site. The next year his team began work on Disneyland. Some of Walt's first plans also included a moldy old haunted house, this time to be located on Main Street USA. The attraction never got past the concept stage.
Disneyland opened on July 17, 1955. It became such a hit that it wasn't long before an expansion was in the works. In 1958, Disneyland's souvenir map listed an area called New Orleans Square. According to Walt Disney, this land would include a retirement home for ghosts.
Developing the haunted house attraction soon ran into several roadblocks. Imagineers envisioned it as a rundown plantation house. But Walt Disney did not want a decrepit building in his park. There was also some disagreement as to whether the attraction should be a walk-through as initially planned, or whether a ride system was needed. At the same time, the backstory for the Mansion went through many variations. Some of the tales considered were a sea captain named Gore who murdered his bride, a Manor haunted by the ill-fated Blood family, and a ghostly wedding party full of infamous horror villains, like Dracula and the Headless Horseman. As a result of these conflicts, the haunted house was put on hold.
By 1961, the attraction had been resurrected. Disneyland guests were given handbills announcing a1963 opening for the Haunted Mansion and New Orleans Square. A year later, construction began and the empty building's exterior was completed in 1963. Posted on the fence was a sign written by newbie Imagineer, Marty Sklar. It offered ghosts and spirits an opportunity to retire at the Haunted Mansion. The project was delayed again while Walt and his Imagineers focused on the New York's World Fair of 1964-65. There was a preview of the ride during a 1965 Walt Disney's Wonderful World of Color, but it was put on hold once more while the World Fair exhibits were installed at Disneyland. Then, there came an even more devastating delay.
On December 15, 1966, Walt Disney died. The fate of the Haunted Mansion was uncertain. Even with his steady hand on the tiller, the course of the attraction had been erratic. Now, with Walt gone, no one was sure how to proceed. It was left to Imagineers Marc Davis and Claude Coats to lead the project to a happy ending. Marc Davis was great at sight gags and character design, while Claude Coats was a master of background and atmosphere. They had worked together successfully on Pirates of the Caribbean, but things did not go as smoothly with their venture into the netherworld. They simply could not agree on what direction the Mansion should take. Davis favored a more humorous light-hearted version of the attraction, while Coats wanted it to be more somber and frightening. It took another Imagineer, X. Atencio, to combine the two approaches into one cohesive attraction.
The Disneyland Haunted Mansion opened in August 1969, with a balanced approach between fright and humor. The first part of the attraction is dark and scary. It includes the stretching room (with no windows and no doors) as well as the portrait gallery with paintings that transform from ordinary to chilling. After guests board their Doom Buggies, they ride through the ominous Corridor of Doors, followed by the Endless Hallway with its floating candelabra and the clock that strikes thirteen. Visitors then enter the dimly lit Seance where Madame Leota, a disembodied head suspended in a crystal ball, calls forth the spirits.
The mood lightens as the ghosts materialize in the Ballroom. There is a birthday party complete with cake, while dancers waltz to the music of an old pipe organ (an original prop from Disney's 20,000 Leagues Under the Sea). From there, guests ride through the Attic, passed the terrified caretaker and his dog, into the Graveyard. A quintet of busts, known as the Phantom Five, sing the theme song while the Grim Grinning Ghosts come out to socialize. The Ghost Host catches up to the visitors, who learn that they have been selected to join the happy haunts, In fact, a Hitchhiking Ghost will follow them home. Exiting the Doom Buggies, guests pass Little Leota who invites them to "hurry back" and reminds them to bring their "death certificates" when they return.
Disneyland's Haunted Mansion has been updated several times. In 2001, a seasonal overlay was introduced featuring characters from The Nightmare Before Christmas. In 2006, Constance Hatchaway moved into the Attic as the black widow bride. Several years later, the Hatbox Ghost, one of the Mansion's original inhabitants, reclaimed his spot in the Attic. His head was supposed to disappear and reappear in the hatbox he carried, but the illusion was not convincing. He was removed from the attraction shortly after the ride's premiere. The Hatbox Ghost made his triumphant return on May 9, 2015 in time for Disneyland's 60th anniversary Diamond Celebration.
Versions of the Haunted Mansion are located in five different lands in Disney Parks worldwide. The Haunted Mansion opened along with the Magic Kingdom at Walt Disney World on October 1, 1971. The audio-animatronics, sets, and props were all created at the same time as those for the original attraction in California. It was substantially similar to the original, though slightly longer, and included a Library and Music Room. In 2007, it was updated and a new Endless Staircase scene was installed. The standby line became interactive in 2011. Unfortunately, Florida does not have a holiday overlay or a Hatbox ghost. There is, however, a pet cemetery on the way out, where sharp-eyed guests will find an homage to Mr. Toad's Wild Ride, formerly located in Fantasyland.
On April 15, 1983, a third Haunted Mansion opened in Tokyo Disneyland. This ride is almost identical to the original Florida version. The exterior is more run-down looking and themed a bit differently to help it fit in to its location in Fantasyland. Since 2004, Jack Skellington and his friends take over the house in the fall for the Haunted Mansion Holiday Nightmare, just like in California.
Frontierland is home to Phantom Manor in Disneyland Paris. It opened with Euro Disneyland on April 12, 1992. This version of the attraction has a Western storyline to go along with its architecture. The backstory is much darker than that of the Haunted Mansion. It revolves around the family of a wealthy gold miner and his daughter's doomed romance. Phantom Manor is dilapidated inside and out. In fact, Marc Davis was critical of the exterior, since "Walt would never approve of it." Originally, horror legend Vincent Price voiced the opening narration. After several years absence, it reappeared after the Manor's restoration in 2019.
The most recent and unique haunted house is Hong Kong Disneyland's Mystic Manor, which opened in 2013. It is located in Mystic Point and has a more lighthearted fantasy based theme. The ride system is trackless, as opposed to the Omnimover Doom Buggies used in all the other Mansions. The Manor belongs to explorer Henry Mystic, who has an extensive collection of artifacts, including an enchanted music box. His companion, a monkey named Albert, gets his hands on it and uses its magical power to bring all the inanimate objects in the house to life.
Four of these attractions have some sort of a graveyard. In Paris, it is known as Boot Hill and is home to the remains of local residents. In California, Florida, and Tokyo, many of the tombstones honor the Imagineers who worked on these attractions. If you look carefully, you can find markers engraved with Grandpa Marc (Davis), Uncle Claude (Coats), and Francis Xavier (Atencio). A more elaborate tombstone is found just outside the Magic Kingdom's Mansion. It is inscribed, "Dear sweet Leota, beloved by all, in regions beyond now, but having a ball." This marker honors Imagineer Leota Toombs. Yes, her name really was Toombs! She played both Madame Leota (voiced by Eleanor Audley) and Little Leota inside the ride. Her daughter, Kim Irvine is also an Imagineer and took over as Leota when new footage was required.
Mystic Manor, ever the outlier, does not have a graveyard but has several easter eggs of its own. The Tribal Arts room features figures from the Enchanted Tiki Room. One of the pictures in the queue includes photoshopped images of Walt and Roy Disney. There are also several references to the Haunted Mansion, including the busts that track guests as they move, and the portrait of a young woman that transforms into Medusa.
For fifty years Disney has provided us with spirited fun around the world. Which is the best? We'd love to hear what you think. But whichever is your favorite, listen to Little Leota and hurry back as soon as you can!