There is, of course, between panels and show premieres, shopping and outside installations, more content at San Diego Comic-Con than any dozen people could hope to experience.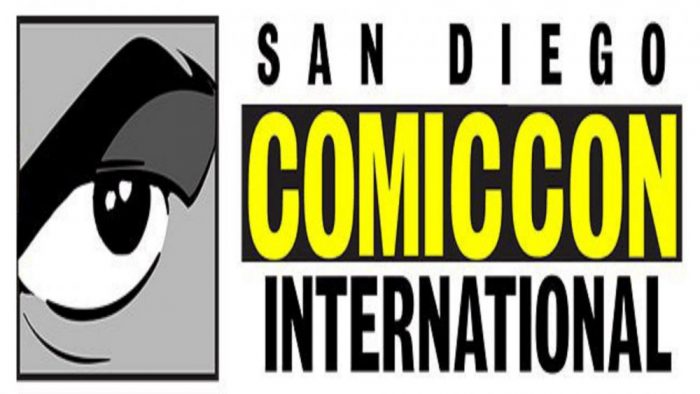 This year we were lucky enough to get help covering some of the many Disney-related presentations as Friend to AllEars Alex Reif  w̶a̶s̶ d̶r̶a̶f̶t̶e̶d̶  volunteered to write up a few of the ones he attended.  Here's his report on "Disney's The Ghost and Molly McGee Fan Enhappification Panel."
Fans of Disney's The Ghost and Molly McGee got an extra dose of happiness at the "Fan Enhappification Panel" at San Diego Comic-Con.  During the presentation, fans got to see the animatic version of a musical short that premieres on August 20th through Disney Channel's Broken Karaoke series.  In the short, Scratch and Molly perform their version of "Exceptional Zed" from ZOMBIES 3 (the song becomes "I Just Want to Eat Bread").  But that wasn't the only piece of new footage we saw.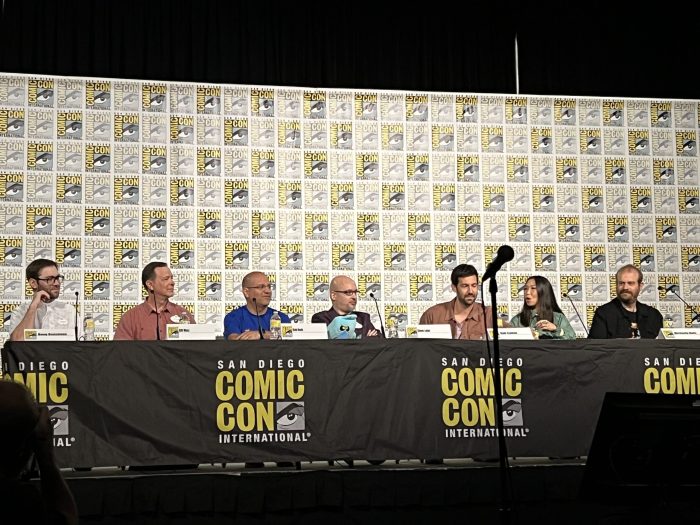 The Season 2 premiere will deal with the aftermath of the death of The Chairman.  In a new song called "Enjoy Your Afterlife," we saw Scratch singing to his ghost friends about all of the things they can do now that The Chairman is gone.  And during a Q&A session, a fan asked if The Chairman will return.  Series co-creator and executive producer Bob Roth said "The Chairman isn't going to come back, but a chairman will come back."
Most of the panel was focused on favorite moments behind the scenes or from Season 1.  But we did get the title of two new songs from Season 2 when the cast was asked about their favorite songs from the series.  Jordan Klepper, who voices Pete McGee, said his favorite song comes from Season 2 and is called "Dance With Me."  We got to hear a little bit of the song and it was really funny.  Bob Roth shared that his favorite is also from the upcoming season, titled "Giggin' For a Livin'," and that he listened to it on repeat during a recent road trip.  Here's a list of everyone else's favorite songs:
Bill Motz (co-creator/executive producer) – "I Have a Voice" from "Talent Show"

Steve Loter (executive producer) – "It's a Lose-Lose" from "Scratch the Surface"

Rob Cantor (Songwriter) – "History of Hanukkah" from "Festival of Lights"

Michaela Dietz (voice of Darryl McGee) – The theme song

Eric Edelstein (voice of Geoff) – "Deep Fried Food" from "Festival of Lights"

Dana Snyder (voice of Scratch) – "My Best Friend's Bat Mitzvah" from "Mazel Tov, Libby!"

Ashly Burch (voice of Molly) – "Make You Make Up" from "The Best of Nin-tensions"

Sumalee Montano (voice of Sharon McGee) – "Giggin' for a Livin'" from an upcoming Season 2 episode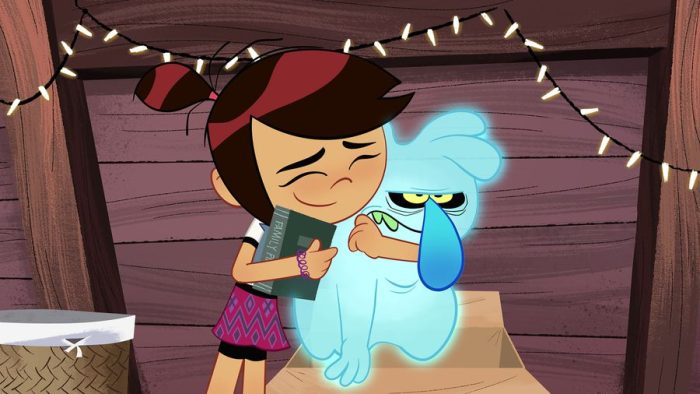 Most of the voice cast were unable to be present, sharing video messages with the eager fan base at Comic-Con.  On the theme of music, Steve Loter shared that he previously worked with Rob Cantor on a Disney Junior short series called Happy Monster Band back when he was a member of the band Tally Hall.  Rob shared that his experience writing a song per episode for The Ghost and Molly McGee sometimes makes him feel like Weird Al Yankovich, with the creators often giving him a song to emulate.  His writing process often involves walking around his neighborhood with a legal pad to get his creative juices flowing.  Taking a peek behind the curtain, the crowd was the first to hear a song that only partially made it to air in the episode "Talent Show."  He was tasked with writing a 3-second a capella song that would get interrupted, but he ended up with a 30-second piece called "My Dear Doreen" about a woman who harvested her love interest's organs (his spleen, to fit the rhyme scheme).
With The Ghost and Molly McGee being such a musical series, it was surprising when Bob Roth revealed that this wasn't the intention.  They had commissioned a song for the 14-minute pilot to help get a lot of information across in a short amount of time.  But it was so well received that the show became a musical, with a song required from Rob Cantor every episode.
Fans were eager to know more about the future of The Ghost and Molly McGee during the Q&A, with questions ranging from if we can expect a third season to would the creators ever want to make a movie.  The short answer is yes, they would love to keep the show going and branch into longer-form stories.  But all of that requires the show to remain popular and continue to grow its audience. "Your views are like votes," Bill said, with Bob adding that "It's okay to vote more than once."  My favorite moment of the panel came when the cast was asked why the show is so special to them.  In a pre-recorded video message, the voice of Scratch (Dana Snyder) said "It has so much heart, but it also has so much fart."
The remainder of Season 1 of The Ghost and Molly McGee will be available on Disney+ beginning August 3rd.  Don't miss the new Broken Karaoke short debuting August 20th on Disney Channel and online.
Did you get to Comic-Con this year? What did you think?  Drop us a note below.
Be sure to follow @allearsnet on Facebook, Instagram and Twitter!
Join the AllEars.net Newsletter to stay on top of ALL the breaking Disney News! You'll also get access to AllEars tips, reviews, trivia, and MORE! Click here to Subscribe!