Nighttime entertainment is BACK in Disneyland and if you're looking for the BEST views, we've got you!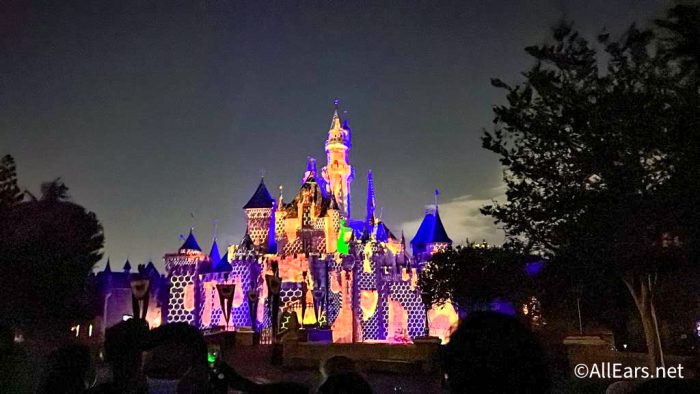 Disneyland currently offers guests the opportunity to reserve dining packages for both the Main Street Electrical Parade and Fantasmic! And, a tasty meal isn't the only benefit — you also gain an exclusive viewing area for the nighttime show. And, now there's even a way to get an exclusive view of Disneyland Forever fireworks with the Tomorrowland Skyline Lounge Experience and we're bringing you along for a FULL review of the experience!
If you're not familiar with Disneyland's Tomorrowland Skyline Lounge Experience, it can be compared to Disney World's 50th Anniversary Dessert Parties where you can take the time to enjoy some food prior to the show and then watch the show from a designated spot with prime views.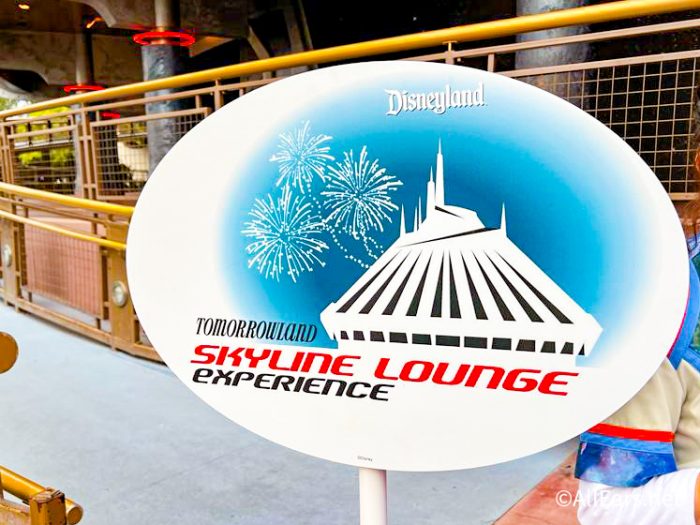 The experience starts at $60 per person (depending on the date) and includes a choice of entrée with side, a dessert selection, and unlimited soft drinks, bottled water, or hot chocolate at the Tomorrowland Skyline Lounge balcony where guests can come and go as they please. This is also where they can view the fireworks show.
So, is it worth shelling out the big bucks to make a reservation? Here's a look at our experience!
When it was time for our reservation at 7PM (you'll select your reservation when you first book the experience), we headed to check-in at Galactic Grill. We were quickly able to find the podium that we needed to check in at thanks to the signage. (Note that guests can also opt to check in and dine at Alien Pizza Planet instead.)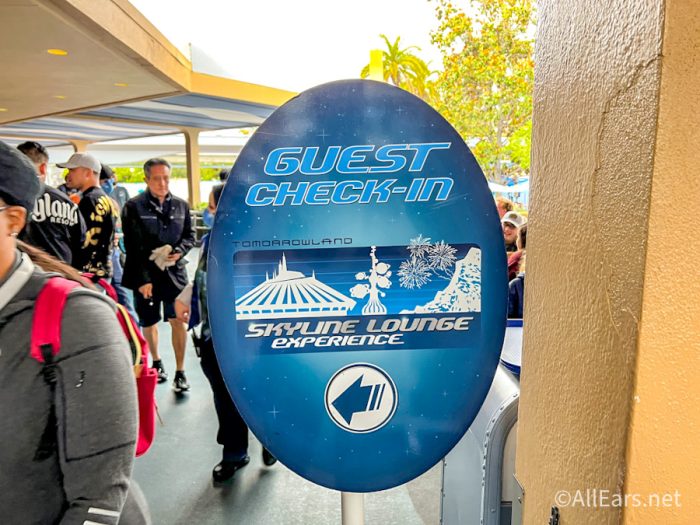 At check-in, we received our Tomorrowland Skyline Lounge Experience badge to wear around our necks. This is what gets you into the reserved viewing area on the second floor of the Star Wars Launch Bay Building.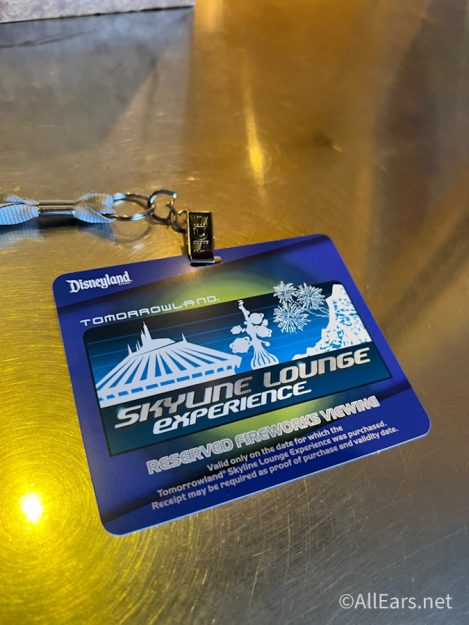 Then we headed on inside to windows 1 and 2 to order up our meal! Keep in mind that the restaurant is still open to other guests, but you won't have to wait with everyone else when you have the experience reserved.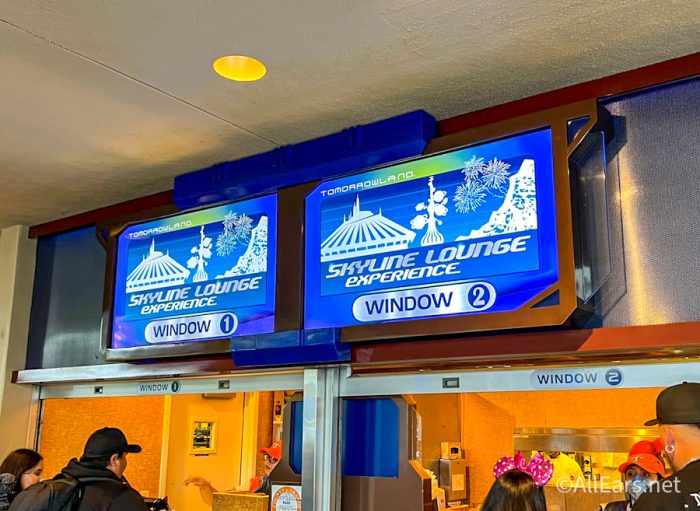 And, here's the menu! For entrees, you can pick from:
The Meaty-Or Sandwich, which has meatloaf, space sauce, onion aioli, hash browns, arugula, and Havarti on a brioche bun, served with a side of fries or pasta salad
The Chicken Star-Mesan Sandwich, which has a breaded chicken breast topped with marinara sauce, provolone, an herb medley, and pesto aioli on a ciabatta roll, served with fries or pasta salad
The Supernova Pasta Bake, which is a blend of broccolini, artichokes, mushrooms, olives, tomatoes and pasta tossed in marinara sauce with cheese on top.
And, dessert is your choice of seasonal treats!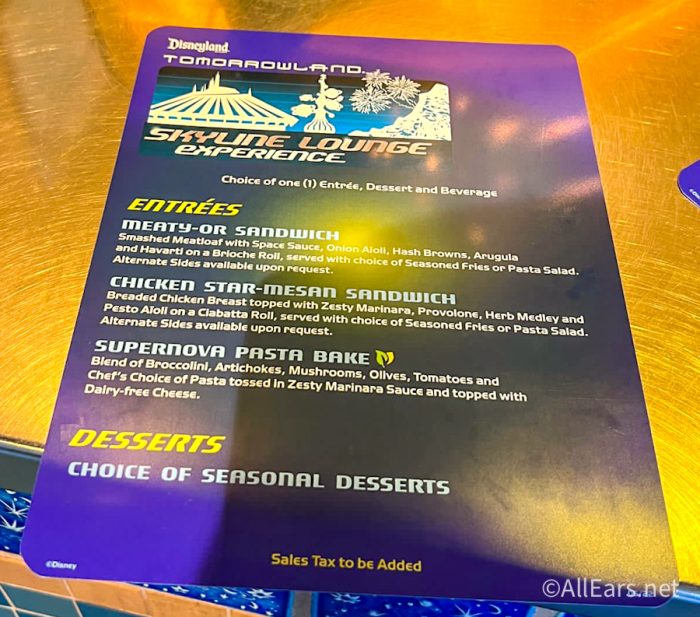 After picking up our food, we headed upstairs to the dining area. It's basically a big outdoor dining area with standard tables and chairs — just keep in mind that you may have to share a table with other guests depending on how many people are dining at the same time.
It's also important to note that we had to carry our own food tray upstairs, so if you have a big party, you'll want to keep a few helping hands with you!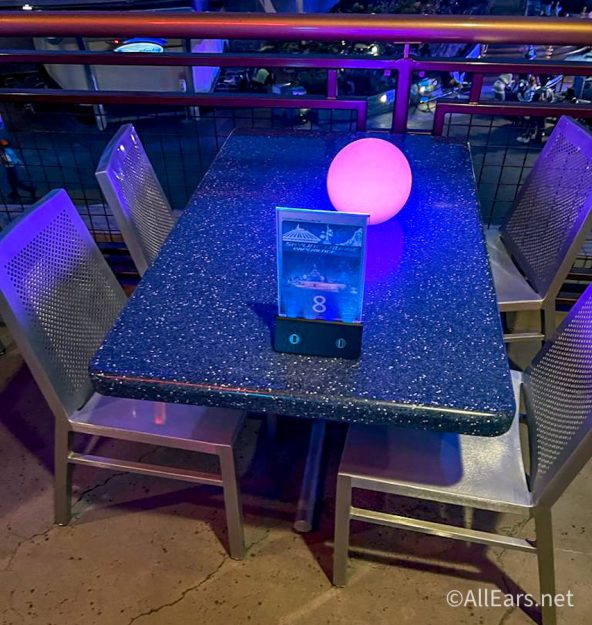 For our meal, we opted for the Chicken Star-Mesan Sandwich (which is a breaded chicken breast topped with marinara sauce, provolone, an herb medley, and pesto aioli on a ciabatta roll) with fries and a chocolate dome dessert.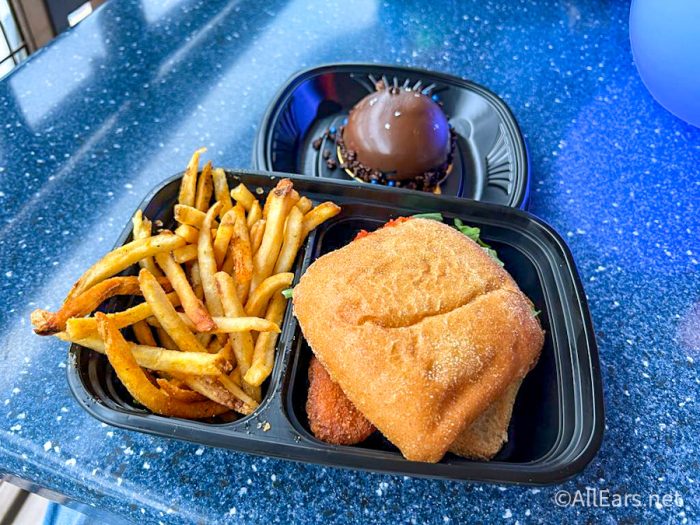 All of the flavors in the sandwich really worked for us with the star of the dish being that pesto aioli!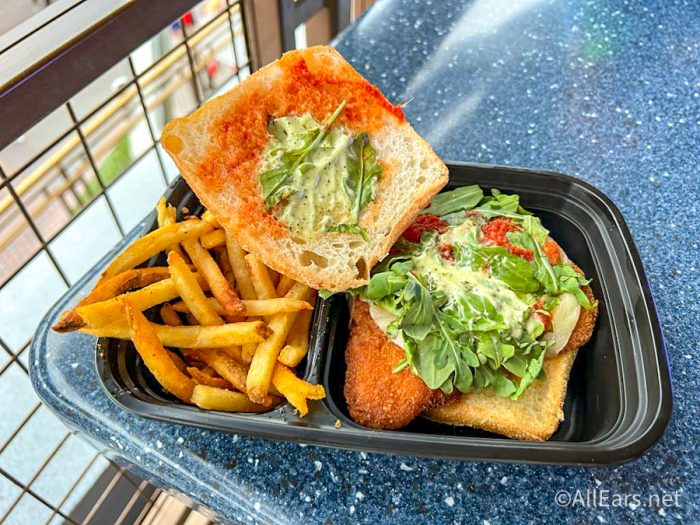 As for the chocolate dome dessert, there wasn't anything all that special about it, but it was a tasty way to top off dinner!
All in all, our only complaint about the meal was that it could have been a little bit better quality for the cost of the experience — but, it seems that it's really the viewing area that you're paying for rather than the food.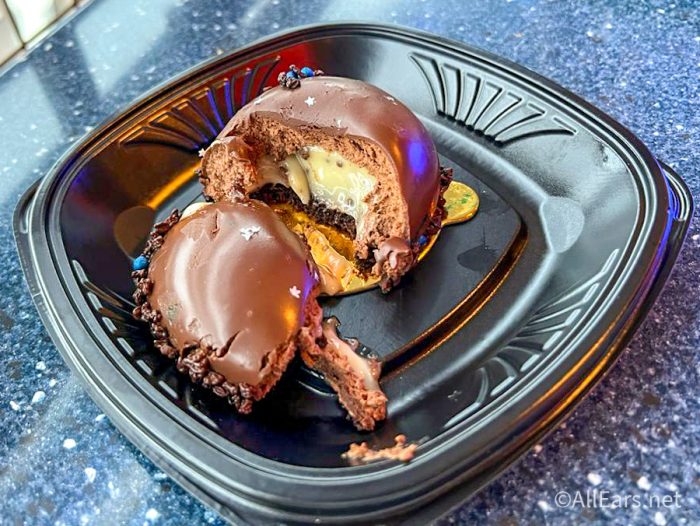 We mentioned earlier that the Tomorrowland Skyline Lounge Experience comes with unlimited soft drinks, bottled water, or hot chocolate and you'll find that in the dining area! There was a drink cart where guests could stop for refills throughout the night.
Drinks are served in a can or bottle.
And, after eating there was still some time before the show, so there were photo props and games to keep everyone waiting busy.
And, then it was time for the fireworks! The location offered up a great (and not crowded) view of the fireworks, but, unfortunately, we couldn't see any of the castle projections that pair with the show. And, unlike some other fireworks parties that we've been to, there wasn't a speaker nearby to hear the music so it was pretty faint.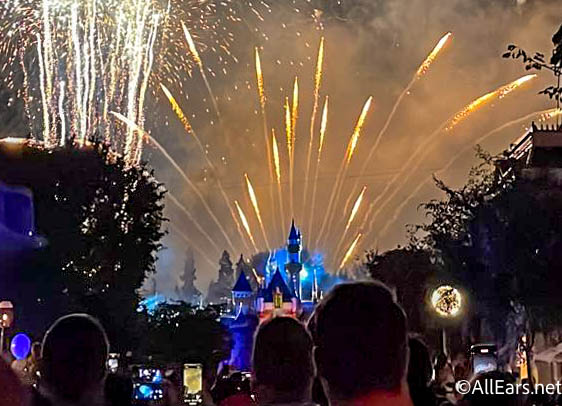 Overall, we enjoyed the experience but may not recommend it to guests who are seeing the show for the very first time (since you can't see the castle projections very well). The meal was good enough and the real highlight was being able to escape the crowds for dinner and have a spot to watch the fireworks without having to stake it out hours in advance. 
The Cast Members were kind and attentive and it also offered up a view of Tomorrowland that we don't normally get to see!
So, if you're willing to spend a little extra money to get a unique experience and guarantee yourself a seat for fireworks, then the Tomorrowland Skyline Lounge Experience might be for you! Of course, you don't need to book a reservation to view the fireworks, but if you've already seen them from the ground or don't mind missing the projections then this might be $60 well spent for you and your family.
Of course, we'll continue to keep an eye out for more returning experiences in Disneyland, so be sure to stay tuned to AllEars for the latest!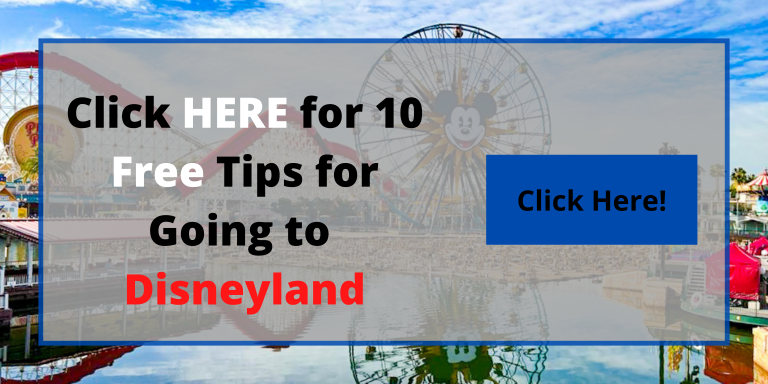 Have you ever done the Tomorrowland Skyline Lounge Experience? Let us know in the comments!