Disclosure: We were invited by Raglan Road to attend the National Irish Coffee Day Media Event. This did not affect our reporting of the event — our opinions are our own
A new holiday is just a few days away. It's not a mainstream holiday like Christmas and New Year's, but it's also much more endearing than those obscure holidays like National Bubble Wrap Appreciation Day (which is also right around the corner on January 31st).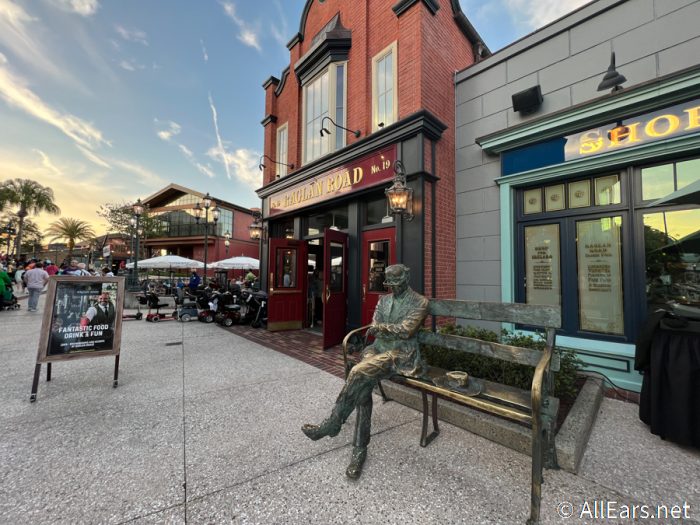 Raglan Road Irish Pub & Restaurant at Disney Springs is pulling out all of the stops with a limited-time offer like only the Irish can do!
For National Irish Coffee Day on January 25th, Raglan Road is celebrating with the promotion: "You buy the coffee, the whiskey is on us!"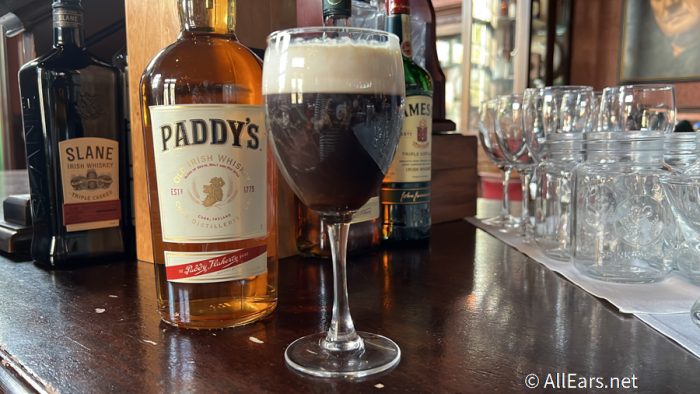 While only the "Our Signature Irish Coffee" is available for the special promotion on National Irish Coffee Day, there are several other coffee cocktails you can consider and indulge in!
If you haven't been to Raglan Road before, you're in for a treat! The dark wood, warm lighting, stained glass, leather-booth-lined walls transport Disney guests across the pond into an authentic Irish pub. It's so authentic, that the owners themselves are Irish and often bounce back and forth between this Disney Springs location and their other establishments in Ireland. So, if you're looking for a genuine European pub experience, you've found it!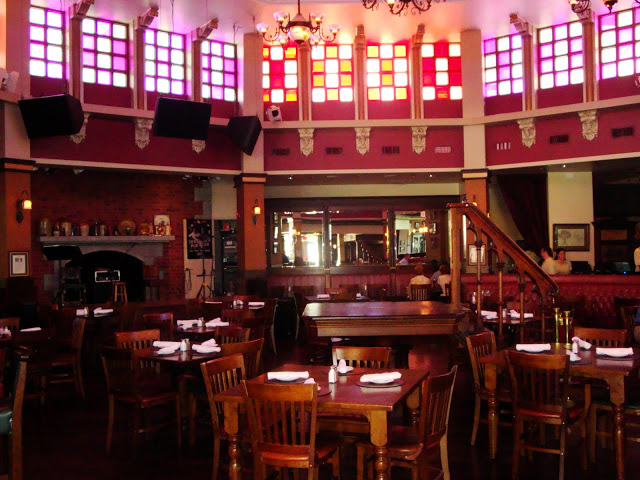 It's also family-friendly! You can often find traditional Irish music being played live by musicians and Irish dancers tour the restaurant a scheduled times for that extra bit of entertainment.
We were invited out to Raglan Road for a media preview of this offer and were able to taste some of the coffee drinks available at Raglan Road.
There were four coffee cocktails offered:
Bailey's Shake — Frozen mix of ice cream and coffee liquor ($15)
Iced Irish -– Bailey's Salted Caramel with iced coffee, Paddy's Irish Whiskey, and butterscotch schnapps topped with whipped cream ($15.99)
Irish Espresso Martini —  Slane Irish Whiskey, Miami club coffee liqueur, Guinness simple syrup, and fresh espresso ($15)
Our Signature Irish Coffee — Paddy's Irish Whiskey, freshly-brewed Nespresso coffee, brown sugar, and fresh cream ($15.99, when not on special)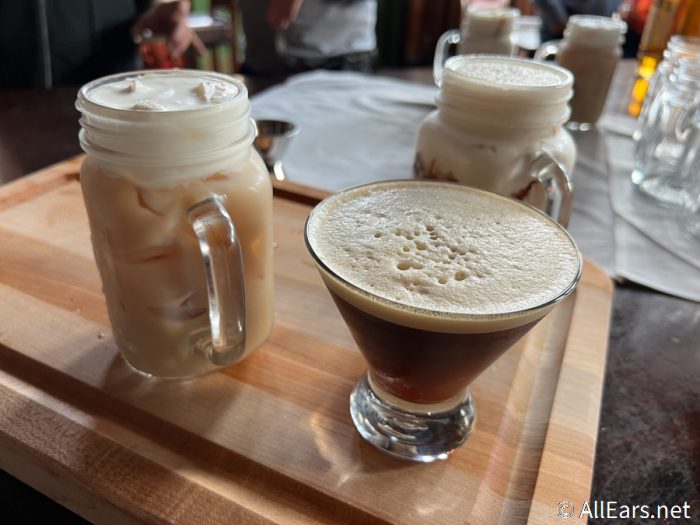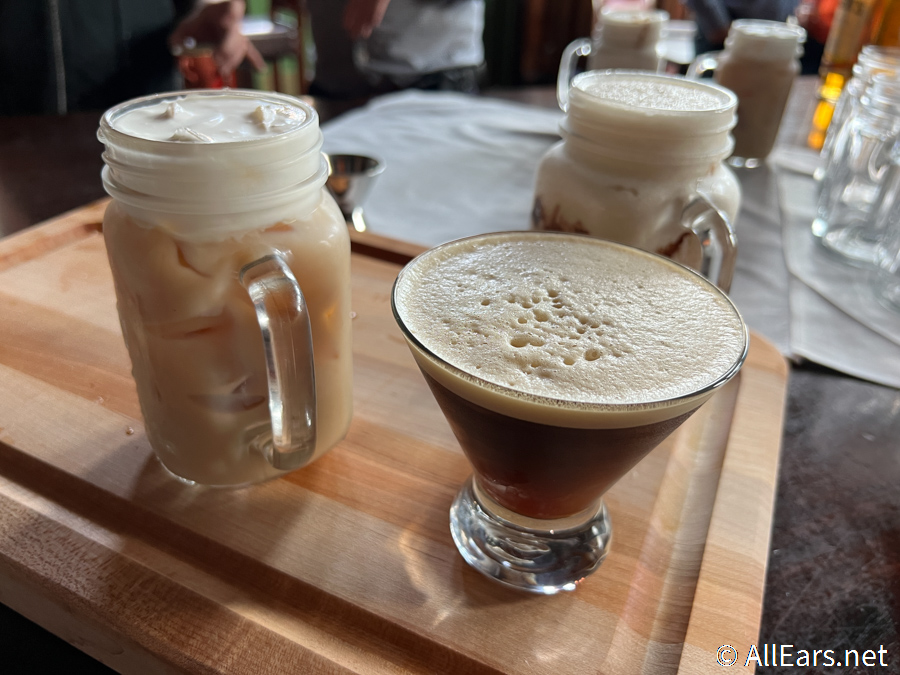 Bartender Mike went through each coffee cocktail, the ingredients, and the flavors. The key ingredient in all of these beverages was the freshly brewed Nespresso coffee which was robust and smooth, and not bitter like some coffees can be with the over-roasting of the coffee bean.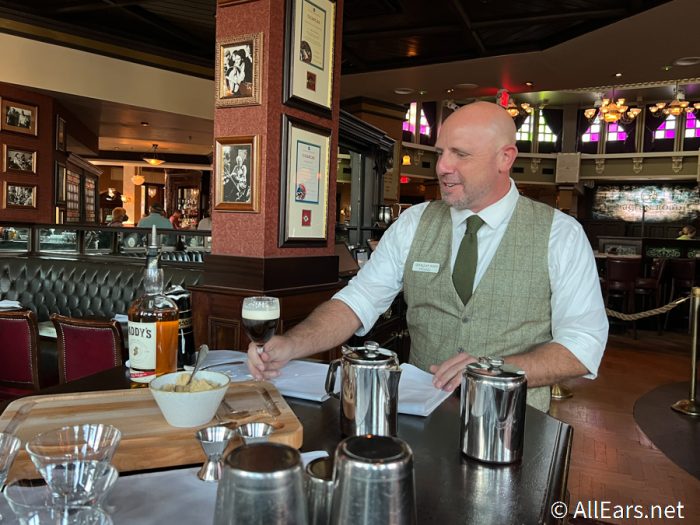 Our Signature Irish Coffee is the epi-center of this promotion, and it didn't disappoint. The fresh cream on top was rich and creamy, it helped balance the acidity of the coffee perfectly. Then, mix in the brown sugar which has a more complex molasses sweetness to the coffee flavor, which adds another profile to the flavor without being overly sweet. Finally, a heavy pour of Paddy's Irish Whiskey. That Irish touch infuses the warm drink with an additional dose of warmth that warms the drinker from the inside out. This is a rich, flavorful drink that even a non-coffee drinker could enjoy. Perfect for chilly January day.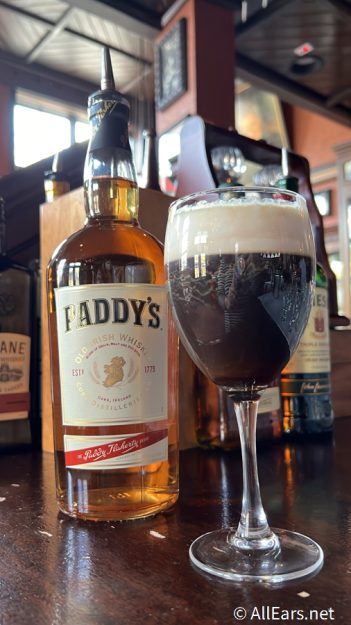 The Espresso Martini is made with Slane Irish Whiskey, Miami club coffee liqueur, Guinness simple syrup, and fresh espresso. This drink is layered with coffee flavors, espresso, coffee liqueur, and Guinness simple syrup. Guinness has a malty sweetness and a hoppy bitterness, with notes of coffee and chocolate, so when this is concentrated down into simple syrup, those coffee notes get accentuated! This cocktail really delivers a coffee flavor and caffeine boost, so you might not want to drink it too late at night!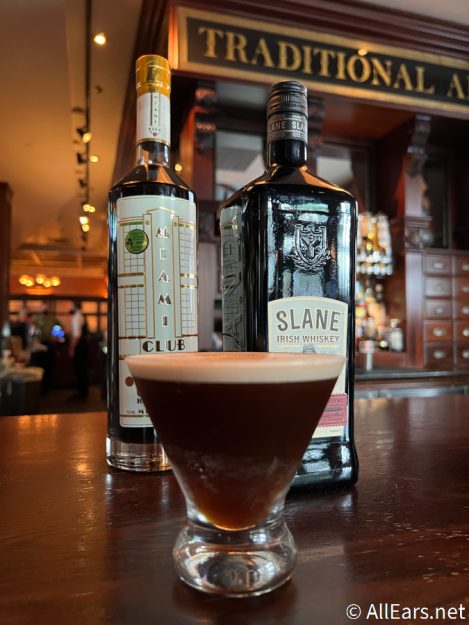 The Baileys Shake was delicious, and basically dessert. The glass was swirled and coated with chocolate syrup and then the shake made with rich ice cream and creamy Bailey's liqueur was then poured in. Of the four beverages, this one had the least amount of coffee flavor, probably because it didn't actually contain any coffee, but just the coffee liqueur. This would be the pick for a warmer day, as a nice, frosty creamy drink.
Finally, the Iced Irish. If you like those specialty espresso drinks like mochaccinos and frappuccinos, then this might be the drink for you.  This cocktail is comprised of Paddy's Whiskey, Butterscotch Schnapps, Baileys Salted Caramel, iced coffee, and whipped cream. Leaning on the sweeter side of the drinks, it also has the butterscotch and caramel swirled in with the bold coffee flavor to create a balanced drink that would be perfect after dinner or for a decadent brunch (we could totally see ourselves drinking this with some Mickey waffles nearby)!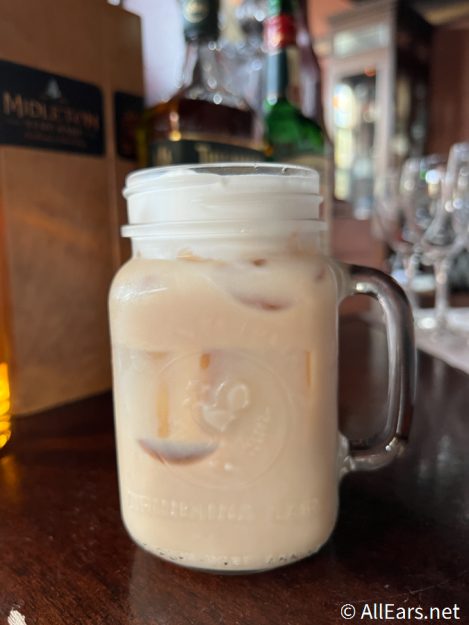 During our event, we were able to try some shared platters that Raglan Road is currently testing. While these are currently not available on the menu, they are expected to be out soon, so be on the lookout if you have a Raglan Road visit coming up!  The ones we got to check out were the meat shared platter and the seafood shared platter and were told that they're working on a vegan option. These were were delicious — just as we expect at our favorite Disney Springs Irish pub.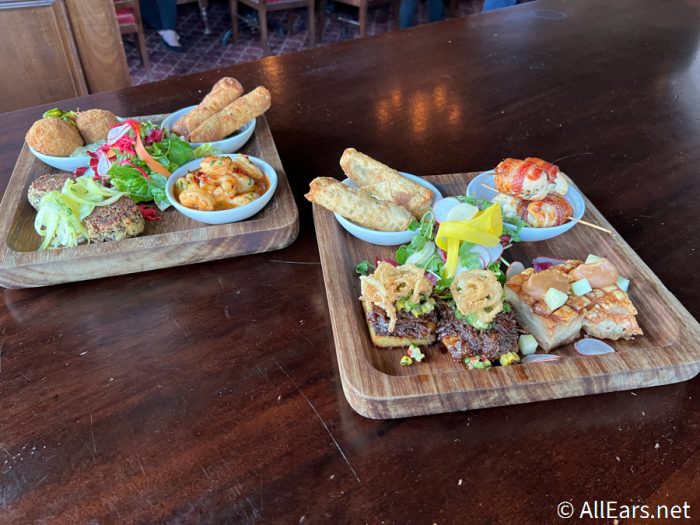 Though only the Our Signature Irish Coffee is available for the National Irish Coffee Day promotion, all of these coffee cocktails offer unique and fun options for even the coffee-adverse adventurers. If you can't make it to Raglan Road for this event, these cocktails are on the menu year-round, so they'll be available during your trip!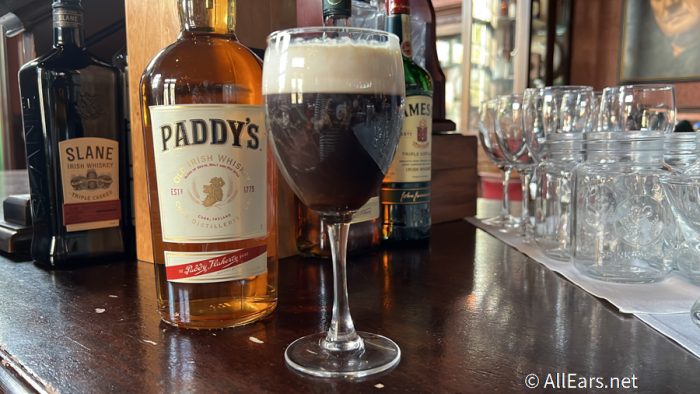 Keep following AllEars and we'll keep you in the know when the latest Disney news comes out!
Join the AllEars.net Newsletter to stay on top of ALL the breaking Disney News! You'll also get access to AllEars tips, reviews, trivia, and MORE! Click here to Subscribe!

Will you stop by Raglan Road for National Irish Coffee Day? Tell us in the comments!