For nearly seven decades, the Walt Disney Company's theme parks have served as the interactive, public-facing wing of the entertainment monolith. To that end, Disney has often been protective in its presentation of its parks, from the earliest plans to maintain trashcans every 30 feet to the routine exterior improvements we see regularly in the Parks.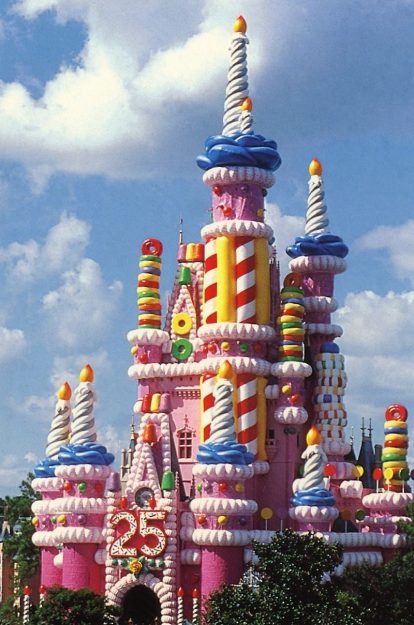 However, over the years there have been occurrences that truly don't fit in with the Company's ethos, and these few and far between moments seem strange, out of place, and — quite frankly — downright weird.
These are six of the weirdest parts of Disney Parks history.
The Pink Cake Castle
Perhaps the best known what were they thinking moment in Magic Kingdom's storied history is the birthday cake overlay given to Cinderella Castle to celebrate the Park's 25th birthday in 1996.
As part of the "Remember the Magic" promotion, the iconic castle was swathed in 400 gallons of pink paint, which was then accentuated with multicolored "sprinkles," 26 candles, ranging in height from 20–40 feet tall, candy stars, candy bears, gumdrops, stacks of Life Savers, lollipops, gumballs, 1000 feet of pink and blue inflatable "icing", and a giant 25 front and center.
While some guests enjoyed the gigantic birthday cake look, many more found it… oh, what's the word? Repulsive. They found it repulsive. In fact, some claimed that the gigantic candy decorations and faux frosting combined with Florida's heat left them a bit sick to their stomach, giving the overall look the unfortunate nickname "Pepto Bismol Pink."
Furthermore, many first time guests and couples who were getting married as part of Disney's then-nascent Fairytale Weddings program were enraged that they didn't have the chance to take photos with the castle in its traditional form.
Not everyone loves Disney World's 50th anniversary Cinderella Castle look. What do you think?
Pooh for President
This curious publicity event, which was first staged at Disneyland in 1968, then replicated in 1972 (where it was also staged at Walt Disney World), 1976, and 1980, featured the character of Winnie the Pooh running for president.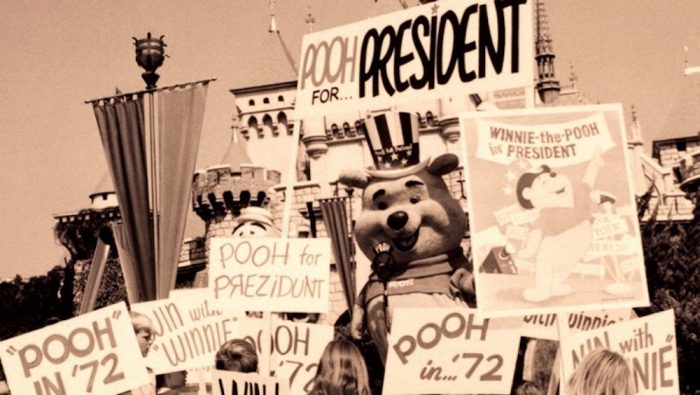 Pooh's parody campaign featured involvement from numerous other characters (including Tigger as press secretary), daily "rallies" in the parks, and even a campaign song that was sold in souvenir shops and in Sears stores. Furthermore, Disney produced faux-political pamphlets which explained Pooh's policy plans, including "disclosing the 'Bear Facts," promising to put "hunny in every pot" and fighting a "battle to 'lick' the high price of ice cream cones."
Admittedly, Pooh for President might only look weird in hindsight, but it's almost impossible to imagine Disney involving themselves in a modern U.S. Presidential Election, even in a joking/tongue-in-cheek manner.
California Adventure Goes X-Treme
Two years after the park's disastrous opening, California Adventure was still trying to find its footing as the second gate theme park of the Disneyland Resort. In the summer of 2003, Disney infused the struggling park with some corporate synergy, staging the ESPN X Games Experience in the park.
The X Games XPerience featured daily displays of "extreme sports" including BMX bike riding, skateboarding, and roller blading at a specially built X Arena in the park's Timon parking lot (now home to Cars Land). In addition, the event featured a temporary video game race, meet and greets with X Games athletes, and photo ops engineered to make guests appear to be engaging in X Games-style events.
Despite Disney stating that "visitors to Disney's theme parks have come to expect the very best in family entertainment. The X Games Xperience at Disney's California Adventure will provide the perfect lead-in to X Games IX in Los Angeles" (Yesterland) the event was relatively unpopular with guests, who saw it as a weird intrusion in a Disney Park, and never returned following the end of its run in August of 2003.
EPCOT Goes Barbie
We've spoken before about Barbie's strange time in EPCOT in the mid-1990s, but a quick recap: The Magical World of Barbie was a stage show that premiered on the American Gardens Theatre stage in the World Showcase's American Adventure pavilion in 1993. The musical production followed Barbie and friends around the world learning about different cultures.
Despite the show's premise making it at least somewhat appropriate for its World Showcase setting, diehard EPCOT fans despised the production. The reaction partially led to Barbie's time in the park being relatively short-lived, though footage of the show did make it onto the 1993 Walt Disney World Christmas Parade broadcast and was later released as a VHS known as Barbie Birthday Party.
Space Mountain Meets the Red Hot Chili Peppers
In the years following the opening of Rock 'N' Roller Coaster Starring Aerosmith, many Disney fans daydreamed about the attraction coming to California Adventure, postulating that the Disneyland version could differentiate itself by featuring the music of a Golden State stalwart band like No Doubt or the Red Hot Chili Peppers. Well, they kind of got their wish in 2006… in the weirdest way possible.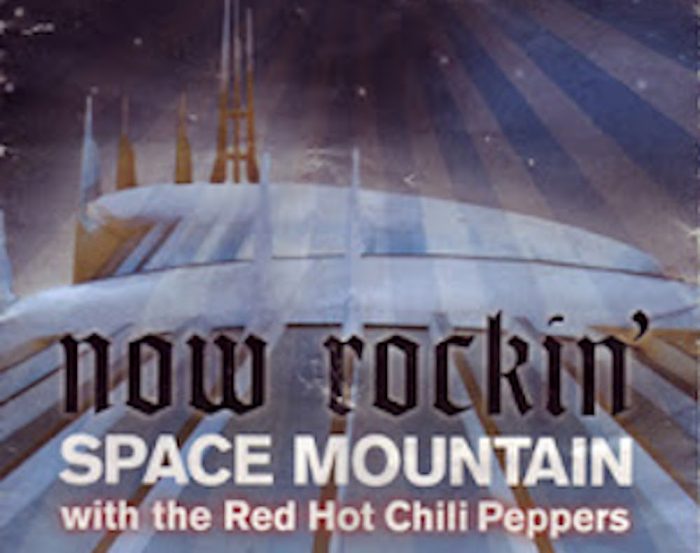 In December of 2006, Disney announced a promotion entitled "Rockin' Both Parks" which would see the soundtracks of California Adventure's California Screamin' coaster and Disneyland's Space Mountain replaced with Red Hot Chili Peppers songs.
Beyond the soundtrack, Space Mountain in particular saw its entire storyline modified for the occasion. The ride, augmented by colored strobe lights, a radio DJ, and projections of dancers and other rock and roll visuals, told the story of guests blasting off into space to see a "broad-blast" of a Red Hot Chili Peppers concert.
Cool? Maybe. Out of place in Tomorrowland? Absolutely. Weird for Disney? Most definitely.
Stitch Takes Over
Our final weird Disney Parks moment circles back to where we began: Cinderella Castle. Only this time, instead of a cake, the iconic structure is covered in toilet paper and graffiti.
Yeah.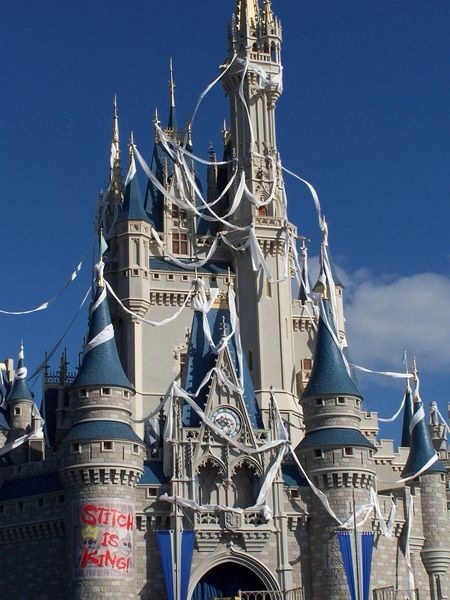 In November of 2004, Disney celebrated the opening of Stitch's Great Escape (the replacement for the dearly departed Alien Encounter) by draping the castle with toilet paper and scrawling "STITCH IS KING" in faux-graffiti on one of the building's turrets.
Suffice to say, reaction to these…decorations... was not positive. Though it only lasted a day, this is one Magic Kingdom memory that, unfortunately, lasts forever.
Did you get to experience one of these weird Disney moments first hand? Are there any notable ones you feel we missed? Let us know in the comments below.