Premiering on Disney+ on February 26th, 2021, is Myth: A Frozen Tale, an animated short that started life as a VR (Virtual Reality) experience set in the familiar world of Arendelle, now translated to 2D for home streaming.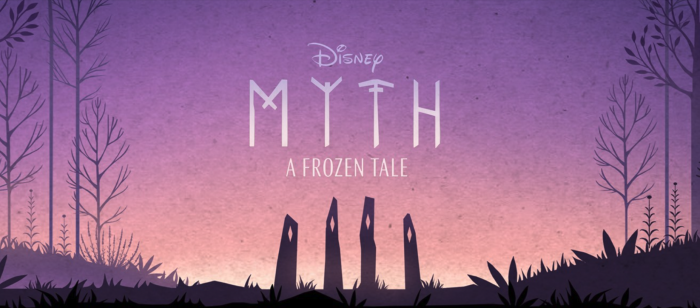 Elaborating on the mythology and elemental spirits introduced in Frozen 2, Walt Disney Animation director Jeff Gipson created this bedtime story which brings the various spirits–Nokk (water,) Gale (wind,) Bruni (fire,) and Earth Giants (earth)–to life for both one Arendelle family and all their viewers.
To celebrate the short's Disney+ premiere, director Jeff Gipson, production designer Brittney Lee, and producer Nicholas Russell held a virtual press conference to share some of the details that went into the making of a Myth.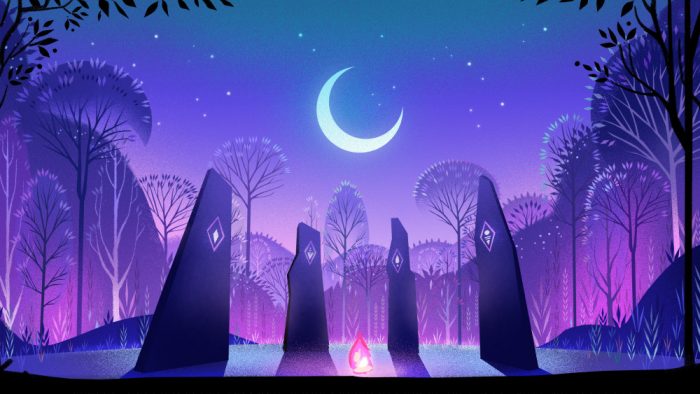 1.  The Concept
The inspiration behind Myth came from Gipson's love of bedtime stories, and in particular, one his dad used to tell him about an encounter his great-great-great-great-grandfather had with famed outlaw Jesse James.  "And I just remember the way that story made me feel.  The sense of wonder, this legendary Western figure interacting with my family, and on some level, it just was really inspiring.  So when it came to Myth: A Frozen Tale, I started thinking about what types of stories–what bedtime story–would you be told, if you grew up in or around Arendelle."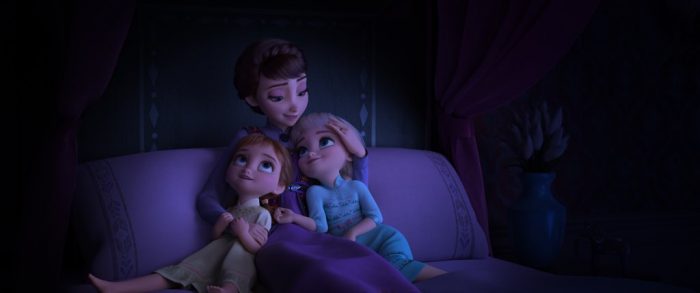 2.  Art Design
In their search to tie the long and fabled heritage of Disney Animation to a new medium like VR, Gipson looked back to the graphic appearance of shadow puppets and pop-up books.  These use a flattened aesthetic that would evoke people's memories of Arendelle while simultaneously providing a new, stylized version of it.  This was when they looked to get visual development artist Brittney Lee involved, as her personal aesthetic naturally has a very graphic, paper cut-out look.
"One big influence for the Frozen world is the art of Eyvind Earle and his work on Sleeping Beauty was really informative with an elegant shape language, very graphic and stylized.  The forests are featured predominantly in Sleeping Beauty as well, so we really looked to his artwork to sort of begin the framework of stylizing the space…to build our own forest in Myth."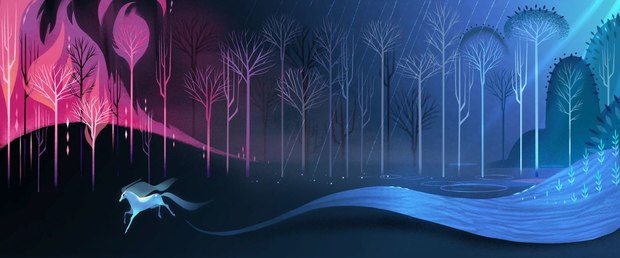 Lee:  "Mary Blair is one of my personal heroes and a huge inspiration. I think, more so in color.  The shape language was definitely more based on Eyvind Earle, the long, elegant, and etherealness of that.  But colorwise pushing into less realism or fantasy?  Absolutely Mary Blair."
View this post on Instagram
3.  The Spirits
Besides making the representations of the spirits more stylized than they were shown in Frozen 2, the spirits needed to have a duality in their appearance:  A harmonious version for when things are peaceful, and then a darker, more dramatic version for when the world becomes out of balance.
Lee:  "So this is also an illustration of how we approached the Nokk and the serene version that you see initially, transitioning into a darker version that represents the coming flood…how might we make something that is supposed to look ethereal, and amazing, and beautiful and then also represent impending danger potentially."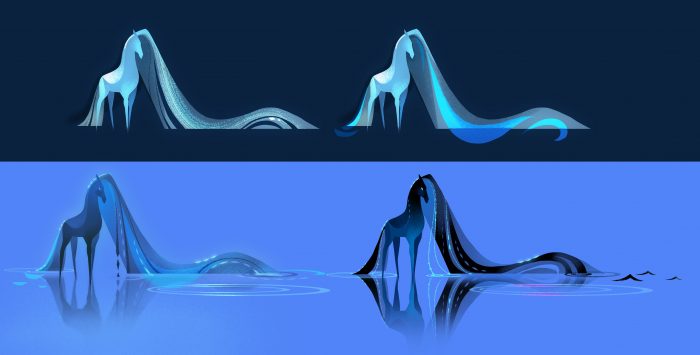 4.  On whether the salamander in Myth is Bruni from Frozen 2:
Gipson:  "We never really talked about it.  I'd say it was Bruni, but yeah I mean Bruni or a stylized idea of Bruni.  I don't really know. I'll let fans speculate."
Lee:  "It's the storybook version of Bruni."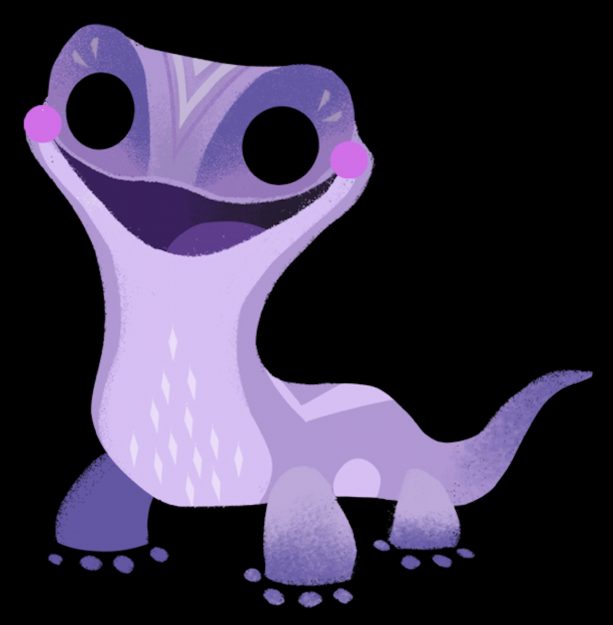 5.  Virtual Reality
When telling a tale in VR, one of the difficulties is conveying a story while still giving viewers agency (or at least the impression of agency) in movement.
Gipson:  "I think one of the challenges in VR is always 'how do we draw the audience's attention?  How do we make them look where we want them to look?'  And so when Brittney talked about a proscenium arch [of trees] in visual development, we designed that art to frame each one of those story moments for the VR version…We were really thoughtful about how we were placing the characters and framing them in VR.  We had this in the back of our minds all the way along.
"In the VR version, we have the Gomez effect, where if you're not looking in the right spot the music tones down and the color starts to desaturate. The world starts to get dark."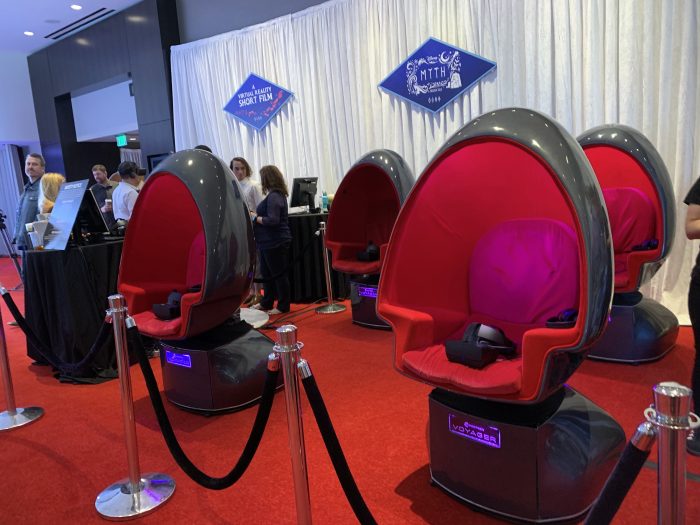 In case you missed it, here's the trailer originally released for the VR version of Myth:  A Frozen Tale.
Myth: A Frozen Tale begins streaming on Disney+ on February 26, 2021.
Questions?  Comments?  Suggestions?  Drop us a line below.
Be sure to follow @allearsnet on Facebook, Instagram and Twitter!
Check out our YouTube Channel for reviews, news, information and more!
Click below to subscribe to the AllEars® newsletter so you don't miss any of the latest Disney news!

Are you excited for Onward? Let us know in the comments!