For the past several months, the theme park industry in California has waited for the guidance needed by the state in order to move forward with reopening plans. Parks like Disneyland have been unable to reopen without these guidelines, which state when, how, and under what circumstances a business can resume operations.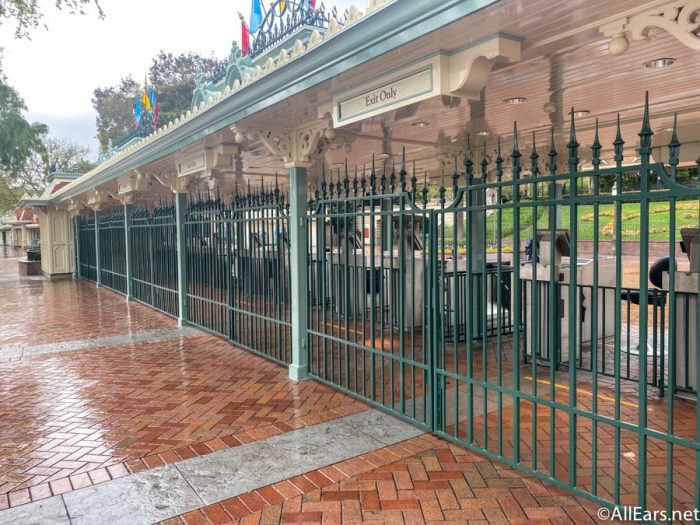 We recently reported that the state of California was close to issuing these guidelines, after mounting pressure by Disney executives and the local Anaheim and Orange County communities. The theme park guidelines have now been released, meaning that Disneyland, Universal Studios Hollywood, and others can make a huge step forward towards reopening.
Let's review some of the major takeaways from the California theme park guidelines.
A County Must Reach a Specific Tier in Order to Reopen Parks
Governor Gavin Newsom unveiled a four-tier reopening blueprint in late August that outlines certain metrics and benchmarks a county must reach in order to move further into their reopening. Within each industry's reopening guidelines, there are different restrictions in place based on the tier that a county is in.
While the theme park guidelines needed to reopen have been released, it doesn't mean all of the state's parks can reopen immediately.  According to the theme park industry guidance, a county must be in the Yellow, "Minimal" Tier in order to reopen larger theme parks.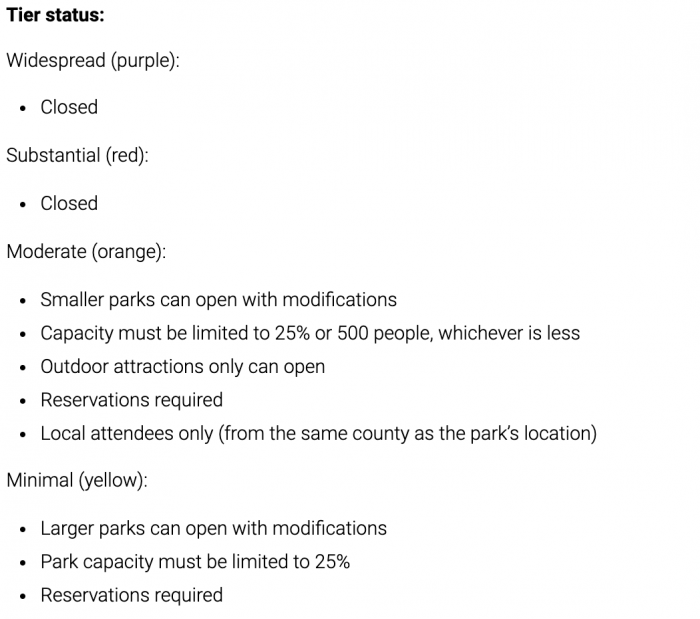 This means that in order for Disneyland to reopen, Orange County must first report a new case rate of less than 1 per 100,000 residents and a positive test rate of less than 2%.
What's unknown at this time is what Disneyland's system will look like, and how much it will resemble Disney World's Park Pass Reservation System. We spotted signage around the Disneyland Resort that seemed to indicate that some sort of reservation system will be implemented.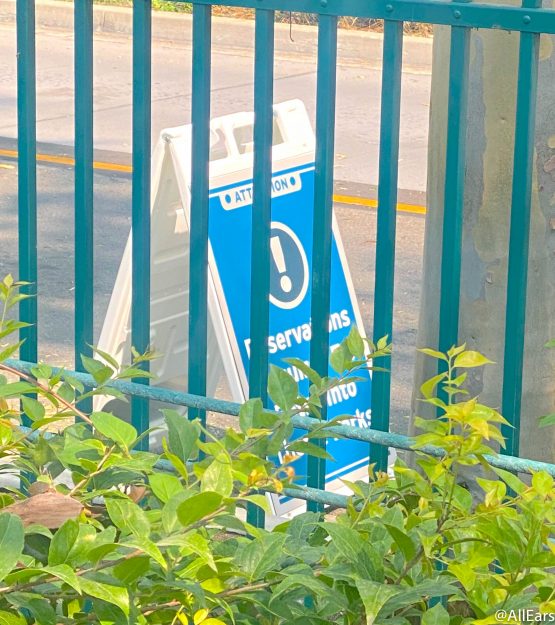 Face Coverings Are Required
Much like the measurements seen at Disney Parks across the globe, face coverings will be required at theme parks in California. Disneyland and Universal Studios Hollywood have already adopted face mask mandates in Downtown Disney and CityWalk, their shopping and dining districts adjacent to the theme parks that both reopened over the summer.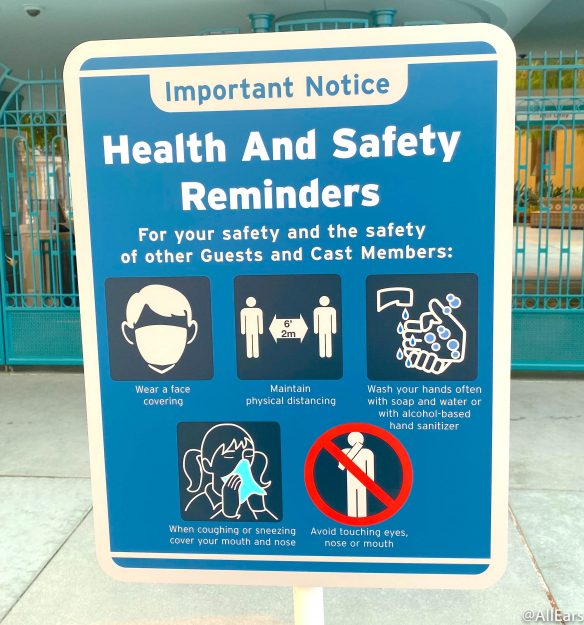 The guidelines note that the use of face coverings is mandatory throughout the park "in all settings indoor and outdoor unless actively eating or drinking in designated dining areas." It notes that customers who do not comply should be removed from a park immediately.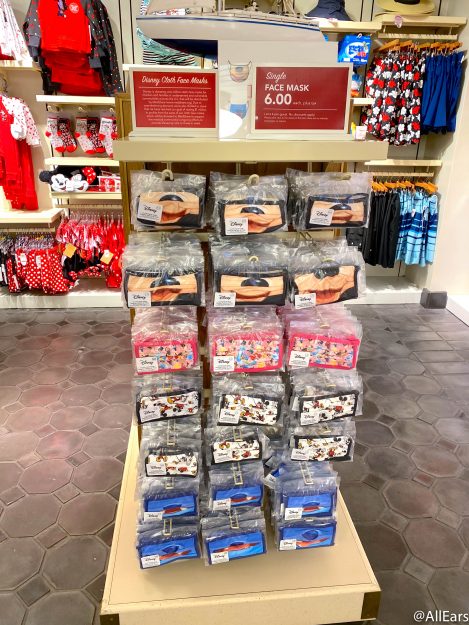 This is already the face mask policy we have seen in place in Disney World and in Downtown Disney so Disney will likely be able to use a similar policy in Disneyland parks. One difference is that California requires parks to permit access for guests who are exempt from wearing face coverings. Disney has not permitted those unable to wear face coverings to visit Disney World so this may need to be a change in Disneyland.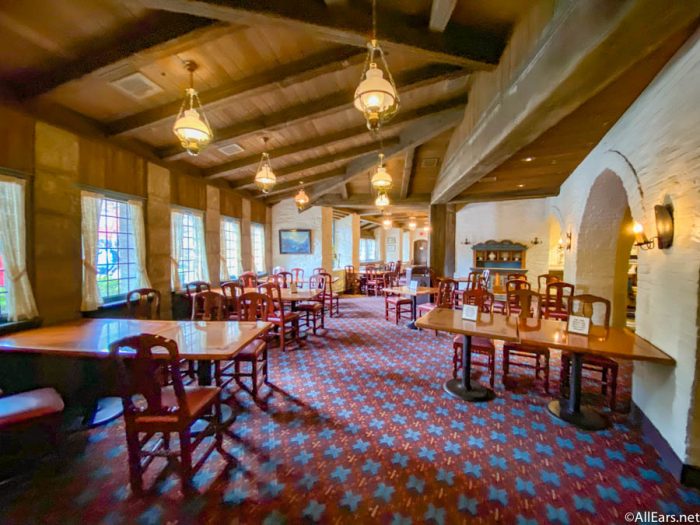 When dining, guests must be in a designated dining area to remove their masks. In Disney World, this has been slightly looser with guests allowed to eat or drink as long as they are distanced and stationary. It is also unclear how these guidelines affect the concept of mask removal areas such as Relaxation Stations.
Parks and Indoor Eating and Drinking Establishments Have Limited Capacity
Once larger parks are able to open in the Minimal Spread tier, capacity must be limited overall to 25%. Per Disney CEO Bob Chapek, this is the limitation that Disney World is currently abiding by. In addition, indoor eating and drinking establishments must be limited to 25% capacity as well.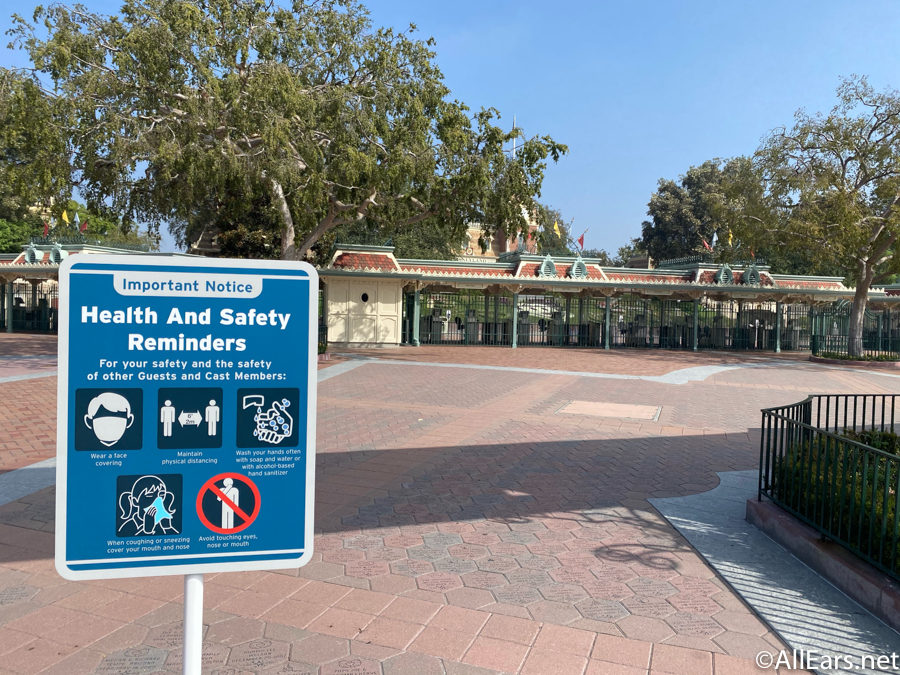 With the limited capacity, resorts are expected to maintain social distancing for all of their guests and workers in queue areas, on attractions, in shows, in restaurants, and anywhere else around the park. This is already the case in Disney World.
Queues Must Be Outdoors
Our final big takeaway from the guidelines is that all queues for attractions must be outdoors. This is not the case in Disney World as queues are a mix of indoors and outdoors so this may cause a logistical challenge for Disneyland.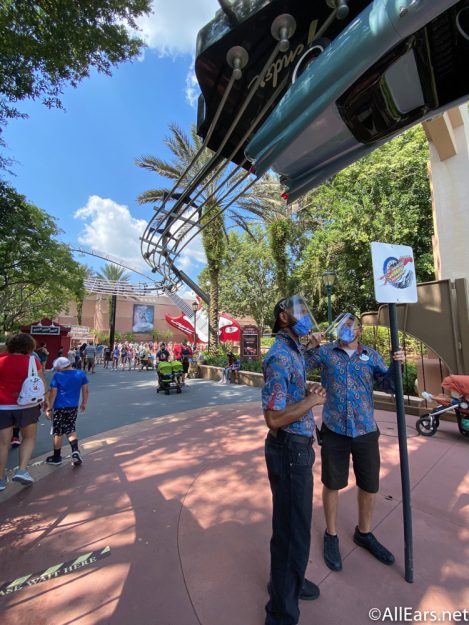 The 20-page guidelines contain many more notes for theme parks, most that are already congruent with Disney's practices in Disney World and Downtown Disney. You can read them here.
Will you be visiting a California theme park once it reopens? Share your thoughts on these guidelines in the comments!
Join the AllEars.net Newsletter to stay on top of ALL the breaking Disney News! You'll also get access to AllEars tips, reviews, trivia, and MORE! Click here to Subscribe!