Orlando is the hotspot for thrillseekers, with some of the wildest rides in the country. If you've got a need for speed, the City Beautiful is the place to be.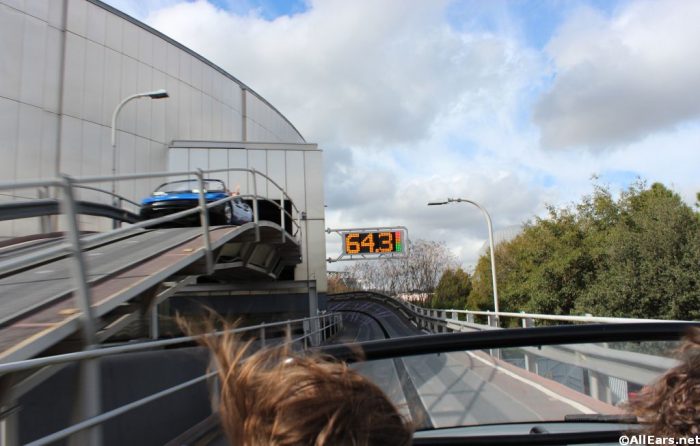 But between Disney World and Universal Studios, which rides are the fastest? Here's a quick (pun absolutely intended) rundown.
Expedition Everest
Let's begin with the tamest ride on our list… for a certain definition of tame, anyway. Expedition Everest still reaches a blistering top speed of 50 mph! That's pretty impressive for a ride that relies solely on gravity to build momentum.
For the uninitiated, the term "roller coaster" is actually a pretty literal descriptor. The earliest roller coasters were slides fitted with rollers, over which a sled or toboggan would coast. Many of them didn't feature motors at all, relying on the force of gravity to achieve those precious thrills. That's why, even today, most roller coasters feature a lift hill before a single, huge drop, relying on physics to carry riders through all the twists and turns. Of course, big drops aren't the only way to achieve high speeds…
Hagrid's Magical Creatures Motorbike Adventure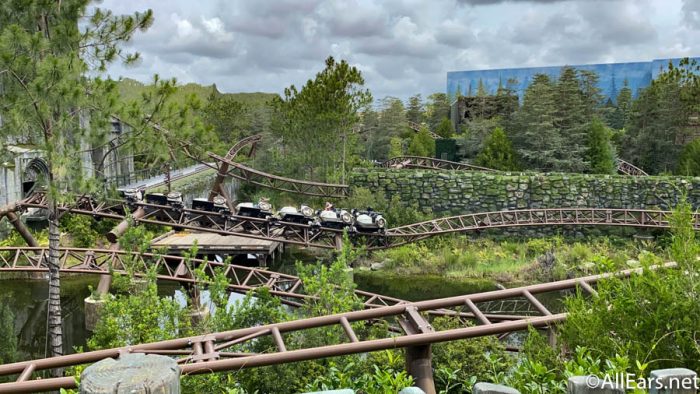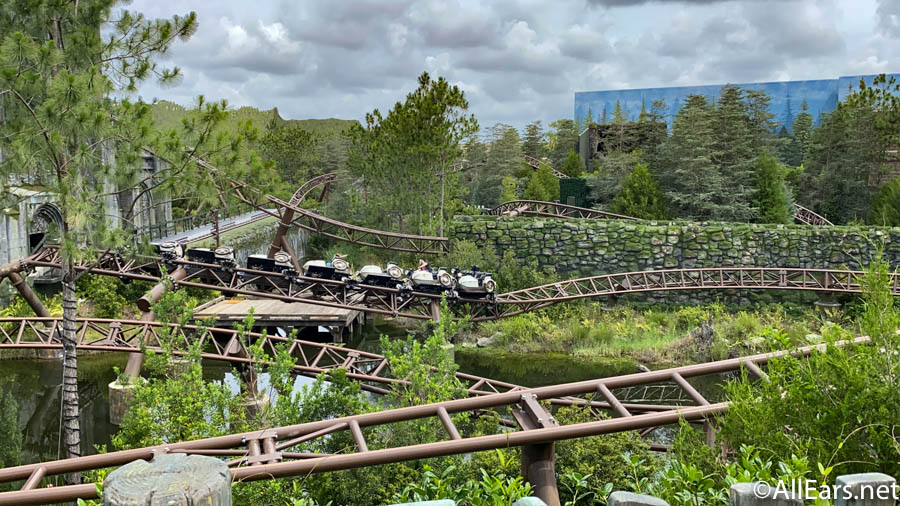 Case in point, the newest ride at the Wizarding World of Harry Potter also has a top speed of 50 mph but lacks Everest's nearly 200 foot drop. Instead, it relies on a record breaking seven launches to propel riders through the Forbidden Forest.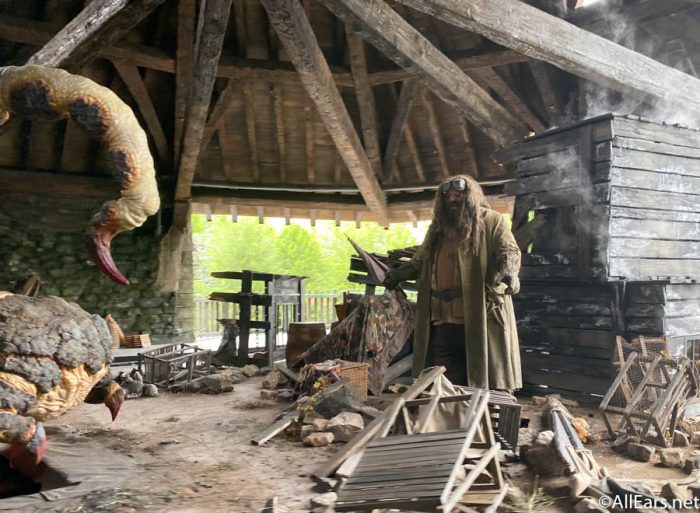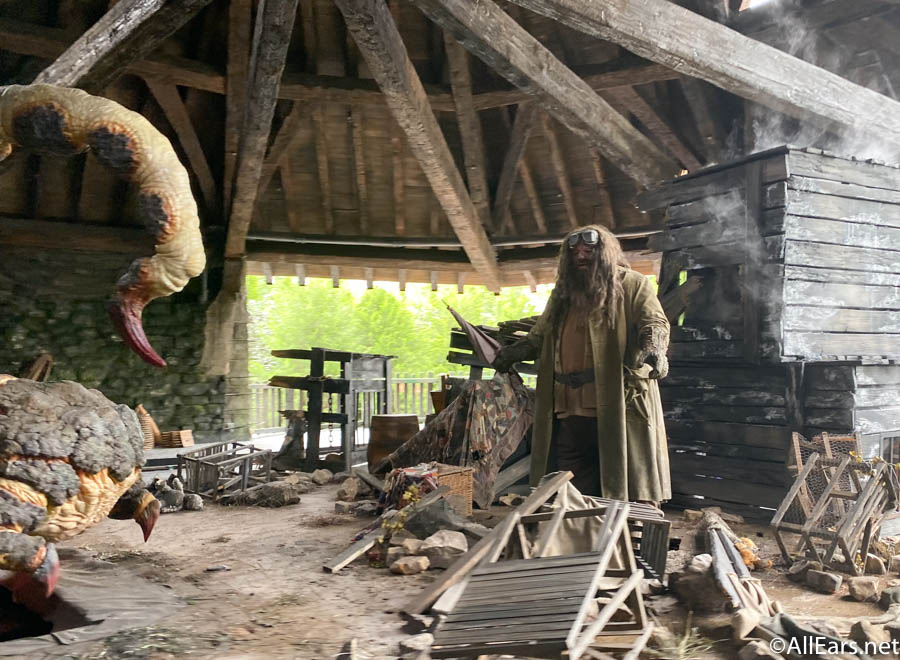 Launch coasters, like this one, use linear synchronous motors to achieve high speeds in seconds. Think of it like a slingshot; the vehicle is placed at the end of a long track lined with motors before being pulled forward at rapid speeds. By the end of the launch track, the vehicle will have hit its maximum speed just in time to be released onto the unpowered track. Hagrid's uses this to launch guests between show scenes, allowing the vehicle to slow down or stop long enough to have a harrowing encounter with a magical creature, before immediately resuming its high-speed course.
Rock n' Roller Coaster
Another launched coaster, and one of the most intense rides at Walt Disney World, Rock n' Roller Coaster reaches a maximum speed of 57 mph. Guests are given a close up view of the launch mechanism before boarding, and are made to wait for a few, anxiety inducing seconds as their vehicle sits on the launch track. The result is a ride that maintains a shockingly high speed for nearly its entire run… all in near total darkness!
Hollywood Rip-Ride Rockit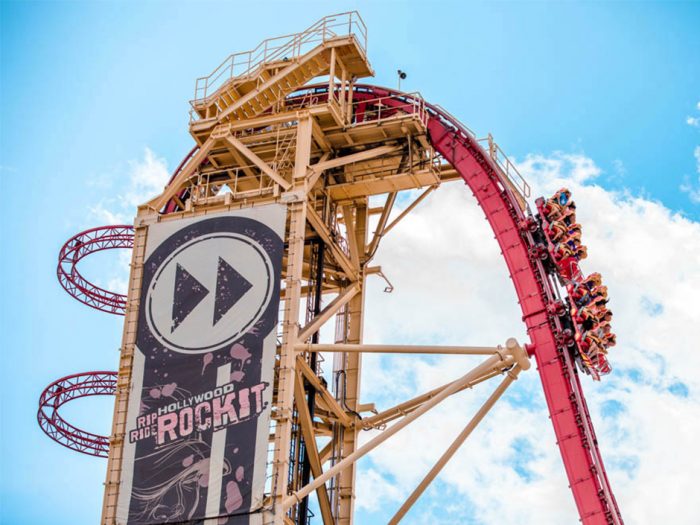 The other music themed coaster in Orlando is often mistakenly called Rock 'n' Roller Coaster, but don't get them confused. This beast is no slouch. Like Expedition Everest, this ride relies solely on good old gravity to build up speed, with a 90 degree vertical lift carrying you over 130 feet above the park. After that, you're sent plummeting at 65 mph through the Universal Backlot. Interestingly enough, despite all the twists and turns the track takes, you never actually invert. The ride always twists to ensure you remain relatively upright as your choice of music blasts in your ears. It's a good thing, too… I barely trust those lap bars to hold me in while going vertical. Doing a full LOOP? Yikes!
Test Track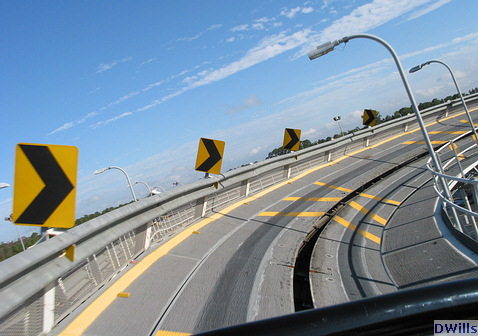 Test Track has the reputation of being the fastest ride at Walt Disney World, and it's well deserved. With a max speed of 65 mph, this automotive attraction ties with Rip Ride Rock-It for top speed. However, despite lacking vertical lifts and insane drops, it comes out ahead due to a hidden advantage.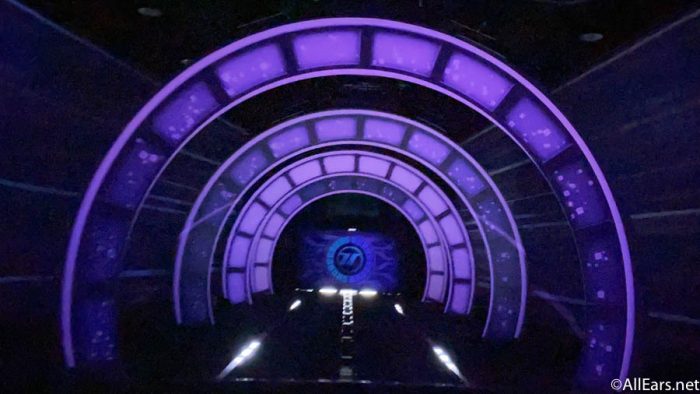 See, as mentioned above, roller coasters usually aren't powered. After the lift hill or launch, you're basically in a sled on a track. This means that while rides often have high top speeds, they have lower sustained speeds. This isn't a bad thing; higher speeds actually make many thrilling ride elements, like inversions, impossible to implement safely. Formula Rossi, the fastest roller coaster in the world (with a top speed of 149 mph) is essentially just a big circuit. If you equipped a speedometer to most rides on this list, these impressive top speeds would drop to almost zero as you crested hills or reached the peaks of loops.
However, Test Track isn't a roller coaster. It's a dark ride with a unique, slot car inspired ride system. That means the ride vehicle is powered throughout the entire ride, allowing it to achieve actual highway speeds. The outdoor sequence at the end maintains a speed of over 60 mph for its entire run thanks to this motorized ride system. The only downside is that, at least on Test Track, the brake run isn't as smooth as it could be on your typical roller coaster. It's a small price to pay for the fastest ride at Walt Disney World, though!
The Incredible Hulk Coaster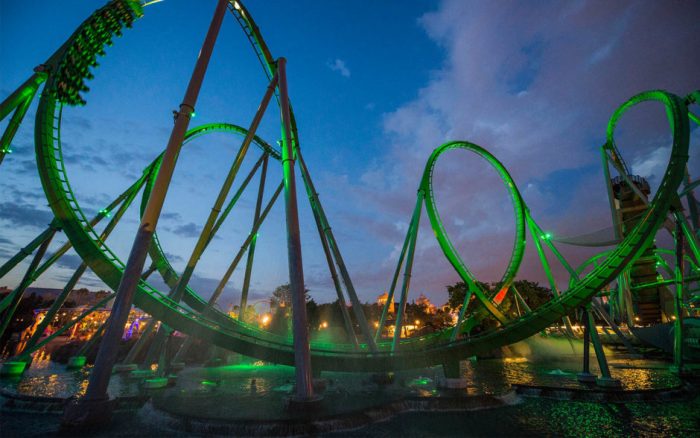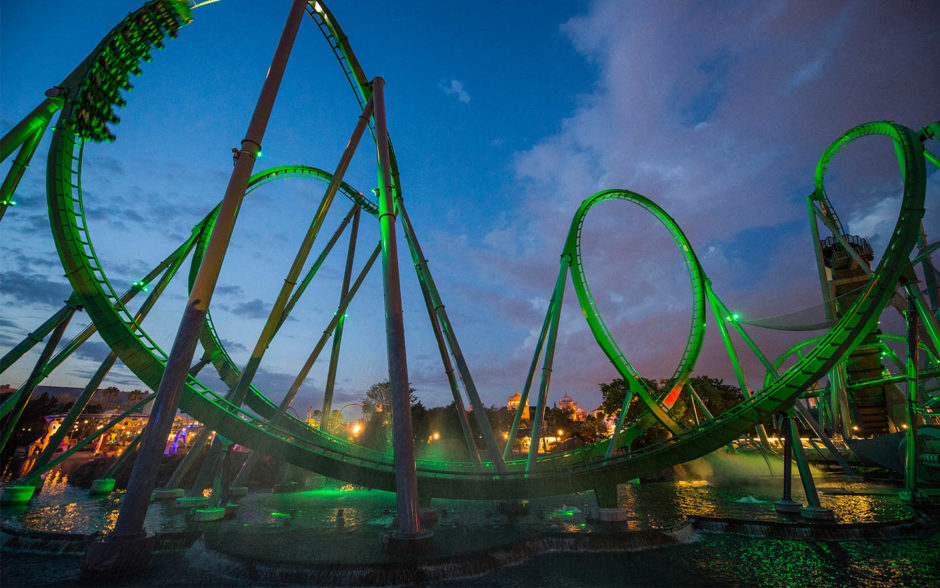 Our final ride is a literal beast, with a maximum speed of 67 miles an hour! What makes it really impressive, though, is its launch system. Rather than using a linear induction motor like a typical launch coaster, this ride literally burns rubber. To facilitate the ride's signature gamma cannon launch, a system of drive tires is used to propel riders up an incline. Tires like the ones used on this ride are usually used to slow trains down or to move them slowly through a length of track. You'll often see them at loading stations, as they're used to move cars into position for loading and unloading. Using them to launch a vehicle at high speeds out of a cannon? That's a bit excessive!
That's not just commentary, either; each launch requires a staggering eight megawatts of power to pull off. Universal had to add dedicated generators to the ride to keep from browning out the local power grid with every launch!
Disney and Universal have some pretty fast rides… but even then, those aren't the fastest rides in Orlando. In fact, the fastest ride in the area isn't even at a major theme park at all; it's the SkyCoaster at FunSpot America. Forgoing any fancy launch systems or even a track, this ride can get you to speeds of 85 mph! How? By lifting you up 300 feet on a crane and then dropping you onto the scariest swing you'll ever experience. Even SeaWorld's Mako (the second fastest ride in Orlando, with a top speed of 75 mph) can't top that! I guess it just goes to show you that, despite all of our advances in launch systems and ride technology, it's hard to beat good old gravity for the ultimate thrill. Just be sure to stick the landing.
Join the AllEars.net Newsletter to stay on top of ALL the breaking Disney News! You'll also get access to AllEars tips, reviews, trivia, and MORE! Click here to Subscribe!

Tell us in the comments about the fastest ride you've ever experienced!