There's something just so festive about a Pumpkin Spice Latte in the morning before you scream your Halloween socks off in a haunted house. 👻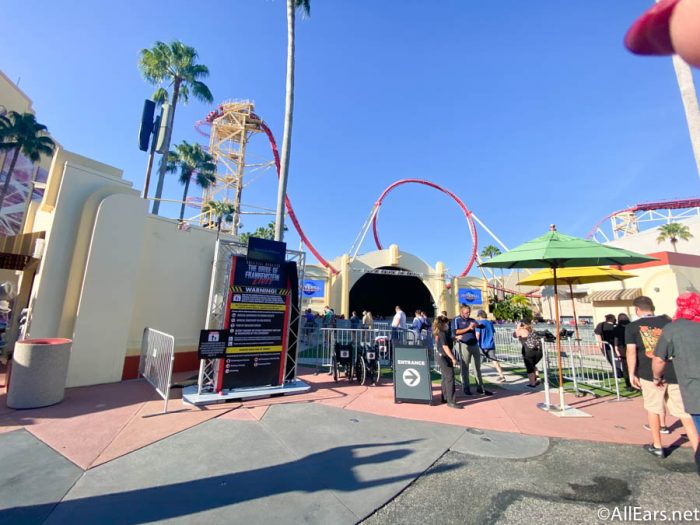 And, today's the day that we FINALLY get to experience Universal's two daytime Halloween Horror Nights houses, along with the rest of the new experiences throughout the park (we may have already shed a few happy tears waiting to enter Universal Orlando).
Ever since the announcement that Universal would be bringing back Halloween Horror Nights in some capacity after it was canceled, our terror-loving hearts couldn't WAIT to see what would be in store throughout the parks.
We've already been spending a whole lot of our time in the Tribute Store (especially that Beetlejuice room), eating snacks left and right and picking up merchandise with some MAJOR event spoilers.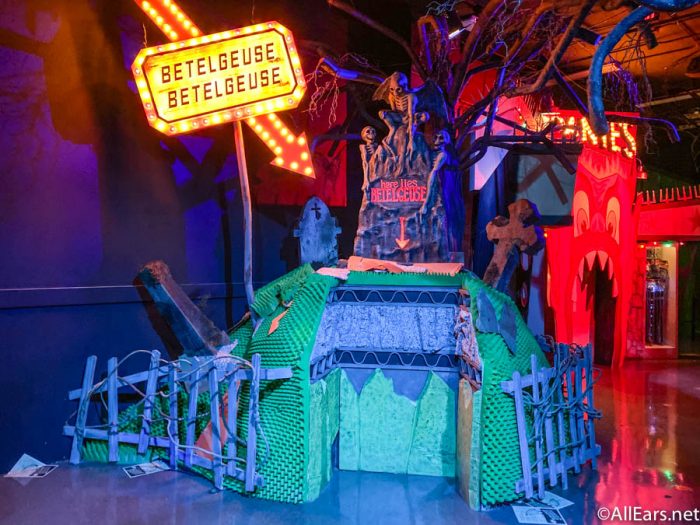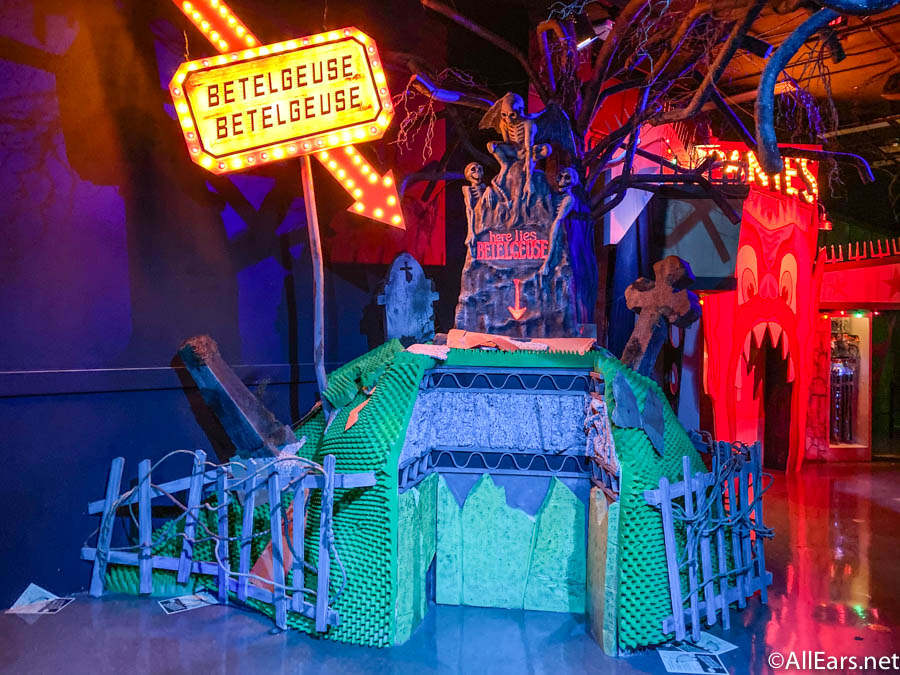 But, you should always expect the unexpected when it comes to Halloween Horror Nights in Universal because there's NEW interactive features (oh, yes…we LOVE an extra spooky good time). Kids will be able to participate in trick-or-treating while they wear their Halloween costumes. Still, scares come in all shapes and sizes so grown-ups can go on a scavenger hunt of their own this weekend too!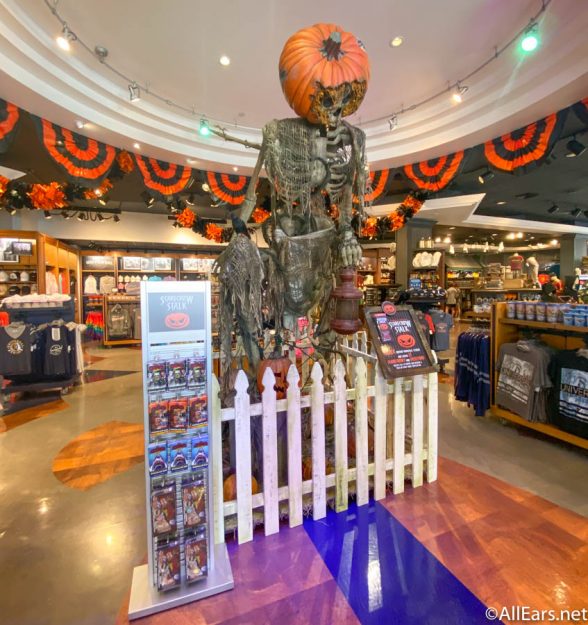 Halloween Horror Nights is usually littered with scarecrows and skeletons as part of the decorations and scare zones. And, the frights are coming to life with the SCARECROW STALK in Universal Orlando from September 18th through November 1st!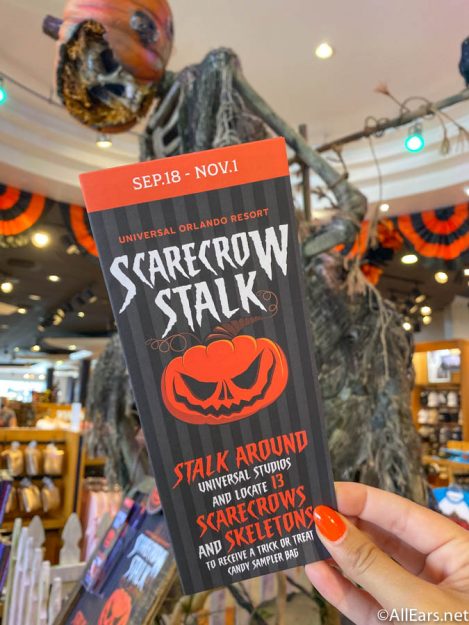 Adults who dare to embark on their own terrifying trek around Universal to collect 13 stamps at the Scarecrow Stalk locations will receive their own trick-or-treat candy sampler bag as a prize (because grown-ups love candy just as much as kids).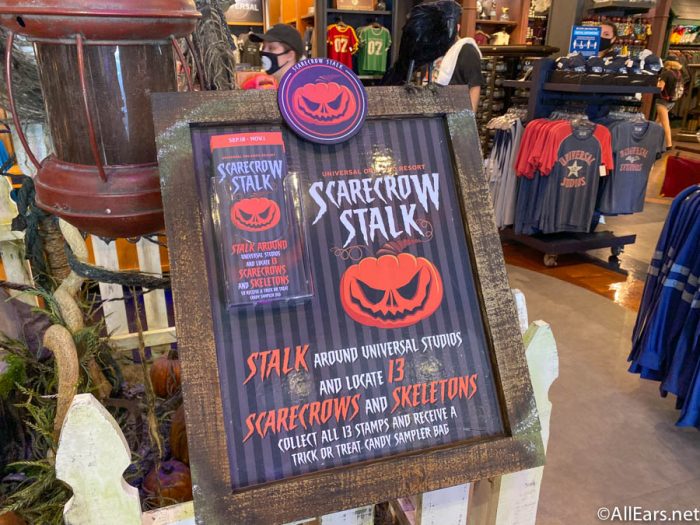 You'll need to keep an eye out for ghoulish delights at these 13 locations:
Universal Studios Store
Silver Screen Collectibles
Five and Dime
SpongeBob StorePants
MIB Gear Shop
Custom Gear
San Francisco Candy Factory
Rosie's Irish Shop
Sahara Traders
Shrek's Ye OldeSouvenir Shoppe
Film Vault
Supply Vault
Super Silly Stuff
And, after you've conquered the fears and collected all the stamps, you can redeem your prize at the San Francisco Candy Factory or Studio Sweets. Now that we've got THAT covered, we're letting our own Halloween Horror Nights festivities commence with our Scarecrow Stalk through the park! 🎃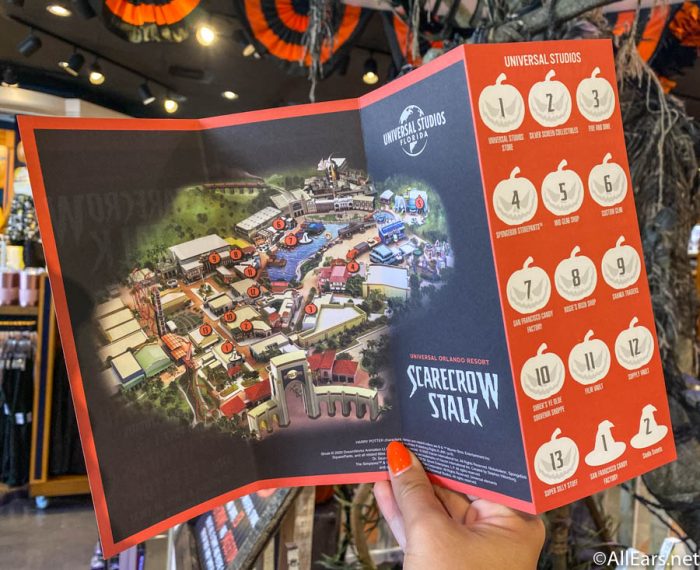 While we popped into Bikini Bottom, we found a skeleton about to burst into the theme song from "SpongeBob Squarepants." (Patchy the Pirate, is that you??)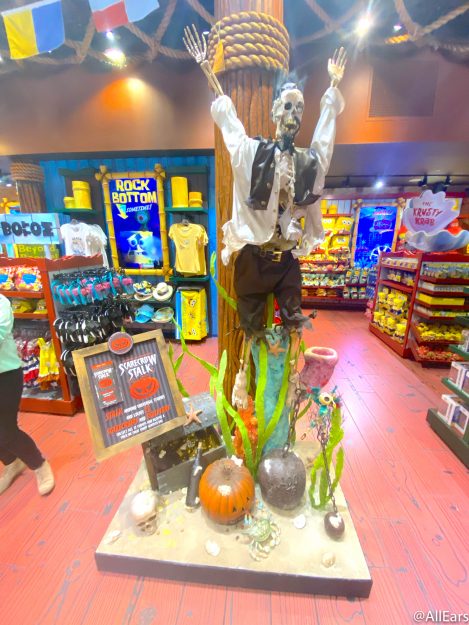 The Men in Black attraction lets you battle it out as you save the world from an alien take-over. While you might have your memory wiped by Will Smith at the end of your galactic adventure, the scarecrow at the ride exit reminds us a little bit of an astronaut mixed with some sort of alien.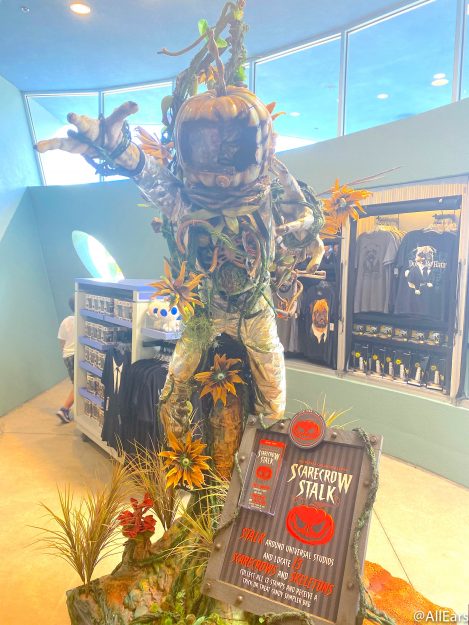 In other words, he's just awesome. (Do you see the alien peeking through to stare into your SOUL??)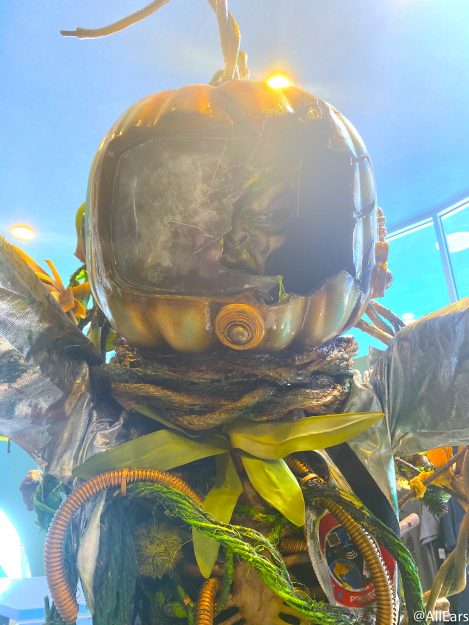 The Fast and Furious: Supercharged is one of those attractions you just can't help but have a wild time on (especially when Vin Diesel jumps from a helicopter and lands safely).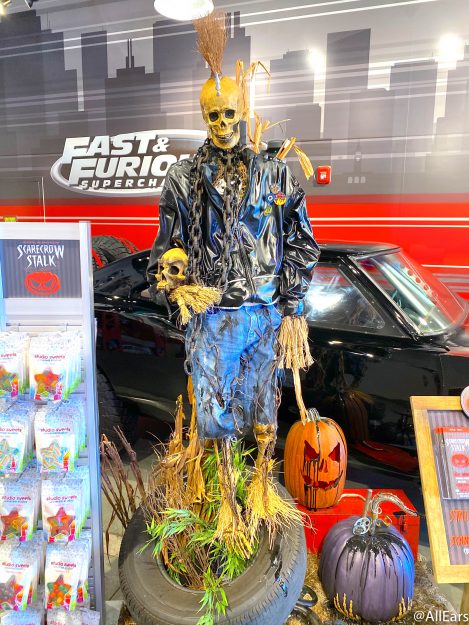 And, the skeleton at the ride's gift shop is decked out in a mohawk and a leather jacket. He's totally part of the family, in our opinion!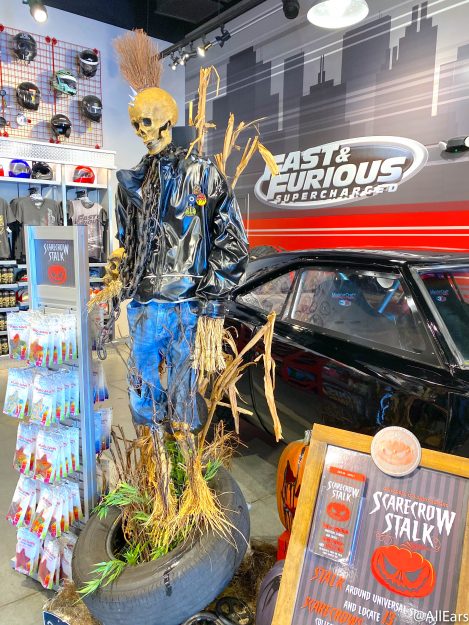 Rosie's Irish Shop got a little more festive putting a leprechaun, fairies, and other folklore creatures out and about (just y'know…a lot scarier).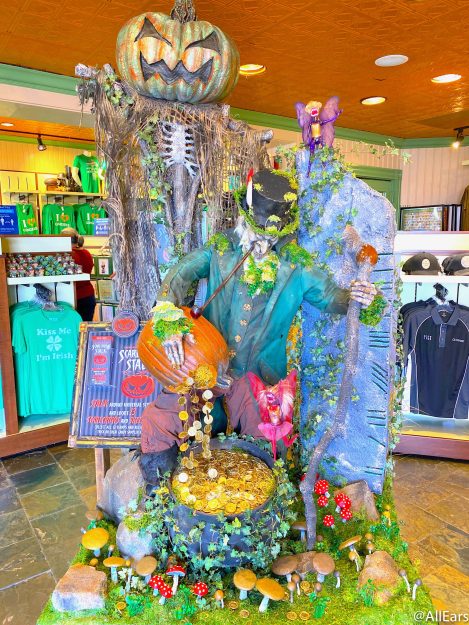 Ummm…these aren't the trolls we're used to seeing in Universal Orlando!!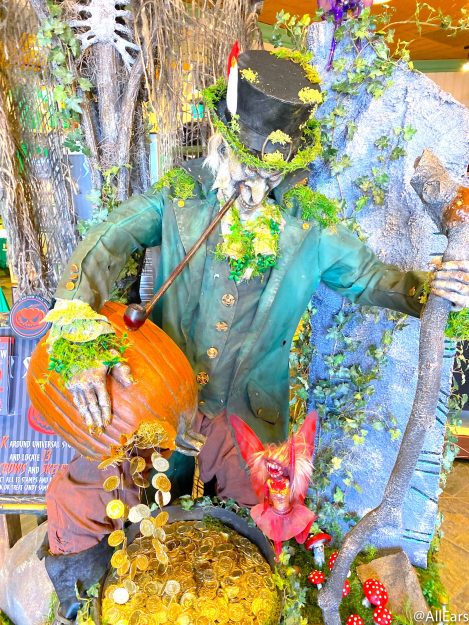 The Film Vault Skeleton looks like he's seen A LOT of poor souls go through Halloween Horror Nights…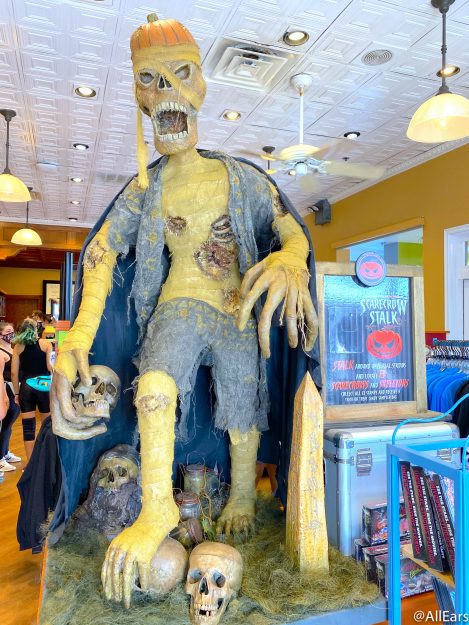 …while the Scarecrow at Shrek's Ye OldeSouvenir Shoppe is ready to spook any unwelcome visitors from Shrek's swamp!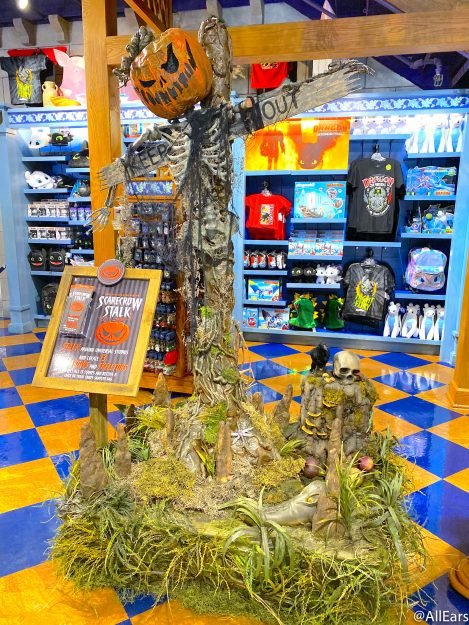 We had a slim escape from the Mummy ride (but it was one crazy coaster!). However, it looks like a few…well…unlucky guests are chilling over in the gift shop!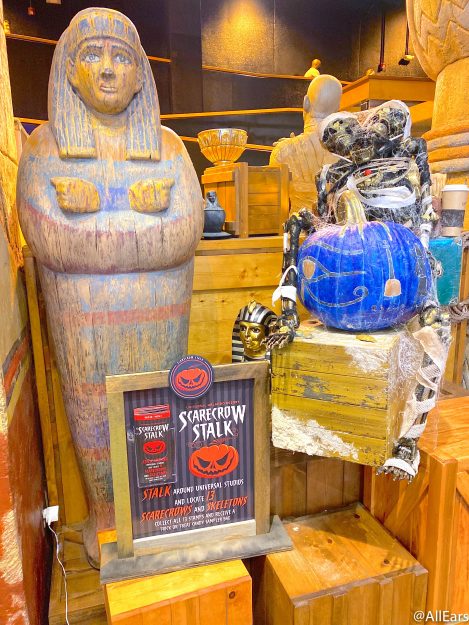 We wonder how long they've been chilling there with all those cobwebs.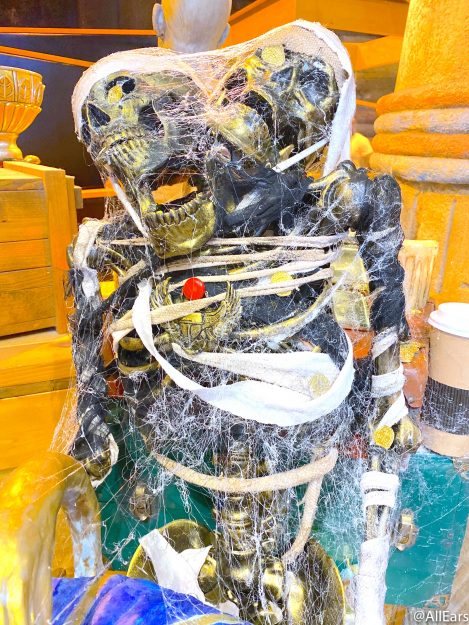 Over at the San Francisco Candy Factory as we neared the completion of our scavenger hunt, we spotted a familiar face lurking just inside…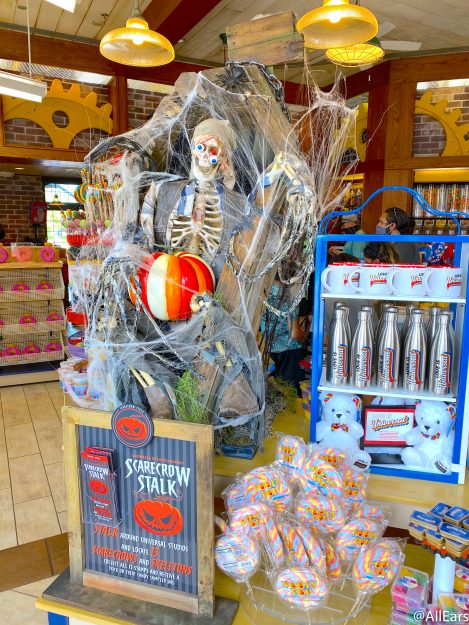 Although nothing directly states that it's him, we think that the skeleton looks an AWFULLY lot like one Ben Gardner from JAWS! So, that's where you went, buddy! (Don't know who that is? Google it. We don't want to be responsible for your nightmares!)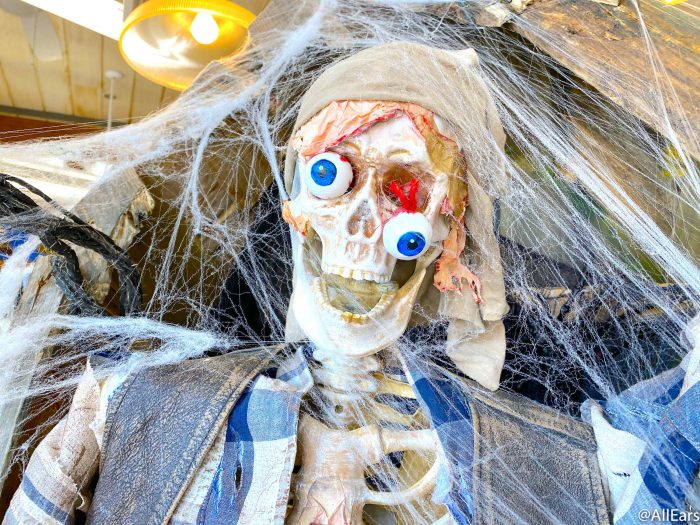 But, we saved the absolute best for last! The fabulous snake-charmer skeleton has slithered into Silver Screen Collectibles to greet guests on their final leg of the Scarecrow Stalk!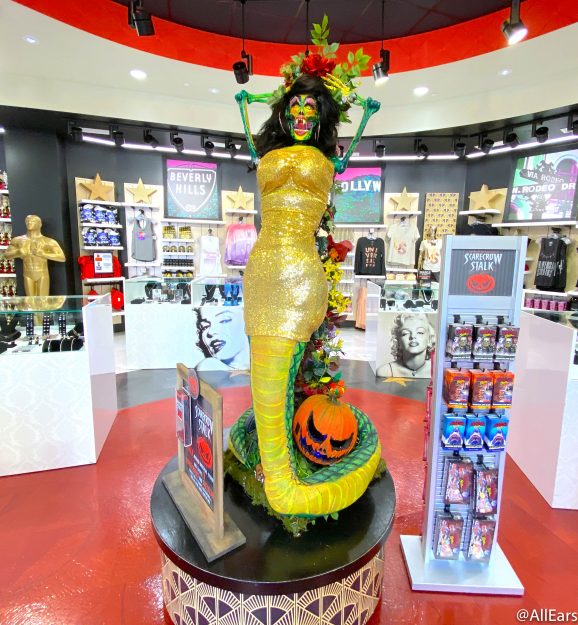 Sorry, Medusa — we think you've got some competition!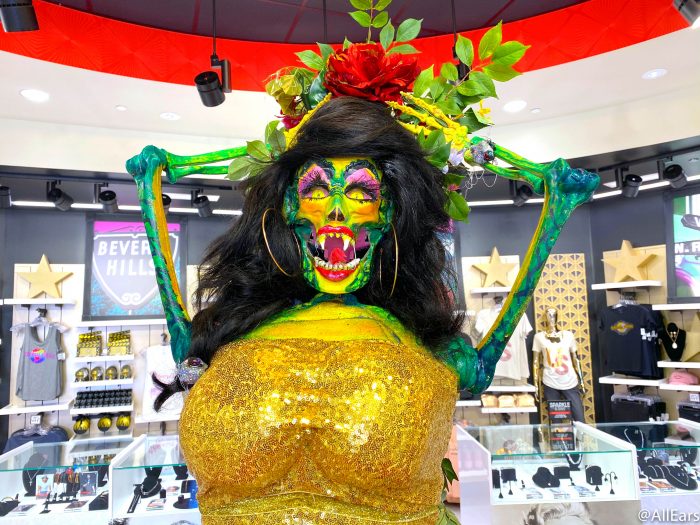 After we realized that we had gone to all 13 locations (and saw some pretty spooky skeletons and scarecrows), we returned back to Studio Sweets to pick up our prize!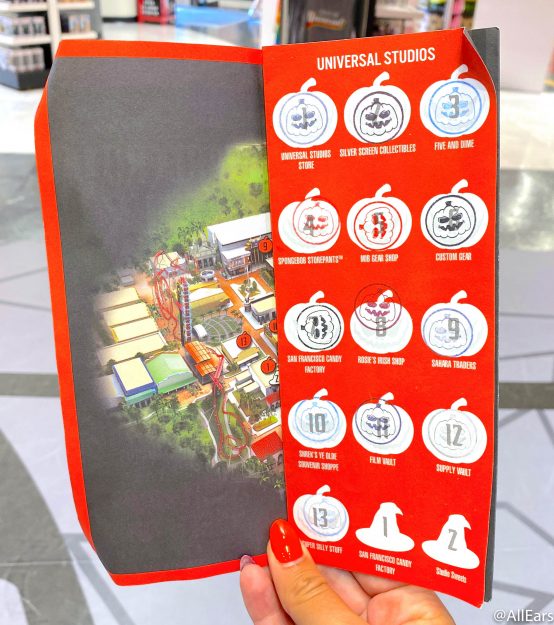 We were given the choice of multiple candy bags, which may see some changes at a later time and date.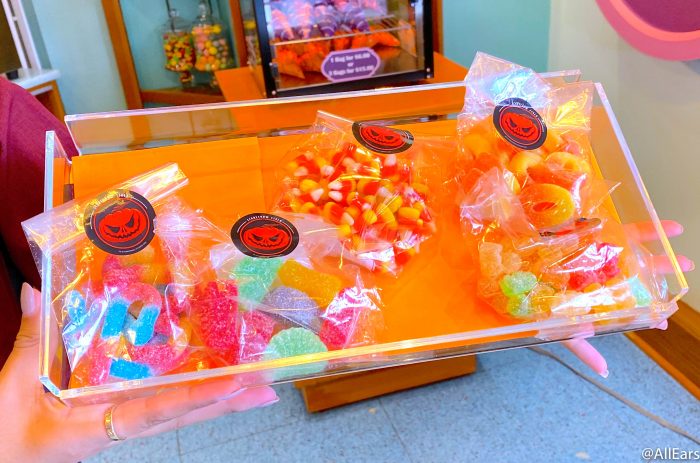 But, we think it's important to note that once you've claimed your prize at either San Francisco Candy Factory or Studio Sweets, you can't go to the other redemption for a second prize!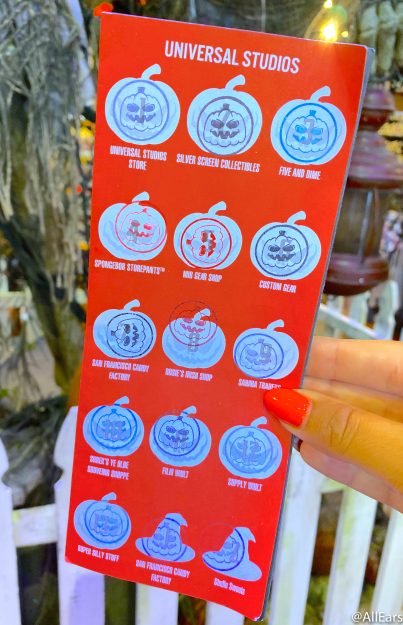 We chose the peach ring gummies as our prize since they were just calling to us!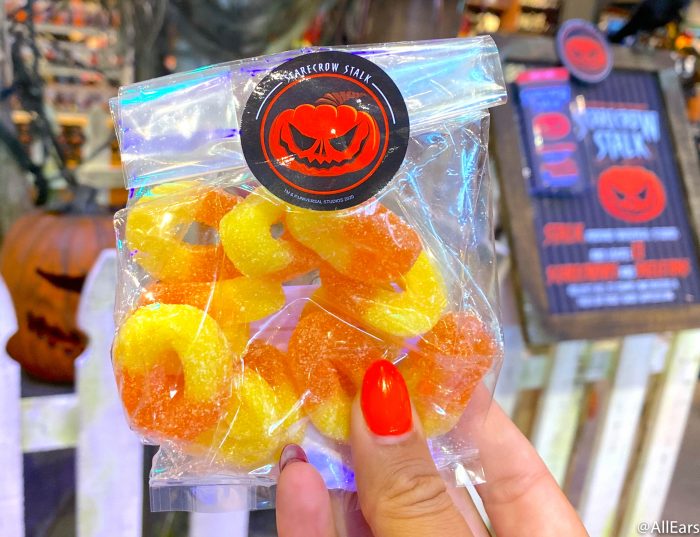 And, on that note, WE DID IT! Although it was a long journey, it was fun to see the unique Halloween Horror Night decorations out in the parks (and stop for some extra goodies along the way).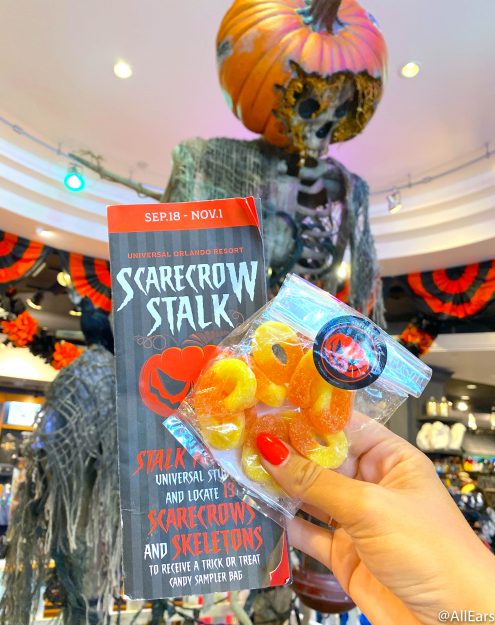 If your blood isn't running hot and cold right now, we dare you to test out your capacity for fear at the Revenge of the Tooth Fairy and Universal Monsters: The Bride of Frankenstein Lives houses in the park! You can expect our own full review of the houses soon! HHN Forever, friends! ;D
Have you been able to have Halloween Horror Nights experiences this weekend? Let us know your thoughts in the comments below!