How do you go from the most revered animator in the cartoon world of the 1920s to one of the most innovative minds in the movie and theme park industries decades later? Simple. You just re-invent yourself.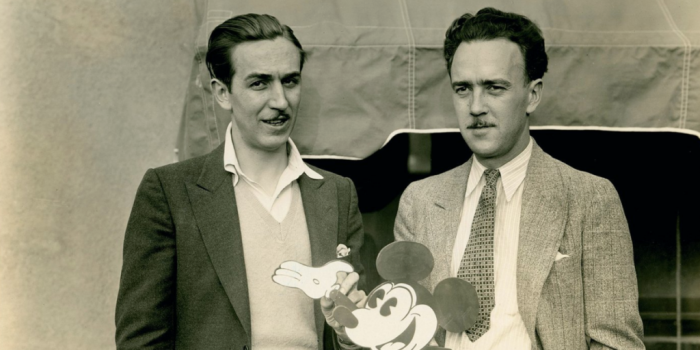 Most Disney history buffs know Ubbe Eet Iwwerks – better known as Ub Iwerks – as the gifted animation artist who worked hand-in-hand with Walt Disney during the early, lean years of the Disney company in the 1920s.
They know Ub for his work in designing and refining the Mickey Mouse character, who made his first film appearance in 1928's Plane Crazy.
But what they may not know is that Ub left the Disney company in 1930 to strike out on his own, only to return in 1940 – not as an animator, but as an inventor who crafted some of the film industry's most innovative inventions, be they technical, mechanical or optical.
UB'S WORK ENHANCED FILMS, THEME PARK ATTRACTIONS
His behind-the-scenes work not only enhanced animated films, but helped to augment the overall Disney product as the company moved into live-action motion pictures and, ultimately, theme park attractions.
Ub Iwerks' second act as an inventor is lovingly and thoroughly explored in the Disney Editions' book Walt Disney's Ultimate Inventor: The Genius of Ub Iwerks, written by his son, Don, himself a Disney Legend and a technical innovator of no small stature.
The story of Don Iwerks' quest to bring his dad's second career as an inventor into the spotlight is a case study in patience and persistence, with a sprinkling of Disney magic thrown in for good measure.
The genesis of Walt Disney's Ultimate Inventor: The Genius of Ub Iwerks goes back 15 years.
"Diane Disney Miller [Walt's daughter] encouraged me to write the book back in 2005," Don Iwerks told me during a recent interview. "She was building the Walt Disney Family Museum up in San Francisco at the time. I had purchased my dad's optical printer, the one he had developed back in the early 1940s, and it had fallen into disuse."
He continued, "I purchased it thinking I might use it. But when I retired from my own company [Iwerks Entertainment], I had to figure out what to do with it, so I asked a friend, who at one time was an assistant to my dad. He said that Diane was building a museum and she might be interested in it, so I wrote to her and she was thrilled."
RESTORING UB'S INVENTIONS FOR THE DISNEY FAMILY MUSEUM
Also at that time, the craftsmen in the Disney machine shop were hard at work restoring many of Ub's other inventions, which were planned to be put on display at the Walt Disney Family Museum. When Don found out about what was in the works, he thought it might be a good idea to write descriptions of each device his dad had created.
"To make sure everybody was on the same page, I thought I'd better write [Diane] a little booklet that she could refer to about all these artifacts. She read the functions and she said, 'My goodness, I didn't know all this,' which I didn't expect her to, but she said, 'You know, you could write a book [about your dad and his inventions] and we could sell it in our book store."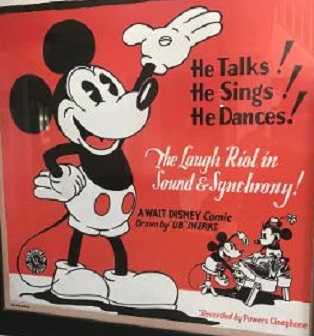 "I always said to my dad that 'You've got so much knowledge about the processes and inventions and film business that you should write a book.' And he kept saying, 'I don't have time to do that. I've got other things more important to do. I'm concerned more about today and tomorrow.'
"The bottom line to all of that is Diane encouraged me to start writing the book, which I began around 2007."
Don's biggest concern at the outset? "How do I write a book that's mostly all technical material but make it understood by the layperson?" he said.
"I did my best to write it in terms that would be understandable and use examples of things that might be more easily understood." Thankfully, a glossary of the technical terms Don used in the book is included to facilitate the reader's understanding.
SOUGHT OUT MARTY SKLAR'S GUIDANCE
As he progressed with research and writing the book, Don sought out the counseling of his friend and former colleague, Marty Sklar.
"I was good friends with Marty," Don said. "He was a super guy and he really helped me get the book going. After I had a lot of it written, I sought out his advice. I knew he had written several books, so I asked him what he would suggest on how I should move forward.
"He said that Disney Editions won't even talk to you unless you have a literary agent. I asked him if he had any ideas along that line and he gave me the name of his agent and I ended up signing up with him. The book wouldn't have seen the light of day if it hadn't been for Marty's help."
Walt Disney's Ultimate Inventor: The Genius of Ub Iwerks is finely crafted and richly detailed, and it's a joy to read. It's also a heart-felt tribute from a son to the father he loved and admired, not to mention worked with for more than two decades.
The book is filled with wonderful stories and observations on Ub's early days as Walt Disney's right-hand man, chief animator, business partner and friend … through the Laugh-O-Gram and Oswald the Lucky Rabbit disappointments and to the unparalleled success of Mickey Mouse.
UB WAS 'CLEARLY THE ORIGINAL ANIMATOR' OF MICKEY
We learn that while it was Walt who first dreamed up the Mickey character, it was Ub who "was clearly the original animator of Mickey Mouse," according to Don.
And we learn that Ub made significant contributions to solving the vexing problem of adding sound to the groundbreaking Steamboat Willie short film, which was released in 1928.
Despite the success of Steamboat Willie and subsequent sound cartoon shorts, Ub left Disney in 1930.
"He made the decision that he might be better off leaving because he had this offer to be set up in his own studio, so he was going to be making more money and so on," Don said. "It wasn't all that great at the Disney company at that point in time, so dad decided to leave."
During his time away from Disney, according to his son, Ub  "was doing less drawing and more inventing."
CREATED EARLY VERSION OF MULTI-PLANE CAMERA
In fact, in 1933, it was Ub who constructed a multi-plane camera, which could be used to add depth and movement to a cartoon.
Ub's version, which had a horizontal configuration, was used regularly on his studio's Willie Whopper and ComiColor cartoons.
Walt Disney was apparently so impressed with Ub's multi-plane concept that he had three vertical multi-plane cameras built for his studio in 1937.
The Disney multi-plane cameras helped inspire Disney to move away from short cartoons into the uncharted world of full-length, animated features.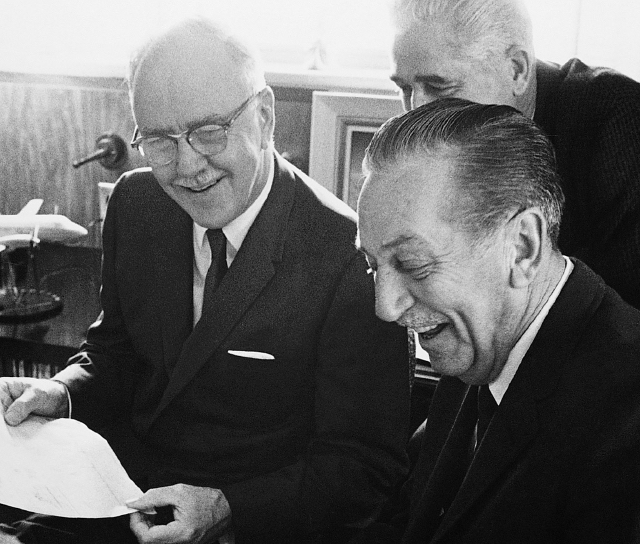 "One day in 1940, dad finally folded up his company," Don said. "A mutual friend of Walt's and my dad named Ben Sharpsteen, who was a director at the studio, had mentioned to Walt that my dad had closed up his studio and asked him if he would be interested in having him come back to Disney.
Sharpsteen then set up a lunch meeting between Walt and Ub.
"Walt actually welcomed my dad back," Don said, "because he knew that having a talent like my dad working with him at the studio would be a big plus and it made a lot of sense, too, despite the fact that my dad had left the studio 10 years earlier. I guess they figured bygones were bygones."
Walt showed a tremendous amount of faith in his long-time friend, giving him free rein.
'DAD WOULD REPORT TO WALT, NOBODY ELSE'
"Walt never told my dad what to do, he just said 'dive in and see where you can help. You know we're very busy and maybe there are problems you can solve.' Dad would only report to Walt, nobody else."
For the next three decades, Ub Iwerks went from chief animator, where he would see his name on movie posters, to a critical, if decidedly behind-the-scenes roll. But what Ub Iwerks did during those three decades was pure Disney magic.
"Dad was much more involved with the studio when he came back," Don said.
Remember, Disney was on the verge of moving into live-action feature films, incorporating animation with live-action, and, of course, expanding into the world of theme park entertainment.
"When Walt showed an interest in starting a theme park, my dad was on the fringe of that," Don said. "He could step in and help if he wanted to or if he was asked to."
One such case came out of a chance meeting between Walt and Ub in a studio hallway in 1954.
"Walt asked him if he thought they could do a movie in a full 360 degrees and my dad said, 'I think it might be possible.' A few days later, Ub reported back to Walt to tell him, 'We figured out how we can do it.'"
That was the birth of Circarama, a filming technique which combined a circular, panoramic presentation. The Circarama Theatre "in the round" debuted with the rest of Disneyland in July of 1955 and became an immediate hit.
The technique was improved upon over the years and evolved into CircleVision 360. Perhaps the best-known of the CircleVision 360 presentations was America the Beautiful, which was shown around the world, including Japan, Mexico and the Soviet Union, as well as Disneyland.
That was the kind of relationship the two men had during Ub's second stint at Disney.
WALT WOULD OFTEN CHALLENGE UB
"Walt would challenge him with a question like 'Do you think you can do this?' and my dad would come up with a solution. Dad would say something like 'I've got an idea that will make this much better than how it was been done in the past' and he'd explain it to Walt."
Apparently, Ub had an unlimited stockpile ideas. In movies, his employment of a Xerox 914 plain paper photocopier streamlined animation by replacing the tedious and time-consuming process of tracing and inking cels;
And, of course, there was the multi-head optical printer, which enhanced special visual effects and, ultimately, allowed filmmakers to combine live action with animation.
Ub's use of the Sodium Traveling Matte Process and composite cinematography was employed in a number of Disney classic films, including The Parent Trap, Bedknobs and Broomsticks and Mary Poppins, for which he shared an Academy Award with Petro Vlahos and Wadsworth Pohl. In projects outside the film world, Ub's contributions were put on display in Disney parks. Some creations are still in use today.
Obviously, there's the CircleVision 360 technology used in several World Showcase pavilions at Epcot. Remember the "speed room" in the If You Had Wings attraction in the Magic Kingdom at WDW … where your Omnimover ride vehicle would tilt backwards, a gust of wind would hit you in the face and you felt as if you were on an airplane taking off? That was Ub's creation.
How about the rocket launch shown at the conclusion of the original Hall of Presidents' preshow … where exhaust from the Apollo 13 liftoff stretched across the 200-foot-long screen? That, too, was Ub's doing, using a modified version of the CircleVision 360 technology.
UB'S WIZARDRY IN THE HAUNTED MANSION
And the Madame Leotta talking head in the Haunted Mansion séance room … as well as the five singing headstones and the Little Leotta near the attraction's conclusion? Yup. Ub again.
"After Diane mentioned that I ought to write a book," Don said, "I thought, 'You know, my dad isn't here anymore and I'm in a unique position in that I know a lot of these processes, so I probably ought to start writing them down, because the details get a little more difficult to remember.'
"So I started the book in hopes that the world would learn more about him. Loyal Disney fans know him as the artist who worked on early Mickey Mouse."
And now they know all about Ub Iwerks, Walt Disney's Ultimate Inventor.
Join the AllEars.net Newsletter to stay on top of ALL the breaking Disney News! You'll also get access to AllEars tips, reviews, trivia, and MORE! Click here to Subscribe!