The next big film from Walt Disney Studios to premiere on Disney+ this week is a star-studded adaptation of Katherine Applegate's bestselling, Newbery Medal-winning book, The One and Only Ivan.
The One and Only Ivan is a story about Ivan, a 400-pound silverback gorilla, who lives and performs in a budget-y circus that operates in residence at the suburbia-based Big Top Mall.  Surrounded by his many animal friends, Ivan is more or less content with his lot until Ruby, a baby elephant, is introduced into the mix, causing him to recall lost memories and question whether their environment is a home…or a cage.
At a recent virtual press conference, actors Sam Rockwell (voice of Ivan,) Angelina Jolie (voice of Stella,) Danny DeVito (voice of Bob the dog,) Helen Mirren (voice of Snickers the poodle,) Brooklynn Prince (voice of Ruby,) Ramon Rodriguez (mall employee George,) Ariana Greenblatt (George's daughter Julia,) Chaka Khan (voice of Henrietta the chicken,) Mike White (screenwriter and voice of Frankie the seal,) Ron Funches (voice of Murphy the rabbit,) Phillipa Soo (voice of Thelma the parrot,) and Bryan Cranston (Mack, the circus attraction's owner) joined director Thea Sharrock to talk about their characters, the movie, and what it all means in these new and uncertain times.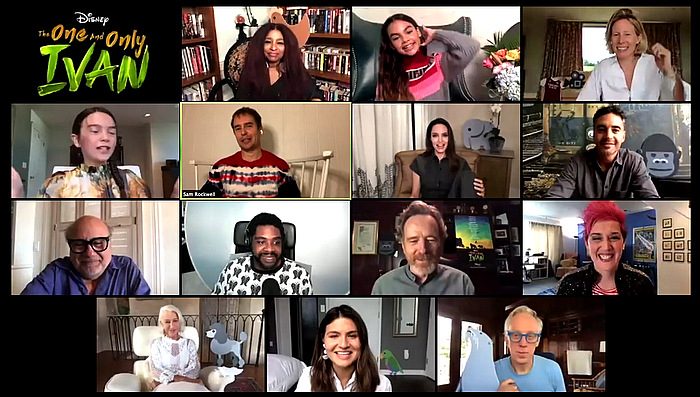 Junket highlights:
Sharrock on blending live-action with CGI:  "So, I'll say two things:  One is in terms of shooting, this movie was very much like simultaneously working on two movies at the same time, because of the technical aspect of it.  So…we started the whole process with the voice actors, because the animators needed their voices to begin to be laid down for the animation journey to begin…Then we shot all of our live-action stuff.
"Then we went back in and we shot the virtual aspects of the film, which was whenever we had just animals in a scene together.  Those scenes we often re-revisited — we went back in and we did them several times just to get tiny, tiny nuances.  Changes in the actor's voices, changes in their performances made a huge change to the animators and what they were doing.  So, in that sense the technicality of it was certainly unlike anything I've ever done before."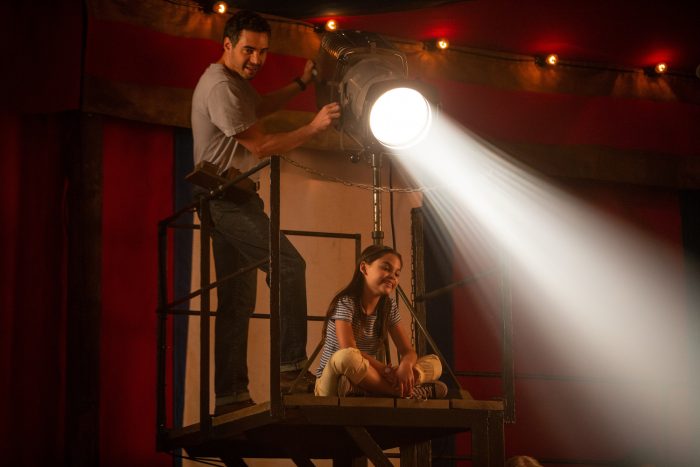 Rodriguez on how the film reflects our current times:  "I feel like–we've all been sort of indoors, and I think it's allowed for a lot of introspection…which is, I think, really similar to what Ivan goes through in this-in this beautiful sort of, coming-of-age experience…
"And I love the message that you get to find yourself even later in life. You know, we're continually on this journey; and here we are in this very interesting time where you get to sort of be home and…looking within, whether it's with yourself, the country…it's just a really interesting time.  And I think these moments actually allow us to hopefully come out of it, maybe a bit more evolved.  I think for Ivan that's exactly his experience, so I think that's a pretty powerful message in particular where we are right now."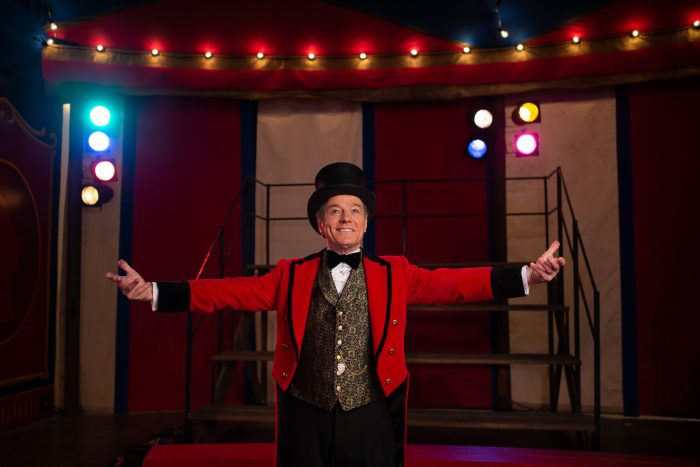 Cranston on developing the character of Mack:  "I too saw him as a man who has flaws but also is attempting to make things right.  Ivan was like a child to him, and…he wasn't about to abandon his child.  So, he wanted to figure out, how do I embrace the fact that he's now a full-fledged silverback gorilla and how do I live with that?  And so, it was [necessary] to discover those nuances and allow for the character to be vulnerable.
"So, we talked about it, and I pitched the idea that Mack wears a wig and that at one point the wig flies up and he's bald and it embarrasses him.  And I also had a stomach pad…and, a girdle.  And so, those were personal vulnerabilities that he didn't want people to see. So, he was presenting himself as someone he wanted to project. But it wasn't really him.
"And at the end then it came full circle.  At the end we embrace and he embraces who he truly is and allows himself to show who he really is at the end.  No more wig–allowing himself to be who he is–and he's happy and proud to see that Ivan has moved into the next chapter in his life."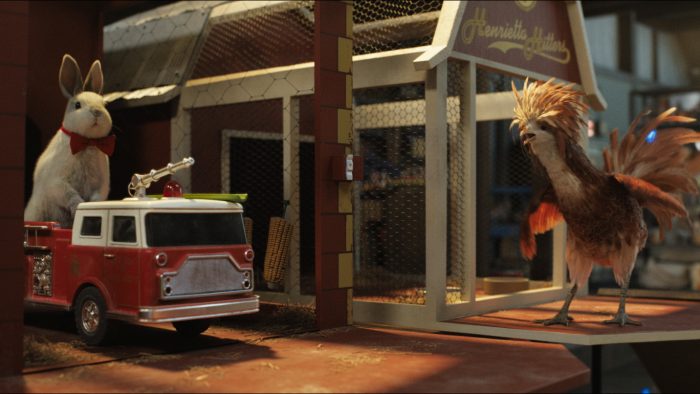 Funches on creating the voice for Murphy the Rabbit:  "Mine was very simple.  I don't really have many voices.  I'm pretty new…I've only been acting for like six years.  I don't even know how I got on this Zoom call, really.  I'm just happy to be able to see these people.  So, I just did my voice, and then sometimes they would tell me to change it a little bit, and then sometimes Danny [DeVito] would tell me to try different things.  And then I would say, 'okay, Danny, you are very aggressive for your frame.  So of course I will listen to you.'  Then that was pretty much it for me, and in turn now I'm in, like, a lot of movies and TV shows.  Let's just keep it going!"
Jolie on how she came to both act in and produce the film:  "One of my children read the book and said that they loved it.  And I read it, and we kind of talked about why it was special and why it meant so much to them.
"And so, I started to pursue.  Where is it? Is it being made? What's happening? Even in the early drafts it was very interesting.  One of the things Mike did, that I think was very special, is–I had seen it start to go down a road where it really started to become a light, fun, kid's car-like action…a simpler story.  It was easy to somebody to come in and just try to pick a few threads and make it quite simple and add some action here and-and to really make it [not] what it is intended to be.  And Disney and Mike and everybody involved, really understood that…It's hard.  It's not a light film.  It deals with heavy issues.  But it is charming and fun and full of life, but it's deceptive in the packaging.
"So, I thought very, very important and wanted to get  involved.  I like the messages in it, and I'm excited that this young generation, as well as…I think all of us older people will appreciate it for many reasons.  But I know this young generation is really very aware of what is happening in the world to our natural habitats, to these animals, what's happening in the Congo and losing ground, what's happening with the gorillas, the elephants.  And they're angry.  And they want to really be clear about what kind of treatment is appropriate, what kind of captivity is appropriate, again being against poaching, being [for] preservation of natural habitats.  So, I think this will, you know, this represents them.
"And I think that's strong for them today, to see that their actions can make change."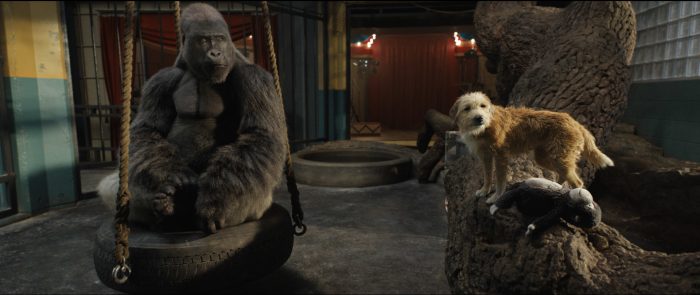 Ivan (voiced by Sam Rockwell) and Bob the dog (voiced by Danny DeVito) in Disney's THE ONE AND ONLY IVAN, based on the award-winning book by Katherine Applegate and directed by Thea Sharrock. Photo courtesy of Disney. © 2020 Disney Enterprises, Inc.The One and Only Ivan debuts exclusively on Disney+ on August 21, 2020.
In case you've missed it, here's the trailer for the new film:
Questions?  Comments?  Suggestions?  Drop us a line below.
Be sure to follow @allearsnet on Facebook, Instagram and Twitter!
Check out our YouTube Channel for reviews, news, information and more!
Click below to subscribe to the AllEars® newsletter so you don't miss any of the latest Disney news!