Today, Disney Channel takes audiences back to magic school with the original movie Upside-Down Magic.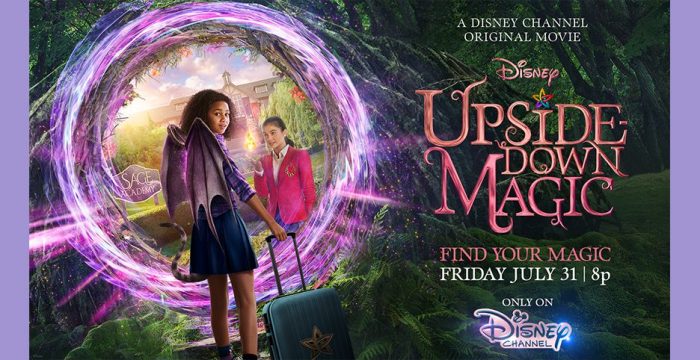 Based on the bestselling Scholastic book of the same name from authors Sarah Mlynowski, Lauren Myracle and Emily Jenkins, Upside-Down Magic follows best friends 13-year-old Nory Boxwood Horace (Izabela Rose) and Reina Carvajal (Siena Agudong) as they, along with their budding magical powers, enter the Sage Academy for Magical Studies.
There, Reina's tightly controlled fire magic contrasts starkly with Nory's completely random transformation powers and their educational prospects rise and fall accordingly.  Stuck in a bunker doing busywork while the more conventional students are hard at work learning magic and arrogance, Nory must rally her fellow Upside-Down Magic (UDM) students and faculty to believe that they can become more than what others suspect.
Like every story now about pre-teens going off to magic school, it is impossible to look at Upside-Down Magic without comparing it to the world of Harry Potter.  While it has some commonalities–a school separated into different parties (here more logically based on type of magical power versus Potter's version of the D&D Alignment Chart,) teachers that are by turns unpleasant and ineffective, and a dark, looming evil — Upside-Down Magic is much smaller in scope and focus.
From the moment Headmaster Knightslinger (Vicki Lewis) makes her entrance, declares there is only one right way people should function, and banishes everyone unable to conform to her standards to a place out of sight where they can wait for their dreams and potential to die, the film's message is pretty clear.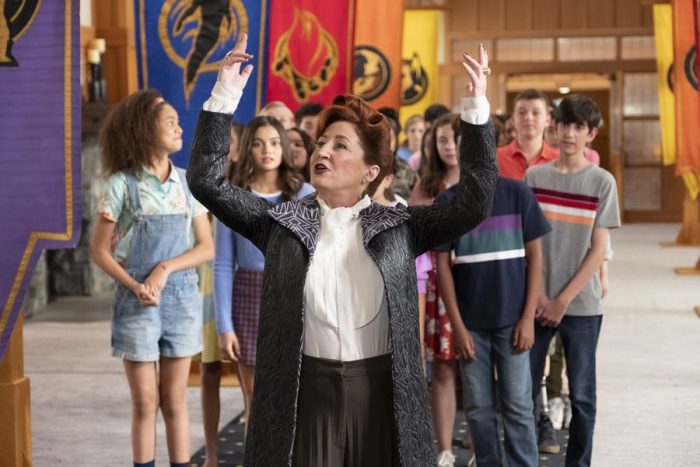 Rose and Agudong as Nory and Reina do a nice job of portraying two friends with perfectly balanced traits–Nory is all self-confidence and extroversion and no impulse control at all, while Reina is all skill and discipline and crippling self-doubt.  The other kids are less well-defined, with usually having one or two personality traits and a power to identify them by.
The teachers do even more poorly, as we barely see the ones teaching the powers our two leads don't possess (flying and pulling telekinesis,) and the two we do see are either Earth-motherly incompetent or cold and cruel.  Like the characters, the plot is drawn in pretty broad strokes without a lot of surprises or subtlety.
People who are different in this school have no hope or future, and are even seen as a potential threat to the current way of life at Sage Academy. Only fit to do menial labor with their teacher (the Harry Potter "Filch" equivalent), the UDMs are told to accept their innate inferiority for the good of the rest of society and look forward to a non-magical life as an accountant or "whatever it is you people do."
While eating, the tables are segregated by (blazer) color, with the UDMs ostracized to a different part of the room and even the teachers instructing the proper students not to socialize with them lest they lose status.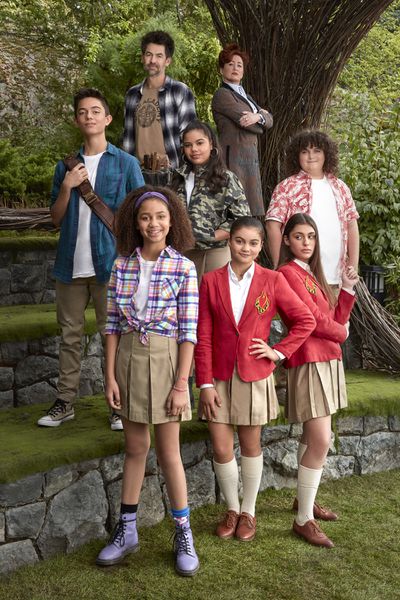 Upside-Down Magic is probably not going to replace Harry Potter in civilization's collective consciousness any time soon, but it's a perfectly reasonable tale, if a little on the straight-forward side.
It says that differences can become strengths, and that arrogance and division breed violence and weakness, just as surely as friendship and acceptance give strength.  If that gives any young unconventionals made to feel like an outcast a little reassurance or gives any young conventionals something new to ponder–well, that's a good type of magic no matter what direction you look at it.
The Disney Channel Original Movie Upside–Down Magic is set to premiere tonight, Friday, July 31st at 8PM EST on Disney Channel. Upside–Down Magic will also be available on DisneyNOW beginning Saturday, August 1st.
Check out our YouTube Channel for reviews, news, information and more!
Questions?  Comments?  Suggestions?  Let us know below!
Click below to subscribe to the AllEars® newsletter so you don't miss any of the latest Disney news!