Hey everyone! Molly here, again!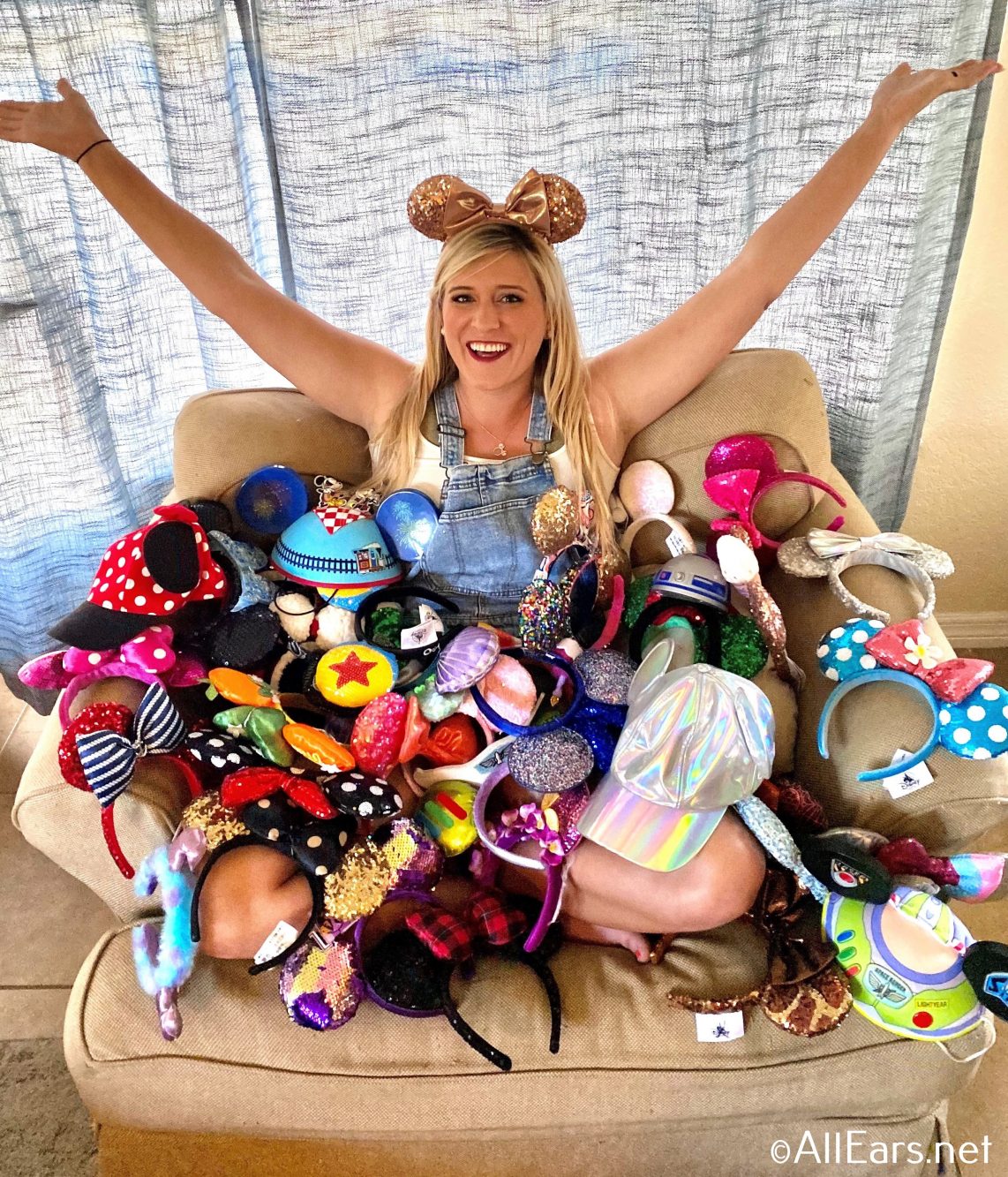 Recently we took a virtual tour of my extensive Minnie Mouse Ear Collection, followed by What's in my Disney Park Bag. Lots of you commented you'd like to see my Disney T-shirts next…
Well, your wish is my command! I recently cleaned out my closet (lots of time at home, am I right?) and for the first time EVER had my entire collection washed and folded at the same time. Naturally, I had to document this!
So here it is, a peek at my Disney t shirt collection! I've included links where I could so that way we can #twin in the parks!
Molly's Disney T-Shirt Collection:
You'll learn quick that my favorite places to get Disney shirts are Target, Amazon, Uni-qlo, and Shop Disney! And I have Mickey shirts from all of these spots.
If you're unfamiliar, Uni-qlo is a Japanese department store, that has a location at Disney Springs. They have awesome Disney shirts at very reasonable prices! You can often find them on their website as well.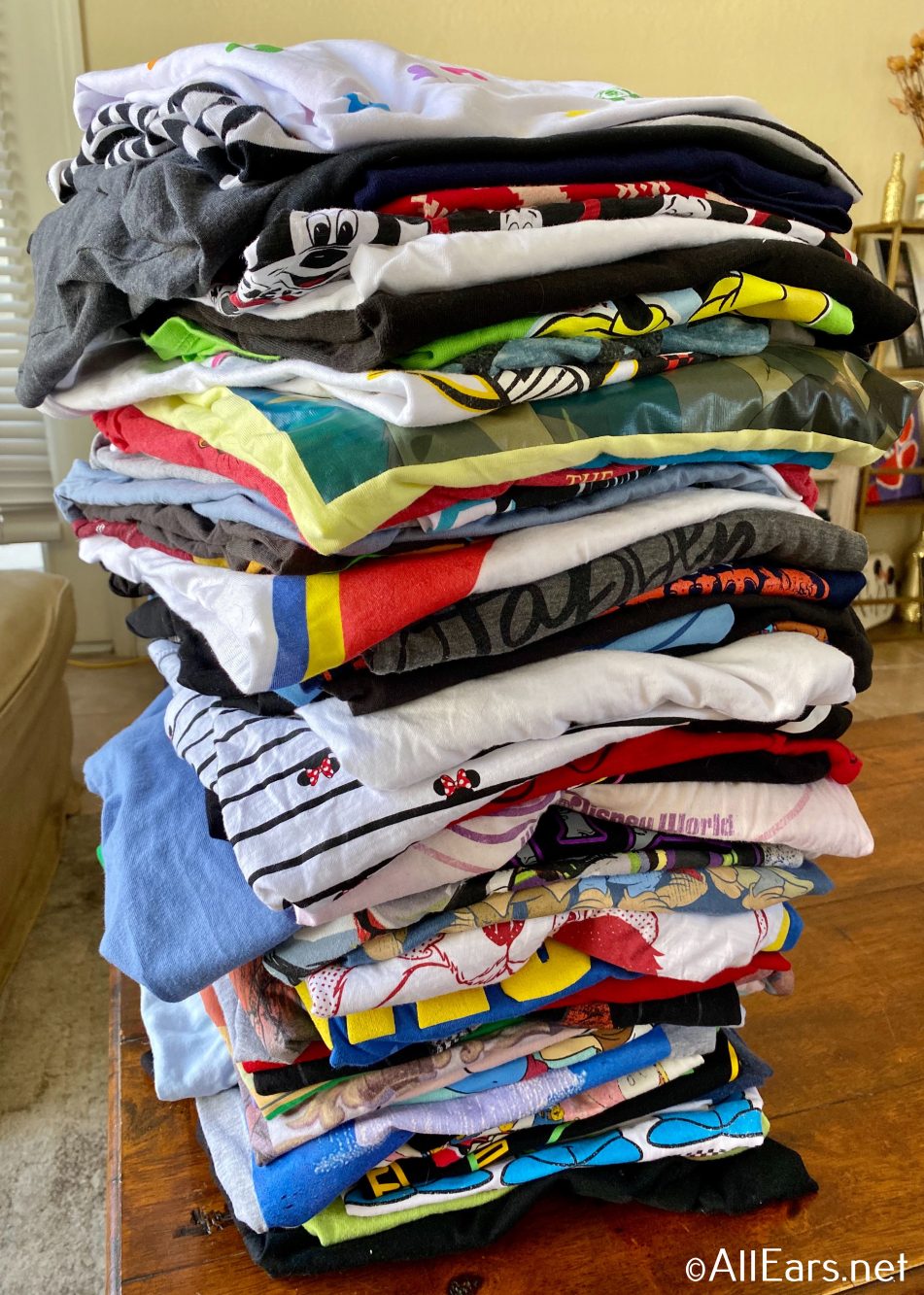 Much like my ears, I like to categorize my shirts as mini collections, so let's start the tour where "this whole thing started…" with a mouse!
Mickey T-Shirt Collection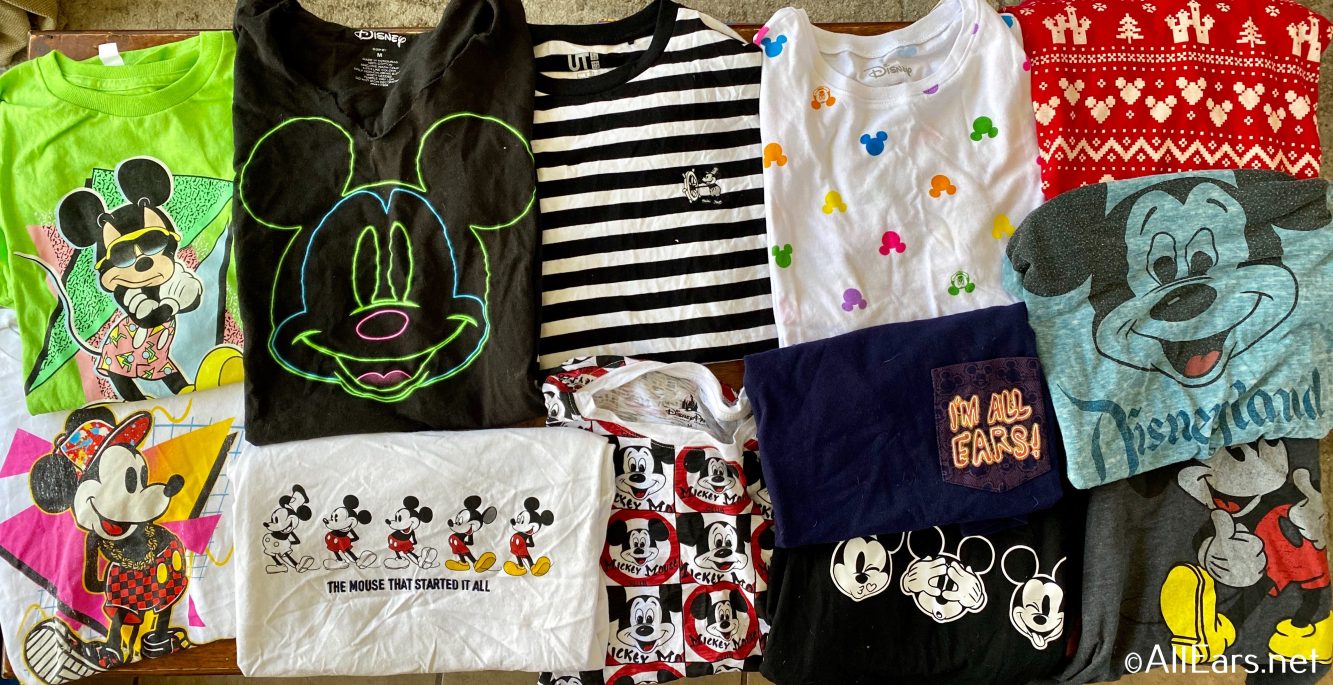 The far left shirts, both the green one and the bright retro one below it, are from Amazon! They actually came as a set, and they're Boy's Shirts. I find that kid's often get better shirts, and they're usually cheaper, so if I can snag an XL boy's shirt, why not!? You can shop this duo here.
The black with neon Mickey face, black with three Mickey faces, and white with multi-color classic Mickeys are all Target specialties.
The Mickey Mouse Club was Disney Store Outlet snag, and the bottom right corner is a grey tank top a friend spotted at a vintage shop and grabbed for me.
Above that, is a Mickey v-neck I got in Disneyland many years ago, and the red one is an oldie from Disney World, where the shirt is designed to have an "ugly holiday sweater" Mickey pattern.
Lastly, are the ones from Uni-qlo. Here in the Mickey section, I have the black and white striped Steamboat Willie shirt, the "Mouse that started it all" white shirt with an evolving Mickey on the front, and a navy T that says "I'm All Ears" on the pocket. Obviously that last one was a must have! 😉
Minnie T-Shirt Collection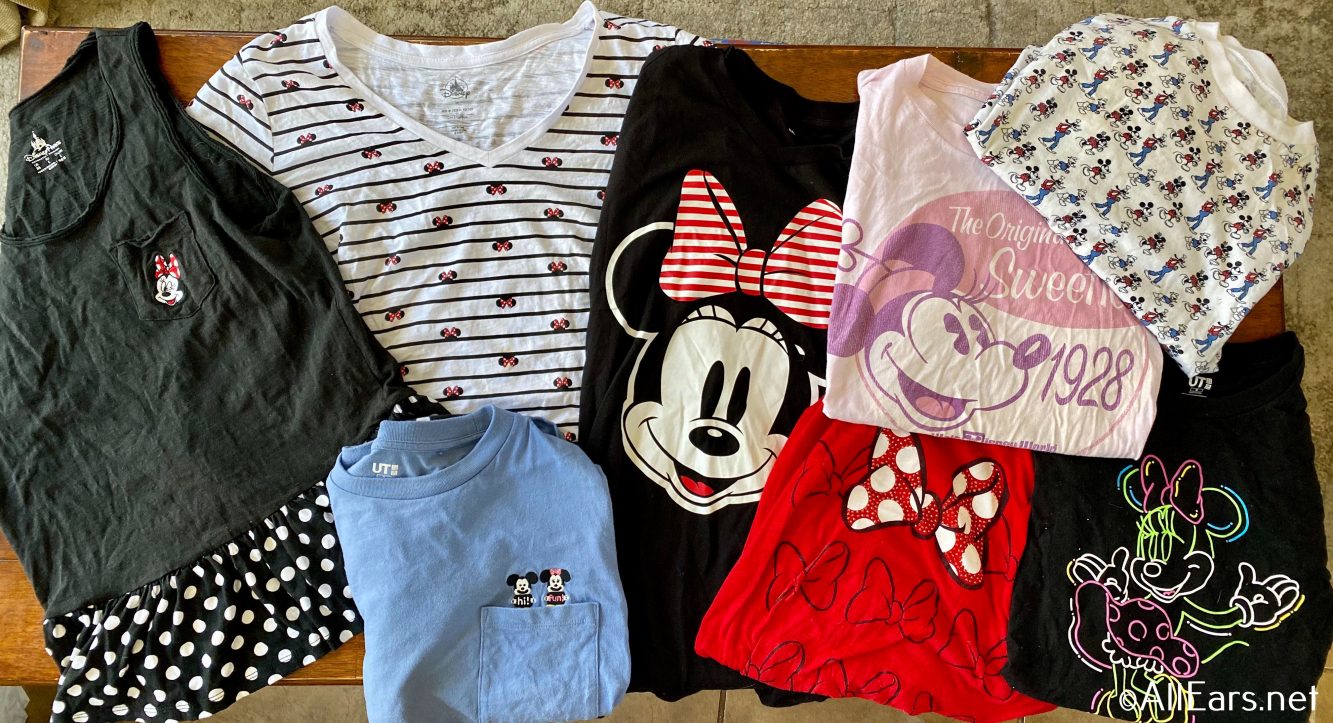 The Minnie collection has one of my favorite shirts — the Minnie ear striped V-neck! You can shop it here.
The tank with the ruffle was an impulse buy at a Disney Store Outlet, and the pink "Original Sweetie" and red bow tank are both old (like 8 years old) from Disney World.
The Black v-neck with the big Minnie with striped bow is from Target, and the rest are from Uni-qlo!
Toy Story T-Shirt Collection
If you know me,  you know Toy Story is my favorite Pixar movie and one of my favorite movies EVER so it's no shock that I've racked up quite a few Toy Story shirts:
Why have one Pizza Planet shirt when you can have two!? Both are Target — you can shop both the white one and the black one.
Also from Target is the steel grey one with the big block characters (bottom middle-ish). This is a kid's tee that I got in an XL. 
Target continues its winning Toy Story streak with the many-character vintage style one in the top right corner. Grab it here!
The green Alien eyes one is a kid's T shirt from the Disney parks years ago (honestly a decade old), and the "I do my own stunts" is equally old — I think from Walmart? I truly don't remember since I got it in college, but it's so comfy and it has Buzz so I can't part with it.
The Duke Caboom one is from Shop Disney (sold out), and the Forky pocket T and black with neon colored Buzz are both Uni-qlo finds!
Pixar T-Shirt Collection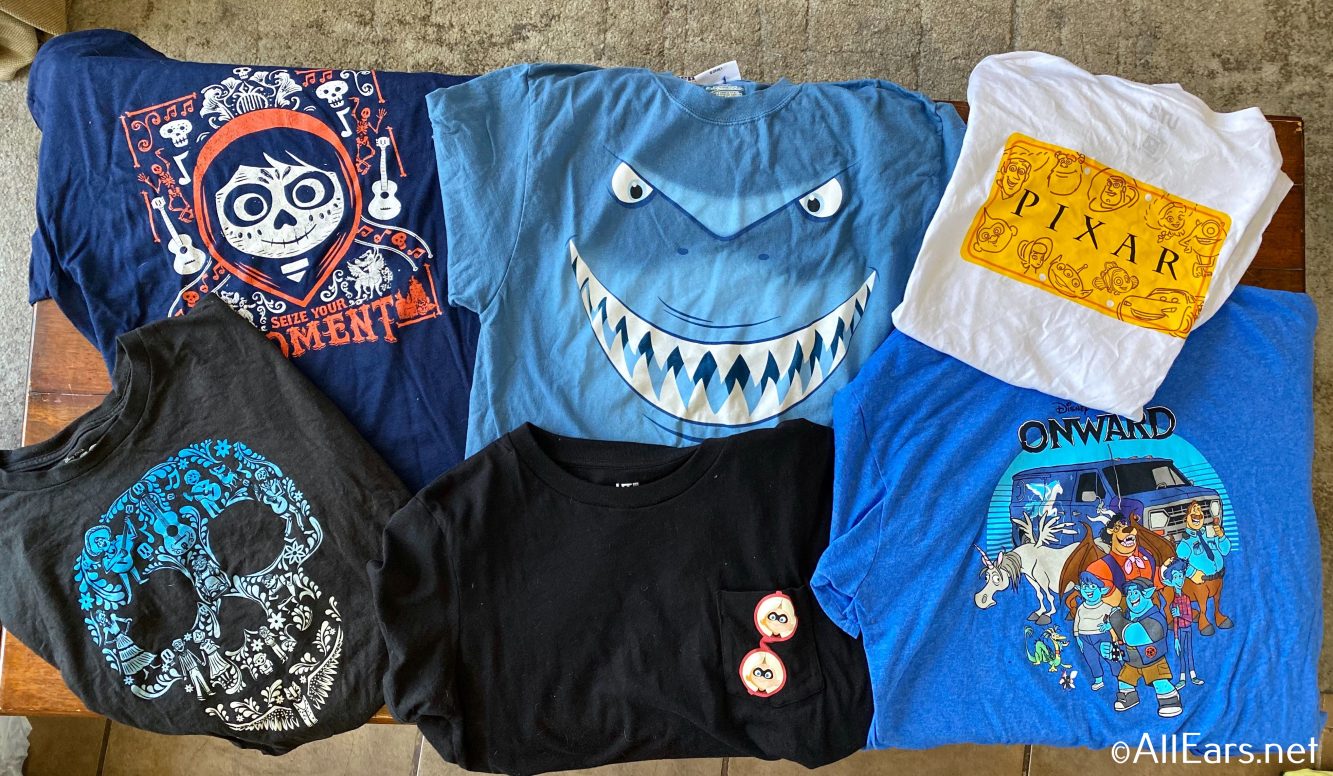 It's not just Toy Story — I love basically every Pixar movie! And I have a few other shirts from other faves.
The Coco shirts are another boy's 2-pack win from Amazon.
Bruce from Finding Nemo was one I snagged in Epcot years ago — a must have because I love sharks.
The black with a Jack-Jack Pocket and white with a Pixar character decal are both Uni-qlo.
Finally, the Onward one was a recent Target kid's section find!
Princess T-Shirt Collection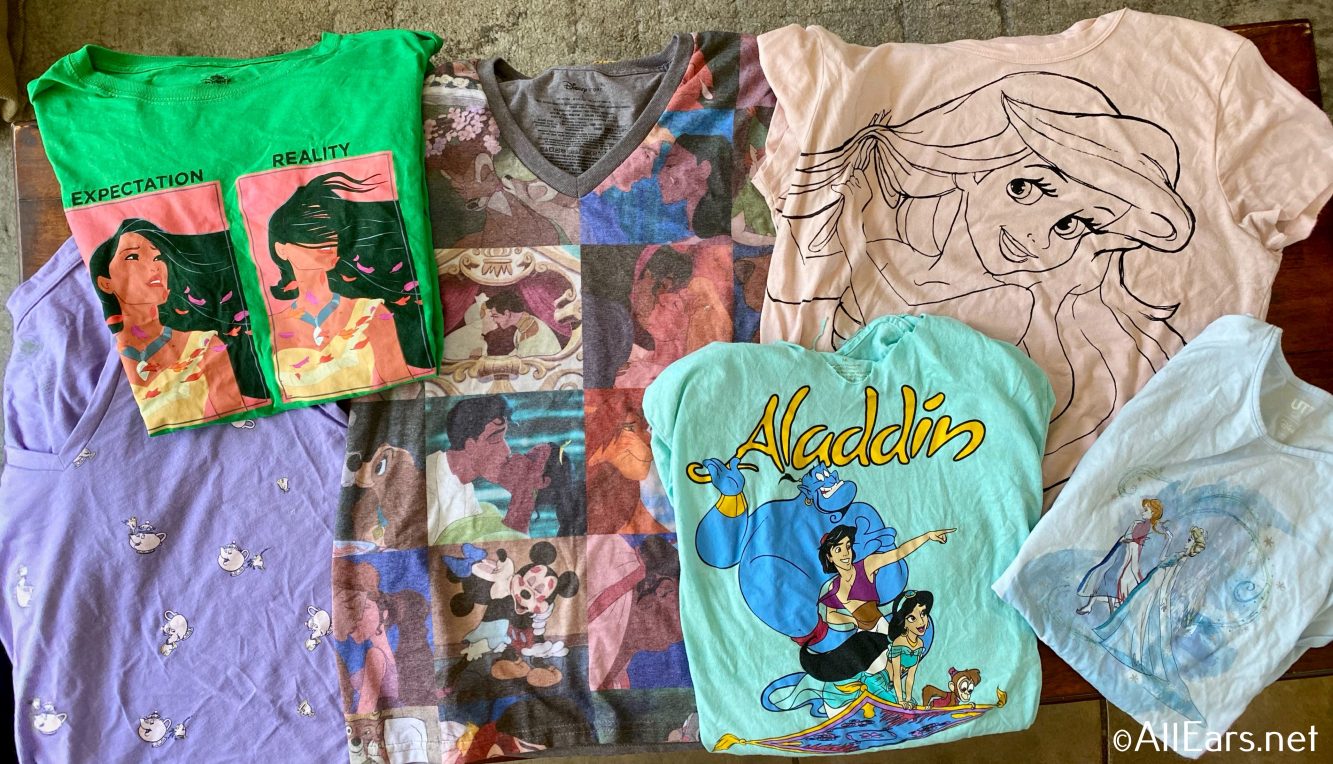 I've got quite a few princess shirts as well:
The V-neck Mrs. Potts and Chip one and the V-neck with all of the couples are ShopDisney.
The hilarious Pocahontas Expectation vs. Reality is from the parks.
Lastly, the pink Ariel one is from JC Penny, the teal Aladdin is from Target, and the girl's Frozen one is from Uni-qlo.
Cinderella T-Shirt Collection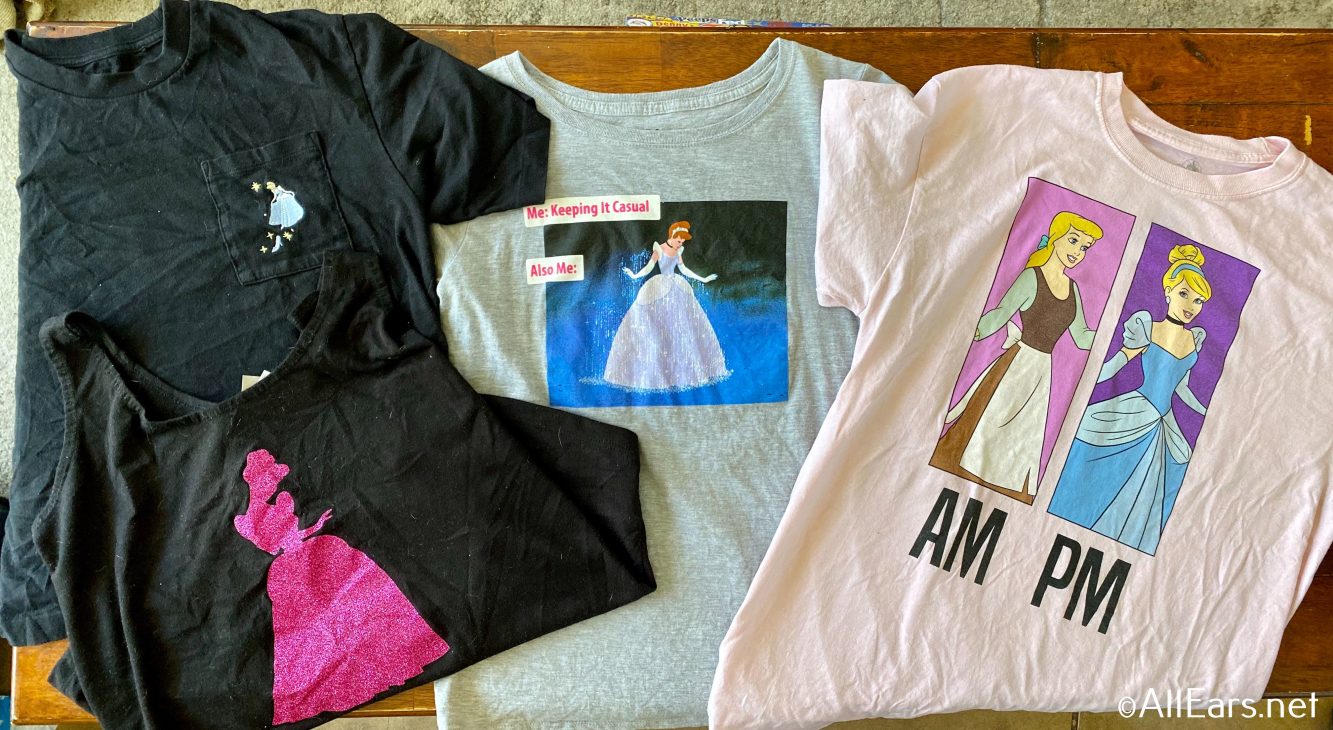 I realized I had several specifically Cinderella shirts when putting the princess collection together, so she got her own photo!
The adorable AM to PM pink number is from ShopDisney. 
My favorite one is the "Keeping it Casual" one in the middle because of it's accuracy. It's a Girl's shirt from Target that I got in the biggest size possible. (I think an XL plus?)
The black one with the Cinderella pocket is from Uni-qlo, and the black tank with the glittery Cinderella is from etsy that I wore in the runDisney Princess 5k many moons ago.
The Lion King T-Shirt Collection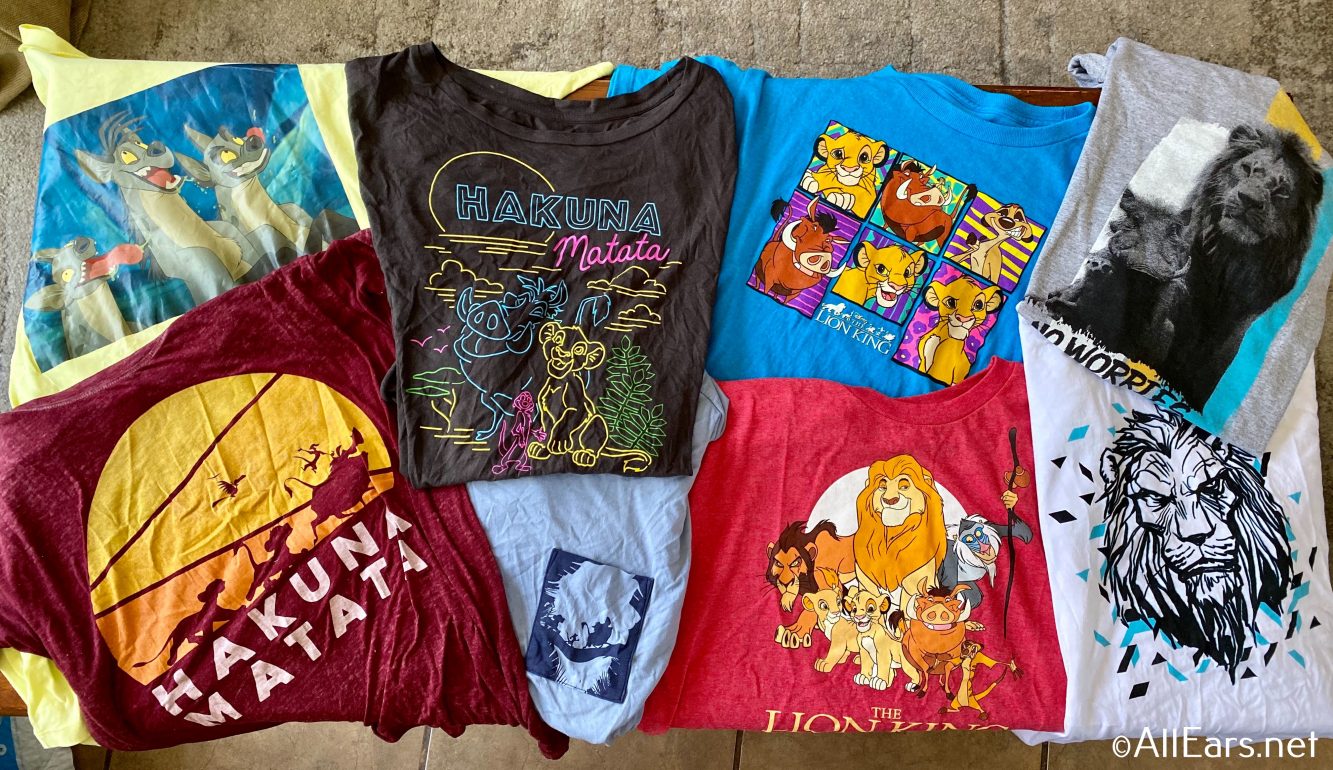 The Lion King is my favorite Disney movie, so of course, I have quite a few shirts for this one!
The maroon Hakuna Matata is another Target win — ironically so is the black Hakuna Matata one. (Yes, I needed two.)
The bright yellow with the hyenas is from Asos, and the blue with the Simon / Timon / Pumbaa pocket is Uni-qlo.
The remaining ones are all Amazon — two different Boy's two packs. I LOVE this 90's cartoon set, and I got the live-action pack specifically to wear the Scar one to Villains After Hours.
Star Wars T-Shirt Collection
Gotta dress appropriately to visit Batuu, am I right?
The Millennium Falcon is an older one from the parks, as is the most-hilarious Darth Vader tuxedo number.
The Coca-cola in Arabesh one was a gift from a media event, but I found a similar one here!
And lastly, it's probably not a shock that I own a shirt with Poe Dameron's face on it. I got it for the Rise of Skywalker premiere…or at least that's how I justified the purchase.
Magic Kingdom T-Shirt Collection
I call this my "Magic Kingdom" collection because everything here has an attraction or something to represent it in the park!
The "Baddies" shirt is from Target, and it's perfect for a Halloween party! They don't have this exact style anymore, but they have a similar one (that I actually like more). 
I love the Foolish Mortal one — look closely and the letters are filled with the iconic wallpaper. You can snag it off ShopDisney. 
The Squad Goals with the Seven Dwarfs is from a Disney outlet trip and the Dumbo tank was a Target find.
I just got this cute Lady and the Tramp ringer off ShopDisney and I adore it!
Lastly, the Tigger shirt was off amazon years ago, and part of a very easy and inexpensive Mickey's Not So Scary Halloween Party group costume.
"Everything Else" T-Shirt Collection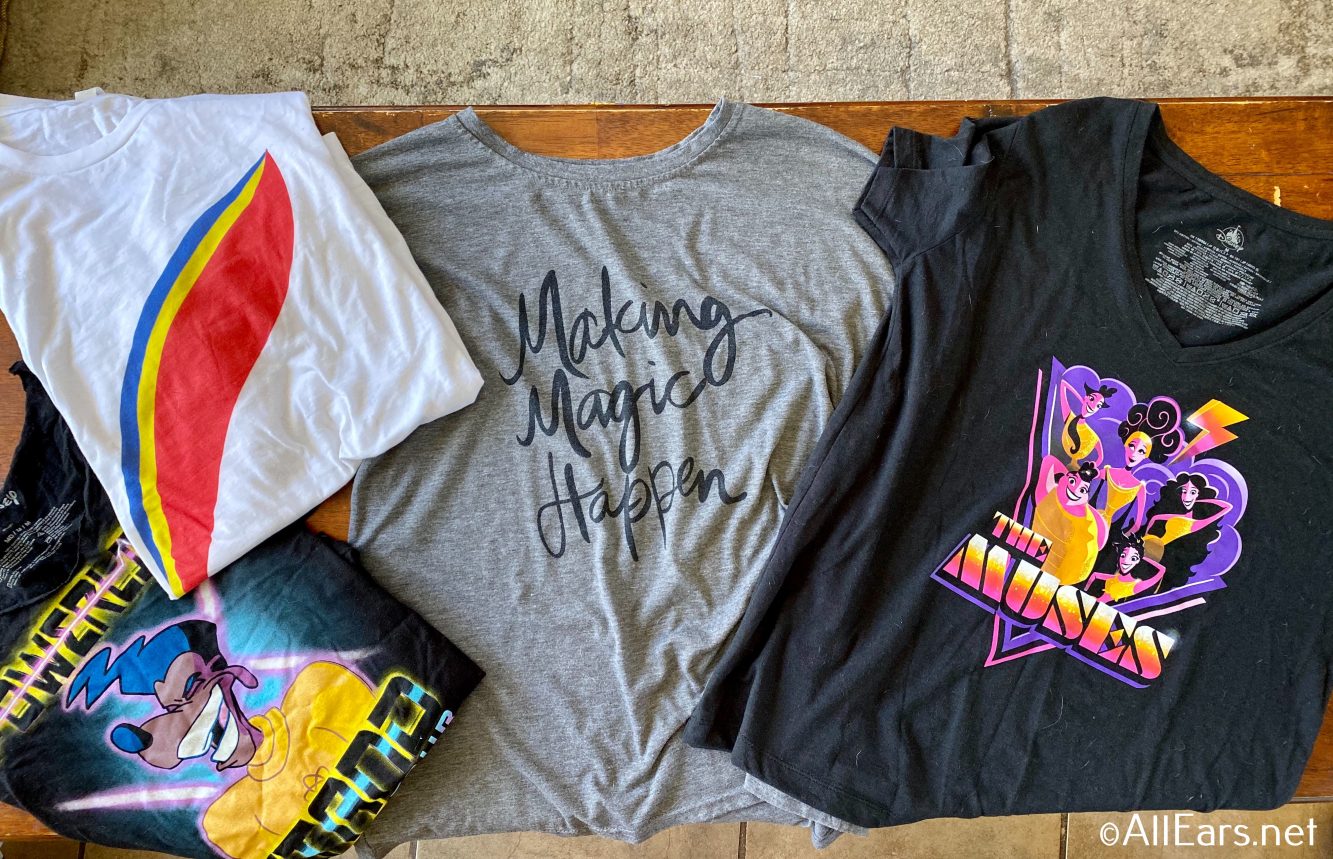 These shirts didn't really have a home elsewhere, but they're still winners!
First up, this simple Making Magic Happen grey shirt is from Amazon.
The black V-neck featuring the iconic Muses from Hercules is a recent buy off ShopDisney.
The Powerline from A Goofy Movie is another Target win. And finally, this simple yet amazing Captain EO (if you know, you know) shirt can be purchased here. 
Harry Potter T-Shirt Collection
For funsies, I thought I'd share my Harry Potter shirt collection as well! Based on the feedback from the first Universal Studios video I did, I know I'm not the only Potterhead here!
First up, gotta represent my house so I have a Slytherin Quidditch shirt as well as a Slytherin V-neck (similar style here). 
Several of these are from a funny T-shirt site called Lookhuman — "I solemnly swear that I am  up to no good," (similar style here) "The Muggle Struggle is Real," and "Accio Pumpkin Spice." (Pumpkin and Harry Potter are two of my favorite things.)
Lastly, the Hogwarts crest crop top is from Amazon, and the Harry potter icons grey shirt and white Hogwarts shirt are from Target (similar style linked here).
So there it is! My entire Disney t-shirt collection!!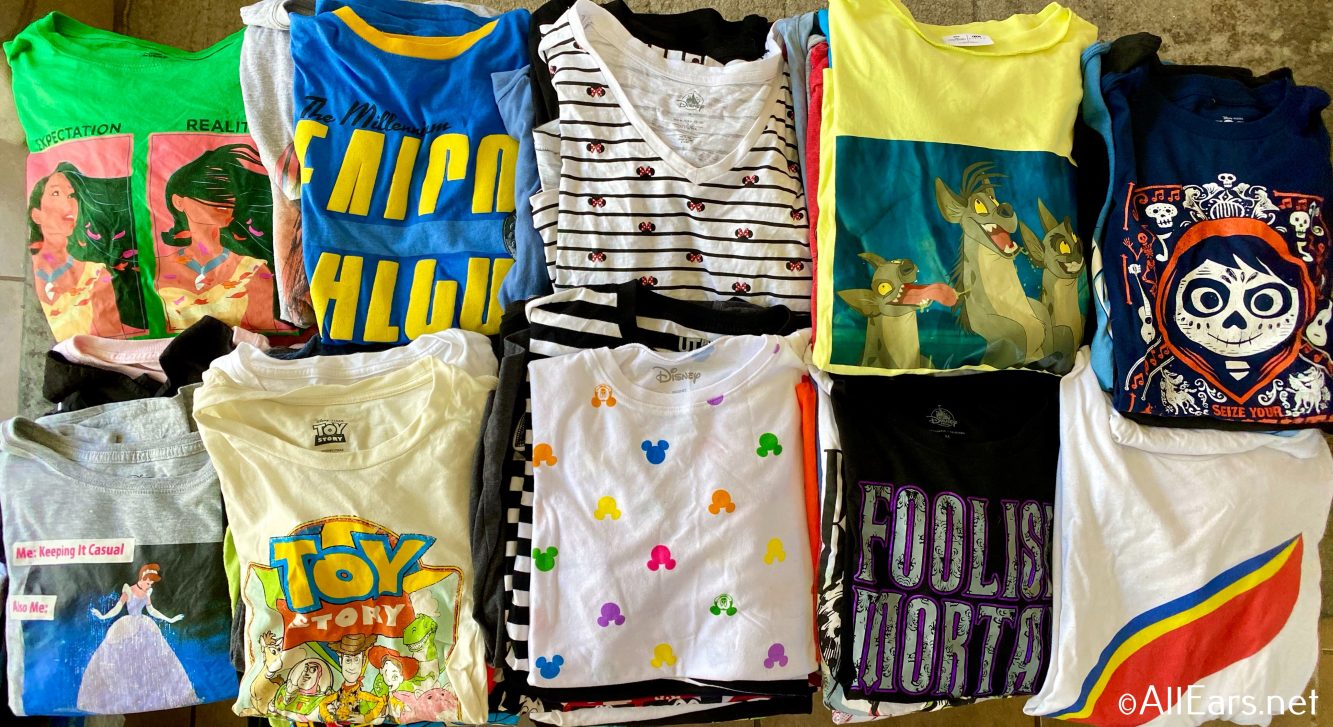 After tallying them up, there are 66 in total! That doesn't even count the Harry Potter ones — or these that I just ordered in Homebound Boredom:
This Goofy 2-pack from Amazon: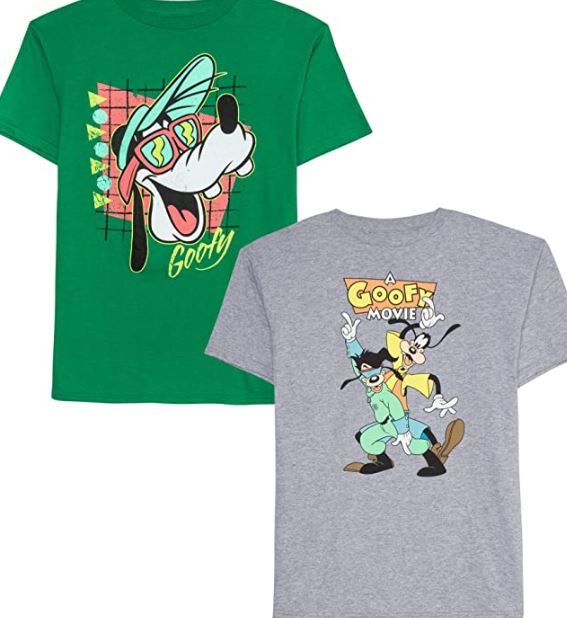 And this one from Target! Upon laying all of these out, I realized I didn't have any Mulan shirts, which is a travesty as it's one of my favorite Disney movies.
Safe to say, I have a slight addiction to cute Disney shirts. But hey, I wear them to shoot videos and to the parks, so they're a job expense right?
Do you have a favorite Disney shirt? Let us know who's on it in the comments!