Hi, AllEars readers! If you would like to read more information regarding the temporary closures at the Disney Parks, please
click here for a list of closures at the Disney Parks
, or
click here for some of our most FAQs
. From all of us at AllEars, our thoughts are with those affected. While the Disney Parks are closed, we will continue to write articles and bring you AllEars TV videos to enjoy and for our readers to use once the parks reopen. 
Okay, listen — we're home social distancing in order to help flatten the curve, and we have a virtual reality headset. So, what better to do than hang out in Coco VR? Oh yes, this is a thing!
Coco VR is an Oculus Rift virtual reality experience that debuted just after Coco came to theaters in 2017. Today, we're trying it out and we're taking you along with us!
First things first, we donned the headset and chose the "Single Player" mode of Coco VR. Before we knew it, we were standing at the Riviera's right in front of the ofrenda, and, you guessed it — there's Miguel himself! After telling us a little bit about the ofrenda, Miguel's Abuelita calls him and he runs out of the room. See that little alebrije statue by the door? That little guy comes to life and flies right up to you.

Next thing you know, you're in the Land of the Dead! More specifically, we were in Ceci's costume shop. Ceci told us that we weren't permanently stuck in the Land of the Dead, but we did need to make ourselves look nice to perform at La Plaza de la Cruz. Hold up — Perform?? We're not ready!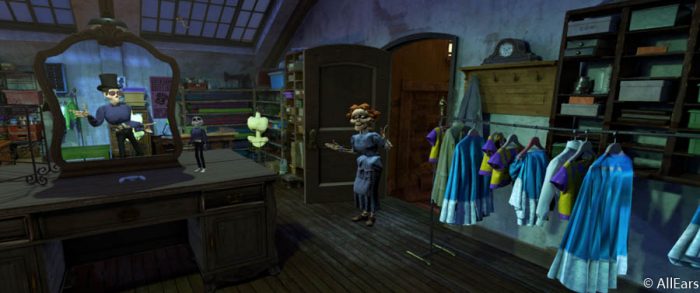 Luckily, we had access to everything we needed to get our skeleton-selves looking ship-shape.
Tada! We're looking pretty snazzy if we do say so ourselves. In an outfit this nice, maybe we are ready to perform at the Plaza.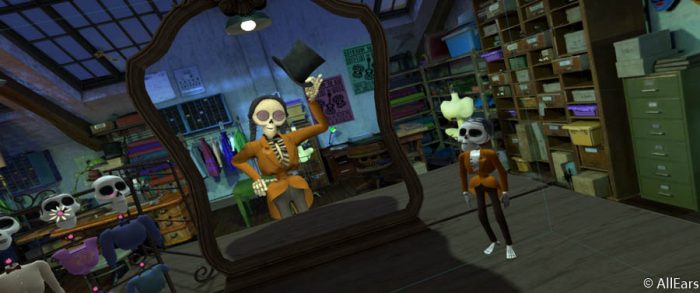 So, we set off! Just outside of Ceci's costume shop, we ended up in an alley lined with beautiful candles, but that was nothing compared to what we were about to walk out to.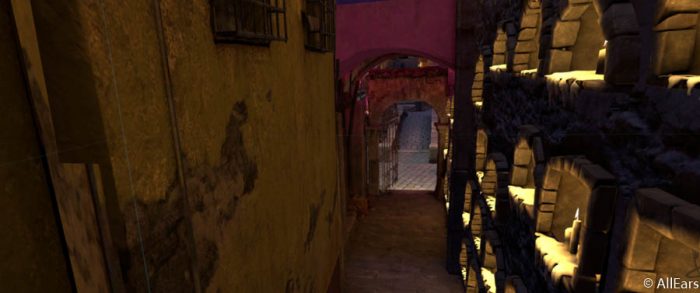 Um… WOW! We're actually in the City of the Dead — and it's gorgeous! A quick look around showed us that there was plenty to do in the plaza too.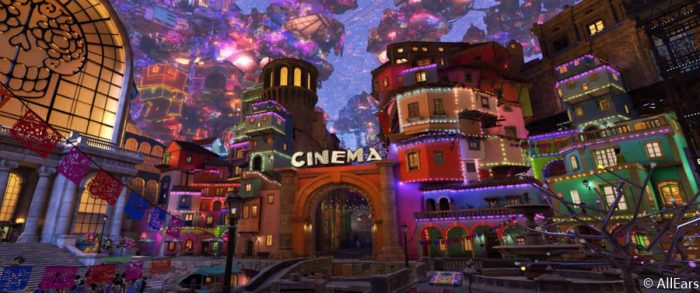 Although to be honest, we were happy to just stand there. Look at the architecture and art!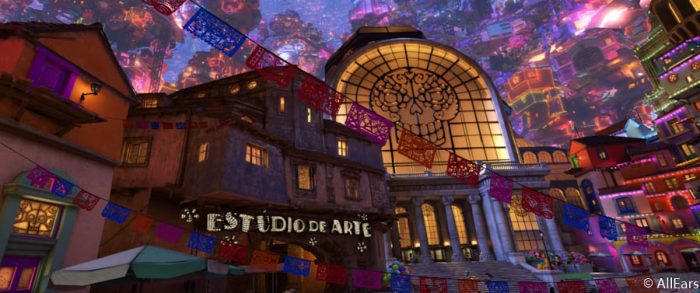 Soon though, we decided it would be best to see more of the area, and what a decision that was! There were a few musicians playing on the steps surrounded by a crowd of other dead folk enjoying their tunes.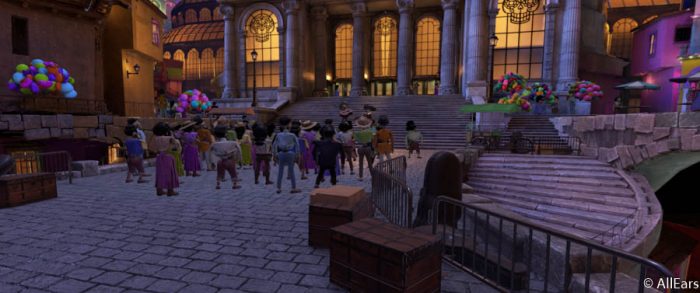 We even found a photo spot where you could pose for a picture with all the sights of the City of the Dead in the background! As a bonus, the pic downloads automatically in a super-shareable format.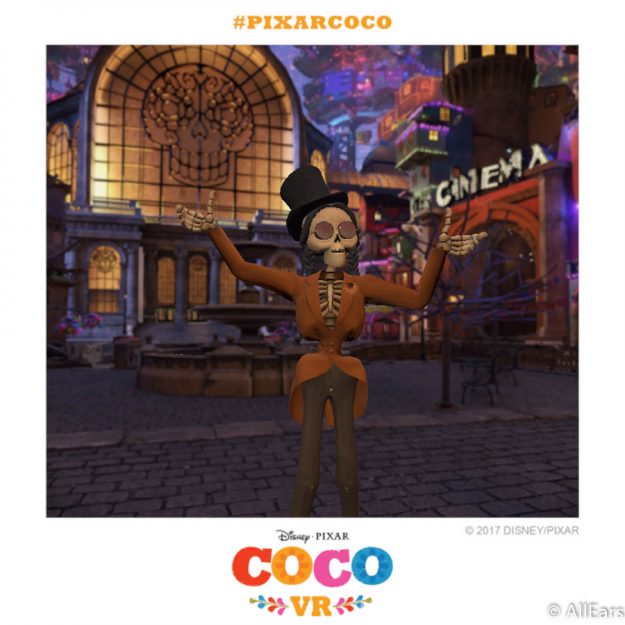 Next up, we decided to stroll on over to the cinema with its big glowing sign and we found a lovely outdoor theater. Bunches of other folks were seated at benches and tables to watch a silly comedy special — performed by skeleton actors, of course!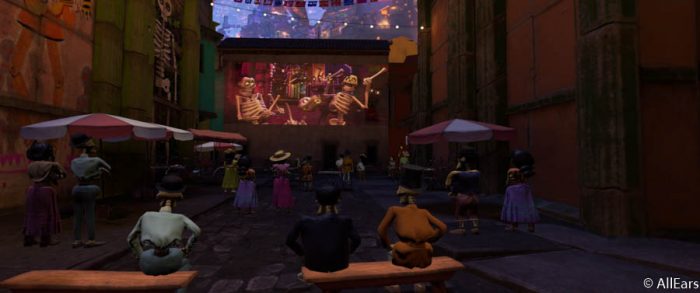 Then it was on to Estudio de Arte. This was definitely one of our favorite parts of the experience! The art studio has an audio tour using speakers placed around the space and features Mexican art by real-life artists!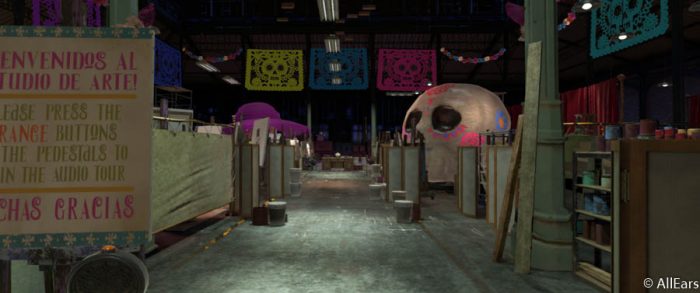 Our favorite exhibit was the one dedicated to the works of José Guadalupe Posada where we learned all about his unique art style and his use of relief printing. So cool!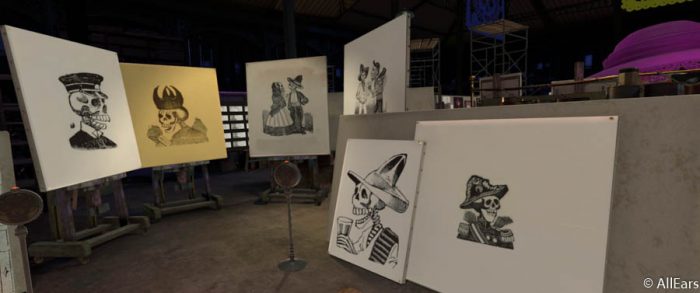 Another awesome exhibit in the studio was the one with concept art for the movie Coco! You can see the Department of Family Reunions on the left and a little bit of the concept for the marigold bridge on the right.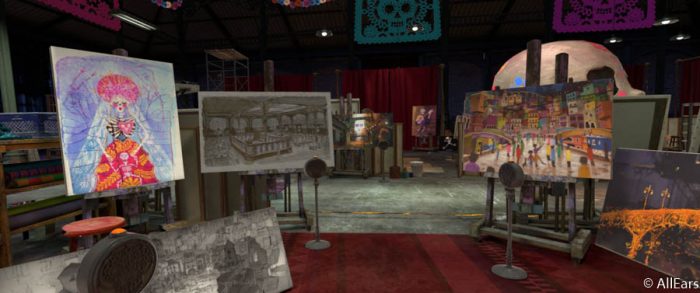 Plus, tons of character and costume designs were posted up. We have to say, the fashion for this film is pretty beautiful!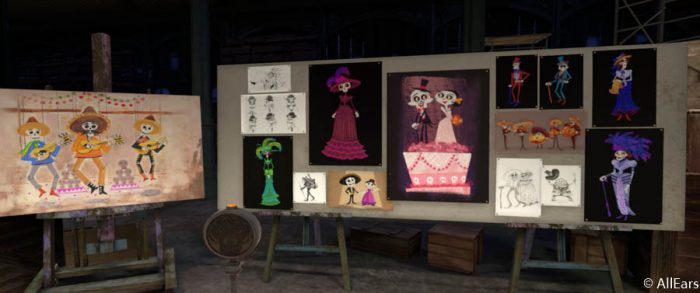 There were even some clay models of characters! Our favorite was the huge clay model of Mama Imelda's alebrije, the fearsome Pepita!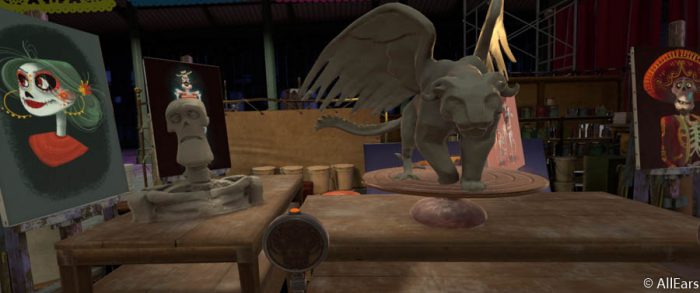 Out in the hallway of the studio, you can even paint your face with colorful designs for Dia de los Muertos. Painting your face is pretty easy when you can just remove your head and set it up on a stand!
The different paintbrushes all had pretty patterns to choose from and there were plenty of colors. Here's our final design, sunglasses off. What do you think? We love it!
After we were all dressed up and had fully explored the area we spotted an elevator tucked to the side and took a ride on up (with gorgeous views, we might add).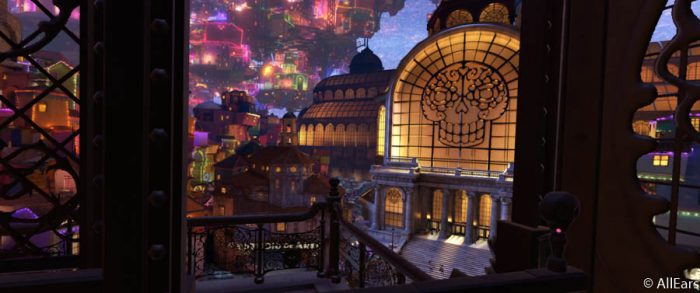 The elevator led up to a trolley platform. Well, we're curious types, so of course we wanted to see where the trolley would take us!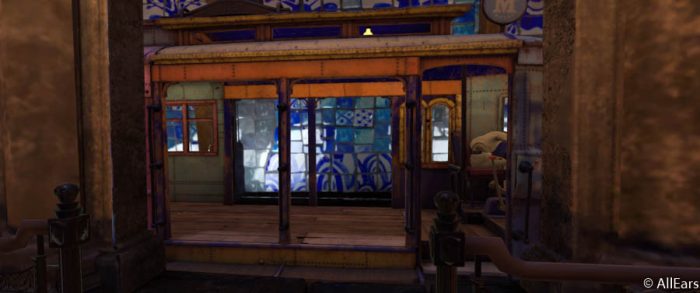 But what's this? The conductor was asleep! Worry not, dear reader, we took the matter into our own hands. Have we ever driven a cable car through the sky? No, no we haven't. But how bad could it be?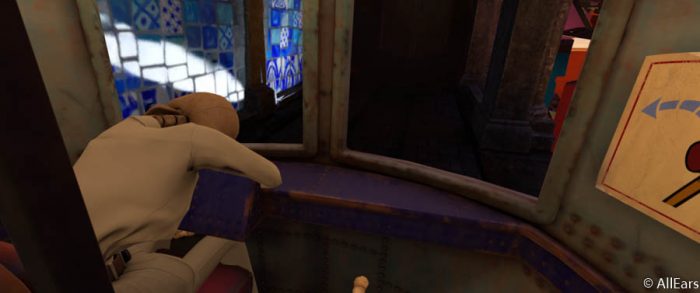 So, full speed ahead it was! The station doors opened and we were off on a trip through the City of the Dead!
This was SO pretty! Look at the views! The only bad part was that we were a little nervous about falling out of the open-air cable car. Then we remembered that we were in VR and not actually in a cable car at all, and that helped.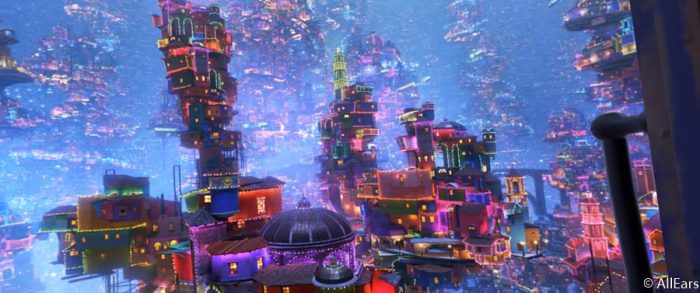 When you arrive, the car drops you off right at La Plaza de la Cruz and next thing you know you're on the stage with Hector! Hector taught us how to do a grito (that's the mariachi yell!) and then some music started playing.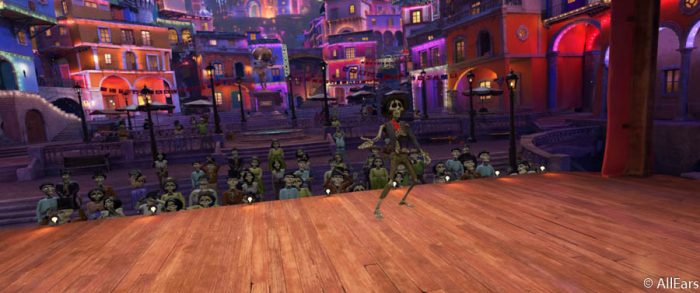 We noticed a few maracas over on a side table so we hurried over and picked a few up. We couldn't leave Hector dancing up there all by himself!
Then, we danced! And let us be the first to tell you. If there is anything more magical and fun than dancing with Hector in the Plaza de la Cruz, we're not sure we've done it yet!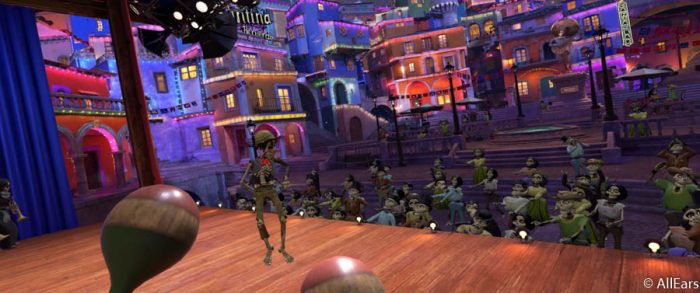 Of course, Hector's moves were way better than ours! The crowd loved us anyway, though, and with cheers and applause, we were suddenly transported back to the Land of the Living.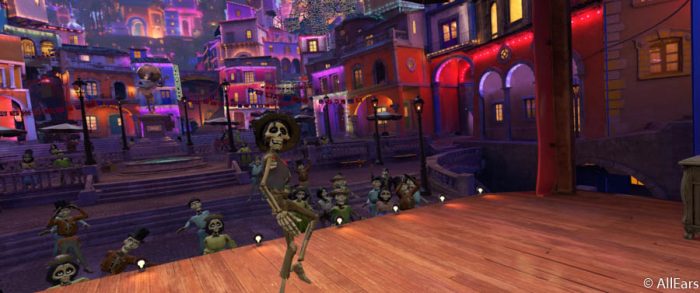 Miguel has returned and he points out that we looked a little zoned out there for a second. Hey, what can we say, we were having one heck of a Dia de los Muertos!
The experience ends with some information about Coco and you have the option to return to the Plaza if you didn't get to do everything you wanted!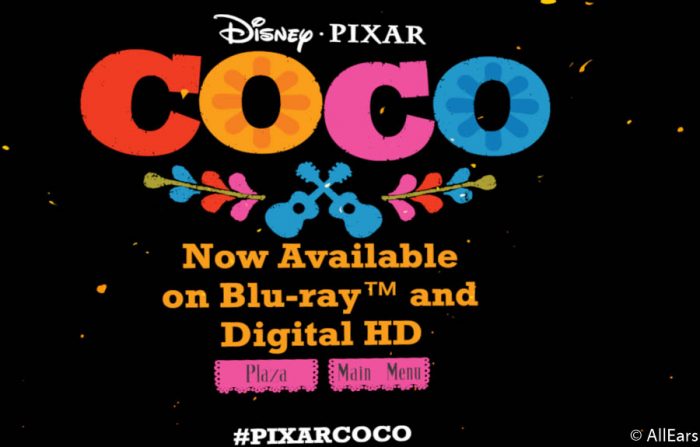 Coco VR is available for free on the Oculus Rift if you want to head to the Land of the Dead for yourself!
How would you like to give Coco VR a try? Tell us in the comments! 
Join the AllEars.net Newsletter to stay on top of ALL the breaking Disney News! You'll also get access to AllEars tips, reviews, trivia, and MORE! Click here to Subscribe!