Arendelle Aqua is the color trend we didn't know we needed, but now that Elsa's signature color has swept the Disney Parks in California and Florida, it's time to make some room for a slew of color trend-themed treats!
Here's a guide to what you can eat and where you can find it!
Disneyland Resort
First up: what's a Disney Parks color trend without a fashionable cake pop on which to munch? You can find this vanilla cake/black raspberry white chocolate creation at Marceline's Confectionery in Downtown Disney, at Candy Palace and Hunny Pot in Disneyland Park, and at Trolley Treats and Bing Bong's Sweet Stuff in California Adventure.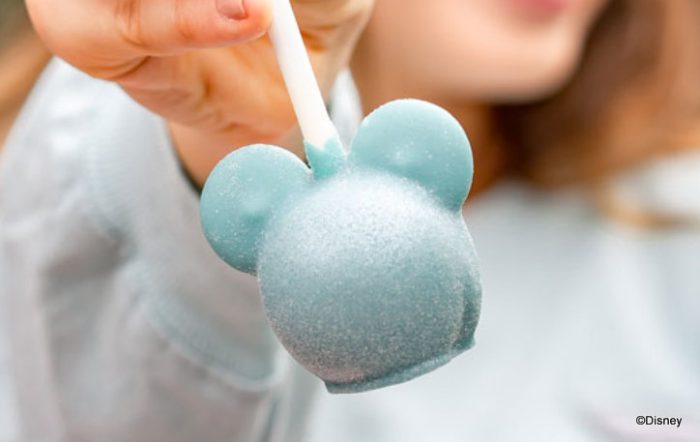 The Arendelle Aqua Mickey Balloon Popcorn Bucket is a must-have for popcorn bucket collectors! It's available at the Hyperion Popcorn Cart and at the popcorn cart near Sleeping Beauty Castle!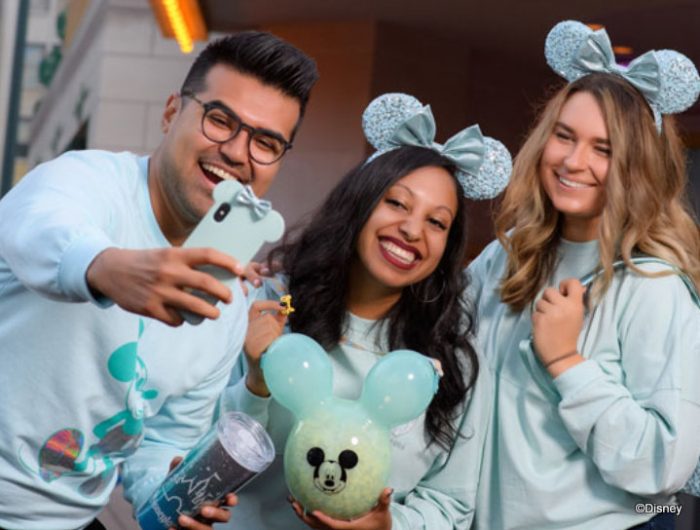 Churros always have a little fun at Disneyland Resort, and now they've got the Arendelle Aqua treatment! Find these at the Town Square Churro Cart!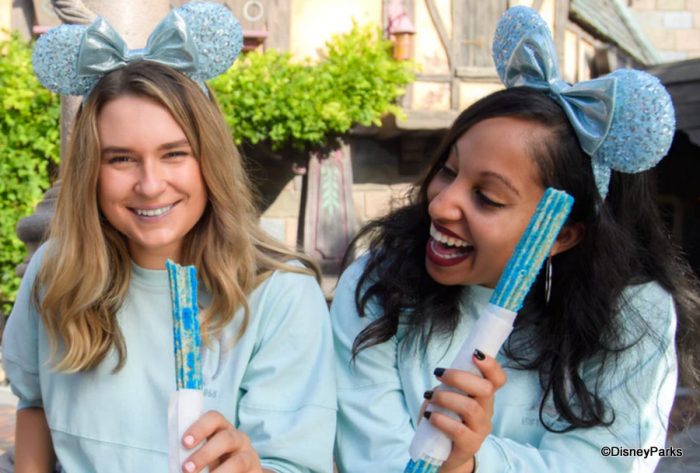 This wintery Arendelle Aqua Macaron can be had at Jolly Holiday Bakery Cafe in Disneyland Park and at Fidler, Fifer & Practical Cafe and Clarabelle's Hand-Scooped Ice Cream in California Adventure Park.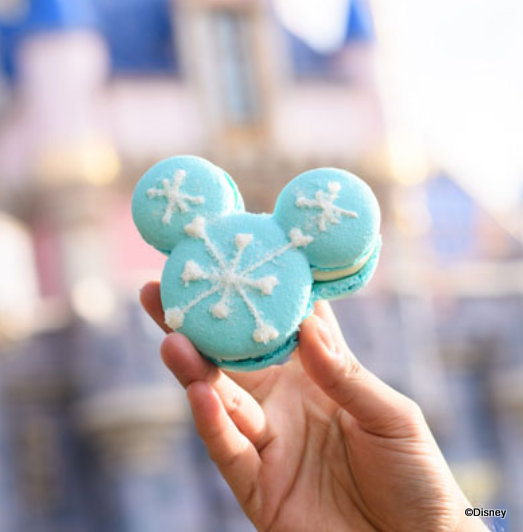 The pearlized Arendelle Aqua Linzer Cookie can be found at Market House in Disneyland Park.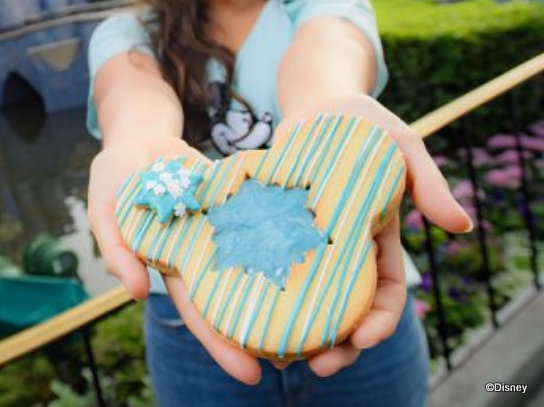 Walt Disney World
Walt Disney World is getting in on the action with the Arendelle Aqua Cone from Storybook Treats in Magic Kingdom. This is sweet cotton candy soft serve with Mickey-shaped sugar cubes!
Arendelle Aqua Lemonade can be found in three different flavor combinations at Epcot. At Block & Hans, get the Arendelle Aqua Lemonade that's frozen with cotton candy flavoring and blackberry moonshine. The Norway Beer Cart has a non-alcoholic Frozen Arendelle Aqua Lemonade with passionfruit and pineapple flavors. Another non-alcoholic version called Arendelle Aqua Frozen Lemonade has cotton candy flavor added and can be found at Sunshine Seasons.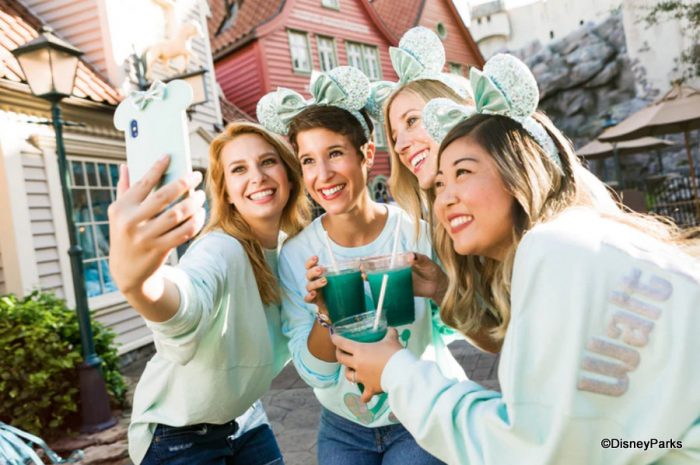 Sunshine Seasons also has the Arendelle Aqua Cupcake! This is a chocolate-hazelnut cupcake (with Nutella filling!) covered in soft, pretty buttercream.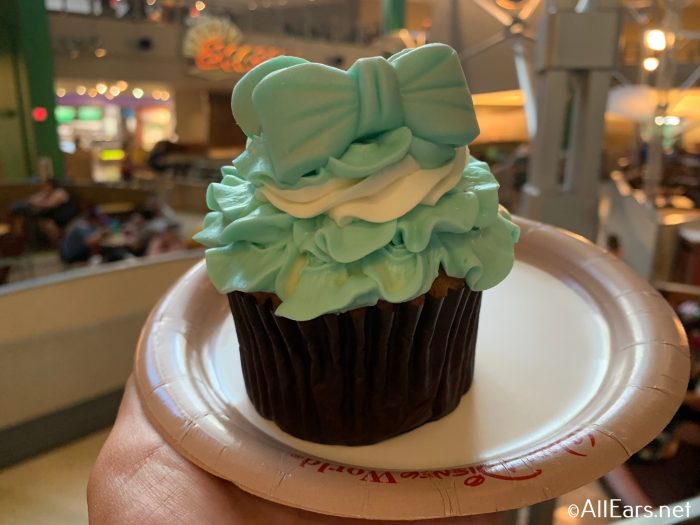 The Yorkshire County Fish Shop in the U.K. pavilion is serving Arendelle Aqua Victoria Sponge Cake with berry jam.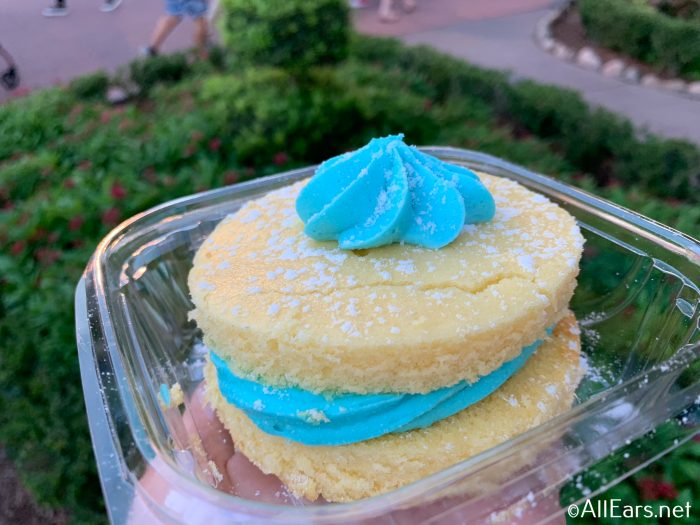 In Disney Springs, wet your whistle with two drinks! At Amorette's Patisserie, order the Arendelle Aqua Cuvee, and at Daily Poutine, get the very grown up Arendelle Aqua Punch!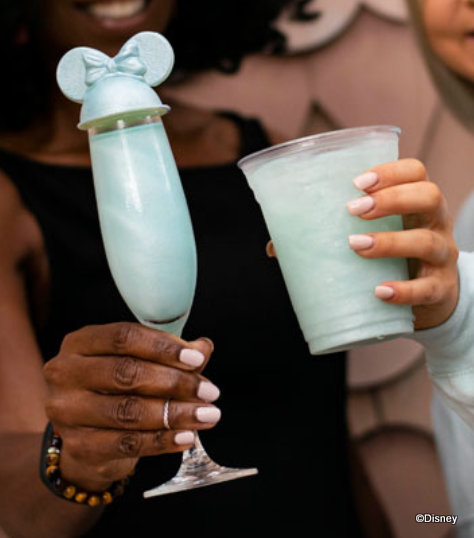 The Arendelle Aqua Sugar Drop Donuts come in a pair and can be found at Intermission Food Court at Disney's All-Star Music Resort.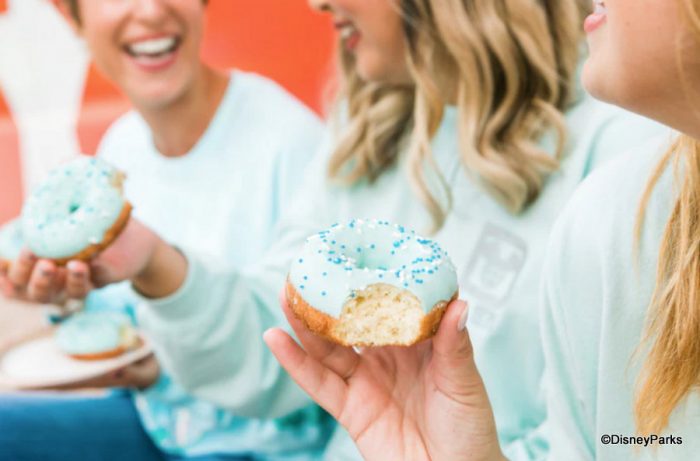 Two Resort-specific cupcakes will be available starting September 15. Find the Aqua Pearl Cupcake at Everything Pop at Disney's Pop Century Resort and the Aqua Sparkle Cupcake at Sassagoula Float Works and Food Factory (Port Orleans — French Quarter), Riverside Mill Food Court (Port Orleans — Riverside), and Centertown Market (Caribbean Beach Resort).

Gasparilla Grill at Disney's Grand Floridian Resort & Spa sells the Arendelle Aqua Cotton Candy Eclair with raspberry curd, and Contempo Cafe at Disney's Contemporary Resort offers a stunning Arendelle Aqua Cake in a dramatic design.

Worth Melting For is an adult beverage at Geyser Point at Disney's Wilderness Lodge, and Kona Cafe Coffee Bar in Disney's Polynesian Village Resort carries the Lemon Blueberry Cheesecake — which is Arendelle Aqua with an island twist! The Oasis and Barefoot pool bars at the Polynesian also have an Ice Elixir for the adult Arendelle Aqua fans!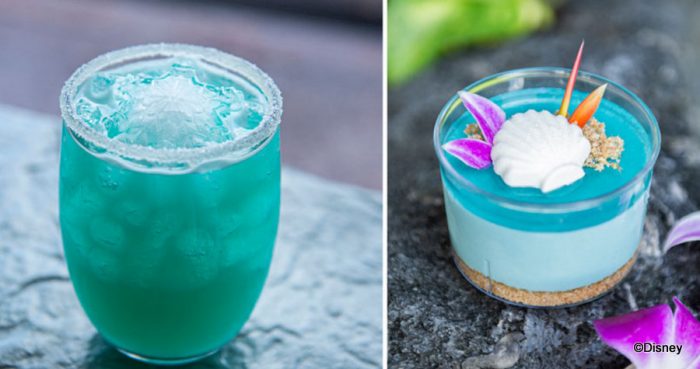 We suspect even more treats in shades of Arendelle Aqua will appear as time goes by on the mountain tonight… Sorry, we're still singing Let it Go!
Which of these treats or drinks will you grab first? Let us know what you think in the comments!