To all who come to this photo trivia game, welcome! Along the way, the photos can make us relive memories and see details that Walt's Imagineers put into everything we love in Walt Disney World!
Thank you for the congratulations on hitting 600 posts!

Now for Challenge #600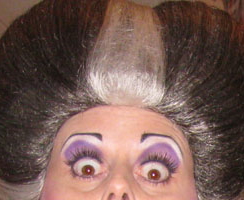 And here's the answer:
Lady Tremaine, Cinderella's evil stepmother! In this case, she is at 1900 Park Fare!
Some of you guessed that location right!  You're better men than me, Gunga Din.
Margaret Convery was the first to send in the correct answer! Congratulations to Margaret and to all our winners this week!  Chris Kelly, Linda Hoffman, Fred Terluin, Jim & Lorie Sonnen, Emily Hudson, Karen Fichter, Joann Albrecht, Beth Mcmeekin, Andy Hickey, Sands Family, The Gunnels Gang, Wickware Family, Bece, Belicia, Scott C., Phil Vickers, Team Hill, Sandie Albrecht, Loring Family, Lori Rienhardt, Grumpys Groupies, Debby Stailey, Tammy Warmouth, Melissa N, Tricia Petty, Luis Rodriguez, Bruce Hinterleitner, Vera And Izzy Williams, Brian Mcwithey, Linda College, Caroline Burmester, Axel Beer, Andreas Beer, Richard Long, Dee Dee Kenney, Susan And Ed Adams, Ken Maikowski, Bonnie Jean, Matt Earl, Barbara Hicks, Arlene Vicek, Robert Wescovich, Vickie Barca, Tony Bivens, Kris Nixon, Ed Suscreba, Deb Ragno, Janet T Thorn, Shelly, The Kertes Family, Ken Savage, Tom Koval, Karen Henny, Laurie Walker, Martha And Justin Collins, Jillian, Stacy Sanders, Aimee Tester, Nancy Cole, Susan Higginbotham, Jeremy A Hardy, Anabelle Mcginley, Christi Ison, Beau, Stephanie Kellman, Jim Thompson, Paul And Kelli Grundman, Deanna, Mike Haeberle, The Kuroly Family, Jeff Blank, Maureen And Warren Handy, Theresa Maradei, Diane Curfman, Karen Ramirez, Carla C, Dallas Hamilton, Jeremy Reichelt, Karrie Rodriguez, Tony Jack, Michelle Fure, Melissa Littman, Mark Hardy, Rebecca Keenan, Karen Bellamy, Mis Jamie Marie, Sandra Debow, John Debow, Sue Bridges, Kayla Ankeny, David Brown, Kathy R Rogoff, Kandis Dawkins, Jamie Steiner, Theresa Rucando, Scott Sangston, Jim Finley, Vicki Britt, Meghan Mckillop, Angela Gomez, Sherry Knoster, The Patterson Family, Josh Weiss, Jolynn Digiallonardo, Matthew Cofone, Barclay Bakkum, Emma Ramsey, Donald Purney, Sharon Leitgeb, Jane Johnson, David Ballard, Debbie Cody, Linda Ranatza, Renee Hardiman, Karen Schlumpf, Mike & Jackie Mclucas, Jodie S., Claire Gregory, and Joseph M Zafia!
It's time for the July drawing!
And the winner is… Luis Rodriguez! Congratulations, Luis! I will be contacting you soon so you can claim your prize!
______________________________________________________
Challenge #601 Where in the world is this?
We're celebrating a limited-time event at Disneyland with this week's image!
Do you know? Do you have a guess? Send in your answer before the end of the day on Thursday, August 15th, by clicking on the blue box below. Please do not post your answers on this blog post.
See you soon, Players!

_____________________________________________________________________
Everyone who sends in a correct answer to a Where in the World Challenge this month will be entered in a drawing at the end of the month for some special AllEars® goodies!
Be sure to follow @allearsnet on Instagram and Twitter!
Check out our YouTube Channel for reviews, news, information, and more!
Click below to subscribe to the AllEars® Newsletter so you don't miss any of the latest Disney news!