When my family planned a visit to Epcot on the night of the July full moon,I went into planning mode. Unlike Carina Smyth from the Pirates of the Caribbean: Dead Men Tell No Tales movie, we do not have to use a book full of tables and a watch to determine the location of when and where the moon will rise. When planning a moonrise or set or a sunrise or set, I start online at The Photographer's Ephemeris webapp (see below).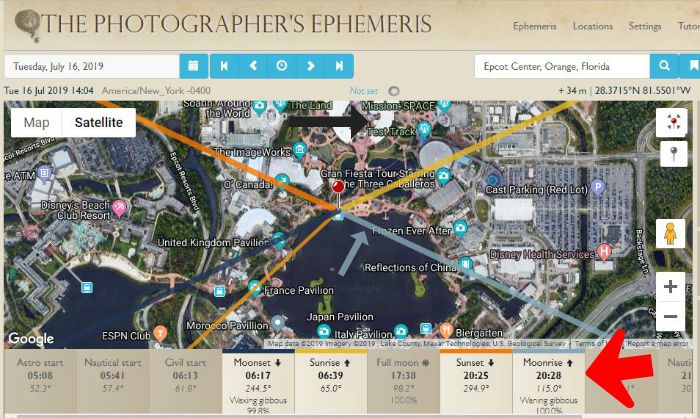 After selecting the date and location, I move the red pin around until I find an interesting foreground location along the moonrise line (gray line). In this case, I found a spot in front of the Friendship boat dock (near Canada), which lined up with the China pavilion. Next, I needed the time of the moonrise (indicated with a red arrow), which was 20:28 or 8:28 p.m. Eastern Daylight Time. This added a little complication as I knew IllumiNations was scheduled for 9 p.m. and I would need to get to that spot about 8 p.m. to make sure I got it. Being an obstructed view of the lagoon, not many people wanted to be there.
Once there I used the LightTrac iOS app (also for Android) to track the moon's location in real time.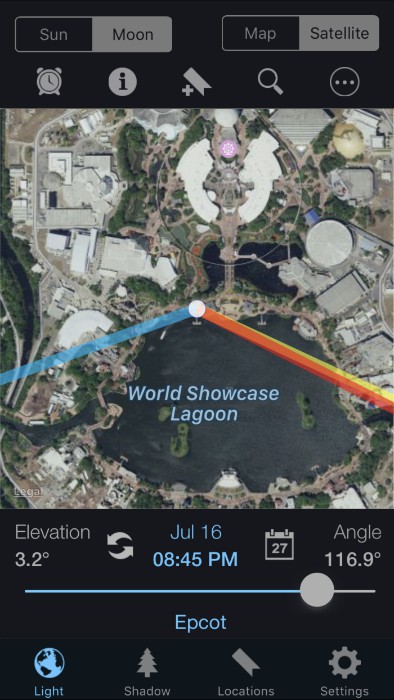 When photographing the moon, one must keep a few things in mind. First, even if moon looks big, it is still more than 222,000 miles away, which is why I used the Nikon 80-400mm lens. Second, it is very bright in comparison to the sky so using spot metering is a must. And lastly, the moon is a moving object as it orbits the Earth and a fast shutter speed is a must. I used 1/250th of a second.
Then there are uncontrollable things like weather or fire torches around the World Showcase Lagoon sending up heat waves.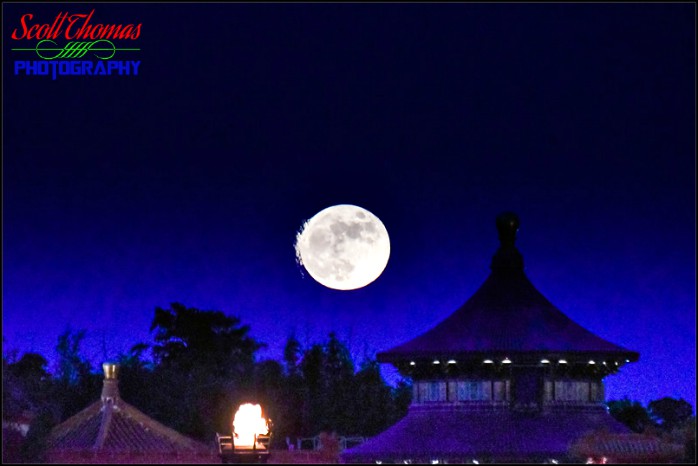 A few minutes later, the moon had moved away from the heat waves and I got a clearer photo.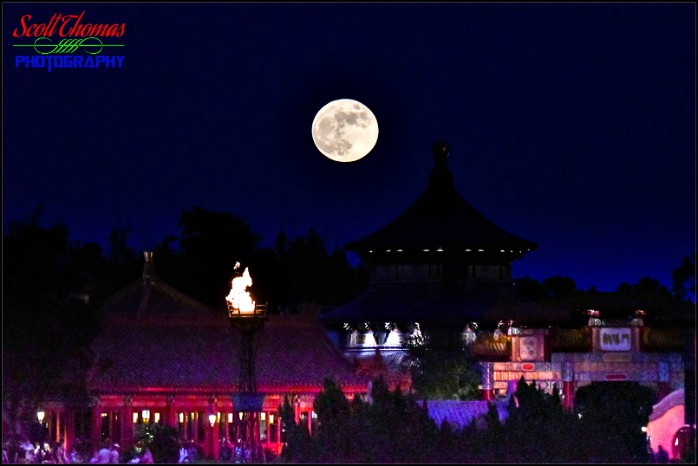 Below is the last shot I took before I had to rejoin my family to watch IllumiNations for our last time.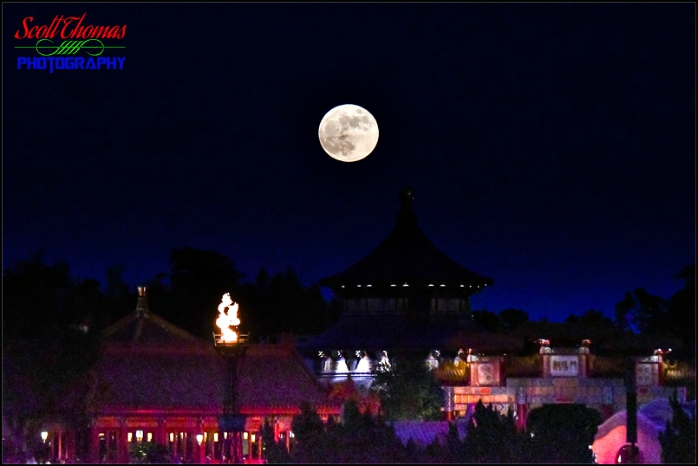 To illustrate the moon's motion here's a visual timeline.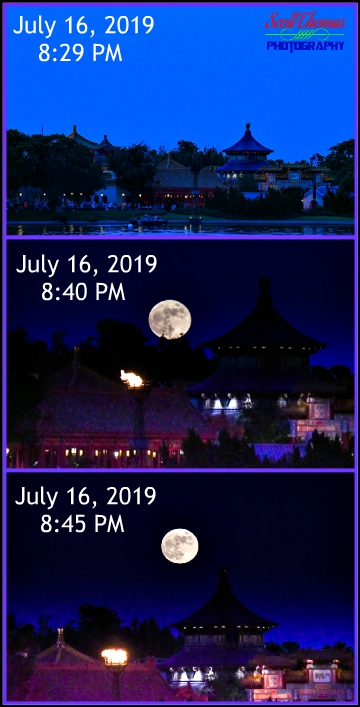 You can use the tools I mentioned in the beginning to plan ahead for any location on Earth for a sun or moon event.
Have you tried shooting the full moon at Disney World? What were your results? Let us know in the comments.
Be sure to follow @allearsnet on Facebook, Instagram and Twitter!
Check out our YouTube Channel for reviews, news, information and more!
Click below to subscribe to the AllEars® newsletter so you don't miss any of the latest Disney news!