Riding all the rides, seeing all the shows, eating all the eats, feeling all the feels — we all know how much fun a visit to Disneyland can be! But there are also some more "off the beaten path" sorts of things that few people know about.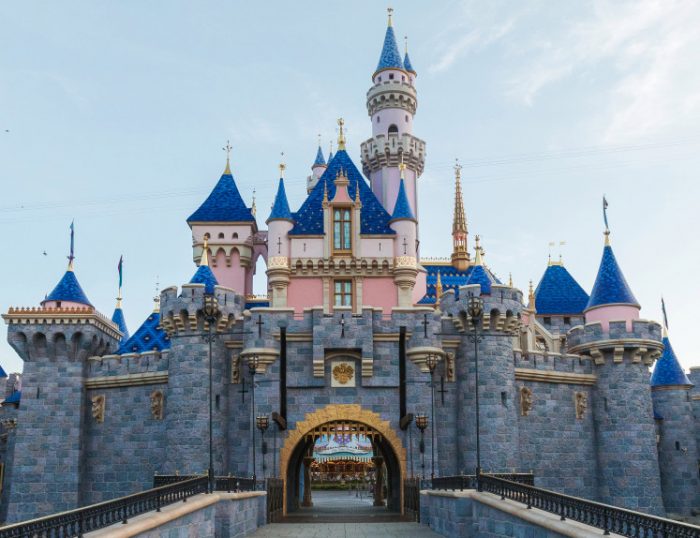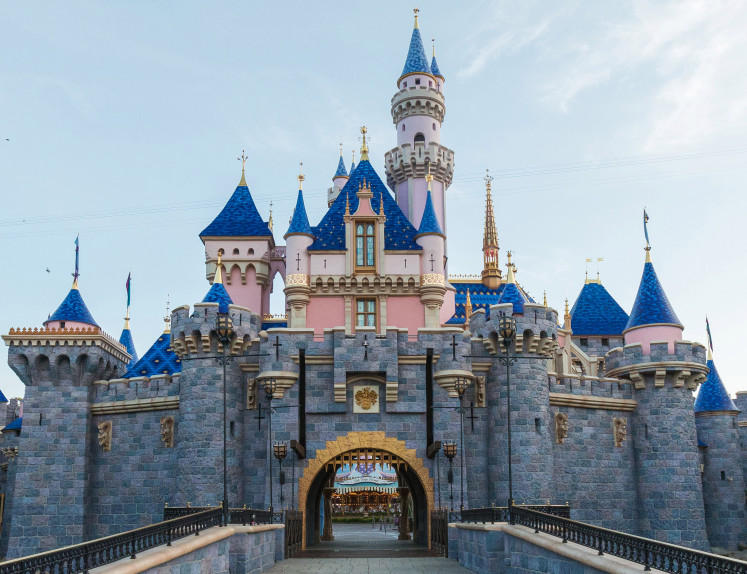 Many of these have been around for a long time, but they've been kept pretty secret so they stay magical! We're going to spill the tea on a few of them!
1. Go on an adventure to find the Little Man of Disneyland
D23, the Official Disney Fan Club, has written: "For Walt Disney and his Imagineers to design, build, and open Disneyland Park 60 years ago took oodles of imagination, tons of creative courage—and a wee bit of luck. So it couldn't hurt to have a leprechaun on hand. A whimsical story about just such an Irish elf is one of the best-kept secrets surrounding the creation of Walt Disney's Magic Kingdom. Fans of this fanciful little fellow have been fascinated with him and his unique status as a 'resident' of the magical park—in fact, some who have read his tale have been searching for his mysterious house ever since!"
This little leprechaun is known as the "little man of Disneyland" and his house is actually hidden in Adventureland, near the Indiana Jones Adventure attraction. If you look closely at the roots of one of the trees, you should see the little house pictured below!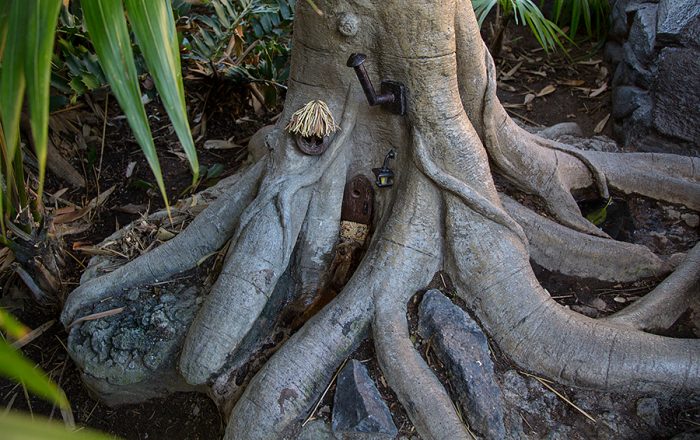 2. Get Disneyland's roster of King Arthur's Carrousel horses
Have you ever wondered about the names of the Disneyland King Arthur Carrousel horses? Well, here's a fun fact:  Each horse on the carousel actually has a unique name! Your family can pick up a complete list of these names at City Hall on Main Street, U.S.A. There have been 85 horses and no two horses have the same name!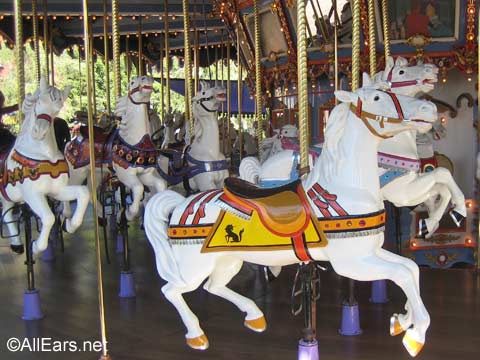 3. Grab the apple at Snow White's Scary Adventure
In the queue for Snow White's Scary Adventure, you will see a golden poison apple. Reach out and touch it… if you dare! When you do, you'll release the trigger, which will allow the Evil Queen's laughter and thunder to be heard!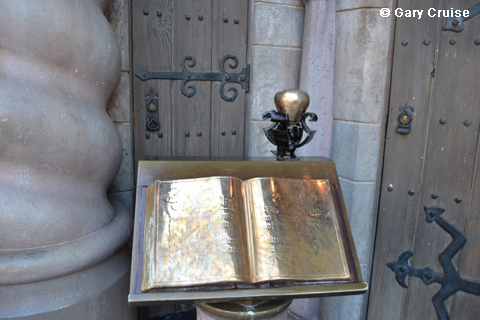 4. Access "secret" screens on Toy Story Midway Mania
When you aim or hit certain creatures, characters, or items when playing Toy Story Midway Mania, new scoring opportunities and screens will appear. These will help you beat out the competition while getting the most points! To read our full article about each screen — click here!  
5. Order "secret" menu options
At a few locations in Disneyland there are "secret" menus or "secret" menu options. Sometimes these can be accessed by using Mobile Order and other times by just simply asking a Cast Member.
A few of the locations where you might stumble on secret items include Cove Bar, Golden Horseshoe, Whitewater Snacks, and Flo's V-8 Cafe.
6. Replace a popped balloon
This one is pretty simple, but good to know especially if you have small children you don't want to disappoint. If something happens to your balloon or if it pops, a Disney Cast Member will replace it for you!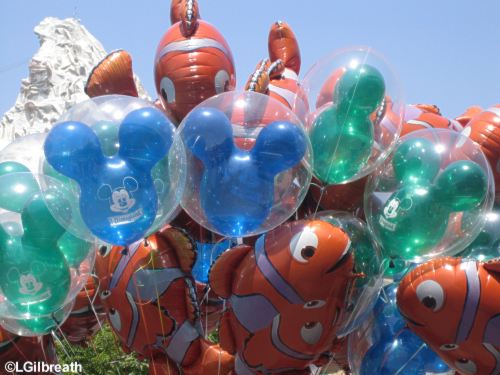 7. Become an Honorary Citizen
This is not just a button that you can ask for. Instead, it's a button that you have to earn. Head to City Hall and ask a Cast Member to become an Honorary Citizen. The Cast Member will give you a little questionnaire and if you pass the test you will be presented with an Honorary Citizen of Disneyland button.
The questionnaire is typically just three questions and, best of all, this experience is FREE!
8. Steer the Mark Twain Riverboat
Now, this is something that you'll need to ask a Cast Member for. And we're not going to promise that it'll happen. But if you're the lucky one, you will be invited into the wheelhouse and get the opportunity to steer the Mark Twain Riverboat. They may even give you a special pilot certificate!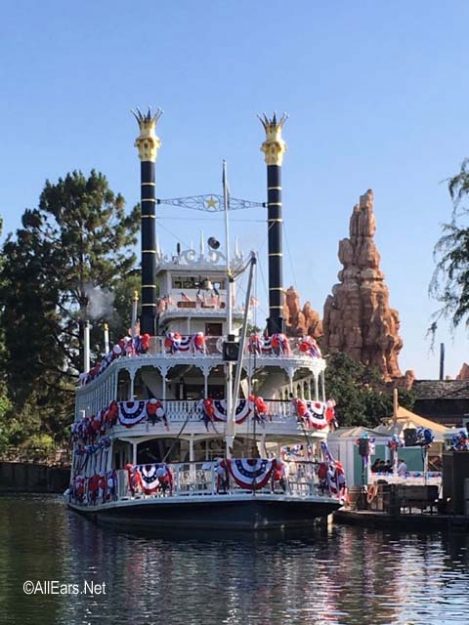 9. See the park bench where Walt thought up Disneyland
The Walt Disney Griffith Park Bench can be found in the Opera House on Main Street U.S.A. This bench is iconic because according to Walt Disney himself, this is where he thought up the idea for a Disney-themed amusement park. He thought of this incredible idea while watching his little girls on a merry-go-round at Griffith Park. This is that EXACT bench… so freaking cool!
What other interesting but little-known things do YOU know about Disneyland? Let us in on the secret in the comments below! 
What's the latest at Disneyland, *BESIDES* Star Wars: Galaxy's Edge? Check out these recent posts!
Be sure to follow @allearsnet on Instagram and Twitter!
Check out our YouTube Channel for reviews, news, information and more!
Click below to subscribe to the AllEars® newsletter so you don't miss any of the latest Disney news!