From now through the end of the "Avengers: Endgame" run on May 19, moviegoers can enjoy the Wood & Vine Lounge at the El Capitan Theatre.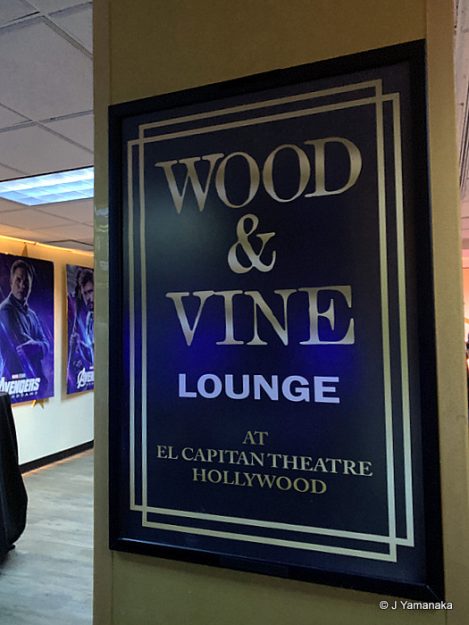 Available with every "Endgame" showtime, the Wood & Vine Lounge is a package of entitlements to enhance your Avengers experience.  Check in is 45 minutes before your chosen film showtime at the building on the other side of the Ghirardelli Soda Fountain & Chocolate Shop.  There, you are taken through a special bag check, and escorted through underground connecting hallways for some private time with the large Avengers costume display in the basement of the theater.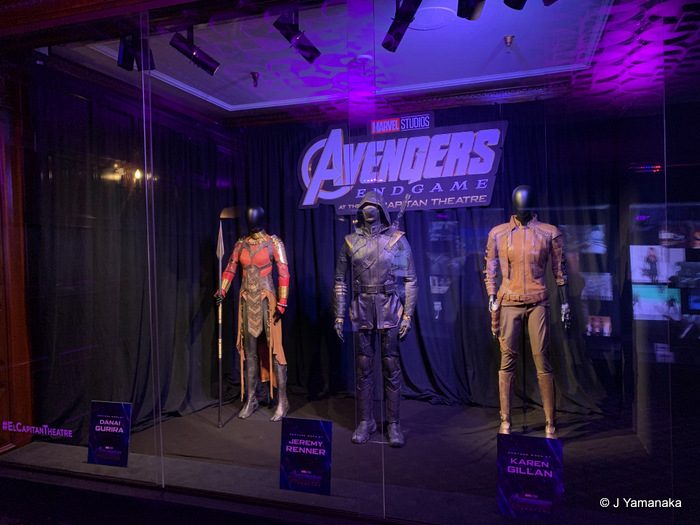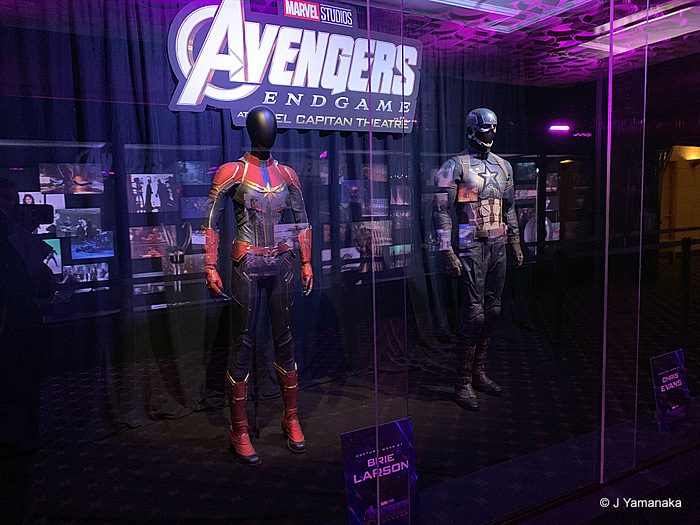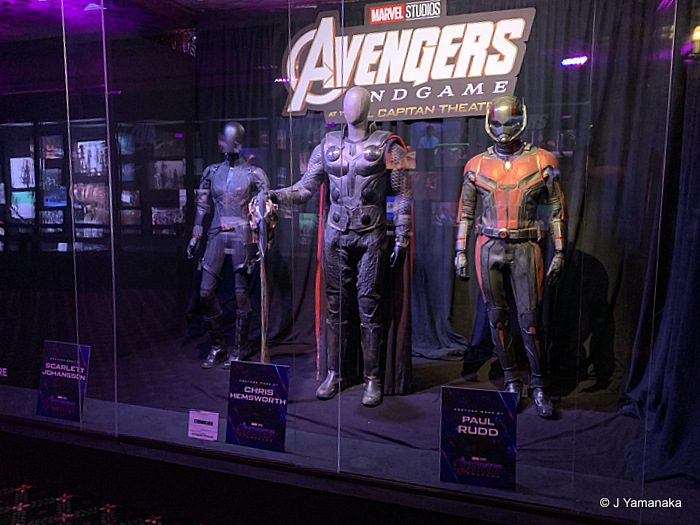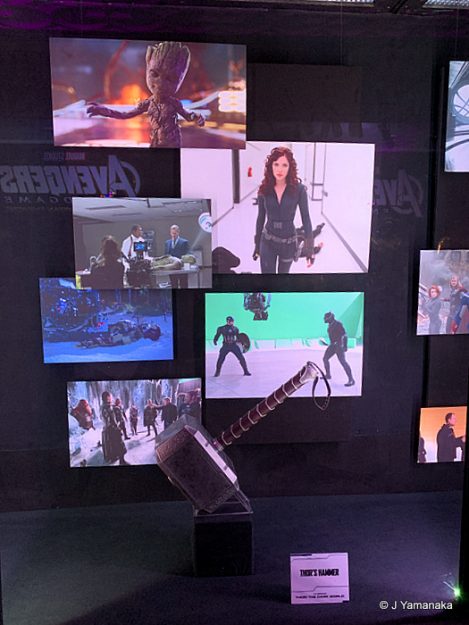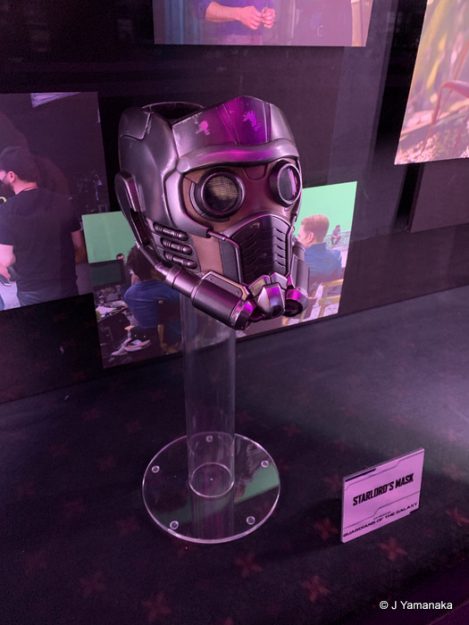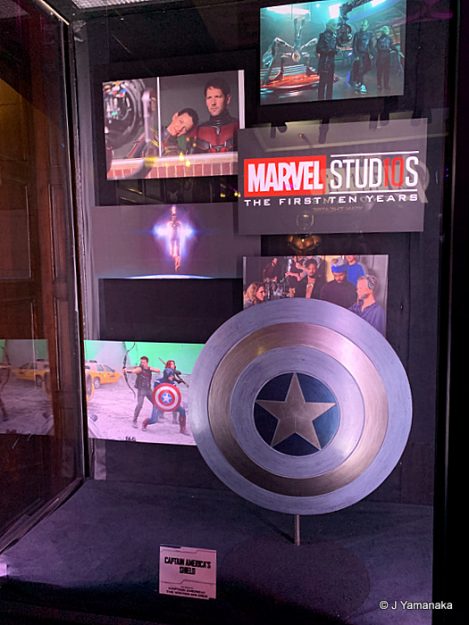 After you've had your fill marveling at the various props and photos, docents take you back to the Wood & Vine lounge where appetizers and bottled beverages are provided, along with a cash bar.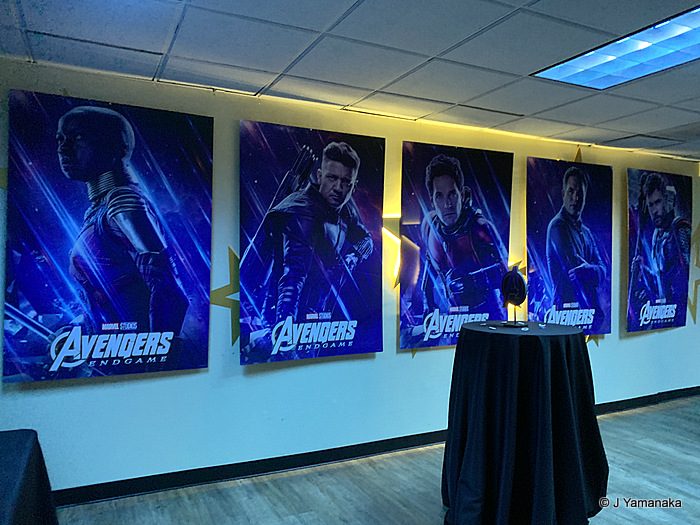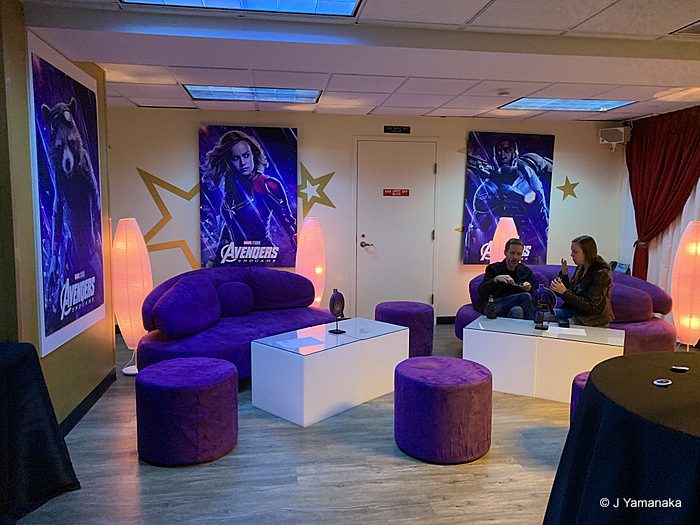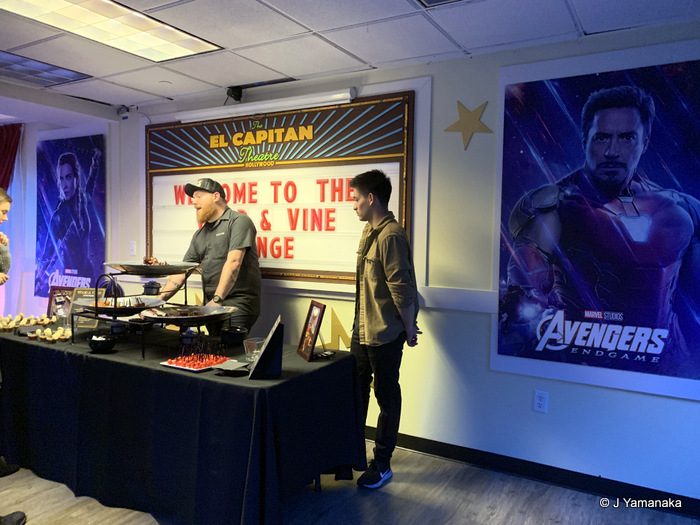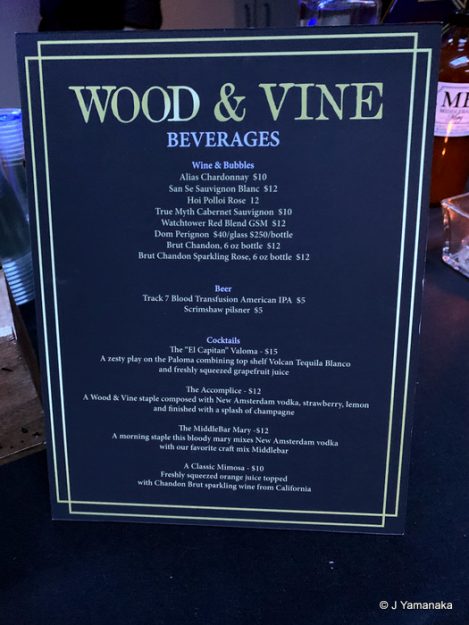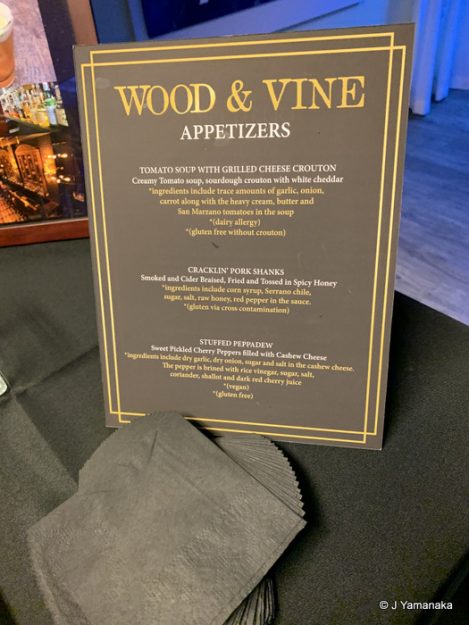 The appetizers were all-you-care-to-eat, and of nice quality, although a little messy to eat without utensils.  Probably the most problematic part was the limited seating — there are essentially two couches and several ottomans and some standing tables, so if you want a seat and a table, you'll have to be one of the first few parties in the room.  Servers are posted around the room to assist you, and bring by your buckets of popcorn while you nosh on your pork shanks.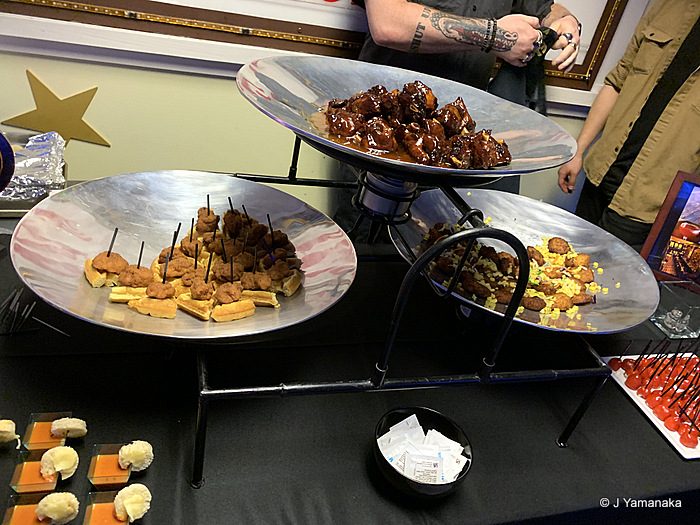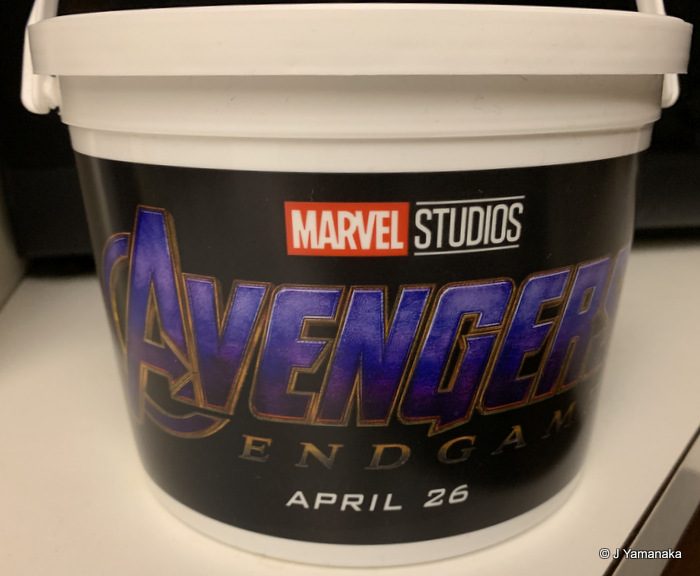 Once you've had your fill, you may indulge your Willy Wonka fantasies at the candy bar, where you can load up as many zipper-top bags with candy as you want for intra-movie snacking.
Each of the standing tables also had Avengers buttons with all the characters on them, which were available as parting gifts.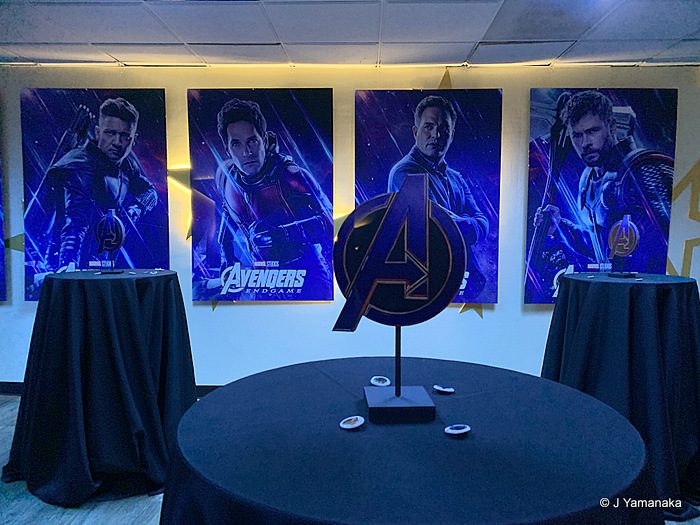 I'm not sure whether it was because the night I went the rest of the guests seemed to be part of a private party, but they didn't actually announce when it was time to leave to see the movie. Presumably you could have stayed until some time after the start of the film, as everyone else was still sitting around eating when we left. While there are bathrooms adjacent to the lounge (a necessity before heading into the three-hour "Endgame"), guests need to be docent-led back up and out to the street, down past Ghirardelli to the theater entrance, through security again (thankfully without screening this time, as your guide vouches for you), and inside to your reserved seating. All this takes probably 5 to 10 minutes, and combined with the approximately 15 minutes it takes to walk over and see the costume exhibit, means you're probably looking at around 20-30 minutes total lounge time. At a price point of $45, it seems like a bit of an upcharge from the $16 regular reserved seating tickets, but is less of a step up from the $26 VIP tickets that include popcorn and a soda.  Given that the costume/prop display is available for viewing for all ticket holders, I would say that the Wood & Vine Lounge is a nice luxury that might not be essential to the average movie-going experience, but is worth a consideration if you're already planning on getting VIP tickets.
The Wood & Vine Lounge is available for all showtimes through May 19.  Reservations are required at least 24 hours in advance (one business day).   Daily "Avengers: Endgame" showtimes are 10 a.m., 2:30 p.m., 7 p.m., and 11:25 p.m.  Check showtimes in advance — the 11:25 p.m. showing was cancelled the day I attended. Tickets are on sale at https://www.elcapitantickets.com , by calling 1-800-DISNEY6, and at the box office at 6838 Hollywood Blvd., CA  90028.  The Wood & Vine Lounge can be booked by calling 818/845-3110.
Be sure to follow @allearsnet on Instagram and Twitter!
Check out our YouTube Channel for reviews, news, information and more!
Click below to subscribe to the AllEars® newsletter so you don't miss any of the latest Disney news!