My husband Lee and I spent two weeks on the Disney Wonder as it traveled from San Diego to Galveston, going through the Panama Canal.  I thought I'd share a series of blogs covering our dining experiences.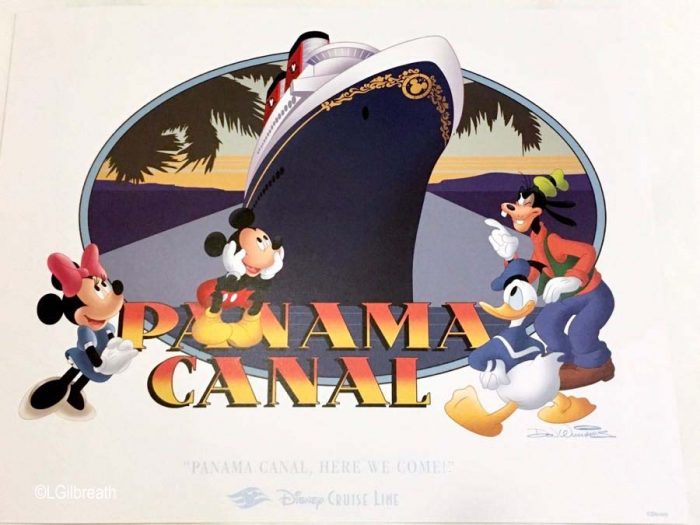 In addition to the "regular"  menus that would be served at dinner on a 7-night cruise, we had 7 additional menus, each one with a different theme.  Follow along and I'll tell you what we tried, what we liked, and what we didn't!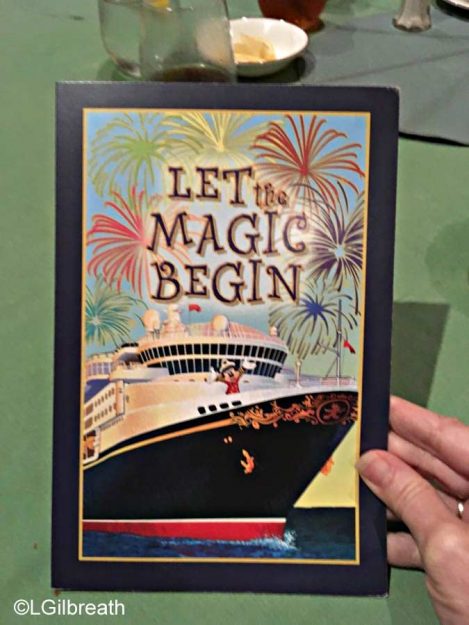 The three main restaurants on the Disney Wonder are Tiana's Place, Triton's, and Animator's Palate.  If you're not familiar with dining on Disney Cruise Line, it's what they call a rotational system.  Rather than being assigned to one dining room for the entire cruise, you (along with your waitstaff) rotate through each restaurant during the cruise, moving together each night.  Your tablemates also move with you.  Each restaurant has its own individual  set of rotational menus (generally two), and on a longer cruise you get to try all of them.  For the other nights, such as Pirate Night, the same themed menu is served in all three restaurants.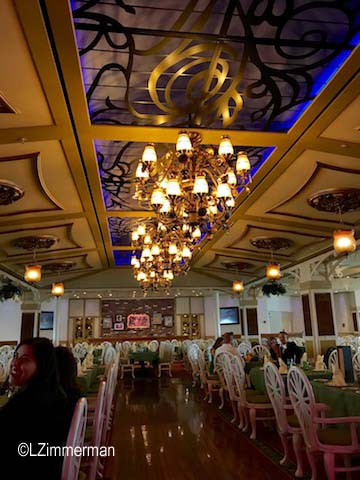 Our first dinner on board was  Let the Magic Begin, which was served in all three restaurants that night.  We were in Tiana's Place for this one – the first time that I had dined there (Lee had been there for a Media Day in 2017).  The original restaurant was called Parrot Cay, and had a more tropical theme.  I much prefer Tiana's Place – it is both elegant AND fun (I never thought Parrot Cay was a good fit for formal nights).  And there are frogs on the plates!  A nice touch of whimsy.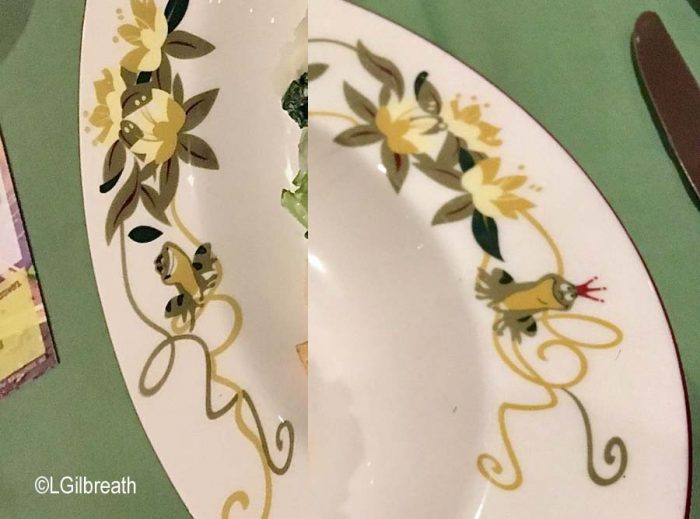 We both started off with the Chicken Bastilla – spiced Moroccan shredded chicken in phyllo dough, sprinkled with powdered sugar and cinnamon, and served with a vegetable almond slaw.  Unfortunately it was not very warm by the time we got it, and the pastry wasn't very crunchy.   And the "slaw" had both red and green peppers in it… yuck.  (I hate bell peppers of any color, and one of my peeves is that Disney uses them EVERYWHERE these days, often without mentioning them in a menu description.)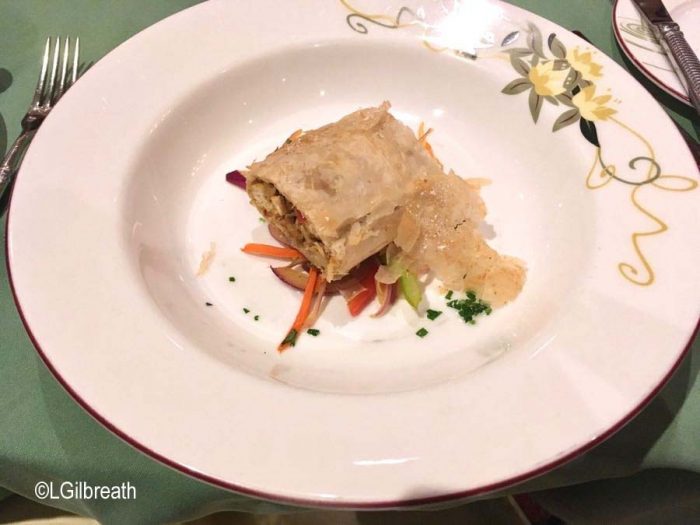 I skipped the second course, but Lee had the Couscous Salad with cranberries, almonds, chickpeas, tomatoes, cucumbers, cilantro, and lime dressing.    I don't have any notes on this, so it must have been OK.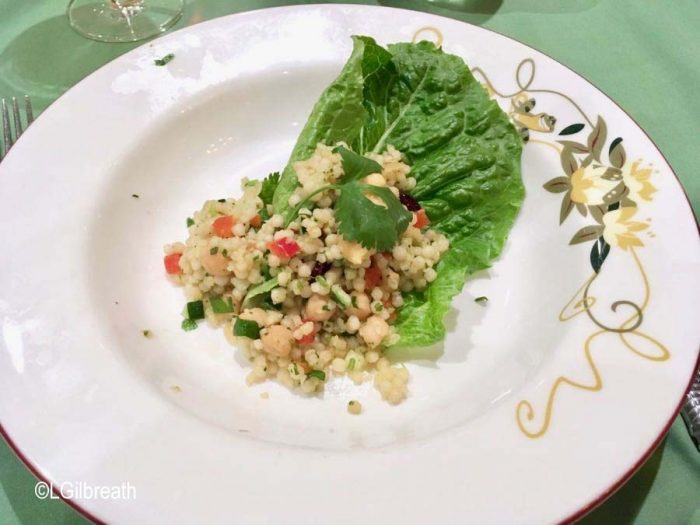 I chose one of the "Lighter Offerings" as my entree – Mango Chicken Salad.  Oak leaf and lollo rosa with orzo pasta, grilled chicken breast, mango slices, and cilantro dressing.   It was short on the actual "salad" part and the "mango slices" were more like slivers.  It also included bell peppers, which were decidedly not mentioned in the description.  The chicken was excellent, though – not dry and had some flavor.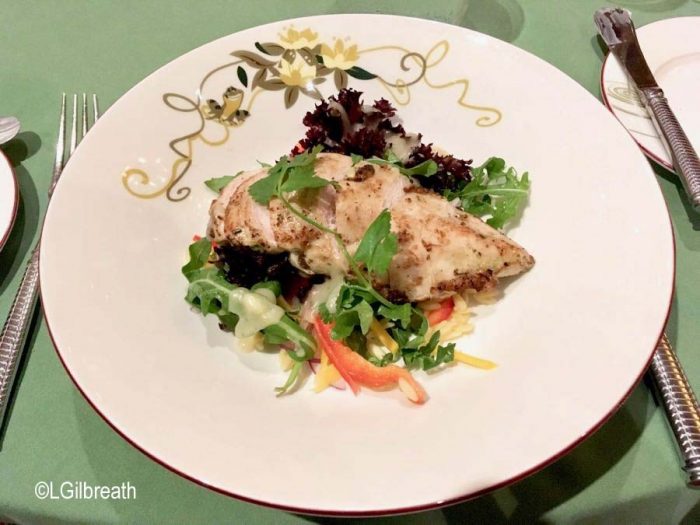 Lee ordered the Pork Tenderloin Wellington – wrapped in mushroom duxelle, crepes, and puff pastry with gratin potatoes, roasted baby vegetables and Bordeaux wine sauce.   The pork was a bit overcooked and dry.  We get that it's hard to prepare perfectly cooked pork for hundreds of people – but it's still disappointing.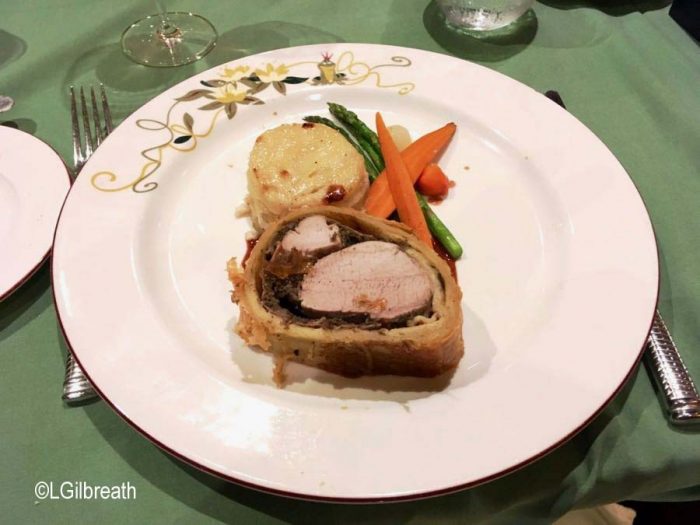 We didn't order dessert that night.  Our servers had two tables – our table of eight and another table of six.  Service was on the slow side.  So it was kind of a rocky beginning to our dining experience.  Unfortunately that persisted for the remainder of the cruise.
The next morning we went to Triton's.  It was a day at sea, so the meal was called "brunch" and served from 9 a.m. to 12:30 p.m.  It was still an a la carte menu, but in addition to regular breakfast items like eggs and pancakes, there were soups and salads, burgers, and entrees like chicken curry, salmon, and pasta.  This was new to us on a Disney cruise ship, but we liked having more options.
The assistant server came around with the tray of pastries and we both had a cinnamon roll.  While I am often underwhelmed by Disney Cruise Line desserts, their pastries are always fresh and delicious.  Maybe I need to stockpile chocolate croissants in the morning and save them for dessert in the evening…
I ordered the Fruit Plate to start.  It was excellent – beautiful and tasty.  It included really good papaya and pineapple – and the honeydew melon was actually ripe!  So often it's hard and has little flavor.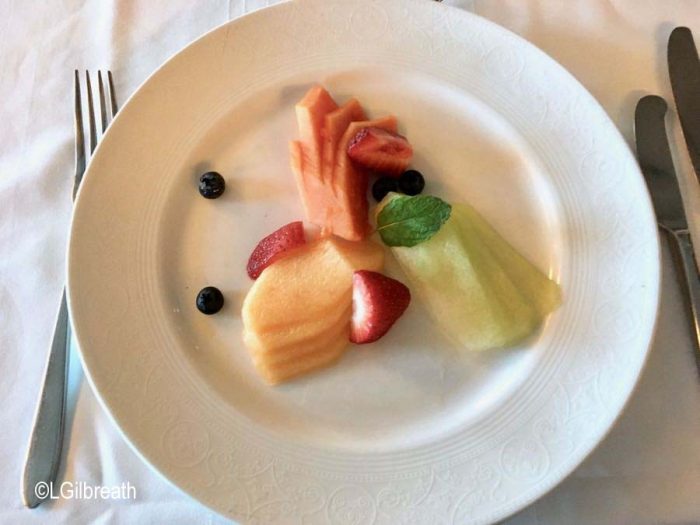 We both ordered a cup of Split Yellow Pea soup.  It was also excellent.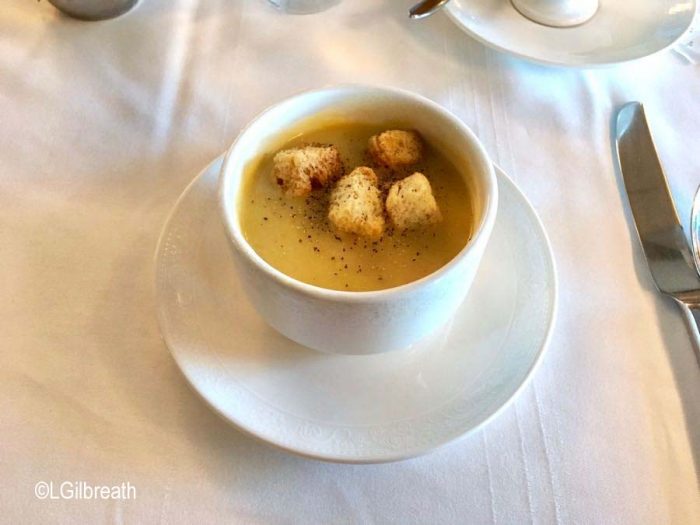 And, continuing to be breakfast twins, we both had Eggs Benedict.  It was also very good, with really fluffy egg whites and crunchy English muffin.  I appreciated the fluffy eggs more than Lee did.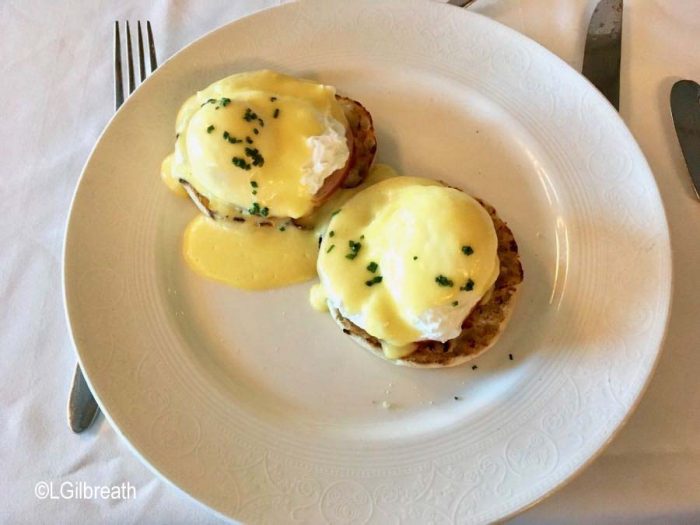 And then there was breakfast dessert!  We were pretty full, but I really wanted to try the Chocolate Creme Choux Buns – basically mini chocolate cream puffs.  They were SO good – the chocolate cream inside was like a light mousse. One of the best desserts I had all week.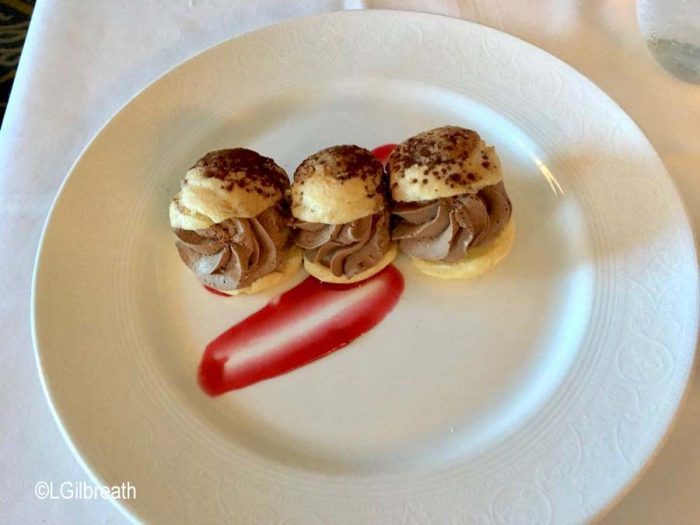 One of the head servers came by and asked us how breakfast was, and how dinner had been the night before… and we made the mistake of telling him about the cold bastilla and overcooked pork. And of course when we arrived in the dining room for dinner that night it had turned into a Big Deal and our head server apologized to us all night, and for the next several nights. Sigh. That's one thing I don't like about Disney – I think things like this get blown all out of proportion, and the server gets blamed when it really isn't his/her fault.  It makes me NOT want to be honest about how things are really going in the dining room.
Anyway… Dinner #2 was a regular rotational dinner menu in Triton's. This isn't one of my favorite menus. We both had the Leek and Potato Soup – and after our "complaint" it was served nice and hot.  It's a very tasty soup.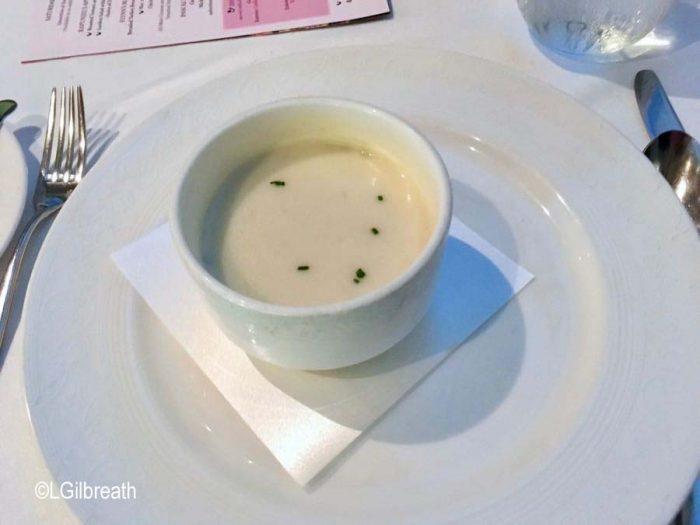 My second course is the one I usually order from this menu – Red Wine Bosc Pear Salad with arugula, red onions, and crispy lardons, with a sherry wine dressing.  The best part is the slices of pear that have been poached in red wine (I've been known to order a bowl of them for dessert).  If it's a nicely ripe pear it's really good… this one was a bit too firm, but the slices were still very flavorful.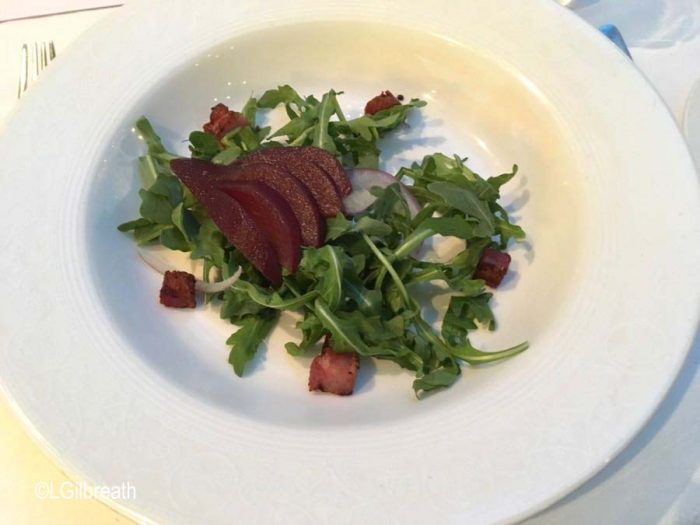 Lee had the Breaded and Deep Fried Brie served with orange and cranberry chutney.  It was nice and crisp on the outside and slightly gooey inside.
As an entree I tried the Crispy Roasted Duck Breast with cabbage, shallots, honey parsnip mash and duck red wine jus.  The duck was nicely cooked and I enjoyed it but I didn't care for the mashed parsnips.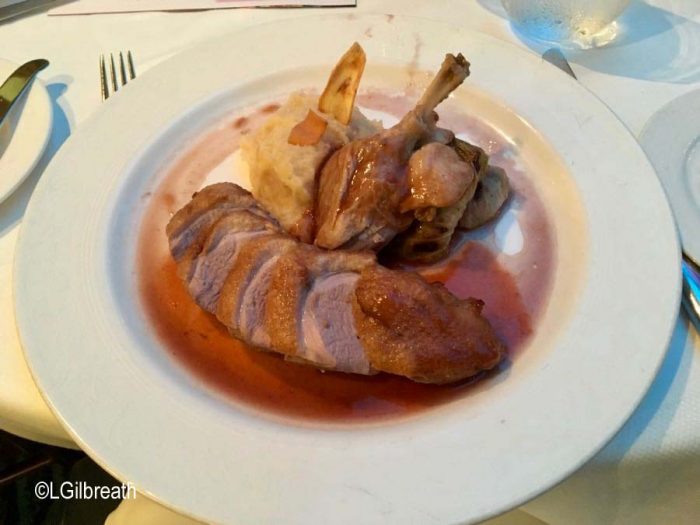 Lee ordered the Chateaubriand-Roasted Filet Steak with crushed new potatoes, green beans, red wine jus and Bearnaise sauce on the side.  He really liked it – very tender.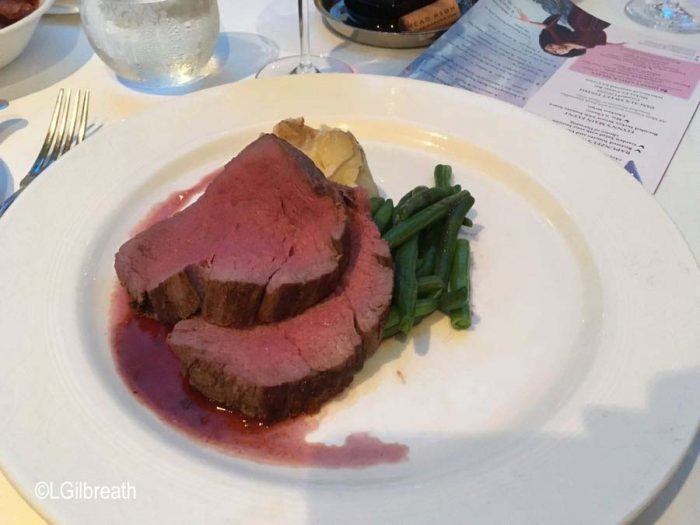 I again passed on dessert, but Lee had the Grand Marnier Souffle, served with Grand Marnier Creme Anglaise.  I had a bite – it didn't taste much like Grand Marnier.  Lee enjoyed it.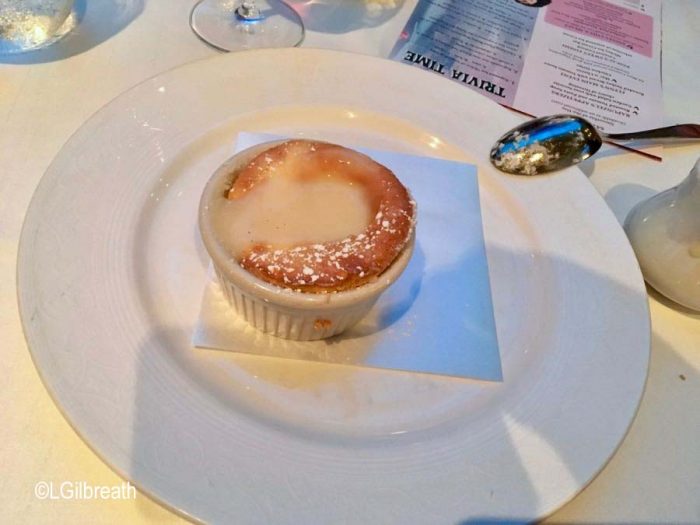 Dinner #3 was in Animator's Palate – a regular rotational menu.  I've certainly had this menu many times before, but this particular meal was one of the best I've had onboard a Disney ship in quite a while.  I started with the Tomato Tarte – tomatoes, goat cheese, and shaved radish atop a puff pastry tart.  It was much larger than I expected – I didn't finish it.  Really good, though.  (I'd just like to say here that the light in Animator's is horrible for taking photos – I apologize for the quality, but I've had to do a ridiculous amount of color correction.)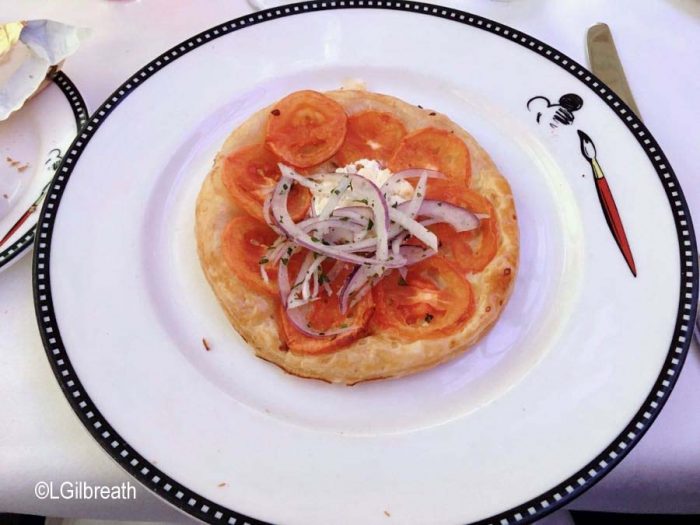 Lee tried the Black Truffle Pasta Pursiettes – pasta purses stuffed with truffle-scented cheese, with a champagne sauce.  He enjoyed them.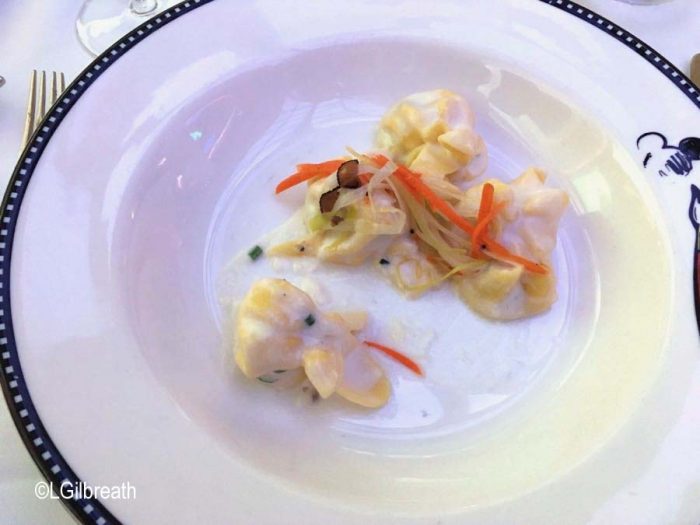 I also tried the Baked Potato and Cheddar Cheese Soup.  It was not as warm as I would like – but at that point I didn't dare say anything about it.  Good flavor.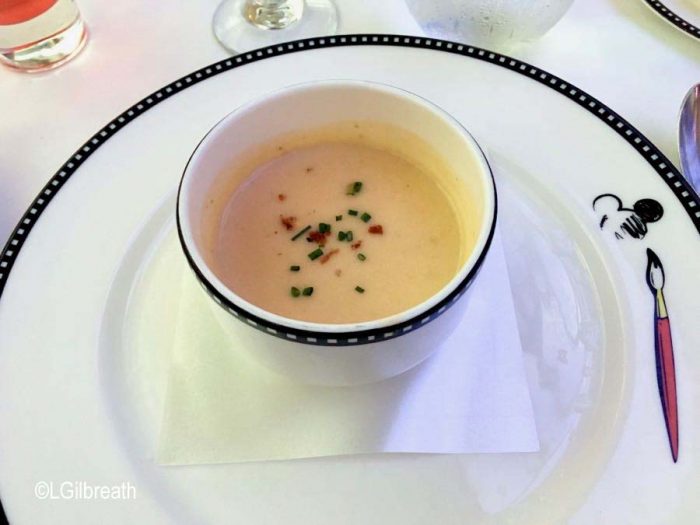 Lee went with the Creamy Butternut Squash Soup, drizzled with sour cream.  Tasty, and not too sweet.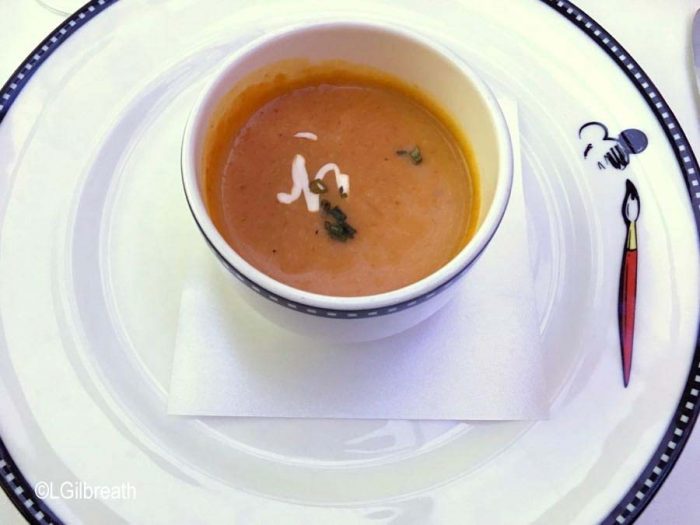 I couldn't decide on an entree, so I ordered two.  The Grilled Tuna Steak was served with fingerling confit, caponata, sun-dried tomato pesto and aioli.   The tuna was excellent with a very good flavor.  Just slightly pink in the middle and I prefer mine a bit rarer, but still prepared well.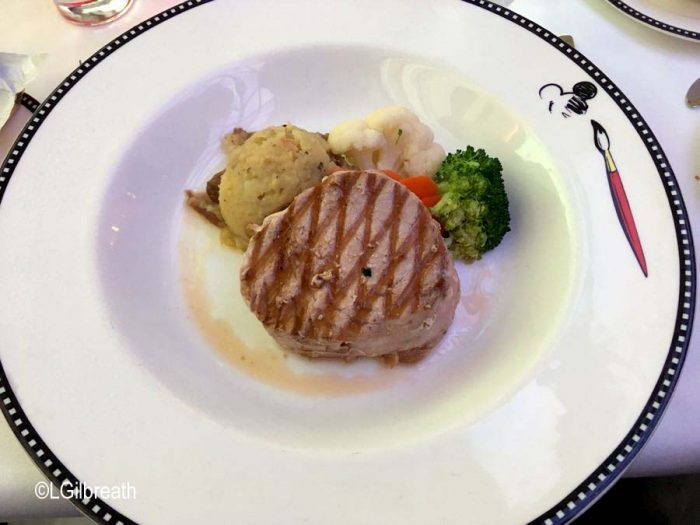 I also tried the Sesame Halloumi Parcels – mostly because I was so intrigued by the description.  Phyllo dough filled with sweet potato tahini mash served with roasted cherry tomatoes.  It was SO good!  I'll definitely be ordering that again if it's available on a future cruise.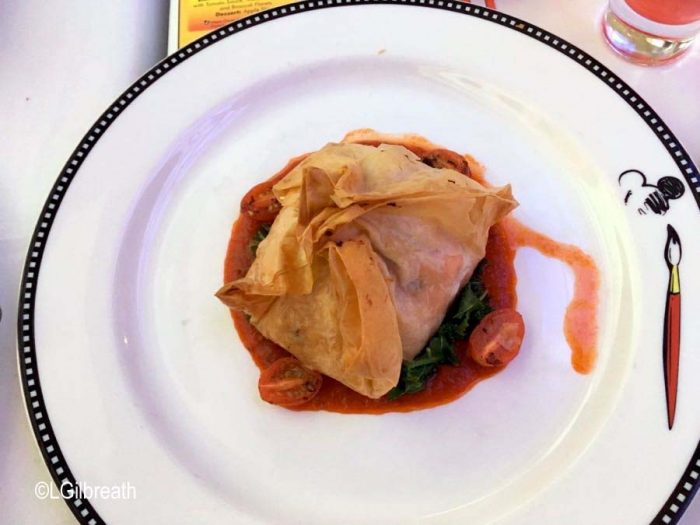 At that point the word had gotten back to our servers that I didn't like bell peppers, so those were removed from one of the entrees – but I don't know which one.  Unfortunately for the remainder of the cruise they treated it like an allergy, which created some other issues – like contributing to our slow service each evening. We were always one of the last tables to finish.
Lee's entree was Ginger-Teriyaki dusted Angus Beef Tenderloin with wasabi mashed potatoes, bok choy, and tamarind barbecue reduction. It was a bit dry.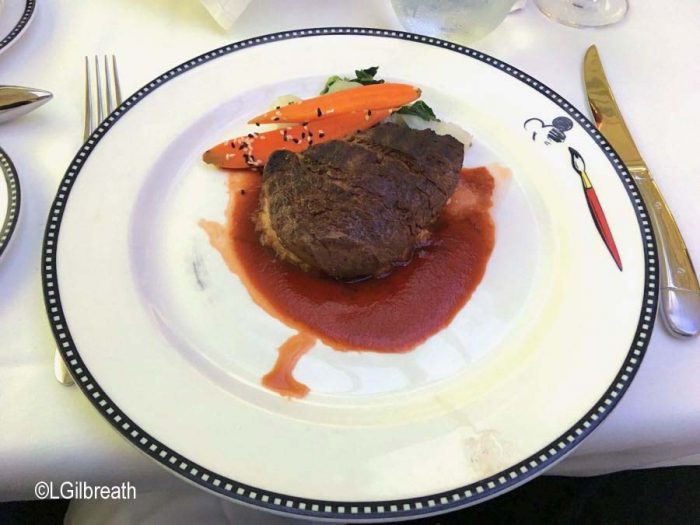 Lee ordered the Crunchy Walnut Cake for dessert – dark chocolate mousse with raspberry coulis. This is one of those desserts that has been on this menu for a long time, but each pastry chef seems to have their own interpretation of it. This was one of the better ones.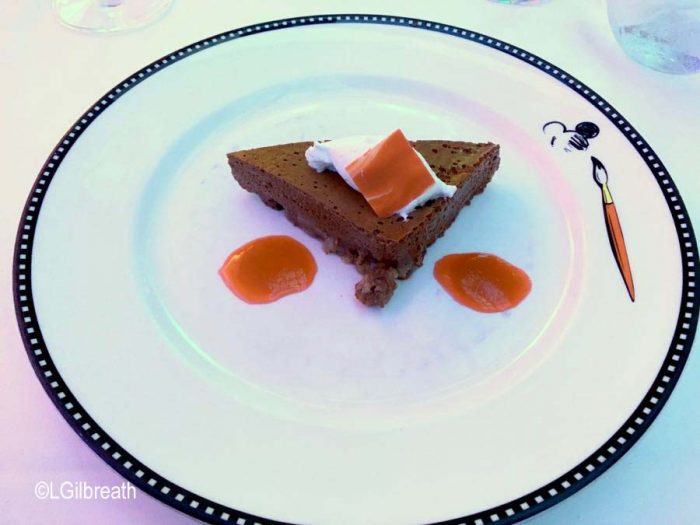 More dining and photos to come – please check back for the rest of our dining experiences aboard the Disney Wonder Panama Canal Cruise!
Are you a cruise fan? Have you taken a Panama Canal Cruise? What did you think? Leave us a note here, or better yet, click here to leave your thoughts in our Rate and Review section to help others as they plan their trips!
Subscribe to the AllEars® newsletter so you don't miss any exciting Disney news!