I am in the middle of a long time between visits to Walt Disney World. While I love photographing at WDW, most of the time I unable to be there. What does a Disney photographer do while counting down to the next Disney trip? In my case, I like to explore other aspects of photography via a personal photo blog I have been doing since 2008. There I share, at least, one photo every week. This does a few things, it keeps me on the lookout for subjects and/or events I would like to photograph, I learn new photography techniques to capture photographs, I learn new ways to process digital images and it keeps photography fresh for me. It all helps to improve my Disney photography in the process.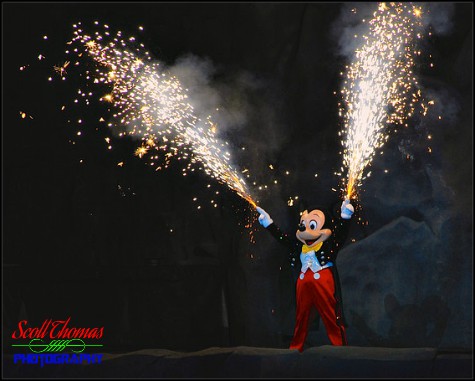 Mickey Mouse fireworks during the Fantasmic! Stage Show.
Nikon D700/28-300VR, 1/125s, f/10, ISO 1600, EV -1.3, 300mm Focal Length.
There are also other ways to keep stretching your photography skills. One photography website I recommend is the Digital Photography School or DPS. It is full of great and to the point articles on all aspects of digital photography from equipment to software, how-tos, exercises and sharing of great photography from other photographers. Articles cover the basics to the most advanced subjects. If you are interested in digital photography, I encourage you to sign up for the DPS Weekly Newsletter.
Here is a sample of articles taken from recent DPS Newsletters which would help us in taking better photographs at Disney parks or at home:
Five Simple Exercises to Improve your Photography
Are You Using Your Camera Wrong? 7 Errors You Need to Avoid
Tips for Photographing Real Estate Interiors
Now, do not laugh at the last article title. Ever wonder how Disney photos of resort rooms look so good and ours looks so bad? I will be trying out the ideas from the article on my next trip.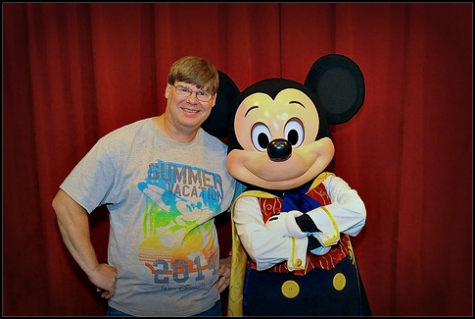 Mickey Mouse and Me at the Town Center Theater on Main Street USA.
Copyright Walt Disney Company. Used with permission.
So, until my next Disney World trip (coming up in 122 days from today), I will continue to read, learn and practice to make the photos from that trip better than ever.
If you have a photography website you enjoy, please, share it in the Comments below.