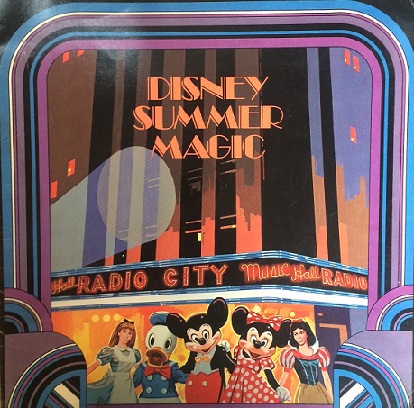 The Disney Summer Magic program from 1985 given out to Radio City Music Hall guests on hand to see the film "Return to Oz" and the stage production The Magical World of Disney. [Chuck Schmidt]

Most Disney fans invariably end up becoming Disney collectors.
If you've been enamored of the Disney brand since the mid-1950s like me, you've probably amassed some pretty interesting items in your collection. Hats, T-shirts, knick-knacks, pins, jewelry and the like.
For me, it probably started when I was about 6 years old and my parents bought me the most sought-after item of the day … a Davy Crockett coonskin hat, complete with matching pants and jacket. Although the outfit was tossed decades ago, the memories [thanks in large part to the accompanying photo] linger.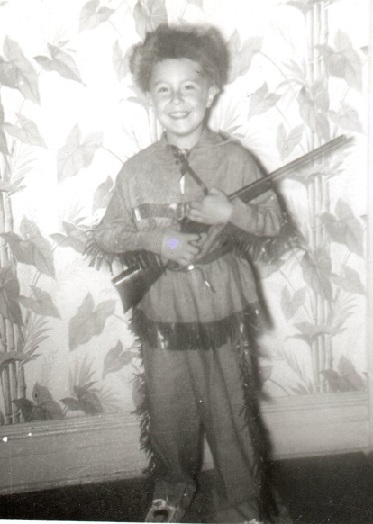 AllEars.net blogger Chuck Schmidt poses in his Davy Crockett outfit in 1956. [Chuck Schmidt]

My Disney collection is far from ordinary, to say the least, because it contains mostly unique items that are either one-of-a-kind or limited edition … but all featuring limitless memories at no extra cost.
The fact that I've written about Disney for almost 40 years in both print and online has enabled me acquire items not available to the general public, such as programs, brochures and trinkets from a variety of press events I've attended since 1986. My association with Disney also includes working relationships and friendships I've forged with several Disney Legends. Out of those came a number of cherished personal letters and communiques.
In 1986, Walt Disney World celebrated its 15th anniversary and 10,000 journalists from around the world were invited to join in the festivities. I saved just about everything they handed out during the three-day event, including the commemorative program.
This personalized scroll was given to members of the press who were guests at Walt Disney World's 15th anniversary celebration. [Chuck Schmidt]

On the final night of the event, we were given a wonderful keepsake: An elaborate, personalized scroll proclaiming each invited guest as "An Honorary Citizen of Walt Disney World." It hangs proudly in my house.
I've also found that when people learn about your affinity for Disney, they're more than happy to donate to your collection. For instance, a former co-worker approached me one day about 10 years ago with a copy of the famous LIFE Magazine edition from October, 1971, covering the opening of Walt Disney World. He said he was cleaning house and knew I'd appreciate the magazine. To be sure, it is among my most cherished keepsakes, for obvious reasons, but also because of the association I had with the man who was responsible for setting up that classic cover photo: Charlie Ridgway.
Charlie was Walt Disney World's first public relations director and was so instrumental in getting the word out about Walt's fabled Florida Project. I interviewed Charlie on several occasions and even had the pleasure of sharing lunch with him at the Yacht Club Resort in 1992. Among the most memorable items in my collection is a personal letter from Charlie after I did a story on WDW, as well as a photo of Charlie and I together during lunch.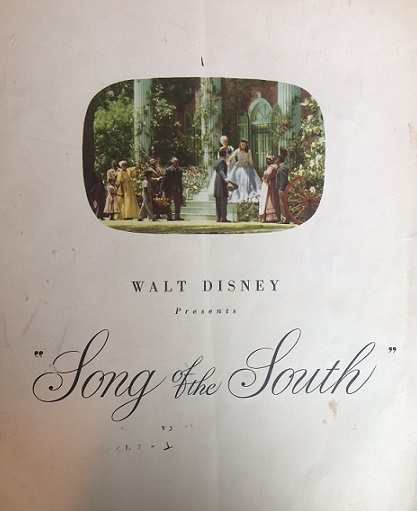 The cover of the "Song of the South" program given to moviegoers in 1946. [Chuck Schmidt]

While rummaging through my mother's house after her passing in 2016, I came across two programs for the Disney films Fantasia and Song of the South, which were available to theater patrons during the movies' runs in New York City in the 1940s. I ended up giving the Fantasia program to Disney Legend Marty Sklar during lunch he and I shared with Disney Files editor Ryan March in November of that year. Marty seemed truly touched by my gift.
I still have the Song of the South program, which includes many interesting segments. There's a note from Walt himself: "No folk tales are better loved than Joel Chandler Harris' 'Uncle Remus,' stories in which the southern negroes [sic] brought the warmth of their humble firesides into the hearts of people everywhere. And if, now, in Song of the South, we have succeeded in a measure to help perpetuate a priceless literary treasure — my co-workers and I shall, indeed, be very happy."
In the credits, many of the finest Disney artistic talents are listed, including Ken Anderson, Claude Coats, Mary Blair, Eric Larsen, Marc Davis, Ollie Johnston, Don Lusk, Harvey Toombs, Blaine Gibson and Ub Iwerks.
Speaking of movie programs, in 1985 Disney released the long-anticipated sequel to The Wizard of Oz, called Return to Oz. The film enjoyed an exclusive run at Radio City Music Hall in New York City, which may well have portended Disney's initiative to begin producing shows on Broadway. Tied into the Return to Oz screening was a full stage production, The Magical World of Disney, which also was featured in the program.
"The Magical World of Disney takes Mickey Mouse and three children on an enchanted journey through unforgettable scenes inspired by beloved Disney films," the program reads. "A cast of 82 performers, including Radio City's famed Rockettes, a full orchestra and lavish special effects add up to a musical extravaganza."
Easily the most unique item in my collection is a poster I created and brought to the D23 event tied to Walt Disney World's 40th anniversary in 2011. Among the highlights of the weekend was an autograph session with 12 of the Disney Legends who were on hand.
This one-of-a-kind poster contains the autographs of 12 Disney Legends who attended the 2011 D23 event celebrating Walt Disney World's 40th anniversary. Starting from the upper left corner and going clockwise, the autographs are from Bob Gurr, Bob Foster, Marty Sklar, Bob Matheison, Bill Sullivan, Dave Smith, Orlando Ferrante, Charlie Ridgway, Tom Nabbe, Ron Logan, Tony Baxter and Jack Lindquist. [Chuck Schmidt]

Rather than bring a handful of books for them to sign individually, I designed a poster celebrating the event, with as many photos of those in attendance included as I could find. When I couldn't find a photo of a participant, I dug up a photo related to WDW's opening … such as the LIFE magazine opening day cover or a picture of Roy Disney dedicating the Magic Kingdom. To fill out the poster, I included photos of Walt Disney and Annette Funicello.
I acquired autographs from all 12 Legends: Bob Gurr, Bob Foster, Marty Sklar, Bob Matheison, Bill Sullivan, Dave Smith, Orlando Ferrante, Charlie Ridgway, Tom Nabbe, Ron Logan, Tony Baxter and Jack Lindquist. Chatting with each of the Legends was a treat, particularly renewing acquaintances with several I had previously interacted with.
Like just about everything in my personal Disney collection, the poster is one-of-a-kind and rife with wonderful memories.