Last week, we discussed the type of equipment needed for Architectural Photography at Walt Disney World. For Part 2, we are going to explore how composition plays an important part in using that equipment. For the most part, I stick with the Rule of Thirds which I have found very viable in creating pleasing photos of Disney buildings, rides and attractions over the years. It works just as good with structures as it does with people.
When using wide angle lenses, you have to take into account distortion of the lens being used. If you angle up and down with a wide angle lens, straight lines tend to lean or bend. This is not always a bad thing and can help to lead a viewer's attention to the main subject. In the photo below of The BOATHOUSE restaurant in Disney Springs, you can see the distortion of the lens at a 16mm focal length get more pronounced towards the left and right edges of the frame. While the main subject, the Amphicar is not distorted at all. Here I am using the distortion to wrap around the Amphicar.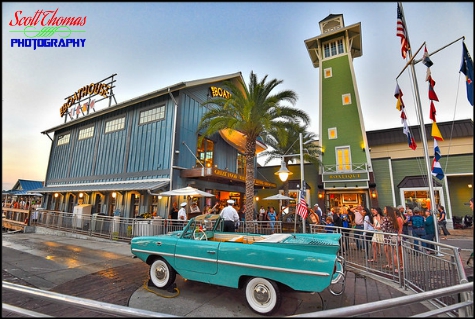 Wide Angle view of an Amphicar in front of The Boathouse restaurant in Disney Springs.
Nikon D750/16-35VR, 1/125s, f/8, ISO 5000, EV 0, 16mm Focal Length.
In many photo editing programs, you can fix the lens distortion but you have to have enough space around the edges to do so. In the case of my photo of the Amphicar, I did not and the top of the tower would have been trimmed off.
I did have the room in another photo of The BOATHOUSE and the lines of the buildings have been straightened up.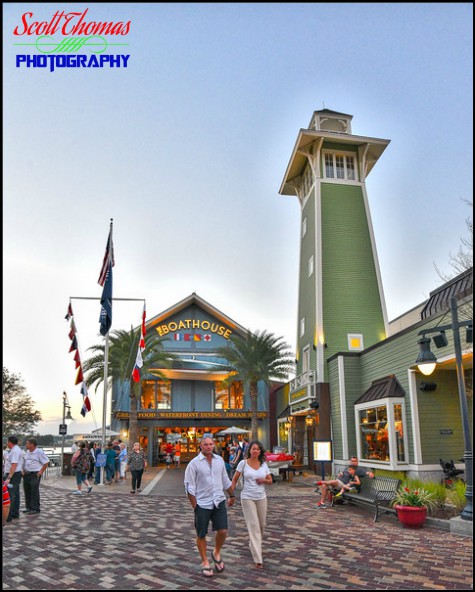 Lens distortion fixed photo of The Boathouse restaurant at Disney Springs.
Nikon D750/16-35VR, 1/125s, f/16, ISO 4500, EV 0, 16mm Focal Length.
Wide angle lens can create very creative and excellent travel architectural photos. Be aware of their strenghts and weaknesses as you compose your photos and how those weaknesses, like lens distortion, can be used or fixed later in photo editing software.