Disney Channel viewers are keenly aware that "Descendants 2" is set to premiere in just a little over a month on July 21, and fans who want to get close to the stars of the franchise about the wayward children of Disney's villains should make plans to attend the D23 Expo.
The official Disney fan club, D23, is hosting its 2017 Expo at the Anaheim (Calif.) Convention Center from July 14 through 16, and the "Descendants 2" principal cast will be there. Dove Cameron, Cameron Boyce, Sofia Carson, Booboo Stewart and Kenny Ortega are scheduled to take the stage on Friday, July 14. The quartet will reprise their roles as Mal (daughter of Maleficent), Carlos (son of Cruella de Vil), Evie (daughter of the Evil Queen) and Jay (son of Jafar), respectively, and Ortega returns as the director, executive producer and choreographer.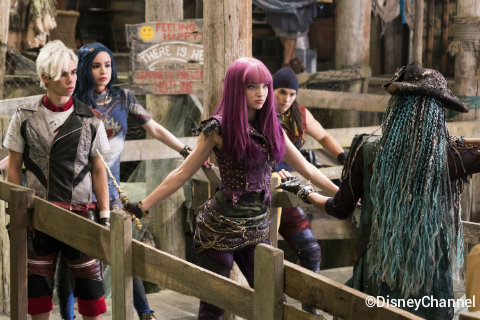 Since its debut, the original "Descendants" ranks as cable television's fifth highest-rated movie of all-time. It only falls behind "High School Musical 2" as the most-watched movie on Disney Channel. As such, the sequel has been eagerly anticipated and Disney is premiering "Descendants 2" on five networks simultaneously — Disney Channel, Disney XD, ABC, Freeform and Lifetime.
Although it has not yet been officially confirmed, it's also likely that the "Descendants 2" cast will take part in meet-and-greets with D23 Expo visitors. They did so at the last convention in 2015, and my daughter was thrilled to meet them. Stewart was not there but the other three actors couldn't have been nicer, posing for selfies and photos. She will forever remember Boyce telling her that they were "freckle twins."
Based on her experience, I would advise those who are interested in meeting such popular performers to be prepared for hours-long waits. We found that with most meet-and-greets at the expo, guests had to first stand in line to get wristbands. Then, those who secured wristbands had to wait in a separate line to actually meet the stars. And although that might not sound appealing to adults, to my then-11-year-old daughter, it was totally worth it.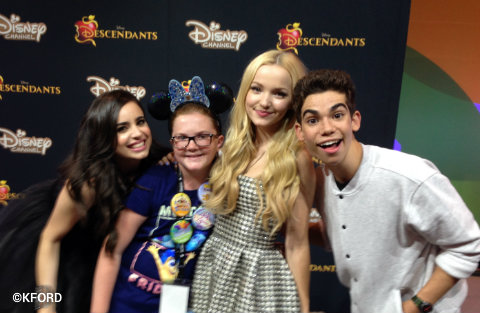 In addition, the "Descendants 2" cast is likely to take part in a show on Radio Disney, which airs live from the convention. When my family and I attended in 2015, the Radio Disney booth was set up so that convention-goers could gather to watch or see the action as they passed by. Be sure to check the official 2017 D23 Expo schedule when it is released to confirm opportunities to interact with the "Descendants 2" cast.
We also saw the newest "Descendants" merchandise at the Disney Consumer Products booth, so I wouldn't be surprised if attendees at the 2017 Expo had the same opportunity.
Tickets to D23 Expo 2017 are still available. Three-day tickets can be purchased for $238 for adults and $174 for children ages 3 to 9. Single-day tickets are sold out for Saturday but are available for Friday and Sunday and can be purchased for $81 for adults and $59 for children ages 3 to 9. D23: The Official Disney Fan Club members can purchase tickets at a discount. Visit d23expo.com for details.
Disney Channel is describing "Descendants 2" this way: "When the pressure to be royally perfect becomes too much for Mal, she returns to her rotten roots on the Isle of the Lost where her archenemy Uma, the daughter of Ursula from The Little Mermaid, has taken her spot as self-proclaimed queen of the run-down town. Uma, still resentful over not being selected by Ben to go to Auradon Prep with the other Villain Kids, stirs her pirate gang including Captain Hook's son Harry and Gaston's son Gil, to break the barrier between the Isle of the Lost and Auradon, and unleash all the villains imprisoned on the Isle once and for all."
Kristin Chenoweth returns as Maleficent, too. Plus, newcomers Thomas Doherty (Harry, the son of Peter Pan's Captain Hook), China Anne McClain (Uma, daughter of The Little Mermaid's Ursula) and Dylan Playfair (son of Beauty and The Beast's Gaston) join the cast.