An image having a strong organization of shapes and forms, which is essentially the geometric elements of the photo, will create a strong composition. When I think Disney and geometric elements, I think Epcot's Future World.
The architecture of the pavilions use many geometric shpapes starting with the triangles on Spaceship Earth. In fact there are 11,324 individual triangles which make up the exterior of Spaceship Earth. Each one is an isosceles triangle meaning two of the three sides must be of equal length.
Triangle surfaces make up the exterior of Spaceship Earth.
Nikon D700/Tokina 11-16mm, 1/60s, f/16, ISO 1600, EV +0.3, 16mm focal length.
Looking at the glass structure of the Imagination pavillion, notice the steel framework. They are all parallelograms which repeat over and over.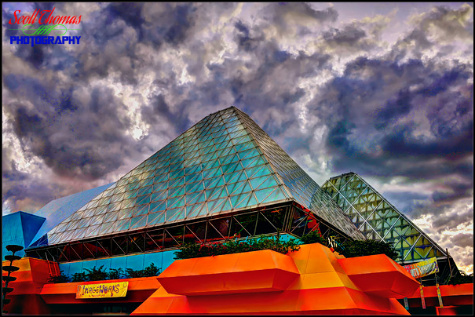 Parallelograms framework on the Imagination pavilion.
Nikon D700/28-300VR, f/16, ISO 200, EV 0, 28mm Focal Length, tripod, HDR Image.
Getting away from straight lines and angles, Epcot's Mission Space pavilion is more rounded with curves and spheres.
Curves and spheres of Mission Space.
Nikon D750/16-35VR, 1/125s, f/16, ISO 450, EV 0, 35mm Focal Length.
You can find geometrics everywhere around us not just in Man-made structures but in Nature, too. Look for them the next time you are out photographing at Walt Disney World or in your backyard.