One of the conventions held earlier this summer at the Anaheim Convention Center was SIGGRAPH–"Special Interest Group on Computer Graphics and Interactive Techniques."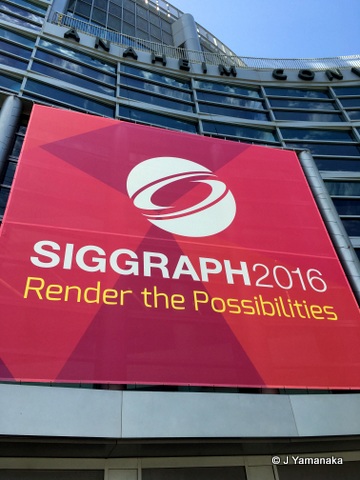 The world's largest convention focusing on computer graphics and interactivity, it features an enormous amount of educational panels, commercial booths, hands-on demos, research exhibits, and short film screenings. Historically, such groundbreaking computer generated films such as Lasseter's short "Luxo Jr." and Walt Disney Production's "TRON" have been presented there.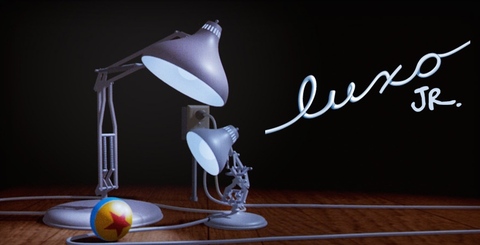 While a great deal of the convention is geared at a fairly high technical level, suitable to people working or studying in the field of computer graphics, there was still a large amount of content accessible to the interested layperson. (Because of the exclusive nature of the images and animation debuting here, photos were highly restricted outside of display areas.)
LAIKA, one of the prominent stop-motion animation studios in the world, held a panel on the creation of one character from their recent release "Kubo and the Two Strings."
For the monster Giant Skeleton, they created the largest animatable puppet ever–18 feet tall with a 24 foot wingspan. The construct took six months to build, one year to shoot, and took up 49 seconds of footage.
As an example of the scale involved, the filmmakers brought the foot and femur of the Skeleton, along with some of the other puppets.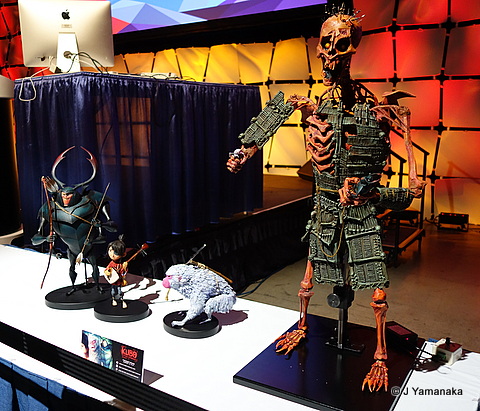 Another film production session was on the making of Marvel's "Captain America: Civil War."
In this presentation, some of the VFX supervisors from the movie spoke on how they used computer pre-viz to develop and block out the fight scenes. I thought this was interesting particularly as many cast interviews at the time of the movie's premier asked about filming the big airport fight scene, and they almost always noted how it wasn't as exciting as it ended up on the screen–no wonder, since most of it was filmed with each of them alone, and then pieced together digitally afterwards.
While it seems intuitive that there was a great deal of computer manipulation to recreate different countries in their main shooting location of Atlanta, Georgia, the filmmakers had to create a specific tool to keep track of the timeline of damage in various environments, in order to work on shots out of sequence. Even physical details of the characters were digitally modded in some instances–the body of the Black Panther stunt double was altered to match that of Chadwick Boseman.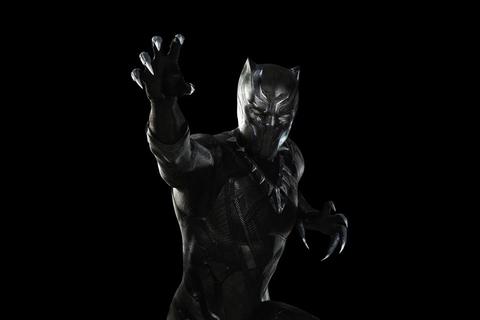 They also went through the grueling process of filming the sequence where Captain America stops a helicopter taking off from a roof which involved a mix of both practical and computer-generated elements…although, as Executive VP, Physical Production Marvel Studios Victoria Alonso pointed out, "the biceps are all real. Triceps too."
Panels were also held by WDAS on "Zootopia" and "Inner Workings" with content similar to that covered in their earlier press days. "Inner Workings" was also shown during the SIGGRAPH Computer Animation Festival which highlights the year's best submitted digital work in animated features, shorts, VFX, video games, etc.
Outside of the structured panels, there was a large area filled with commercial booths advertising various organizations and businesses associated with the industry, and an equally large area dedicated to research projects and demonstrations with a particular focus on virtual/augmented reality.
Whether controlling a virtual Jaeger…
Experiencing full-body immersion into a virtual environment…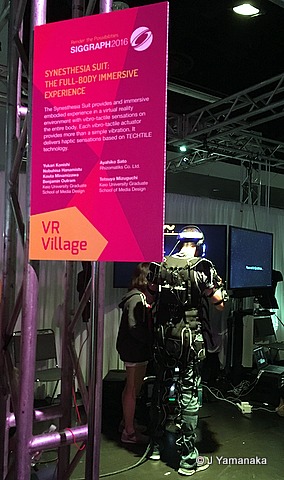 Constructing origami lamps using computer-generated designs…
or controlling puppets with a hands-free mask interface…
The limits to the innovation and potential growth in these areas seem to be boundless. One demo I found particularly fascinating was a booth with two half-circle constructs that had people walking around in a figure-8 pattern, all the while believing (secondary to visual/auditory/tactile cues) they were following a straight line.
If you could actually alter people's perceptions to create a larger or differently-configured space than is there in reality–that's some holodeck tech in the making there. In the realm of theme parks Imagineering alone, it is a staggering thought to imagine what attractions people could make when this sort of technology becomes standard.
To attend SIGGRAPH as a full conference is fairly pricey and people actually in the industry who are going to use it as an educational or professional networking tool will probably find it most valuable. The exhibit-only tickets are affordable however, as are tickets for the animation festival–both of which are well worth it for the glimpse they afford into the future of computer animation and imagery.
Information on SIGGRAPH 2017 can be found at http://s2017.siggraph.org/