On my trip last week, I was on my own Friday at the Magic Kingdom. Using an app on my phone, I had determined a location to photograph the sunset. It was from the bridge on the Wishing Well side of Cinderella Castle. With the sunset at 7:38PM and Wishes starting at 9PM, I set up my camera on a tripod at 7PM. If you are wondering why I mentioned Wishes, people started to line up on the bridge soon after I got there to wait for the fireworks show.
As you can see by the picture below, the weather was not being cooperative when I took my first test image about 40 minutes before sunset. From my experience photographing many sunsets in upstate New York, I have learned never to judge a sunset until about 30 minutes afterward. Instead of packing up, I waited.
Cinderella Castle on a cloudy day before sunset.
Nikon D750/16-35VR, 1/125s, f/5.6, ISO 100, EV 0, 24mm focal length, tripod.
Sunset came and went with no good color in the sky. That was until 10 minutes after sunset when the clouds which, had been slowly clearing, was lit up by the Sun over the horizon. Processing the image in Adobe Lightroom CC, I opened up the shadows in front of the castle and added vibrance to the overall scene. Disney added lighting on the castle which kept it from becoming a silhouette against the bright sky.
Cinderella Castle ten minutes after sunset.
Nikon D750/16-35VR, 1/3s, f/22, ISO 100, EV 0, 24mm focal length, tripod.
The color came and went quickly. 10 minutes later or 20 minutes after sunset, the sky color was gone. The darkened sky was a nice backdrop for the lighted castle using a long 6 second exposure.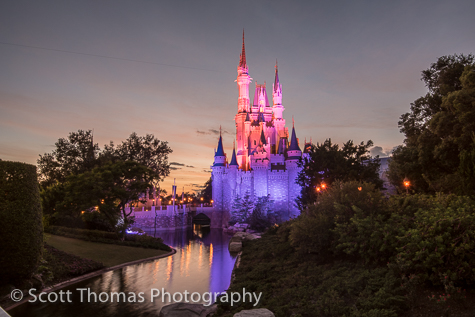 Cinderella Castle twenty minutes after sunset.
Nikon D750/16-35VR, 6s, f/16, ISO 100, EV 0, 22mm focal length, tripod.
Sunsets are different every time and one must be prepared to wait with patience and be ready to capture the fleeting colors when they occur. Even with Disney's wonderful lighting, at sunset, it compliments Nature's own light show.