As I conclude my series on how to improve your photography at Walt Disney World, I want to talk about my favorite kind…Motion Photography. When done right, motion photography gets the most attention when sharing it. It has good "Wow" factor.
First kind of motion photography is keeping the camera still with a slow shutter speed. Something below 1/60th of a second though it can be faster depending on how fast the subject is moving. In the case below, the Seven Dwarfs Mine Train in the Magic Kingdom's Fantasyland gave a good motion blur at 1/30th of a second. If I used a tripod, I could have gone even slower.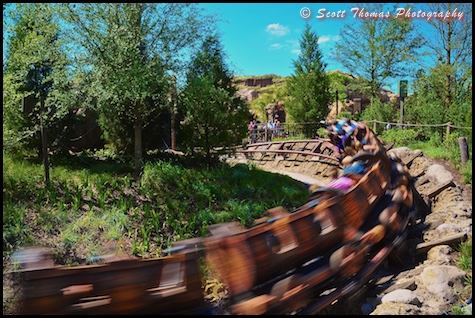 Seven Dwarfs Mine Train flying by in Fantasyland.
Nikon D700/24-120VR, 1/30s, f/22, ISO 250, EV +0.3, 24mm Focal Length.
The second kind of motion photography and the hardest to master is Panning. This is where you move the camera using a slow shutter speed while keeping the subject in the same relative location in the view finder. It takes practice which can be done anywhere you find moving subjects. Parks, race tracks, sporting events and getting your family to ride bikes up and down the street all make good subjects for panning practice. Tomorrowland Speedway in the Magic Kingdom is an excellent place to use panning. The cars stay on the same course and never stop going by. You do have to slow the shutter down to make them look fast.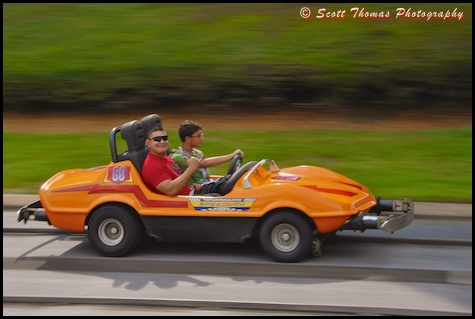 Guests "fly" by on Tomorrowland Speedway in the Magic Kingdom.
Nikon D700/28-300VR, 1/15s, f/29, ISO 200, EV 0, 85mm Focal Length.
You can read a more in depth article on panning here: Panning for Gold.
As I pointed out, motion photography is not easy and takes practice. I find the time well worth it when I see and hear people comment on them.