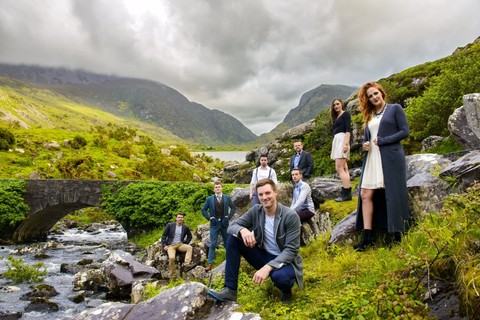 LAKE BUENA VISTA, Fla. — The Irish music sensation, "The Young Irelanders," will bring their multi-award-winning brand of traditional Irish music, song and dance to Raglan Road Irish Pub & Restaurant in Disney Springs March 25-28.
Restaurant guests can enjoy performances on the patio stage from 9 p.m. until 1 a.m. March 25 and 26, and on the Grand Room stage March 27 and 28 from 9 p.m. until 1 a.m. There is no cover charge to see the performers who are on tour in the United States before taking their show to Ireland and China.
The Young Irelanders include eight multi-talented performers who showcase Irish traditional music, song and dance. International award winners with 16 All-Ireland titles and four world titles, The Young Irelanders are:
· Damien Mullane on accordion, melodeon and vocals
· Colin Farrell on fiddle, whistles and vocals
· Kieran Munnelly on flute, whistles, bodhran, snare and vocals
· Lisa Canny on lead vocals
· Stephen Markham on keyboard, piano, percussion and vocals
· Sean O'Meara on guitar and vocals
· Siobhán Manson and Tomás Ó Sé, dancers
The group features the principal stars of Riverdance and Michael Flatley's Lord of the Dance. They have performed for many heads of state, presidents of Ireland, U.S. presidents and the Queen of England.