Upon walking on to the Disney Magic, the first ship of the Disney Cruise Line, I immediately compared it to the Disney Dream which I had been on several times. That comparison makes the Disney Magic feel small and is not fair. I found the Disney Magic different and smaller but just as enjoyable to cruise on.
Lobby of the Disney Magic cruise ship.
Nikon D750/16-35VR, 1/125s, f/4, ISO 2500, EV 0, 16mm Focal Length.
Each Disney Cruise Line ship has a character statue. For the Disney Magic, Helmsman Mickey Mouse is based on the eight foot tall Man at the Wheel statue at the Fisherman's Memorial in Gloucester, Massachusetts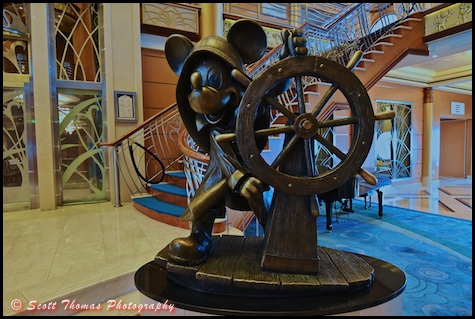 Helmsman Mickey statute in the lobby of the Disney Magic cruise ship.
Nikon D750/16-35VR, 1/125s, f/4, ISO 4500, EV 0, 20mm Focal Length.
Earlier in the day of my cruise, the Disney Cruise Line announced two new ships coming to the fleet. During the Adventure Away party and show, they repeated the announcement with characters, streamers and graphics on the Funnelvision.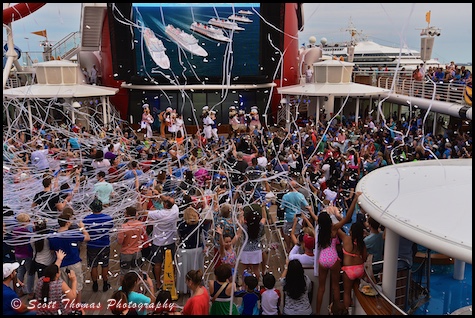 Adventure Away party and show on the Disney Magic cruise ship.
Nikon D750/16-35VR, 1/160s, f/8, ISO 100, EV 0, 35mm Focal Length.
Our three night cruise only had one Port of Call which was Disney Cruise Lines' private island of Castaway Cay. The weather for our stop was warm and partly sunny in the morning. Later more clouds rolled in with a cool breeze. The photo of the moored Disney Magic pretty much shows it. Did not stop me from enjoying doing the morning 5K, Serenity Bay adult beach and Cookies II BBQ.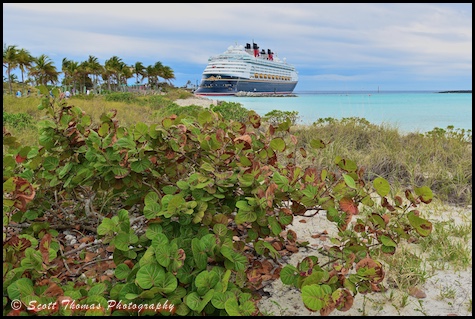 Disney Magic cruise ship moored at Castaway Cay.
Nikon D750/16-35VR, 1/125s, f/16, ISO 500, EV 0, 35mm Focal Length.
Like the Disney themeparks, Cast Members are one of the big reasons why my family and others give high marks for entertainment and service on Disney cruise ships. Below are a few which made my cruise memorable.
Disney Magic Cast Members.
Going clockwise from top left: Bartenders work to fill guest drink orders behind the Singles bar, server puts on a napkin hat on a guest in Carioca's restaurant, cast member poses with a guest at Serenity Bay BBQ on Castaway Cay and Deputy Leader cast member for the emergency evacuation drill before leaving port.
Other notable activities I enjoyed was Tangled, the Musical stage show, nightly entertainment in Fathoms with host Matt from England, seeing the 3-D version of Zootopia in the Walt Disney Theatre and relaxing on deck with a book and a drink.