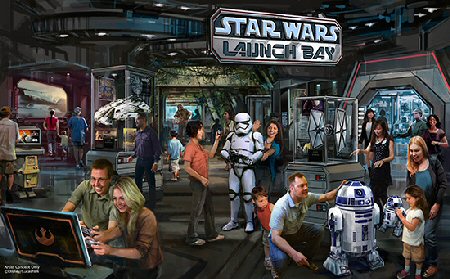 A variety of Star Wars-themed exhibits and events will debut at Disneyland Resort starting November 16 as part of Season of the Force.

Star Wars Launch Bay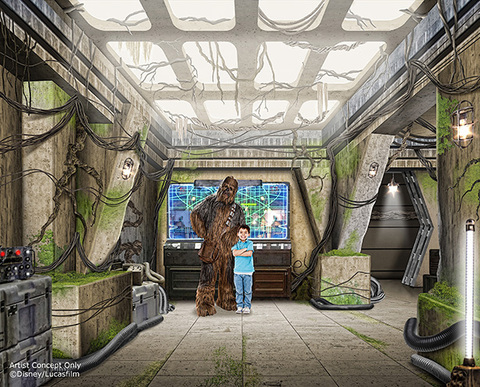 This new area will offer opportunities to visit with favorite Star Wars characters, special exhibits, peeks at the upcoming Star Wars: The Force Awakens and much more:
— Choose Your Destiny with Special Character Experiences
Dark Side — Encounter one of the most iconic villains from Star Wars, Darth Vader.
Light Side — Fly casual at this makeshift Rebel base, and meet the most famous co-pilot in the galaxy, Chewbacca.
— Explore the Dark and the Light in Themed Galleries
Dark Side Gallery — Get a look at authentic pieces of stormtrooper armor as well as famous Sith lightsabers once wielded by masters of the dark side.
Light Side Gallery — Explore a gallery filled with Rebel flight helmets and lightsabers once wielded by Jedi Knights.
Preview Gallery — See props from the upcoming film, Star Wars: The Force Awakens.
Starship Gallery — Discover models of famous starships and their pilots from throughout the Star Wars saga.
— Join the Battle in the Star Wars Game Center — Play the latest games from the Star Wars galaxy, including Disney Infinity 3.0 — featuring park-exclusive Toy Box levels.

Jedi Training: Trials of the Temple
Coming in December, the Jedi Training experience will include new characters and a new villain from the popular Disney XD series, Star Wars Rebels.
Star Tours — The Adventures Continue
This popular attraction will feature a new scene inspired by the upcoming film, Star Wars: The Force Awakens.
Limited-Time Experiences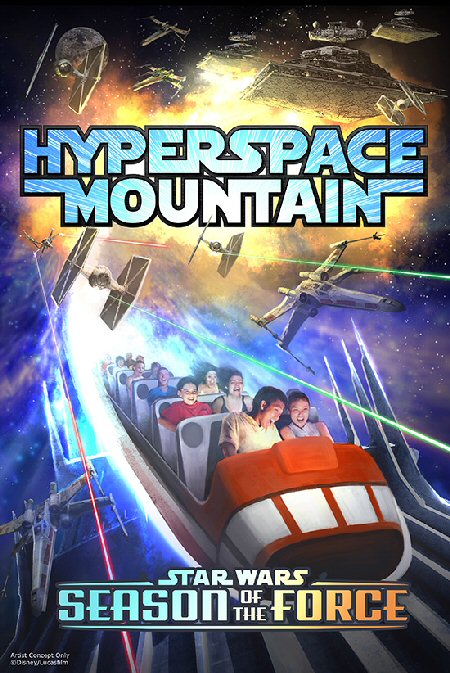 — Hyperspace Mountain — a reimagined Space Mountain attraction, in which guests will join an X-wing starfighter battle.
— Favorite scenes from classic Star Wars films will be showcased at Tomorrowland Theater.
— New themed food will be available
Dates for similar new Star Wars experiences at Disney's Hollywood Studios in Florida will be announced soon.
CLOSINGS
Groundbreaking is scheduled to take place in 2016 for the expansion that will include the new 14-acre Star Wars-themed land at Disneyland park. Work to make room for this new land will require the Rivers of America and the Disneyland Railroad to close temporarily. The following will suspend operations at the end of the operating day on January 10:
— The Disneyland Railroad, including all stations
— Attractions along the Rivers of America, including:
"Fantasmic!"
Mark Twain Riverboat and Sailing Ship Columbia
Pirate's Lair on Tom Sawyer Island
Davy Crockett Explorer Canoes
These attractions will reopen in the future.
Elsewhere in Frontierland, Big Thunder Ranch — including Big Thunder Ranch Barbecue, Big Thunder Ranch Petting Farm and Big Thunder Ranch Jamboree — will close permanently at the end of the operating day on January 10.