Who could visit Disneyland and not meet some of their favorite characters? One of the easiest, and perhaps most efficient, way to do so is by attending meals where the characters circulate among tables rather than standing in lines in the theme parks. On our recent trip to Disneyland, we booked three character-dining meals: Storytellers Café, Ariel's Grotto and Goofy's Kitchen.
Our strategy for character meals was to schedule a late breakfast at each. We did this because we had dinner packages booked for some nights and evening plans on others. Also, my family and I like breakfast food, so that was more appealing than lunch in many cases. As for the time, we opted for 11 to 11:30 a.m. reservations because we were aiming for a mid-day meal. We didn't want to take a break earlier in the morning when crowds are lightest in the parks.
The biggest downside to our plan was that we ended up being served lunch at one of the restaurants (Ariel's Grotto) and almost missed the characters at another (Storytellers Café) — despite my following the times listed for meal service for each restaurant. So, if you enjoy breakfast, I would recommend making reservations at these two restaurants a little earlier than we did.
Our first character meal of the trip was the Chip 'n Dale Critter Breakfast at Storyteller's Café in the Grand Californian, which features Chip 'n Dale, of course, as well as Kenai and Koda (Brother Bear), Meeko (Pocohontas) and Terk (Tarzan). Our reservation was for 11 a.m. with breakfast service ending at 11:30 a.m. We checked in ahead of time, but it still took a bit to get seated and by the time we entered the restaurant at 11:20, we were told by a cast member that it was unlikely we'd see the characters. Both of my children were understandably upset by that news.
As soon as we were seated, I explained the situation to our server and asked if there was a way for us to see the characters before we ate. He said he would talk to the handlers, and he did his best to facilitate our request. He did get Chip 'n Dale to come to our table for autographs and photos. He also encouraged our children to join the dance party with all the characters, saying that they would pose for photos and sign autographs when the music ended. We were surprised by this because at Walt Disney World characters return to circulating among the tables after a group moment. But, sure enough, the critters were happy to take a minute with my children.
Once the kids had met all the characters, we turned our attention to the breakfast buffet where we found cooked-to-order omelets, Storyteller's Cafe famous caramel French toast, eggs Benedict, Mickey waffles, sausage, bacon, bagels and lox, seasonal fruit, and fresh-baked pastries. We enjoyed the food, and no one in our party left hungry! The Chip 'n Dale Critter Breakfast is $29.99 plus tax for adults and $14.99 plus tax for children ages 3 to 9.
Storyteller's Café also serves lunch and dinner, but characters are not present for those meals. Instead, perhaps guests are able to enjoy the lodge décor of the restaurant, which was both beautiful and cozy.
Our second character meal was at Ariel's Grotto in Disney California Adventure. The Little Mermaid is my daughter's favorite character, so we knew Ariel's Disney Princess Celebration was a must for our family. Our reservation was for 11:30 a.m., a time we were led to believe would still be breakfast. We arrived at 11 a.m. and were told we could not check in until 11:20 a.m. and to come back then. When we returned, I requested a table inside "under the sea." The cast member was able to honor my request, though she claimed we were given the last table indoors. (The restaurant also has a lovely, albeit hot in the summer, outdoor patio with a lovely water view of Mickey's Fun Wheel and Paradise Pier.) Despite the hassle, I am very glad we were seated indoors because the décor was so well themed.
After check-in, we descended a spiral staircase to where Ariel was greeting guests. She posed for photos, which are included in the price of your meal, and signed autographs. The meal comes with one 8 x 10 image and four 4 x 6 prints. If you have purchased PhotoPass+, all the photos taken with Ariel can be added to your account. Then we were led to our table, where we found out we were having lunch, not breakfast.
Our meal was a set price of $40 plus tax for adults ($19.99 for children ages 3 to 9) for a three-course meal. Each person could choose soup or salad for an appetizer; sustainable catch of the day, pan-roasted chicken breast, grilled lobster tail salad or slow-roasted tri-tip for the entrée; and a dessert trio to wrap up the meal. The food was perfectly edible, but it was nothing outstanding, which left my husband and I feeling like we had overpaid for what we received. Our bill was about $200 and it certainly wasn't on par with the meals we had at Blue Bayou and Carthay Circle.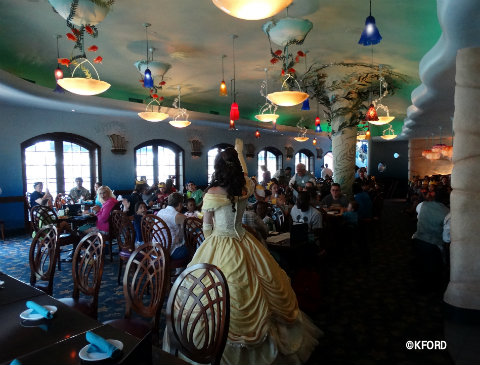 Of course, we were not paying for just the food but the whole Disney Princess experience. In addition to Ariel, my kids met with Belle, Jasmine, Rapunzel and Tiana at our table. Each princess was announced as she swept into the dining room and made her rounds, causing a wave of excitement. Overall, I'm happy we tried Ariel's Grotto for my daughter's sake, but I'm not sure we'd go back on any future trips.
Ariel's Grotto also offers a World of Color dinner package, but no characters are present during that meal.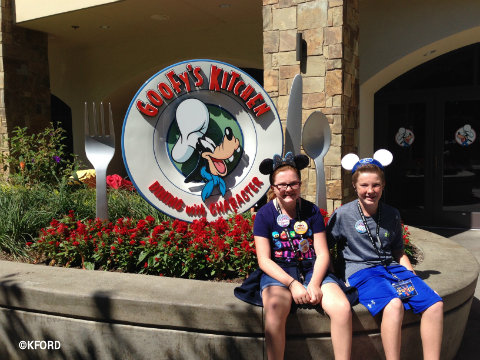 Our final — and best — character meal was at Goofy's Kitchen at the Disneyland Hotel. Goofy is the host of a meal that is very similar to Chef Mickey's at the Contemporary Resort at Walt Disney World. The experience starts with each party having a photo taken with Chef Goofy. A photo package of one 8 x 10 and four 4 x 6 prints is included with your meal. If you have purchased PhotoPass+, all the photos taken with Goofy can be added to your account.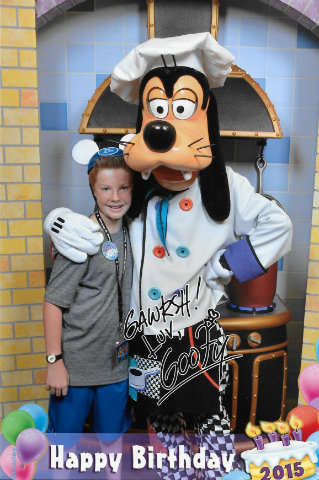 Our reservation at Goofy's Kitchen was at 11 a.m., but we were pleased to find out that brunch would be served until noon. That meant we could enjoy breakfast favorites and well as some heartier lunch dishes on the five stations during our meal. We were excited to try our first Mickey pancakes and Goofy's special peanut butter and jelly pizza.
In between our trips to the buffet, various characters stopped by our table, including Pluto, Minnie Mouse and Chip 'n Dale. And although my children had been wearing their birthday buttons all week, this was the first restaurant where the servers brought out cupcakes and actually sang to them. We were beginning to think Disneyland had a ban on singing at tables!
Brunch at Goofy's Kitchen costs $33 plus tax for adults and $17 plus tax for children ages 3 to 9.
Be sure to check hours for each character meal before you make reservations because they vary according to the season. Meals can be booked 60 days in advance.