On a recent trip into Carol's Tickle Trunk I came across an article on Audio-Animatronics from the Summer 2003 issue of Disney Magazine. The article described how the Enchanted Tiki Room, with it's exciting new technology, created a sensation over fifty years ago!
It all started with a dream Walt Disney had; he wanted to create a little mechanical man which could move and talk. Here's a short excerpt from the Walt Disney Family Museum's article by Keith Gluck on the early days of Audio-Animatronics that gives a hint how Walt's dream may have started.
In the summer of 1949, Walt Disney took his wife Lillian and daughters Diane and Sharon on a holiday to Europe. The family visited England (and stopped by the set of Treasure Island – Disney's first all-live-action feature), Ireland, Switzerland, and France. One afternoon in Paris, Walt ventured out on his own and did some shopping. He returned to the hotel room with two large bags filled with a variety of wind-up toys. With his family looking on, he unpackaged every one of them, wound them up, and studied them. Diane remembers that moment. "Sharon and I were very entertained by them," she recalls, "and his manner." But her father saw something in those toys. "It's amazing that you can get such interesting movement from a very simple mechanism," Walt observed. A few of those very toys can be viewed in Gallery 7 of The Walt Disney Family Museum, accompanied by a description from Diane: "Not terribly unique, but possibly the forerunners of Audio-Animatronics."
Those simple wind-up toys must have stimulated Walt's imagination and his determination as well because it wasn't long before he challenged his Imagineers, Roger Broggie and Wathel Rogers, to build a nine-inch-tall figure that could move and talk. They called it "Project Little Man". If you've visited the One Man's Dream exhibit at Disney's Hollywood Studios you probably recall the picture of a young Buddy Ebsen doing vaudeville dance routines.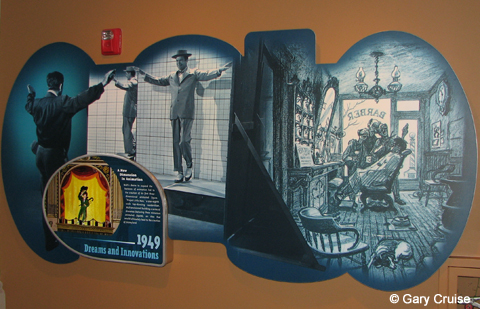 Imagineers studied Ebsen's motions and tried to reproduce them in that nine-inch mechanical man.
Alas, Project Little Man was shelved when a much larger project came along; Disneyland had moved from the "dream it" stage to the "do it" stage and all other projects, including that little guy moved by cams and gears, were instantly moved to the back burner!
The giant squid in the 1954 movie 20,000 Leagues Under The Sea was robotic and there were a few rudimentary automated characters in the 1955 Jungle Cruise attraction, but the real introduction of Audio-Animatronics didn't take place until 1963.
That's where Tim O'Day's 2003 article in Disney Magazine picks up the story. O'Day describes how Walt called the Sherman brothers to a soundstage filled with birds, flowers and tiki poles. As they looked around everything came to life, birds singing, drums pounding and tikis chanting. Walt said it needed a story, so the Sherman's wrote the music, still in use today, about the birds that sing and the flowers that croon.
The Enchanted Tiki Room opened to rave reviews on June 23, 1963.
The four-page Disney Magazine article is pictured below. Click on each image to see a larger version which is easier to read.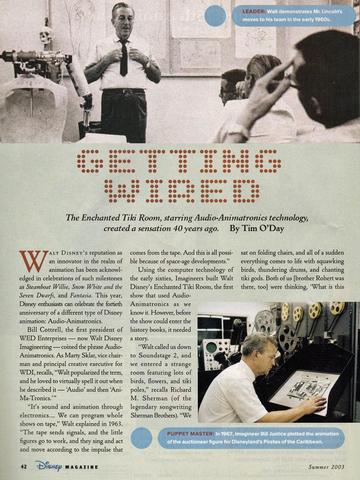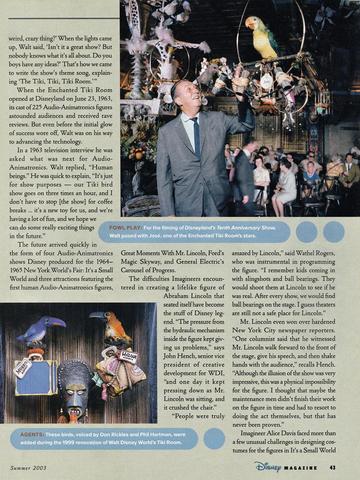 The New York World's Fair of 1964 was not far in the future when the Tiki Room opened and plenty of corporations were clamoring for Disney to design pavilions for them and incorporate their wonderful new Audio-Animatronic technology.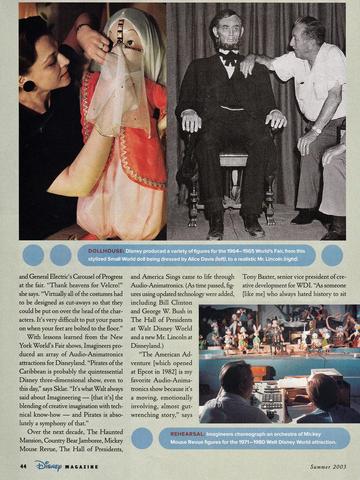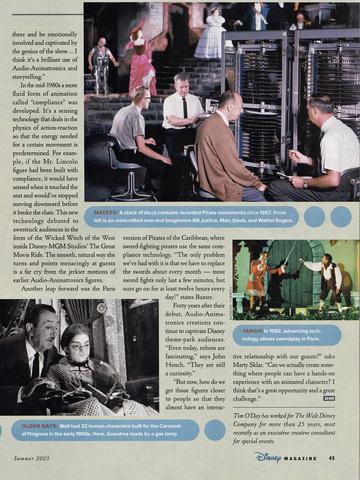 Disney's team of Imagineers got busy designing and building It's A Small World sponsored by Pepsi Cola, Ford's Magic Skyway sponsored by the Ford Motor Company, Great Moments with Mr. Lincoln sponsored by the State of Illinois and The Carousel of Progress sponsored by General Electric.
Below are two short video clips, excerpts from a May 17, 1964 episode of Walt Disney's Wonderful World Of Color television show titled "Disneyland Goes to the World's Fair". Click on the red arrow to watch each video.
Once the World's Fair was over, plunk, plunk, plunk, partial-plunk . . . the exhibits found a home at Disneyland! (The partial-plunk refers to Ford's Magic Skyway – only the dinosaurs found a home at Disneyland; they're in the Primeval World diorama you see from the railroad. The propulsion system used for the Skyway was replicated in the People Mover which opened in July 1967.)
I can only imagine the impact these phenomenal new attractions had on attendance levels when they all arrived between July 1965 and July 1967!
Of course, the Imagineers had plenty more projects in the works and Audio-Animatronics were featured in almost all of them; Pirates of the Caribbean opened in 1967, The Haunted Mansion in 1969, Country Bear Jamboree in 1972, America Sings in 1974, the Jungle Cruise got some enhanced Audio-Animatronics in 1976 . . . the list goes on and on.
Over the years the technology has changed quite a bit as well. Look back up to that magazine article. The image at the top of the fourth page shows the stack of discs which controlled movements of the figures in Pirates of the Caribbean in 1967.
Okay, keep that image in your mind and let's "fast-forward" to 2011. Below is another short video clip, this time it's Ursula as she was being installed in the new "The Little Mermaid: Ariel's Undersea Adventure" attraction. Pay close attention when you see the control panel, it's almost like the operator is playing a video game.
The latest advances in the evolution of Audio-Animatronics were displayed at the 2009 D23 Expo — Lucky the Dinosaur and Autonomatronics.
Lucky is an 8 foot tall Segnosaurus, but he's also a very advanced Audio-Animatronics figure.
He is not attached to an attraction. Lucky pulls a cart filled with flowers (as well as lots of electronics and a big battery pack) and follows "Chandler the Dinosaur Handler" wherever he goes! Lucky not only moves, but he talks and interacts with park guests. He has appeared in several of the Disney parks, but hasn't been seen for a number of years. I haven't bumped into him yet, so I hope he makes a comeback!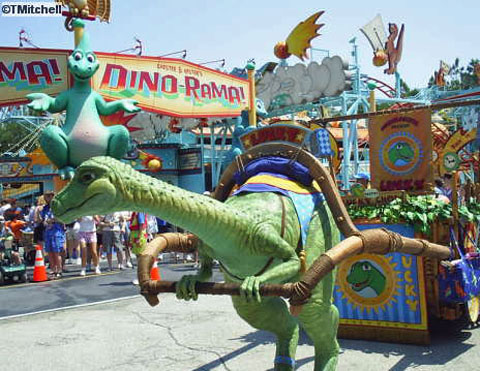 Autonomatronics is truly the next generation of Audio-Animatronics and naturally, the prototype is named Otto.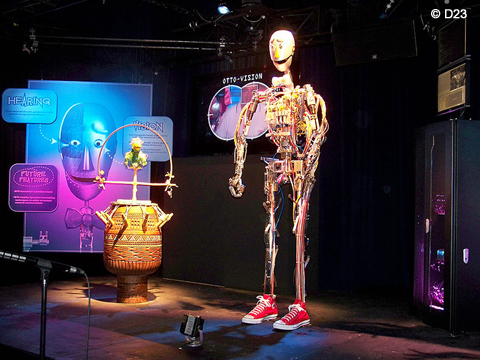 Members who attended that 2009 D23 Expo were astounded by Otto's abilities. Unlike other figures who repeat the same actions over and over again, Otto can see and hear. He is full of sensors and can tell if someone is nearby; he can even tell if you're smiling. Based on the input he gets from his sensors Otto can make choices about what to say and do.
Wow! The future is here!

Walt Disney was fond of saying, "If you can dream it, you can do it". The Disney Imagineers just keep on dreaming and they keep on doing.
I'm sure the Imagineers who created those engineering marvels back in the 1960's would be amazed at today's sophisticated Audio-Animatronics figures; it makes me wonder what the future holds.
I have no idea what's coming next but I'm pretty sure it will be amazing!