Since it opened in 2012, Cars Land has been the must-do area for most guests at Disney California Adventure. On our recent visit to Disneyland, my family and I fell in love with this section of the theme park, too. A guest — even one who didn't ride the main attraction — would be hard-pressed not to enjoy the level of detail that makes Cars Land so immersive. It's often been said that stepping into Cars Land is like stepping onto the movie set of "Cars" (if there were such a thing).
Guests can enter Cars Land in three ways: down Route 66, through the canyon arch by Pacific Wharf and through Bug's Land behind Cozy Cone Motel. The first two entrances are the most spectacular.
Tip: Be sure to visit Cars Land during the day and at night for two different visual experiences. At sunset, the shops and restaurants along Route 66 light up in succession while "Sh-Boom" plays. It's a magical moment, for sure.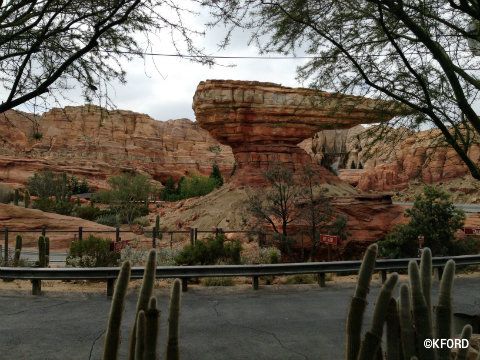 The main attraction in Cars Land is, of course, Radiator Springs Racers. This ride uses the same technology as Test Track at Epcot with guests riding in 6-person vehicles. The course takes guests up in the mountains, past the waterfall scene from the movie, into Radiator Springs and either Ramone's or Luigi's, and out to race on the open roads.
Tips: Radiator Springs Racers (RSR) is by far the most popular attraction at Disneyland Resort. It does have FastPasses but they often are gone for the day by 10 a.m. Because of this, guests line up for rope drop by Carthay Circle and either proceed directly to the ride or they stop at the FastPass distribution machines, which are not located near the ride. Guests staying at one of the three official Disneyland hotels can enter Disney California Adventure (and Cars Land) one hour before park opening on Mondays, Wednesdays, Fridays and Sundays, but FastPass distribution does not begin until the park opens and guests may not line up for FastPasses until then.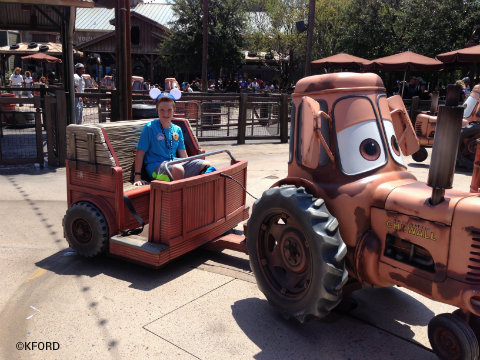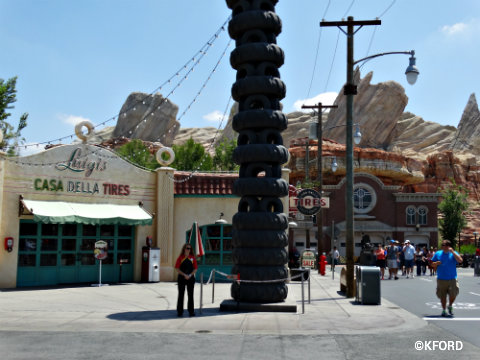 The other attraction in Cars Land is Mater's Junkyard Jamboree, which features baby tractors pulling guests in trailers in a whip-around style ride. It's great fun for all ages!
Tip: A third attraction, Luigi's Flying Tires, which was located behind Casa Della Tires shop, closed in February. A new attraction, Luigi's Rollickin' Roadsters, will take its place in early 2016.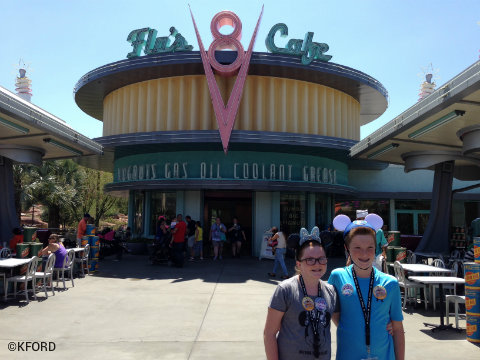 There are two counter-service restaurants in Cars Land, Flo's V8 Café and Cozy Cone Motel. Flo's serves typical diner foods: roast beef and turkey (sandwiches), mashed potatoes, macaroni & cheese, milkshakes and more. Cozy Cone sells a specialty at each "cone": churros, soft-serve ice cream, bread cones and pretzel twists, plus various drinks.
Tips: At Flo's, there are a lot more tables behind the restaurant, and back there you'll have a fantastic view of Ornament Valley and the Cadillac Mountain Range. Cozy Cone doesn't have many tables, so it's more of a grab-and-go spot. But what it lacks in seating it makes up for with its delicious soft-serve ice cream, Red's Apple Freeze drink and adorable gasoline-can-shaped souvenir cups.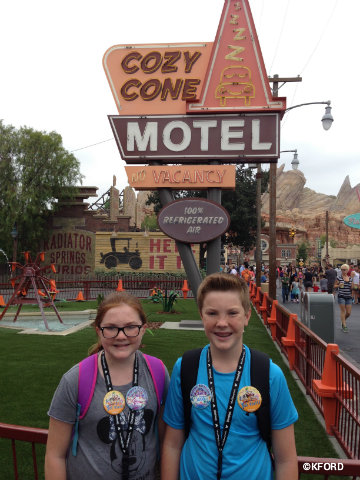 If you want to capture photos of your family in Cars Land — and who doesn't? — there are several PhotoPass spots and some unadvertised magic shots you can ask for. (Here's why PhotoPass+ is a good value for your Disneyland trip.) Professional photographers are stationed at the Cars Land postcard at the entrance; on Route 66 with the landmarks in the background; at Cozy Cones Motel with Mater, Lightning McQueen or Red; and there is a camera on Radiator Springs Racers. If you can find an unattached photographer, be sure to ask for the magic shots, as well. He or she will take your group to three different locations, and when you view the photos online, a different character will appear in each.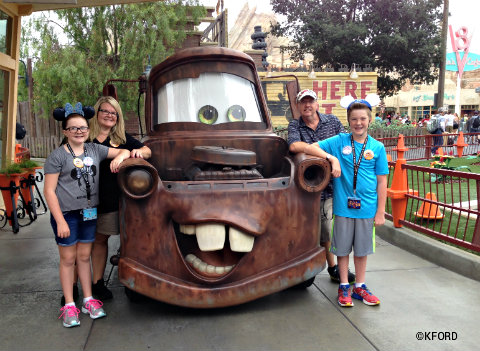 Finally, the gift shops along Route 66 are named after characters or things the cars encounter in the movie: Ramone's House of Body Art, Sarge's Surplus Hut and Radiator Springs Curios. You can take home everything from T-shirts and postcards to tire-shaped hats and light-up Cozy Cones Motel keychains.
Tip: Take photos of any and all merchandise you might be interested in. If you forget to go back and purchase something, you can do so with the Disneyland Merchandise Mail Order line (800-362-4533). You'll need to be able to describe the item to the cast member so he or she can look it up. Phone lines are open from 8 to 5 p.m. Monday through Friday and 8 to 4 p.m. Saturday.
Perhaps what makes Cars Land so special is that it is unique; no other Disney park has a Cars Land. And the excitement of discovering something new has us all gearing up for a fun experience.