To all who come to this photo trivia game, Welcome! Along the way, the photos can make us relive memories and see details Walt's Imagineers put into everything we love in Walt Disney World!
Kerri Coggins, you're sending me a Darth Vader peanut butter-chocolate cupcake? YOU ANGEL!!! MMMMMM, Vader cupcake….

Fair is fair. Here's the Disney bear to help with your Disney blues.

When I have the Disney blues, I look at the Live webcam in the Magic Kingdom. Disney Parks blog runs it, so it's official. If anyone is interested, Google "Disney Parks Live Cam". Select the first link. Then you can choose WDW's Magic Kingdom cam or one of the Disneyland cams.
How does everyone else deal with the Disney blues?
Stuart Savage doesn't have to deal with this – yet – because he's at Walt Disney World, showing it to 9 people for the first time. Hopefully, we'll have 9 new Disney park lovers by the end of the trip!
Now for Challenge #382: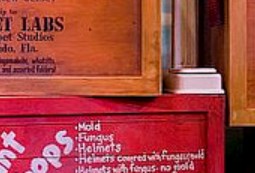 And here's the answer:


Copyright © Barrie Brewer
Pre-show area for MuppetVision 3D! I've seen it so many times and love it every time! I know some people say this show should be redone, that it's dated, and I understand that. But I would miss it and it's one of Jim Henson's last performances, so I like holding on to it.
Josh Carney, that quote — Sam: "Would you stop this foolishness?" Gonzo: "What foolishness would you like to see?" — is one of my favorites! I also like "The 3Ds: Dorothy, Dina, and Max. 'I'm Max, Debbie was sick, so the Union sent me'" and Rizzo as Mickey. "Hello, welcome to my park!"
The Gunnel Family put the song in my head, so if you don't want me singing, blame them. If you like singing theme songs, thank them! 🙂


It's time to play the music
It's time to light the lights
It's time to meet the Muppets on the Muppet Show tonight!
It's time put on makeup
It's time to dress up right
It's time to raise the curtain on the Muppet Show tonight!
Kristi Strembicki was the first to send in the correct answer! Congratulations to Kristi and to all our winners this week! Eric Berger, Sands Family, Ryan Foley, Jim &Lorie Sonnen, Melissa Such, Mike Walter, Melissa Rymer, Josh Weiss, Phil Vickers, Carol Ney, Sharon Pierce, Mary Beth Tarbet, Linda Ranatza, Kris Nixon, Hillary Waldroop, Emily Hudson, Gina Smith, Mike Pinkosky, Joseph Wysluzaly, Stacey Diamond, Beth Mcmeekin, Team Hill, The Gunnels Gang , Scott Cullen, Belicia Cullen , Robin Robinson, Sharon Powell, Vanessa Stjohn, Tim Johansen, Jennifer Beringer, Trish Roam, Trish Roam, Todd Johns, Margaret Convery, Angela Johns, John Bickers, Nan Amor, Ryan Mcglashen, Cheryl Costello, Bev F, Jen Tremley, Phyllis, Erin Hammer, Matt Wildey, Clint Gustavich, Jennifer Rowell, Carrie Knepper, Sandie Albrecht, Tinkerbell Wells, Gina Falzone , Bill Schmid , Janet Spiess, Marsha Waidelich, Debra Lang, Linda College, Sarah And Chris, Dawn Bach , Dee Dee Kenney, Vincent Lieu, Roger Vollmer, Al &Kerry Ganter, Nick Cristea, Pat Schwier, Olszak Family, Laura V., Daniel Record, Leach Family, Helene Hair, Ed Suscreba, Madison Reynolds, The Tisdale Family, Claire Gregory, Tricia Petty, Bruce Hinterleitner, Mark Plante, Stacey Kelsall , Ryan Mccorristin, Kenny, Andrew Eckert, Carla C, Lyn Johnson, Andrew Carrieri, K Beasley, Sharon Gilbert, Deb Ragno, Brian Miller, Christine Brown, Megan K, Janet Hodge, Tracey Horan, Pj Popsuj, Duskin Henard, Steve Porter, Chris Gambrell, Deborah Wolfe, Maryann Eckenrode, The Dieuliis Family, Lynn Lofton, Kris Higgins, The Strukel Family, Herb Miller, Doug Olson Family, Robin Mcconnell, Grumpy's Groupies, Ken Savage, Maureen Handy, Karen Schlumpf, Joann Albrecht, Gabriella, Terry And Matthieu, Wendy Barney, Smitty, Karen Ramirez, Jim Finley, Janet T Thorn, Carla Pitsko, Jeremy Hardy, Ronald Nufranick, Luis Rodriguez, Bonnie Cummings, Dusty Cheatham, Tom Koval, Karen Adamakis, Stefan Owens, Ruben O'meara, Lori Rienhardt, Vera And Izzy Williams, Pollyanna Buff, Arlene Vicek, Lindsey Nozal, Robert Wescovich, The Parker Family, Mike Mondoux , Ken Daube, Kim Walker, Allison Caputa, Timothy Gallant, Gloria Martin, The Fosbenders, The Curley Family, Kristan Bertelmann, Team Bonnie Sue, Michael Haeberle, Diane Curfman, Tena Anderson, Kara Jones, Krista Serpi, Eric Johnson, Caryn Schill, Brian Gallant, The Kertes Family, Karen Costa, Justin Collins, Larry Sprenkle, Heather Pedulla, Jen Cerce, Kellie White, Carolyn Como, Jonathan Ward, Eric Enli, Bob Wagner, Lori Reinhardt, Jamesd (dzneynut), Jeff Blank, Jason Skow, Josette Gabel, Axel Beer, Kelly Komorowski , Wayne Chadourne, Vincent Maltese, Bruce Nash, Brad Morgan, Rick R., Cathy Connors, Melodi Clark, The Modecki's, John Dupre, Chris Bauman, Tricia Noble, Dawn Miller, Mel Odonnell, Karrie Duffey, Josh Carney, Rhonda Guffey, Andy Schumacher, Matthew Frey, Angie Cann, Jenn Steele, Chris Kelly, Andrea Kruszewski, Terry Fleming, Karen Spreitzer, Paul Newbiggin, Elaine Kleinhenz, Ron Harper, Becky Norman, Steve Knapp, Becky Wheeler, Brian Seelye, Ken Maikowski, Bill Cudney , Ashley Collins, Karen Bellamy, Patrick Broaddus, Mary Virginia Clause, Vicki Britt, Kerri Coggins, Heidi Goodhue, Chloe Mayhew, The States Family, Jo Ann Bailey, Greg Clark, Chris, Gretchen, And Katie Barnes, Brian Richmond, Theresa Maradei, Kim Nieckula, Mike Nieckula, Vinnie Degasperis, Melissa Littman, Les Stewart, Stuart Savage, Vicki Edwards, Christopher Hall, Alan Mize, Cheryl Chambers, Davida, Shannon Murray, Patty Shirley, Patty Shirley, George Mundy Jr, John Pasqueralli, Kristina Rohrbach, Caitlin Lewis, Karen Taylor, Linda Grau, Robert P. Flaherty, Joseph M. Zafia, David Ballard, Brian Hatton , Barclay Bakkum, John Casey, Tom Higbee, Brandi Cannon, Kevin Jones, Curtis Bille, Jackie Graebel, Peggy Saeger, Andrew Pettit, Don Purney, Dave Carriere, Roye Ann Morris, Filiater Family, Les Whitten, Carrie Kenney, Paul Dickson, Andrew Guichelaar, Jami Kliethermes, Patti Mccaffrey, Fred Shakeshaft, Alison Rosenberger, Scott Sangston, Theresa Rucando, Maryann Romagnano, and Jane Johnson!
__________________________________ _____________________
Challenge #383 Where in the world is this?
Now we ARE switching parks. Seriously. No lie. We are.
.
Do you know? Do you have a guess? Please send in your answer, before the end of the day on Thursday, May 28th, by clicking on the blue box below.
Please do not post answers using the Feedback Form link at the bottom of this post.
See you soon, Players!


_______________________________________________________________________
Everyone who sends in a correct answer to a Where in the World Challenge this month will be entered in a drawing at the end of the month for some special AllEars® goodies!