More on Aperture this week with a pinch of composition.
I am going to guess most of the time the subject you are photographing is in front of something. Have you ever tried putting something in front of the subject?
During last year's Food and Wine Festival at Epcot, a temporary entertainment location was put in next to the Morocco pavilion. When I looked over at Morocco's Katoubia Minaret Prayer Tower from the location, I saw it through the flags which were strung overhead. I liked the composition of a repeating element (the flags) in front of the tower.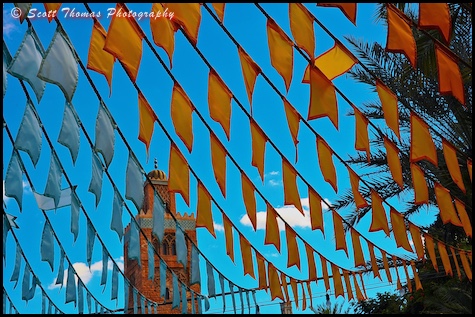 Katoubia Minaret Prayer Tower behind flags in Morocco.
Nikon D700/24-120VR, 1/125s, f/16, ISO 250, EV 0, 40mm Focal Length
To keep the close flags and the far away tower in focus, I used a large Aperture number (f/16) to give me a large focus area or depth of field.
I was a little late setting up to photograph Illuminations at Epcot and had to settle for an obstructed view. I decided to take advantage and used a fellow photographer's camera in the foreground.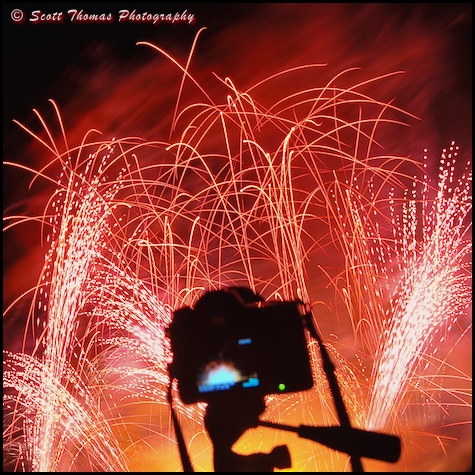 A photographer's camera sits on a tripod during Illuminations fireworks.
Nikon D700/28-300VR, 17s, f/9, ISO 200, EV 0, 28mm Focal Length, Tripod.
In this case, because I was so close to the foreground object and using a smaller Aperture number (f/9) thus a smaller focus area, the camera on the tripod is not in focus as the subject is the fireworks. I still feel this works because you can tell it is a camera and the fireworks over the long exposure time of 17 seconds gives it interest.