One of the original hotels at Walt Disney World, Disney's Polynesian Village has long been known as a favorite among families. And the completion of the recent renovations and expansion have reinforced that family comes first at this South Pacific-inspired resort.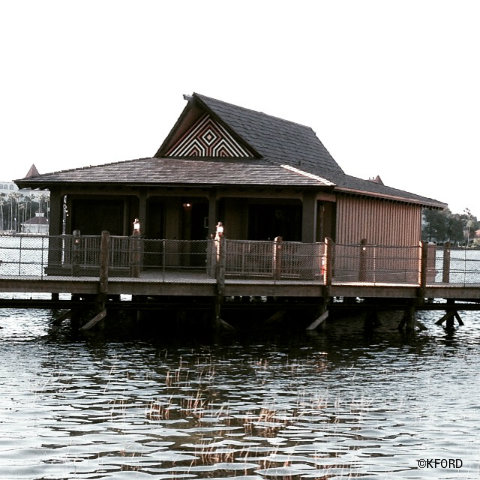 The biggest change certainly is the addition of Disney Vacation Club villas and Walt Disney World's first over-the-water bungalows. The Polynesian is the third and final hotel on the monorail loop to add DVC accommodations. Although DVC membership appeals to many types of repeat visitors, there's no denying that families often consider the timeshare company because it allows them more room and more dining options when traveling.
"With the DVC bungalows and studios, you have so much more flexibility," said Kate Melody, a Disney Parks Moms Panelist and DVC member. "I have four children and so really the bungalows would be a better choice for us. Being a larger family, we like the flexibility of the villas. The new setup for the studios actually has a split bathroom, so for us in the morning trying to get four children plus Mommy getting ready – you want to look good for those PhotoPass photos – is a little bit of a challenge in a standard hotel room. That's one of the reasons we purchased Disney Vacation Club."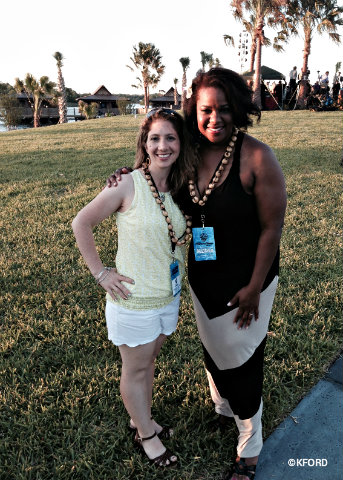 Kate Melody (left) and Juliette Merchant
Juliette Merchant, another Disney Parks Moms Panelist, DVC member and mother of four, agreed, adding that she enjoys cooking when staying at Walt Disney World. "I cook every day of the week at home except Fridays. And when I come to a DVC resort, that's what I do," she said. "We may do one meal outside the villa each day, and that's probably lunch so the kids get a little bit of a treat. I cook breakfast in our villa, and I cook dinner. I love being able to feed my family the foods that I want to feed them. Of course, it's cheaper, but I know that they're going to eat what they're used to eating. For our family, coming to the resort is such a big draw for them they don't feel deprived if we're not going to every park (or restaurant.)"
Regardless of whether guests stay in hotel rooms or the DVC villas and bungalows, they share access to the resort's many amenities. The centerpiece for many families is, of course, the pool deck. At the Polynesian, the main pool — the Lava Pool – has been under construction for almost a year. It's expected to reopen within the next two weeks with an additional 35,000 square feet of deck space, said Polynesian Village General Manager Norm Noble.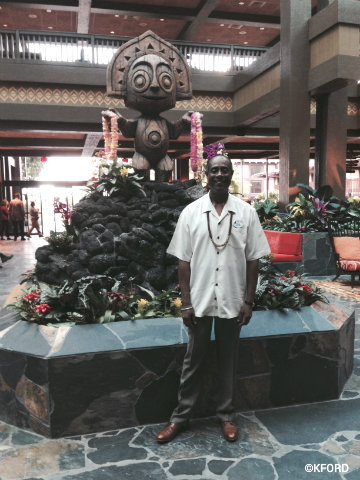 Norm Noble
"The volcano [by the pool] has been redesigned, and it has a much more natural feel," he said. "I think people are going to connect with that. It's unique and different."
In addition, a new children's interactive water play area, Kiki Tikis Splash Area, has been added. It contains two smaller slides, while the volcano in the Lava Pool still houses one water slide.
A new eight-person infinity hot tub that overlooks Seven Seas Lagoon opens with the Lava Pool this month. That's an addition that guests repeatedly have requested because the Polynesian was the sole deluxe resort at Walt Disney World without one. A renovation completed in 2001 added warmer water areas and seating to one end of the pool, but they were a far cry from a hot tub.
The quiet pool is set to close for renovations when the new Lava Pool opens to guests.
"Nothing has changed with the marina and its offerings," Noble said. "However, the one thing we have created is the lawn where we are going to be able to do some different experiences. We're going to be able to move the lighting of the torch that we typically would do at 6 o'clock every evening. That's now going to be done on the lawn. And then we're also going to show movies for kids on the lawn. We did show them on the beach."
You can read about other entertainment, such as hula lessons with Disney Legend Auntie Kau'i and the Spirit of Aloha luau, in my blogs from when we stayed at the Polynesian two years ago. Those entertainment aspects remain unchanged. Also, my AllEars newsletter feature gives an overview of our vacation experiences.
Disney's Polynesian Village houses two table-service restaurants, Kona Café and 'Ohana, plus two bars on the second floor of the main Ceremonial House. The recent renovations extended to the quick-service Captain Cook's restaurant and the new Pineapple Lanai, home of the famous Dole Whip ice cream, on the first floor.
The most-talked about location for adult beverages and small plates of food, however, is the new Trader Sam's Grog Grotto. This intimate, interactive bar and lounge is modeled after its very popular counterpart located in the Disneyland Hotel. The Florida edition also has additional seating outdoors at Trader Sam's Tiki Terrace, which has its own bar with live entertainment that is Polynesian-themed.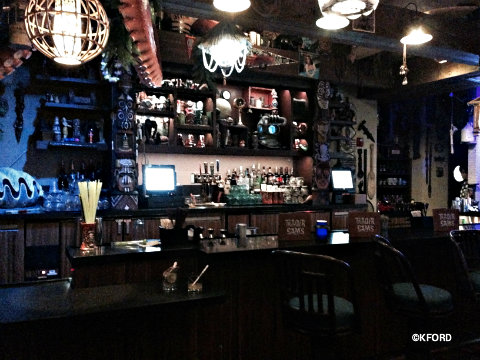 Trader Sam's is the first bar at Walt Disney World to restrict access during some hours to those only 21 and older. You can read more about the policy in my previous blog.
In California, Trader Sam's Enchanted Tiki Room is set in the 1930s, while the Orlando location has 1,200 props based on a 1960s theme. And that timeframe is indicative of the newly designed areas throughout the resort.
"What we had here was an opportunity to look at that time period when tiki really hit its stride: post WWII to mid-20th century," said Kyle Barnes, the Imagineer responsible for overseeing the design and direction for the entire renovation at the Polynesian Village. "So we took that era as an inspiration for our furniture and then melded that with the original design of the resort itself."