When Eddie and Adele Terrell of Perth, Australia, brought their young daughter Natarsha with them to an evening at Raglan Road Irish Pub a few years ago, they never expected it to be a life-changing event.
And yet it was.
The Terrell Family visited the establishment back in October 2010, when Natarsha was a fun-loving 4-year-old. As Eddie puts it, "We just wanted somewhere to eat, and saw this Irish pub, and thought, let's drop in there."
Somewhere during the course of that fateful meal, the family was treated to a set of Irish dancing on the pub's stage, featuring dancer Danielle Fitzpatrick. Young Natarsha couldn't take her eyes off the high-energy footwork, backed by rollicking Celtic music.
"She was jigging around to the music and the dancers took a real shine to her and came over and spoke during their break," Eddie recalls. "When the dancers came on again they made eye contact with Natarsha and waved to her and so the seed was sown."
Even though Natarsha was just 4, she made up her mind that she was going to become an Irish dancer. Despite the fact that her parents attempted to put her off for two years, she says, "I just kept asking and asking and finally my mum said, 'Oh, OK!' And they let me start taking classes."
Adele says she enrolled her daughter, who had no previous dance background, in the local Irish dancing school, Kavanaugh Irish Dance, which turned out to be one of the best schools in Western Australia. In 18 months, Natarsha went from beginner to winning several medals and dancing in both the State and National championships.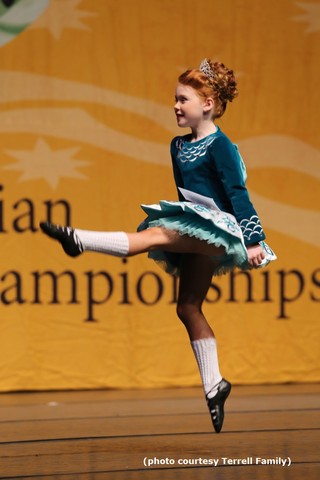 When asked, Natarsha can't explain what drew her to Irish dancing beyond the lively music and the beautiful dancers on stage, but she knows that she loves it and intends to keep dancing for some time to come. Says mom Adele, "We've had to give up every other after-school activity… I've become a Dance Mom!" But that's not a complaint, she says. The entire family has been enjoying the journey that their only daughter has embarked on.
As for Danielle Fitzpatrick, the dancer who inspired Natarsha, she couldn't be more pleased. Danielle started dancing at age 3 and said she's ready to give the stage over to the upcoming generation. And young Natarsha seems up to the challenge, despite the long hours and hard work involved.
Her father Eddie notes that he's grateful to Raglan Road for providing his daughter with such inspiration, which is partially why he was so enthusiastic to bring her back to "the scene of the crime" four years later.
"I was saying to Natarsha, in the future, you could be here on this stage," he says. "This could be how you make your living, dancing in front of people like this, doing something you love. And I could see her face light up."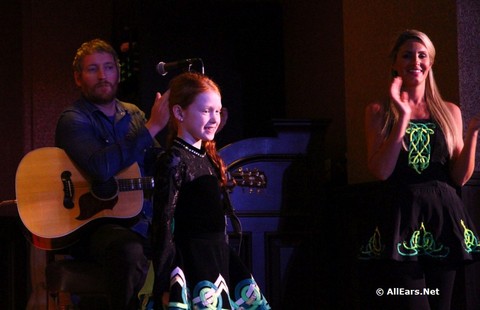 Here's a brief interview with Natarsha and her parents, Eddie and Adele — you can hear them tell their story in their own words.
And here's just a few seconds of the lovely young Natarsha sharing the stage with Danielle at Raglan Road.