My inner monologue has been over-flowing with stereotypical Jewish what ifs, guilt, second guesses, and the desire for a nice Kosher deli at Disneyland, all in Jackie Mason's voice. Why? What's all the fuss? As a photo blogger I need a large number of pictures to use in my weekly writing, and to get those photos requires traveling from MA to FL or to CA at least once a year.
I took this year off from Walt Disney World and in place was able to visit Miami,FL, Washington, DC, and Niagara Falls, Ontario. There's a great big world out there that I'd like to see. That's not to say I no longer enjoy all that Walt Disney World or Disneyland have to offer but I need to shift the balance of where I spend my time. So, as the Walt Disney Company continues raising prices my visits will become fewer.
What does that mean? It means I've decided to retire from writing my weekly blog, as seen here, as well as the Disney Pic of the Week. Try to hold back the tears, I'm not leaving you completely. From time to time when I have something to pipe up about regarding pretty much anything Disney, you'll find fresh work from me. Right now I'm not sure if they'll land in the Guest Blog, the Team Blog, in the newsletter or somewhere else on the website. You can always re-read or seek out older Light Meter blogs on AllEars.Net.
I do have some future travel plans that include a visit to Disney's Aulani in Oahu and to Disneyland. With any luck I'll conjure up something worth posting.
Thank you for all of the feedback, it's nice to know someone took not only the time to read my words but to also respond to them.
I'd like to share with you some photos I've taken this year and last year and hope they'll inspire you to take photos of people, places, and things.
I'll catch you later.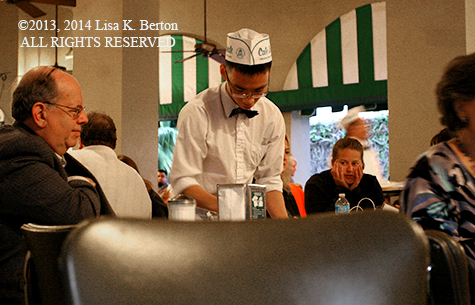 Cafe Du Monde, New Orleans, LA

Parrot Jungle, Miami, FL

Washington, D.C.

New York City, NY

Miami, FL
Happy Halloween!!


Super Megafest, Framingham, MA
Buy a camera. Document your life. Print the images.
Come on over and "Like" my Facebook page or follow me on Twitter, my handle is lisano1.