As part of the AllEars.Net crew/staff/team/ensemble, I've been able to participate in a few meet and greets on land on both coasts and even at sea. It's been fun meeting readers in person and hearing encouraging feedback. My choice of themes for my last Disney Pic of the Week is AllEars in the Parks. In my regular blog on Wednesday, I'll explain why this is my last Disney Pic of the Week entry and more.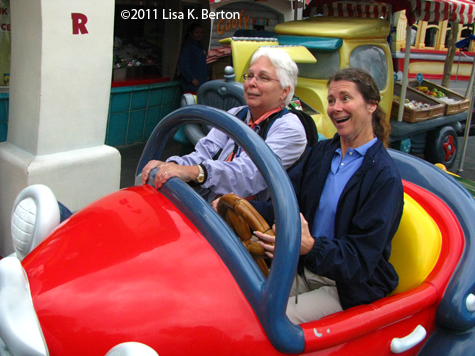 Cathy Bock and Laura Gilbreath yukking it up at Mickey's Toontown at Disneyland. No one was cartoonishly injured in the making of this photo.
Cathy Bock runs the Rate & Review portion of the website. Laura Gilbreath handles 99% of everything regarding Disneyland. These two ladies work hard to keep their respective sections of AllEars.Net running smoothly.
Come back on Thursday for Scott's photo submission.
Come on over and "Like" my Facebook page or follow me on Twitter, my handle is lisano1.