On Sunday, I attended A Perfect Petals Brunch, featuring The Disney Collection by Vera Bradley, at Epcot. The highlight of the event was the ability to be one of the first to purchase bags with the new Mickey's Perfect Petals pattern. But guests enjoyed quite a few other treats along the way.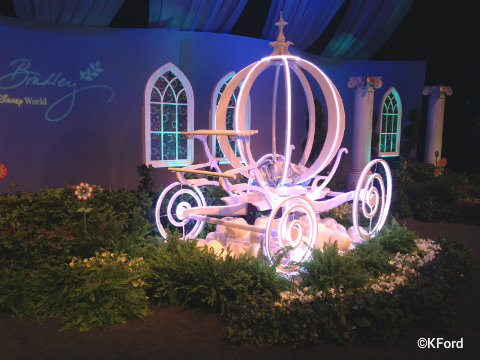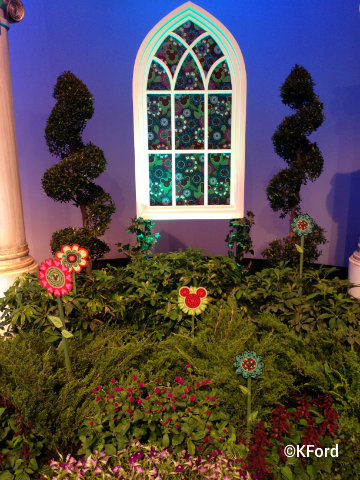 When my girlfriends and I stepped into World ShowPlace, we felt as if we had stepped into the ultimate ladies' brunch (though we did see some supportive men in attendance, as well.) We checked in and were greeted by servers with trays of mimosas while we waited for the doors to open. To capture our imagination, there was a beautiful photo opportunity showing a lighted Cinderella's coach parked in gardens blooming with Vera Bradley's Perfect Petals flowers.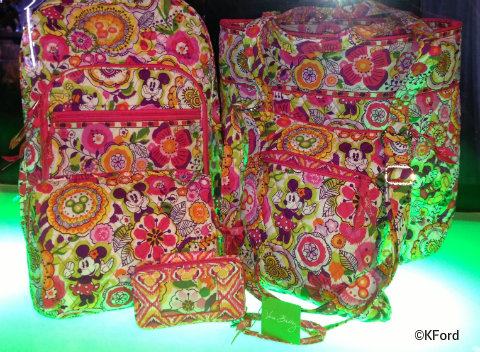 Plus, there was a display with the next pattern in The Disney Collection by Vera Bradley: Bouncing Bouquet. This pattern has a white background with bright pinks, oranges, yellows and greens, and Mickey Mouse and Minnie Mouse are peeking out from among the flowers. Overall, it reminds me a lot of the Just Mousing Around pattern, though that one has a pink background. The display showed the pattern on the Large Duffle, Campus Backpack, Hipster, Vera and Large Cosmetic bags. In addition, there was a Smartphone Wristlet displayed in a coordinating fabric. Bouncing Bouquet will be available later this spring when the Marketplace Co-Op opens at Downtown Disney.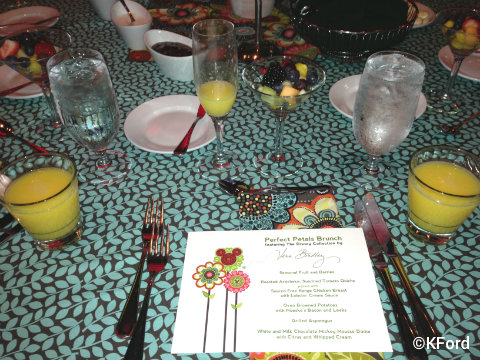 As we were welcomed into the large space that is World ShowPlace, we saw tables dressed in the companion fabrics to the Mickey's Perfect Petals pattern. The tablecloths were the same pattern as the new wristlet, and the napkins were made from Flower Shower, which looks just like Perfect Petals but without the classic Mickey symbols. Cast members were quick to tell guests that the cloth napkins were theirs to take home. Our name tags, menu and other printed materials all showed the Mickey's Perfect Petals design, too.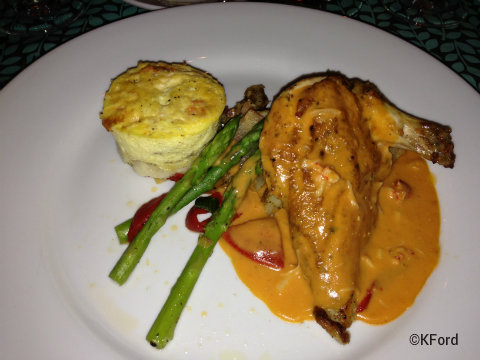 Then, the meal began with seasonal fruit and berries, breakfast breads and Danish, juice and water. Our main course was roasted artichoke, sundried tomato quiche paired with seared free-range chicken breast with lobster cream sauce. They were served with oven-browned potatoes with Nueske's bacon and leeks and grilled asparagus. Finally, we were presented with a white-and-milk-chocolate Mickey Mouse dome with citrus and whipped cream for dessert. It was a delicious as it was beautiful.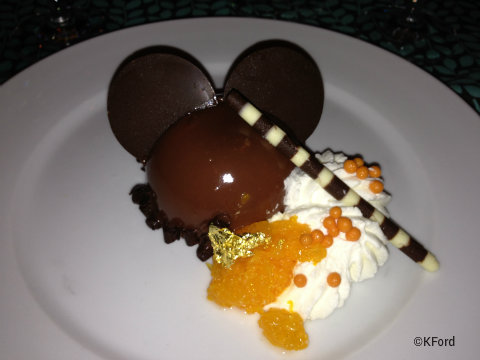 As our plates were cleared away, Disney's own fashionista, Isabella, warmed up the crowd with trivia questions and a few Vera Bradley giveaways. Then, it was time for a question-and-answer session between Isabella and Vera Bradley co-founder and Chief Creative Officer, Barbara Bradley Baekgaard. Baekgaard talked about her history with Walt Disney World, which began as a child when her family lived on Biscayne Bay in Miami Beach and traveled to the resort.
I was surprised to learn that Baekgaard performed in water ski shows when she was in high school. Cypress Gardens, which was located in Winter Haven, also had a show in Miami Beach, she said. A photo shown at the brunch showed Baekgaard on skis at the base of a pyramid with her sisters.
"We [also] did ski jumping," Baekgaard said. "I had one routine where I climbed a stepladder that was on a disc that turned around while on skis."
I had the good fortune to interview Baekgaard when she visited Walt Disney World last year to launch The Disney Collection by Vera Bradley, so I had heard some of what she talked about at the brunch, especially the history of her company and their commitment to fund-raising for breast cancer research. You can read more about those topics in my previous blog post.
Baekgaard had a strong bond with her mother and this occasion was billed as a Mother's Day event, so some of the talk focused on Baekgaard's mother's role in the Vera Bradley company, which is named after her.
Vera Bradley
"My mother was great. She was my total inspiration because I didn't go to design school. I just grew up in the house of Vera," Baekgaard said.
"She was an Elizabeth Arden model. Actually, she was in high school in St. Louis, and Elizabeth Arden, the person, came to the cosmetic counter where my mother was working and discovered her. She said she had the perfect oval face and was very beautiful. Elizabeth Arden took her to New York as her model."
Vera Bradley worked as a sales representative for the company that was named after her, her daughter said.
"When Mother died [as a result of an automobile accident], it was very fast and she looked beautiful so it was an open coffin. We did make clothes at the time, and a lot of her customers that she sold to came to the funeral. We had her laid out and she had on a Vera Bradley outfit, but it was in one of our new patterns and we hadn't released it yet. "One of her customers walked up to the casket and got a little carried away. All of a sudden we hear, 'Is that the new blue?' I thought that was so perfect because she was selling even at the end. She would have loved that."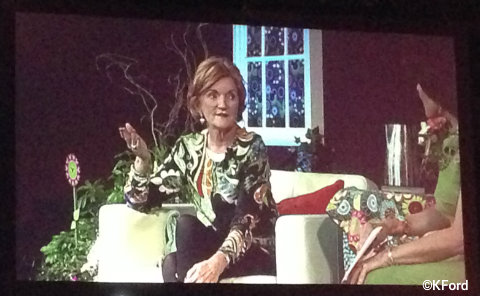 Baekgaard spoke for about 15 minutes, and I really wished that part of the event could have been longer. I would have loved to have heard more about her life and her company.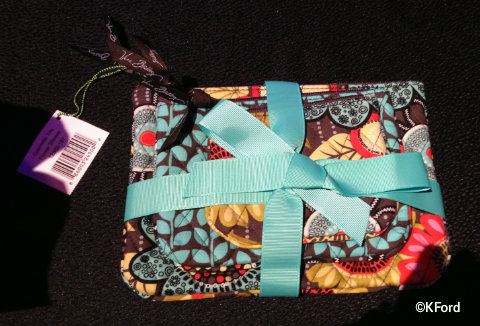 After her talk concluded, servers brought out gifts for each guest. The scene was reminiscent of Oprah's Favorite Things show on television, and certainly the closest I'll ever get to being in that audience! Inside our gift bags, we found a three-piece cosmetic bag set in the Flower Shower print.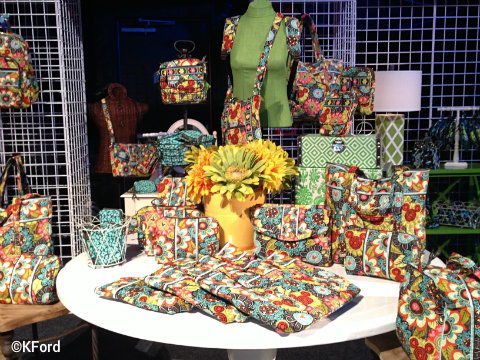 Guests then were encouraged to pick up their pre-ordered merchandise; visit the boutique for a selection of Mickey's Perfect Petals and past Disney-patterned bags; and have their photos taken with Baekgaard. Baekgaard took her time greeting guests and signing autographs on Perfect Petals cards designed just for the occasion, and she was happy to introduce her granddaughter, Maggie.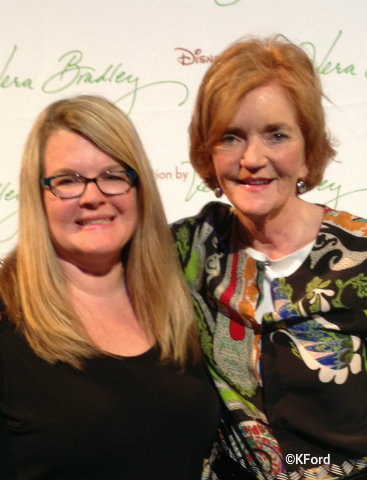 Mickey's Perfect Petals merchandise that was not sold at the brunch will be made available when the Marketplace Co-Op opens at Downtown Disney later this spring.