As most gaming enthusiasts expected, Disney Interactive announced this week that Marvel's Super Heroes will be assembling in the second edition of the popular Disney Infinity video game.
Which characters can we expect to see when Disney Infinity: Marvel Super Heroes is released in the fall? The Avengers' Iron Man, Black Widow, Thor, Captain America, Hulk and Hawkeye will debut first. Eventually, Disney Infinity: Marvel Super Heroes will feature more than 20 new interactive figures from across the Marvel universe.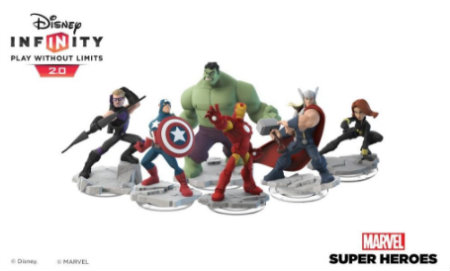 Disney Infinity 2.0 also will have "original storylines penned by award-wining Marvel comic writer Brian Michael Bendis and an all-new Toy Box mode that makes it easier for players to create and share their one-of-a-kind levels and mini-games with family and friends. In addition, all characters and power discs from last year's release of Disney Infinity will be compatible with the Disney Infinity: Marvel Super Heroes Toy Box," according to a press release.
One change, however, is that Disney Infinity: Marvel Super Heroes will not be available for the Wii or Nintendo 3DS systems, as the original version is. Instead, new gaming platforms have been added – Playstation 4, Xbox One, iOS tablets and smart phones. The Marvel version also will be compatible with Wii U, Xbox 360, PlayStation 3 and PCs, which were platforms for the original game, as well.
"Marvel Super Heroes fit perfectly into Disney Infinity, and with them we are pushing the platform's limits of creativity and imagination," said John Blackburn, Vice President and General Manager of Avalanche Software. "We've enhanced and redesigned the gameplay to match the Marvel characters, while also making it easier than ever for players to express and share their own creativity."
Forbes.com offers some specifics about the new game play: "The Toy Box is getting a bump in Disney Infinity 2.0 as well with new structured, franchise-themed adventures that players can customize and play using any in-game character from across the Disney Infinity universe. A new Creator tool helps players build worlds faster and easier.
"New pyramid-shaped discs deliver franchise-themed games to the Toy Box, too. Build and customize your games by using Toy Box toys of your choice and play through each game using any Disney Infinity character to complete missions. Gameplay is enhanced with new combat and more destructible game worlds along with a new set of Marvel gadgets and vehicles.
"Bring [existing Disney Infinity figures] into the new game and they get a level cap increase from level 15 to 20 along with skills that are chosen using the Disney Infinity 2.0: Marvel Super Heroes skill tree. Finally, the power discs. New circular and hexagonal Power Discs add costumes and Area of Effect attacks. Hexagonal power discs will add new weapons, vehicles and sky and terrain customizations."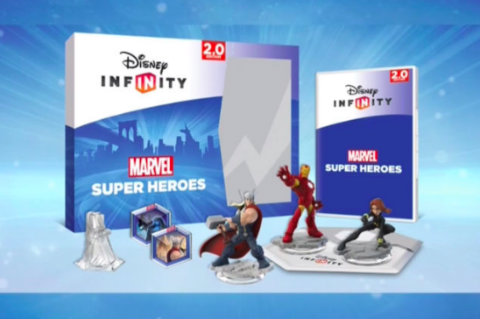 Disney Infinity: Marvel Super Heroes will be sold as a Starter Pack, which includes the video game; three collectible characters, Iron Man, Thor and Black Widow; a Disney Infinity 2.0 base; two Toy Box game discs; a Marvel's The Avengers play set piece; and a web code card. Disney Infinity: Marvel Super Heroes currently is rated "RP" by the ESRB.