Two races down, two to go! Unfortunately it's the two SHORT races, so we've only done 9.3 miles and have 39.3 left. Yikes. We're feeling good, though – we took it very easy in today's 10K and had a good time running with some of our teammates.
This was the Inaugural Walt Disney World 10K. It was Minnie's race, and she's the one on the 10K medal. The medal is very nice, and as my friend Eddie pointed out, it has my favorite word on it: Inaugural. 🙂
This one started at 5:30 instead of 6:15, so we left our resort at 4:00. There seemed to be more people this morning, or at least more people driving, though we still never hit stop-and-go traffic on our way in. We were parked in row 17 rather than row 14 like we were yesterday.
It's probably a good thing I'm blogging each day because otherwise all of these race mornings are going to seem the same after a while. 🙂 We met our fellow Team AllEars members and posed for a team photo, and then eventually dispersed to our corrals. (Click on the photo below to see a larger version. Thank you, Tom Troost, for the photo!)
This time a group of teammates dressed up as Avengers characters – here's Iron Man and Pepper Potts.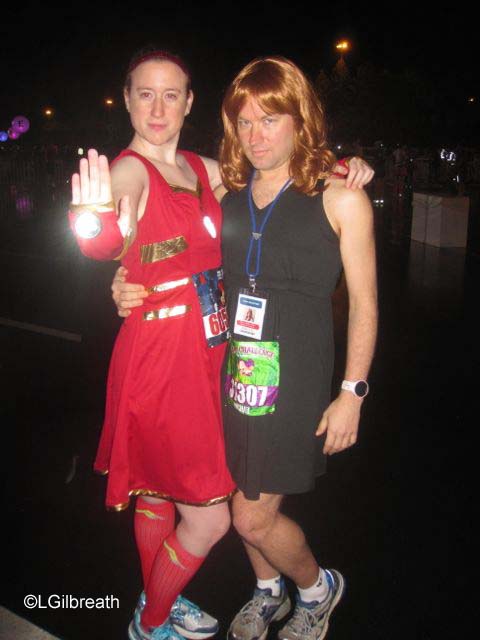 It was odd…there seemed to be more people at the race, but fewer people in the corrals – there were just as many corrals as yesterday – A-E.
Today we ran with some of our teammates, and that was really fun. They were doing 2:1 intervals, which I hadn't done before, but it worked really well – a nice steady pace. And that's what I wanted today – actually that's the goal for the whole weekend.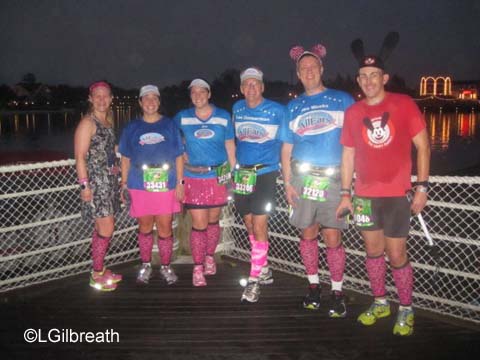 We started in Corral C. The race started right on time with Corral A, but then there was 12 minutes before Corral B started. Fortunately we started only 5 minutes after B. Apparently there were long waits after we started because we heard later that by the time Corral E started, some of the elite runners had already finished!
Mile 1 for today, 4.1 for Dopey! 44.5 to go!
The first three miles of the course looped around the perimeter of Epcot – some of it out on the roads and some of it in backstage areas.
This time we came into World Showcase between Norway and China – yesterday it was Mexico. There were several characters in Epcot (though no Dopey today), but the lines were pretty long and we didn't stop.
The mile 4 sign was near the American Adventure.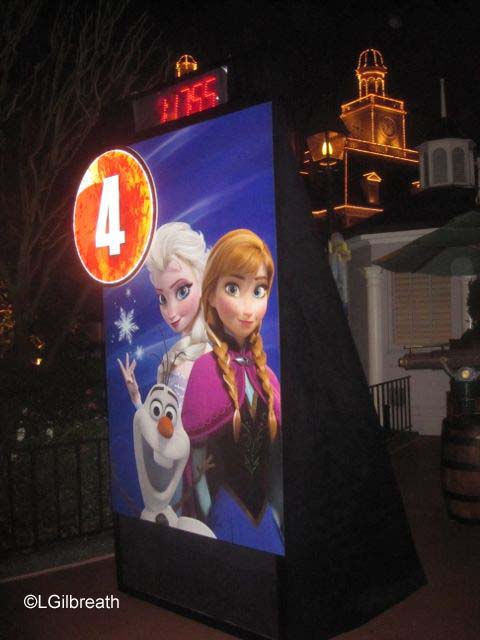 While running by we noticed that the construction walls came down last night from the new Spice Road Table restaurant in Morocco. It's scheduled to open tomorrow (Saturday).
I always enjoy running through Epcot in the dark…so pretty.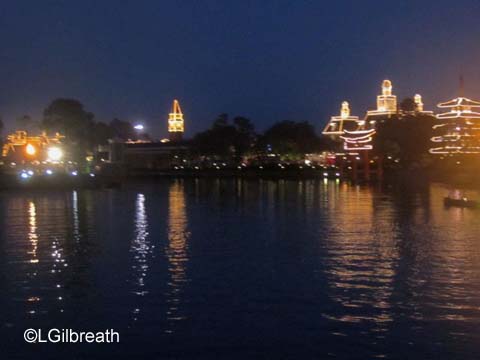 We went out the International Gateway again, but this time we did a loop around Crescent Lake on the boardwalk. It was nice to see Team AllEars there to cheer us on!
After the loop we went back to the International Gateway and backstage at Epcot, entering Future World next to the Imagination Pavilion. We went across Future World and backstage at the usual place and then covered the last .25 miles to the finish line.
We got our Minnie medals, and today there wasn't a line for the Dopey wristbands. We had one volunteer tell us we didn't need to keep wearing the wristband from yesterday and another tell us we needed to wear both of them, so we went to the Dopey tent and talked to a runDisney person, who verified that yes, we only needed to wear the most recent wristband. (Some of our teammates are still wearing both of them, though. 🙂 )
In the refreshment tents we received another silly runDisney food box…apparently we're going to get four days of the same crap. We scoped out a concession wagon next to the finish area that has bagels, muffins, fresh fruit and chips for sale. The same things that MOST races would offer their finishers in the refreshment area.
We walked over to cheer spot near the finish line where some of Team AllEars was cheering on the rest of the runners. We saw lots of really great costumes – loved this woman dressed as Kevin from "Up". I'm sorry it's not a very good photo, but it was a wonderful costume!
We saw our entire Avengers team finish – they looked fantastic!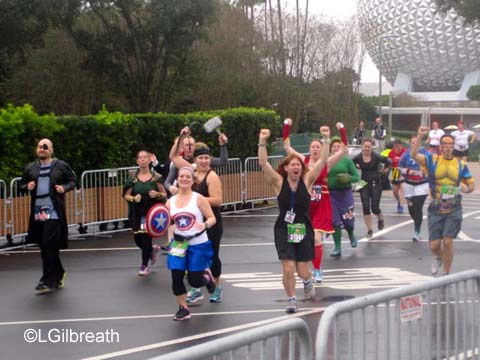 Some thoughts on the new race…Lee and I ran our first 10K race at the Disneyland 10K in September, and we really like that distance. I really liked the distance this time, too, though I'm not wild about the course. The first 3.5 miles or so are pretty boring – nothing to see and not much entertainment, either. Once we got into Epcot, from then on it was good. The size seemed about right – it was not overly crowded. Just a few places that we had to slow down, but we never had to stop and walk (except where we wanted to!).
It was hard getting up at 3:00 this morning – and it's going to be harder still to get up at 2:00 tomorrow and the next day. Running the half marathon tomorrow will be our first real test. We are again planning to take it pretty easy. I'm hoping to get in some character photos during this one.