Loungefly mini backpacks are a common sight in Disney World. Many guests choose them not just because of their convenient size, but also because their designs are so unique! One of the reasons that Loungefly bags are so popular is because they often celebrate our favorite things about Disney.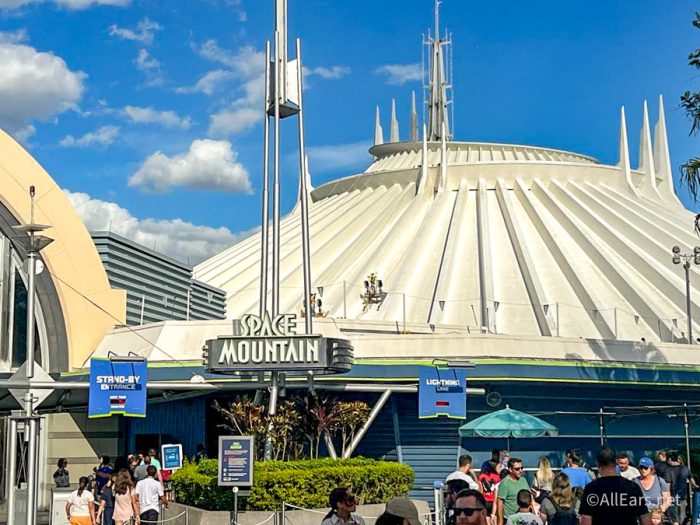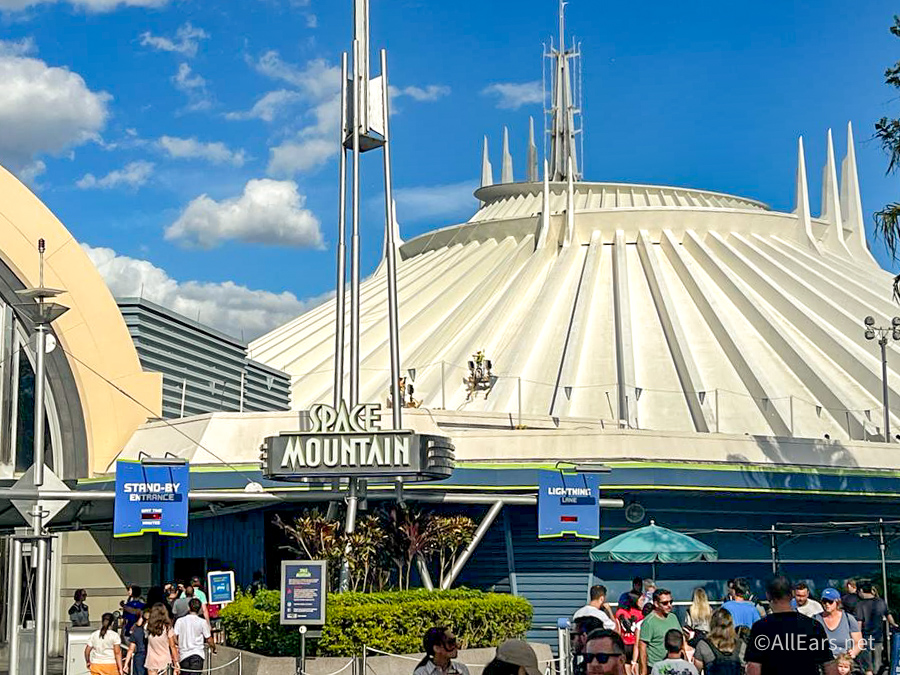 Loungefly is always coming out with new bags featuring different designs. Whether it's a character, movie, park, or ride, you can probably find a Loungefly bag inspired by it! Some are so iconic the brand creates multiple designs, as is the case with Space Mountain.
Loungefly has released several lines of coordinating designs, like their Disney Princess Castle series or a collection of bags inspired by art from the Walt Disney Archives. These are typically limited edition and often sell out quickly! Over the past couple of years Loungefly released two lines celebrating the classic rides of Disney World for the resort's 50th Anniversary called The Main Attraction. One line featured Mickey Mouse and the other featured Minnie, and each line included individual capsule collections themed around a specific ride.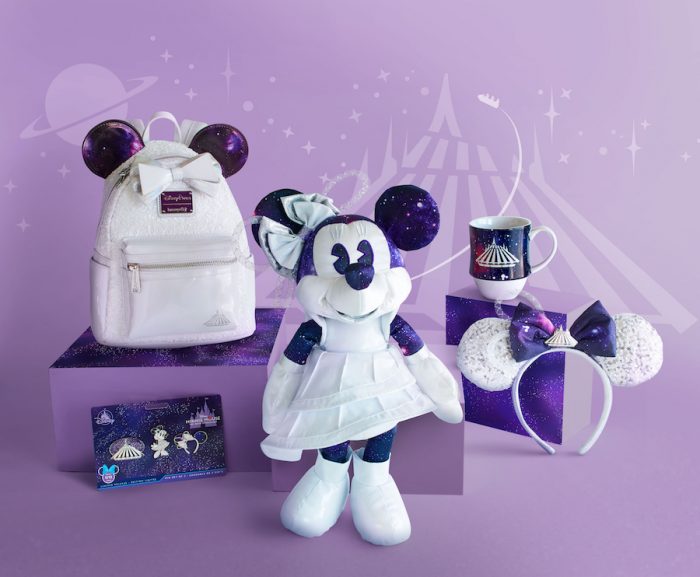 Within each capsule there would be the same set of items all designed around a specific color scheme and icons to match the attraction, and every capsule had a Loungefly backpack! Both lines honored Space Mountain and had their own version of a Space Mountain Loungefly mini backpack. While both were similar in some aspects, they were still distinctive, and we don't blame any collector who couldn't resist purchasing both!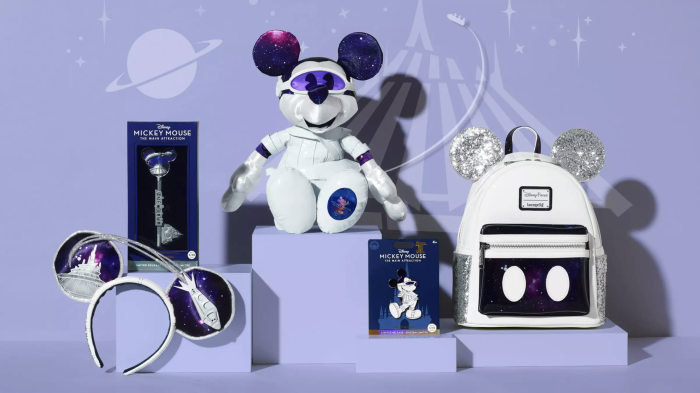 The first line that came out was Minnie Mouse: The Main Attraction, and Space Mountain was the first ride featured! Each item had touches of galaxy print with touches of glitter and shimmer to mimic stars. The bag itself was largely white to match the familiar exterior of the ride. Just like other Minnie Mouse Loungefly bags, this one came with a pair of ears and a sweet bow!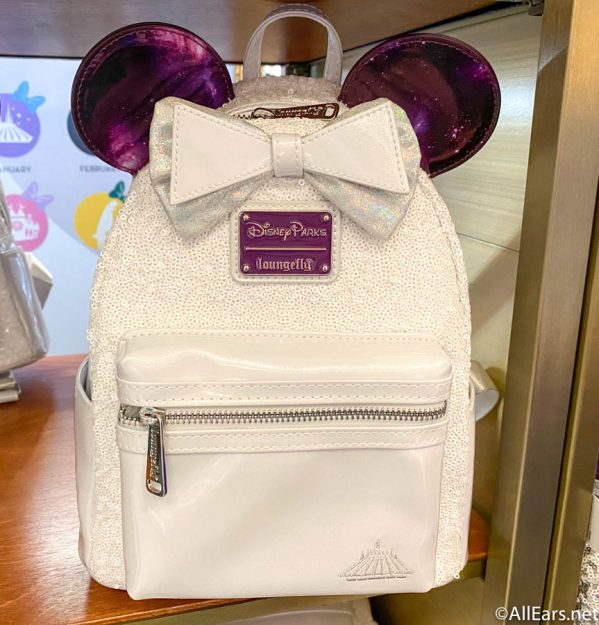 This bag is covered in a variety of different textures which gives it a more high-end feel. There's plenty of shine between the sequins, shimmering fabric, and vinyl front pocket. If you weren't entirely sure which ride it was based off of, there's even a small embroidered Space Mountain on the front!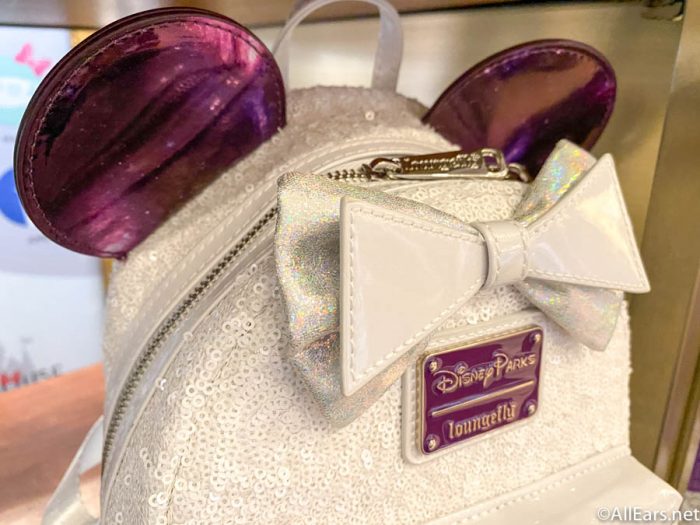 The Mickey version of the bag is similar, but the color placement is different. The ears have swapped out the galaxy print for a shiny silver glitter, and the purple space print was moved to the front pocket to allow for Mickey's classic buttons to really pop. You can see how they were able to create two distinctive bags that still compliment each other!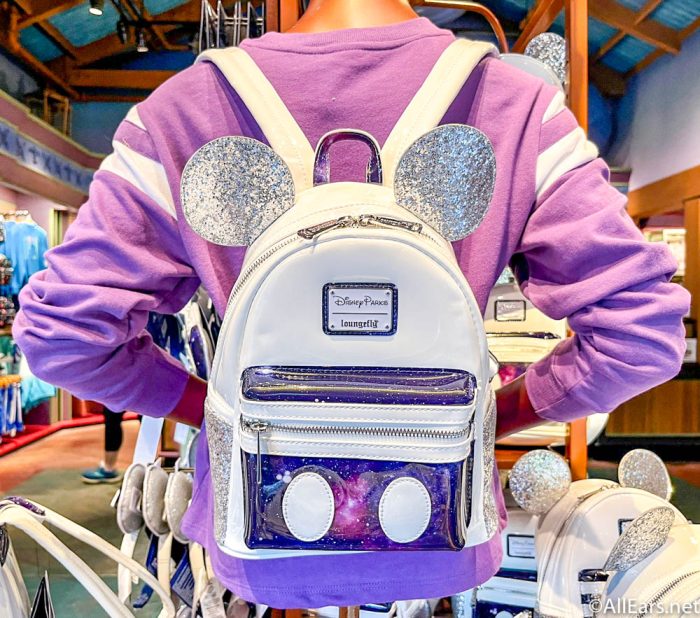 This version also includes some more color placement across the bag, whereas the Minnie backpack was mostly white. The Mickey bag has glitter side pockets, and the galaxy print is continued onto the top strap. The back of the bag features the Space Mountain logo and an illustration of one of the rockets arcing over it!
The Minnie Mouse Space Mountain Loungefly was released in 2020 and the Mickey Mouse version came out last year. While neither are still available in the parks or on shopDisney, you may still be able to find some on resale sites. Loungefly bags are a fun collectible that allow you to show off your Disney personality. Keep your eye out for future collections — they may just feature your favorite character or ride!
What ride would you want to have a Loungefly bag inspired by? Comment your pick below!