One race down, three to go. Of course it was the easiest of the four, and we still have 45.7 miles to go. But it's nice to have one of them done!
We had never run the WDW 5K before. It's a MUCH smaller race, and a whole lot more pleasant! With the influx of 7500 Dopey runners this year it was much larger than usual (around 10,000), but there's a huge difference between 10,000 runners and 25,000+ runners like there are in the WDW half and full marathons.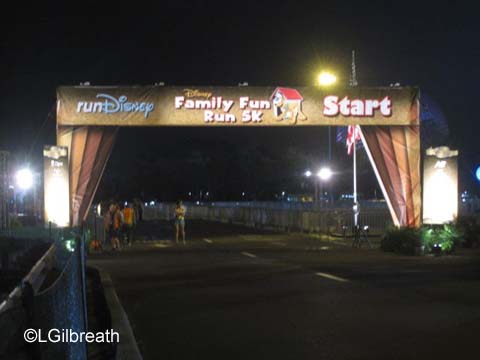 The 5K started at 6:15 (all of the other races this weekend start at 5:30). We planned to leave at 4:30, and scheduled a wake-up call for 3:30, whereas with the marathons we plan to be on the bus at 3:00! So it was almost civilized. Ok, relatively civilized.
We drove our rental car to the Epcot parking lot. We weren't sure what to expect as far as traffic went but there wasn't any – it took us a whole 9 minutes to get there and park!
Because it was such a short race we didn't have any bags to check – good thing, because there is a security bag check outside the pre-race area for anyone with bags. (I suppose it's a necessary precaution after Boston.) I can't imagine what the lines for that are going to be like on Saturday and Sunday when there are way more runners. So, if you're going to be running this weekend and will have a bag, allow time for that!
It was a little bit chillier this morning than we expected – since we've been here the expected temperatures for the weekend have continued to drop. That's a good thing as far as running goes, but because we were expecting warmer weather we didn't bring as many throwaway clothes. We both had brought mylar sheets we'd saved from previous Disney races, and those kept us warm enough.
We met a whole bunch of Team AllEars people before the race – I think just about everyone on the team who was in Orlando came out to either run the 5K or cheer for those of us who were running it. And there were another 8-10 who missed the team photo. (Thank you to Tom Troost for allowing me to use his photo. If you click on it you'll see the larger version.)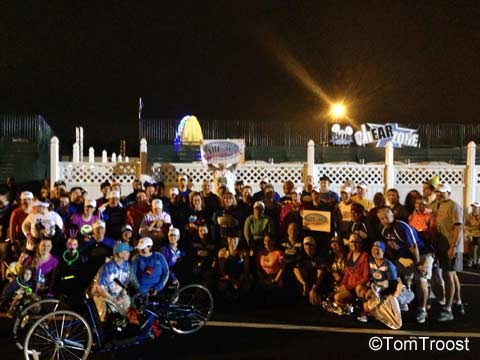 Some of our teammates ran in costume – this group was superheroes:
And Bryan dressed up as Buddy from Elf. He had the hat, too, though he wasn't wearing it in this photo.
There were six start corrals for the 5K. We were in B. Looking around us, we saw almost all Dopey bibs – but since Dopey runners were about 3/4 of the total I guess that shouldn't surprise me.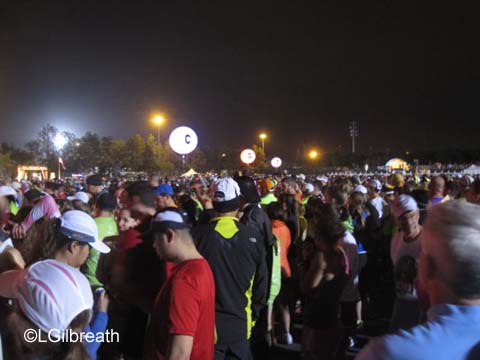 The race started right on time, and we were off about 5 minutes later.
I was pleasantly surprised that the course wasn't too crowded. We ran backstage around Epcot, and came into World Showcase next to the Mexico pavilion. The mile 1 marker was maybe 1/4 mile before that – 1 down, 47.6 to go…
It was still quite dark, but World Showcase was nicely lit.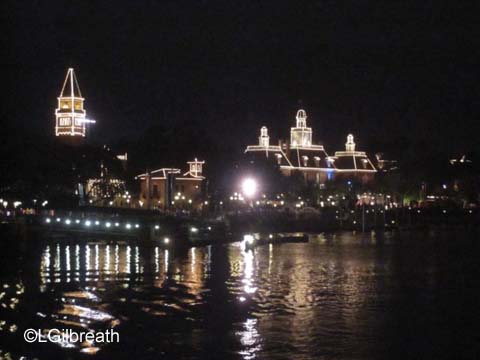 The lines were long, so we ran by the photo ops with Flik, Daisy (in Norwegian costume), and Dopey – Dopey had a HUGE line. Not surprising, considering all of the Dopey runners! There was a relatively short line for Remy and Emile in France, so we stopped for that.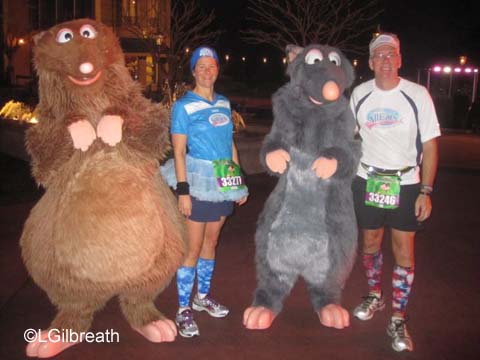 After we went over the bridge from France we went out the International Gateway, then backstage behind the UK. Then back into World Showcase between the UK and Canada and through Future World to the park entrance, then a U-turn up the other side, then backstage again and out into the parking lot to the finish line.
After we got our Pluto finisher medallions we had to get our Dopey wristbands – that's how we prove we have completed each race. There appeared to be a huge line for that, but it turned out it wasn't really the line, and cast members and volunteers got us moving more efficiently so we could get our wristbands fairly quickly. We think that we get a new wristband every day and can then get rid of the previous one. I hope so, because I really don't want to have to wear three wristbands on Sunday!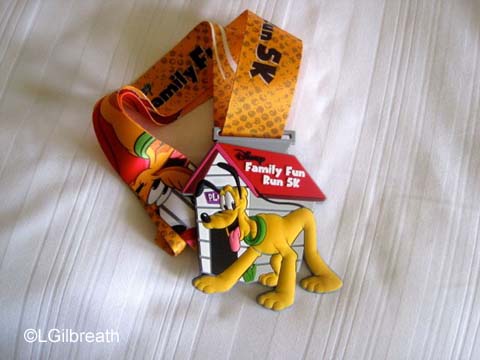 They had the usual silly runDisney food boxes…though after just a 5K we didn't really need much to eat right away.
It started to drizzle a bit after we crossed the finish line, and kept that up for a while. Not really raining though, so that was nice. We went to the spot near the finish line where some of our teammates were cheering, and cheered as the rest of our teammates finished the 5K. Good job, everyone! There were a number of people who walked it together, and it was fun to watch them finish.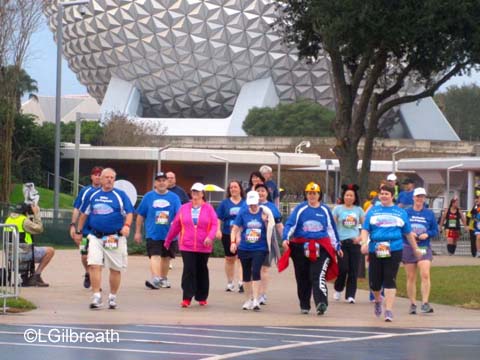 As we were walking back to our car we walked past the start line, and they had already replaced the 5K banner with the 10K banner they will need tomorrow!
The 5K was a lot of fun and I really enjoyed it. We took it very easy since we still have three much longer races to get through. The theme was fun and it was nice to see Pluto get a little love, too, since the rest of the Fab Five all have their own races and medals this weekend!
It'll be another early day tomorrow, but I hope I'm tired enough tonight that I sleep a little better.