When it comes to sea life, Orlando might best be known for Shamu and Ariel. But just a short drive away to the state's West Coast is another famed sea-life celebrity who offers a chance for families to have a fun outing and to learn a few things, as well.
About a 90-minute drive from Orlando's tourist corridor is Clearwater Marine Aquarium, a working marine hospital that is home to Winter the dolphin, who starred in the hit family movie "Dolphin Tale."
Winter's real-life story is a bit different from what was portrayed in the film. Winter, a months-old calf who was caught in the ropes of a crab trap, actually was found by fisherman James Savage on the East Coast of Florida in the Mosquito Lagoon area of Canaveral National Seashore in December 2005. Savage freed Winter, expecting her to swim away. When she didn't, Savage called for help.
The first responders were marine mammal experts from the Hubbs-SeaWorld Research Institute and Florida Fish & Wildlife Conservation Commission, who took over supporting the badly injured dolphin until SeaWorld's rescue transport team could arrive to drive her to the Clearwater Marine Aquarium.
Winter's caregivers and veterinarians have said they were unsure if she would survive the night, but the spunky dolphin fought to survive as she was given round-the-clock care. She recovered from many of her wounds, but the injuries to her fluke (or tail) were too great, and part of it died and fell away. Winter was quick to adapt, though, and began to swim from side-to-side like a fish. Her veterinarian, though, worried that the way she swam would hurt her spine over time. If you've seen "Dolphin Tale," you know that a very special prosthetic tail was developed just for Winter, and over the course of a year, it was refined and the dolphin learned to swim with it.
Today, Winter is thriving in her new home and is a source of inspiration for many kids and adults dealing with disabilities and other challenges. Winter's fans can visit her and the other rescued animals at the Clearwater Marine Aquarium.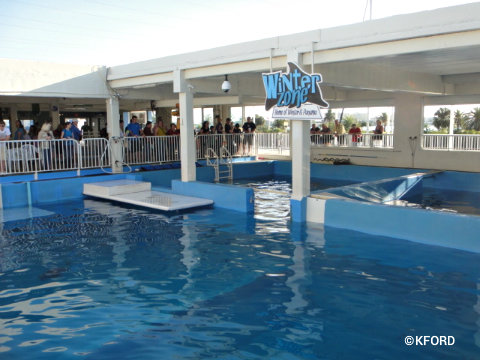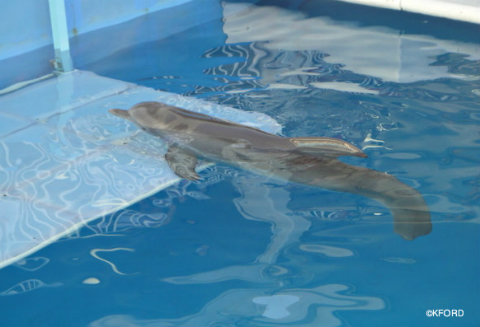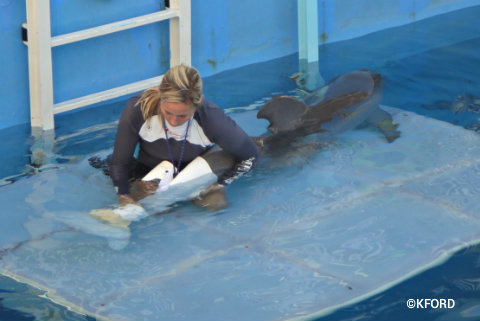 Like so many others, my daughter fell in love with Winter and that prompted us to visit the hospital in 2011 and again last month on her birthday. If you're considering a similar trip, here's a little bit of what you can expect from the experience. First, know that this facility is a working hospital and not a planned tourist attraction, so don't expect elaborate displays, shows and rides. What you will find is amazing in its own right — volunteers and staff working to save animals, and you can visit the creatures and talk with the trainers. Plus, if you've seen "Dolphin Tale," it's fun to recognize and walk through the places featured in the movie.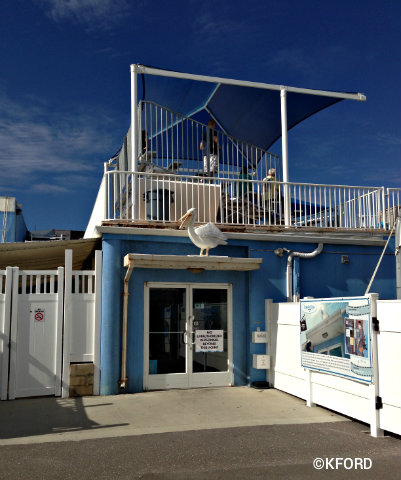 There is a gift shop, of course, and plenty of opportunities to purchase various photo packages, such as what is made available by the green-screen attraction at the aquarium's entrance. There, kids and families can strike a pose and then have Winter's image superimposed over theirs. It sounds hokey, yet the result can be quite humorous and is one of the pictures my daughter enjoyed the most.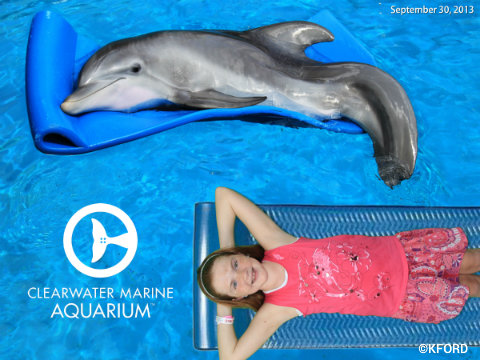 Also, if you're going for the day (which is recommended, given the drive time), know that the dining opportunity is limited to an outdoors counter-service grill that serves sandwiches and pizza and the like. The kids might be OK with this, but if the parents want something more, there are a couple of nearby cafes off the property (across the street, actually), and a trolley service runs to other parts of Clearwater if you'd rather eat elsewhere.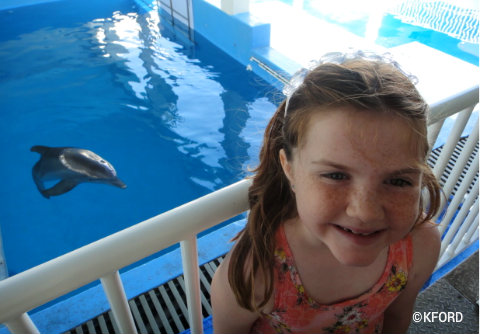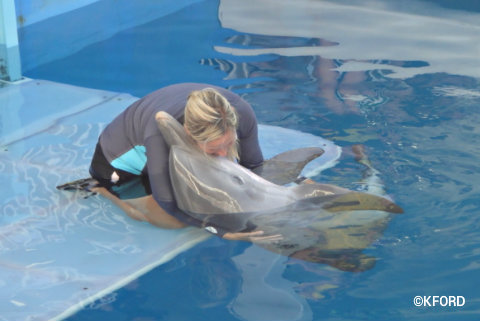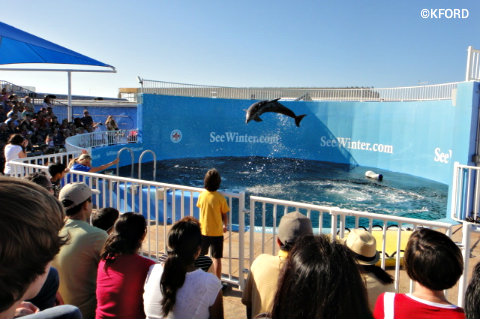 On our first visit two years ago, we watched Winter and the other resident dolphins swim, feed and play on their own. There also was a scheduled show, starring Winter, that allowed trainers to explain the prosthetic tail and take Winter through a few tricks. Dolphin fans could see the other dolphins in a high-flying show on the upper deck of the hospital. At that time, only special groups were allowed to touch Winter, something my daughter longed to do.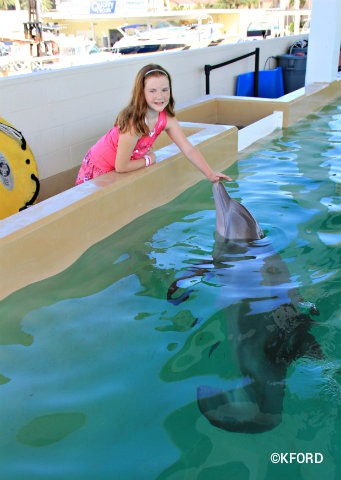 Fast forward two years, and the rules have been relaxed. The aquarium allows three visitors per day to touch Winter during a photo opportunity. The privilege is pricey — $140 for an individual or $160 for a group of two to four participants — and it's over in minutes. You are not paying for an interactive session with Winter, just a photo. Remember, though, that the experience is largely a fund-raiser for the aquarium, allowing staff to continue its care of Winter and other animals and to pay for rescue efforts. Short as the experience was, my 9-year-old daughter was thrilled with her birthday present and vowed never to wash the hand that had touched Winter.
The other experience that does allow interaction with Winter is Winter's Assistant Trainer, a 15-minute event during which the participant works with one of Winter's trainers during an actual training session. The activities range from cognitive behavior lessons and painting to physical therapy and preparing Winter's prosthetic tail. Winter's Assistant Trainer costs $449 per person and includes admission to CMA, a T-shirt and one professional photo.
There also are several experiences available with other dolphins at the facility:
** Trainer for the Day — 3-hour experience is $295 per person and includes T-shirt, towel, bag and photo
** Wade with dolphins — 60-minute experience is $249 per person and includes T-shirt and photo
** Paint with a dolphin — 15-minute experience is $225 per person and includes T-shirt, photo, the artwork and VIP seating during the presentation
** Dolphin encounter — 30-minute experience is $125 per person and includes T-shirt and photo
** Photo opportunity with other dolphins — $40 for individual or $60 for a group of 2 to 4 participants
Because Winter was preparing to film "Dolphin Tale 2" when we visited last month, she was not performing in her regular show or even staying in her usual pool. The 8-year-old dolphin was busy learning new commands from her trainers, while her home pool was being spruced up for the movie. In fact, CMA has closed through the end of the year for filming but will be open during holiday periods. The next chance to see Winter is Nov. 29 and 30 and Dec. 1. (You can see the complete calendar at seewinter.com)
Admission, if purchased online, is $12.95 for children ages 3 to 13, $15.95 for seniors ages 60 and older, and $17.95 for adults. CMA also houses sea turtles, stingrays, river otters, and one of two pelicans who played Rufus in the movie. There even are other smaller forms of sea life and its habitat that guests are encouraged to touch during several informational sessions presented by CMA volunteers.
Included in your ticket is transportation and admission to Winter's Dolphin Tale Adventure in downtown Clearwater. This location shows images, recreations and actual props from the movie. My daughter was excited to see some of Hazel's actual clothes from the movie as well as recreated scenes. Especially realistic is The Hurricane Experience, a walk-through attraction in which participants go into a replica of Sawyer's house and feel it move from the force of the storm.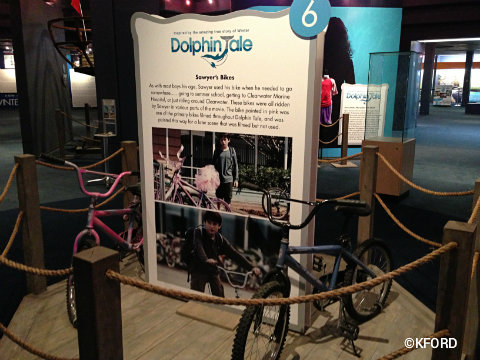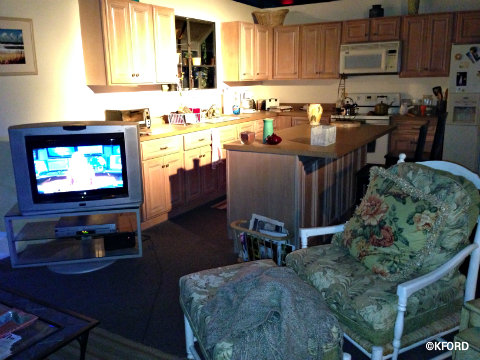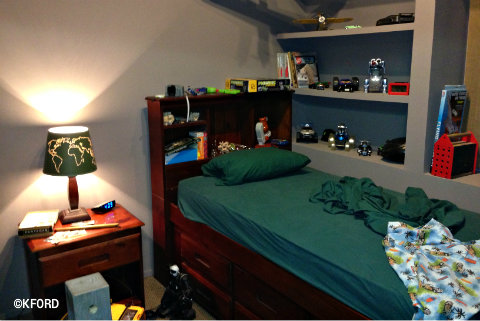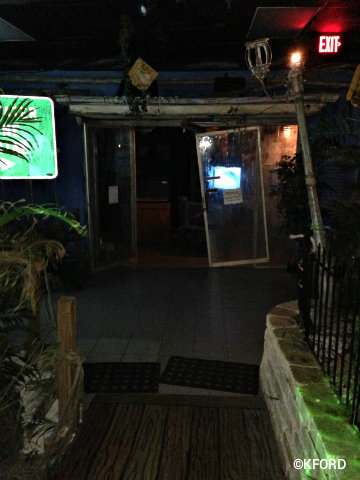 While CMA is closed for filming, Winter's Dolphin Tale Adventure remains open. Tickets are $6.95 for children ages 3 to 13, $8.95 for seniors ages 60 and older, and $9.95 for adults.